The Infiorata di Pitigliano flower festival
The Infiorata di Pitigliano flower festival is one of those things in life that you shouldn't hesitate to drive miles and miles to see. Because. If ever there was a setting in which to gaze upon and photograph roads carpeted in fresh flowers, it is this one. The stunning, take your breath away, Pitigliano in Tuscany.
Sat atop a tufa outcrop above a valley with level after level of ancient interconnecting caves and rooms dug into the rock beneath. And mysterious deep Etruscan Vie Cave pathways all around. Pitigliano is a place you simply must visit.
But. If you can choose when to go. Then go on a Sunday in spring. And be prepared for an explosion of colour.
Infiorata di Pitigliano 2017
The Infiorata di Pitigliano - full name Infiorata del Corpus Domini di Pitigliano - flower festival is celebrated on Corpus Christi. Which, this year, the Pope has moved from the Thursday after the Most Holy Trinity, to the Sunday after Holy Trinity.
It will take place this year on Sunday 18th June 2017.
The whole town, in well organised teams, will be out from very early morning laying the petals and flowers onto the designs for that year. If you are staying locally, you might even get invited to help!
At around 17:00, the formalities kick-off with a brass band, followed by a procession of the Blessed Sacrament and its Benediction. In medieval costume.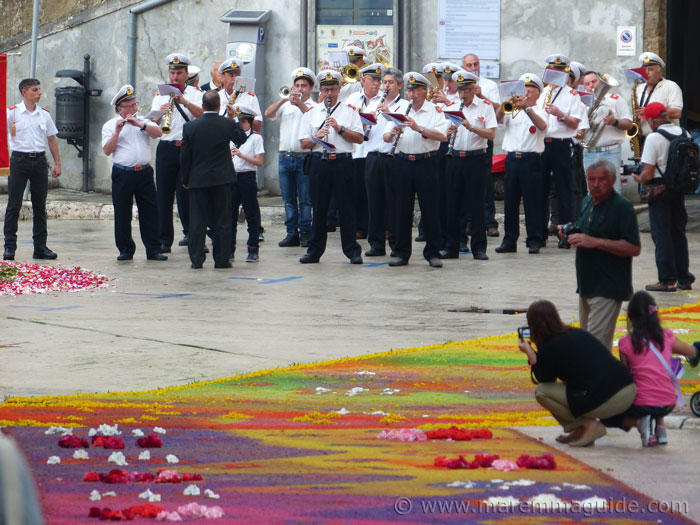 Best watched in HD: CLICK on the WHEEL to change the settings.
The Infiorata di Pitigliano - a tiny big tip
The weather in May is changeable. What can start out to be a wonderfully warm sunny day can turn into bouts of downpours. They won't last that long and temperatures won't be that cold afterwards. (You need to know that I'm a UK gal, so these things are relative of course as to what you would call cold and what I would call a summers day!). But they will drench everything.
So where is all this leading?
Well, the first time that I went to see the Infiorata festival I hung about a while at home in the morning rather than setting off early - it's a two hour drive. I got to Pitigliano in time to see the flowers. But not all of them.
Because by the time I had found a car parking space and walked into town, the clouds that had been gathering during the last part of my journey thickened. And with no messing about about it, the heavens opened.
Streams formed down the centre of the roads and the flowers were swept up in them. All those long hours from the break of dawn of painstaking and back breaking work by mums, daughters, sisters, aunts, and grandmothers. Gone in a flash.
And so the clearing up by the dads with brooms began.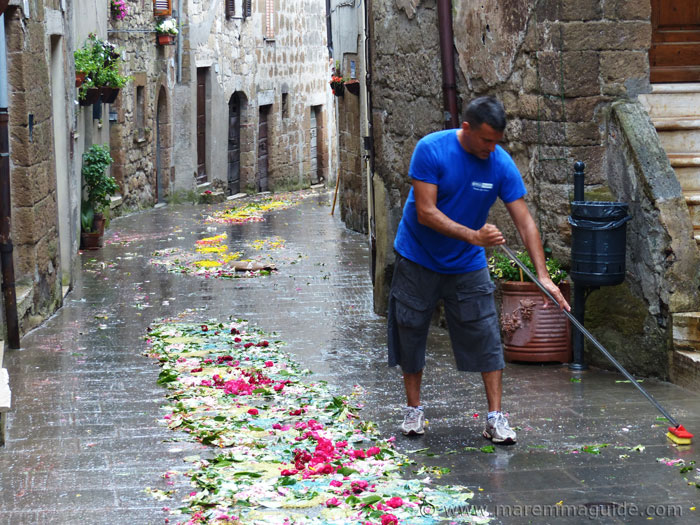 My pictures of wet Pitigliano are some of my favourite to date. But that won't be why you are heading there.
So. If the weather forecast says possible rain and you have the choice. Get there early. Just in case!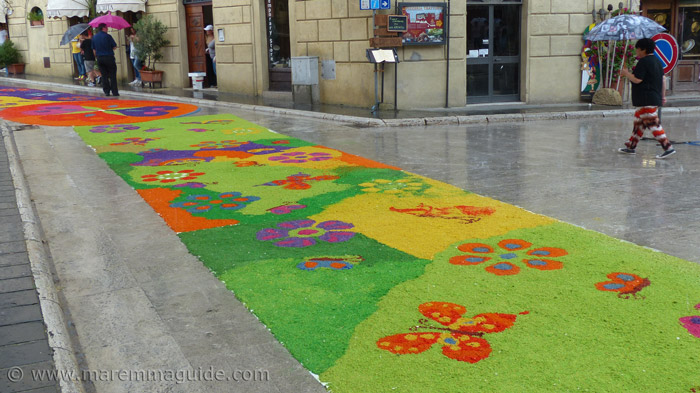 Roses to the rescue
A recovery operation with what flowers could be found went into action in the areas that could be saved.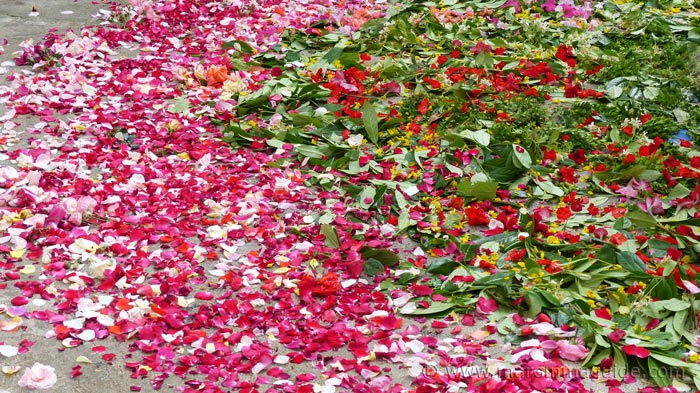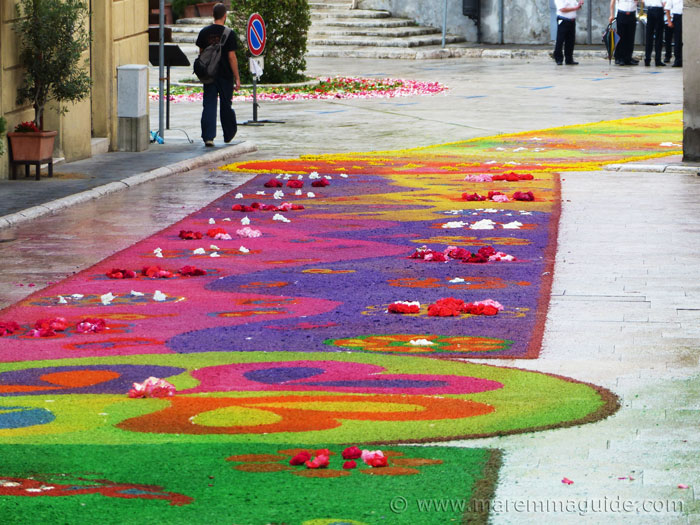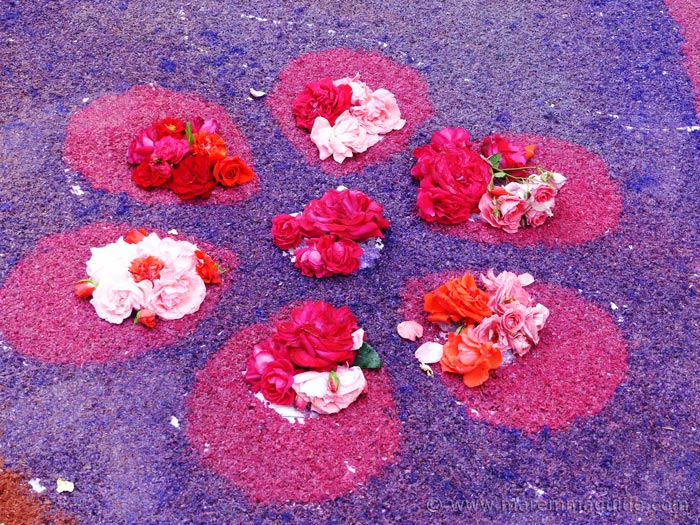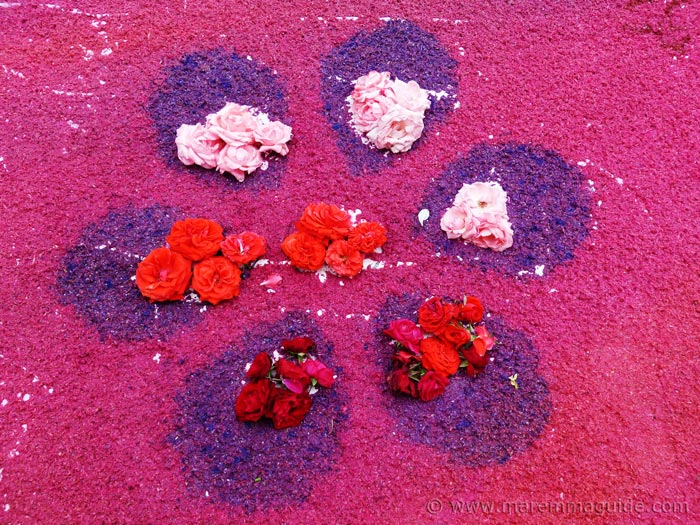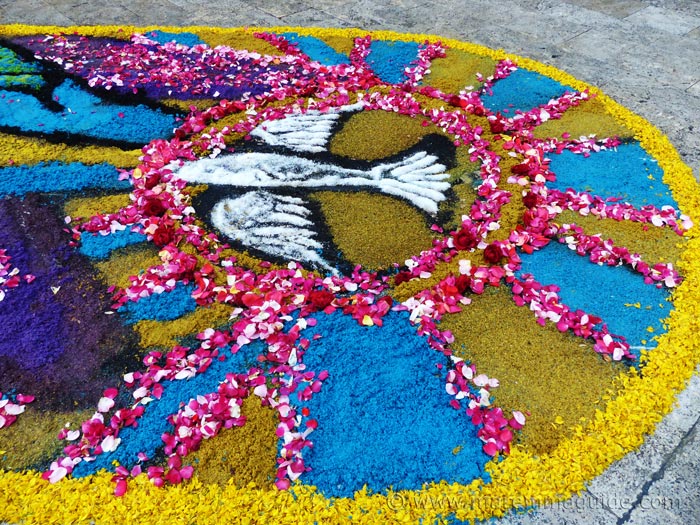 Refreshments
Pitigliano is the most well known and visited town in Maremma. And to cater for those visitors it has an array of restaurants and eating holes. Most of which I have never been tempted to enter. Firstly because they look like they are just for tourists. And, secondly, because the prices are way more than that which I am used to in other towns and villages.
But I do have a favourite spot for an aperitivo. In a corner. In the main square. It's a tiny bar in a palazzo whose walls form the very outer edge of town. Open all year (unlike many of the restaurants), with seating outside. Which is where you want to be. Because you can watch the world enter and leave Pitigliano, all the while with a view of the Orsini Palace in front of you. And. An incredible view over the piazza wall.
It's called Caffe degli. When you get into town and spot the fountain in the square on your left, head on over to the Fontana delle Sette Cannelle behind it and you are there.
Concert on the Friday
If you happen to be staying in Pitigliano over the Corpus Domini weekend, the programme for the Infiorata actually begins on the Friday night before (no events on the Saturday), with a concert in the cathedral. The concert commences around 21:00.
When to see wild flowers in bloom in Tuscany
The best time to see wild flowers in bloom in Tuscany. Fields of them, swaying under the trunks of olive trees. And not just poppies.