Pian di Rocca
Castiglione della Pescaia, Maremma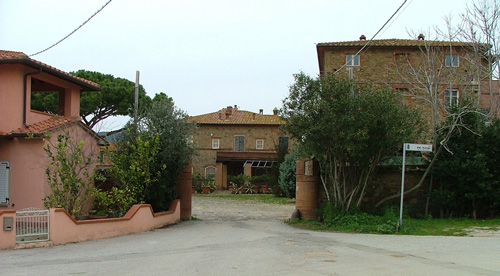 Pian di Rocca is situated in the centre of agricultural land near the stunningly beautiful Maremma Grossetana coastline and is surrounded by the densely wooded hills of the Bandite di Scarlino nature reserve. It is a well looked after hamlet, with outlying houses and farms, some of which also offer "agriturismo", farm holiday, accommodation (link below for more information).

Located a short distance off the main SS322 road between Follonica and Castiglione della Pescaia (within which locality it resides), it is also a great spot during the summer for eating outdoors at an informal Tuscan country sagra.
The famous "Carciofi" - artichokes - of Pian di Rocca
The hamlet is also well known for the cultivation of a particular hardy, conical variety of tender, bitter tasting "carciofi" - artichokes - that have an intense green, almost violet colour. The carciofi are very small and compact, and ideally suited to being prepared and stored "sott'olio" - cooked and preserved submerged in olive oil.
Favoured for plates of antipasti throughout Italy, you will also find them sliced on local pizzas.
Nearby beaches
The beach holiday destination village of Rocchette and the beaches of Roccamare and Le Rocchette are very close by. The south-east road out of the hamlet takes you directly to the centre of Rocchette.
A little further away - you will need to drive north and take the road from the crossroads at Pian d'Alma - is the millionare sailing port of Punta Ala, with its small sandy cove of Cala del Porto Punta Ala.
Just north of the Pian d'Alma crossroads is the turning onto a dirt track for the very special coves of Cala Martina and Cala Violina. They lie within the Golfo di Follonica (Gulf of Follonica), the heart of the Riserva Naturale delle Bandite di Scarlino (Bandite di Scarlino Nature Reserve) and Le Costiere di Scarlino Area Naturale Protetta di Interesse Locale (the Coast of Scarlino Protected Natural Area of Local Interest), and are completely unspoilt. Both are "spiaggie libere", public beaches, free of rows of bars and parasols.
And a short distance south along the SS322 from Pian di Rocca are the popular beaches of Castiglione della Pescaia, and then further still, those of the Marina di Grosseto. Both amply supplied with "bagni" bar, restaurant and sunbed and parasol facilities, as well as seaside shops and food stores.
The Map

View in a larger map
Shopping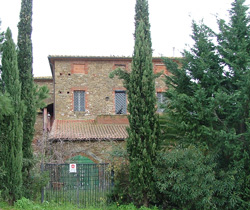 There are no shops in the village. The nearest town for supermarket and other shopping is the pretty sailing port of Castiglione della Pescaia, with its medieval old town sitting on top of the hill.
Alternatively, for local fresh fruit, vegetables, olive oil, cheese and wine etc direct from the farmers, there is the nearby agricultural village of Pian d'Alma. Also a good stop for eating out - click here for more information.
The Il Baracchino bar at Pian d'Alma is not only a great stop for a cold lunch, but also sells their own fruit and vegetables, olive oil, wine, marmalades, local honey and other "prodotti tipici della Maremma", typical Maremma products.