Pictures of Sunrises in Maremma
Stunning photographs of sunrises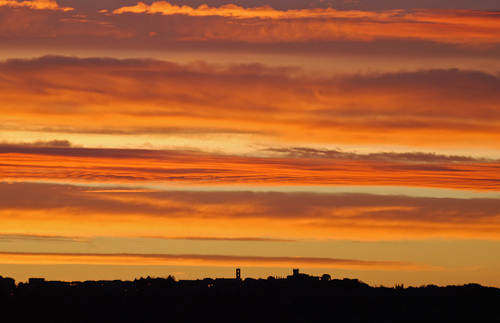 If you love pictures of sunrises, then take a look at these pictures of beautiful sunrises taken in Maremma, Italy: in undiscovered Tuscany and Lazio. They are simply stunning and capture that special moment at the beginning of each day when the world seems to be at peace and in the calming silence anything and everything seems possible in life... and then the colour palette for the day is cast.
Taking photographs of sunrises that capture the essence of these special moments is no easy task, but the Maremmani photographers to whom these sunrise pictures belong have done just that. I am grateful for their kind agreement to allow me to share their talented work with you in this website.
Where there is a link to the photographer, this will take you (in a new window) to their Flickr photostream where you will find more of their wonderful photographs.
The spectacular orange sunrise photograph above - "Alba Naranja" - was taken over Saturnia in Maremma by carmine.
The Pictures of Beautiful Sunrises in Maremma
Click on each sunrise picture to view a larger image
A misty winter sunrise over the Lago dell'Accesa near Massa Marittima by Enzo Tiberi.
Sunrise over the sea at Porto Ercole, Monte Argentario by alisonhulot.
A watercolour sunrise over the marina at Porto Ercole in Monte Argentario by alisonhulot.

A still dawn over Le Rocchette beach and the medieval Forte delle Rocchette on the promontory, near Castiglione della Pescaia by Opaxir.

Click on this link to view more kite aerial photography images of Maremma.

Lago di Burano. Oasi WWF di Burano Capalbio, Maremma, by Claudio Parente.
"Albe silenziose..." - "silent sunrise..." in the Oasi WWF di Burano, Capalbio, Maremma, Tuscany by Claudio Parente.
"Alba sul Lago di Burano" - an orange sunrise over the Burano lake, Oasi WWF Calpalbio. By Claudio Parente. These beautiful pictures of sunrises were taken with natural light.
A foggy morning sunrise - "Mattina nebbiosa" - in Maremma by Massimo Pelagagge.
A misty morning sunrise in Maremma - "Brume in Toscana" - by Massimo Pelagagge.
A foggy spring sunrise - "Brume di primavera" - by Massimo Pelagagge.
A misty Italian sunrise - "Brume di primavera" - by Massimo Pelagagge.
Just before the sunrise at Sassao d'Ombrone in Maremma Grossetana by candido33.
A beautiful Maremman sunrise with fog - "Risveglio Toscana" - by Massimo Pelagagge.
"Una splendida giornata che comincina sempre con un'alba timida..." - "a splendid day that always commences with a timid sunrise..." taken in Burano by bonnieconclide.
Another of Massimo Pelagagge's stunning sunset images.
Black and white sunrises can sometimes convey more of a sense of the moment and this sunset in the hills by Massimo Pelagagge is no exception. A stunning sunrise picture.