Tuscany Pictures
Maremma at night
Stunning Tuscany pictures: Maremma at night. Romance isn't dead in Maremma: just step outside at night and look about you for some of the most magical and romantic settings you could imagine. You don't need an expensive restaurant or hotel to impress the love of your life in this little known part of Tuscany, the most romantic scenes are all free!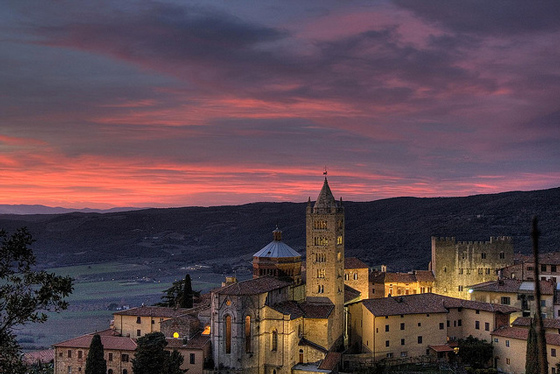 Tuscany pictures: spectacular Massa Marittima at night by Fabio Sartori
The Tuscany nightlife
The most nightlife you are going to experience in la Maremma is a wild boar crossing the woodland road in front of you, or an "istrice" (porcupine) sitting in the middle of one without a care in the the world to move until he or she is ready!
In the summer months there are discotheques and clubs open along Maremma's coast and in her beach campsites, but, even then, the local wildlife won't be far away listening in and waiting to root amongst the sand dunes and Mediterranean macchia that reaches all the way down to the spectacular shoreline here in wild Tuscany.
But at night it isn't the wild animals that steal the visual "show", but the lights that come on at dusk in Maremma's medieval hill top villages and towns and along the coastline that sparkle and make you stare...
Summer celebrations in Follonica
These wonderful images were taken by local photographer Fabio Sartori, who has kindly given me his permission to publish them here. More of his great shots can be found in his Flickr photostream.
The town of Scarlino in Maremma Grossetana lit-up like a fairy-tale at night: a great place to visit near the coast.
And its castle, the Castello di Scarlino...
And the sunsets that take your breath away and leave you in awe of our natural world... This red one was taken from Massa Marittima with the sun setting behind the special island of Elba: you can see the sea between Maremma's metalliferous hills in the foreground and the Isola d'Elba in the background.
Maremma Beach Sunsets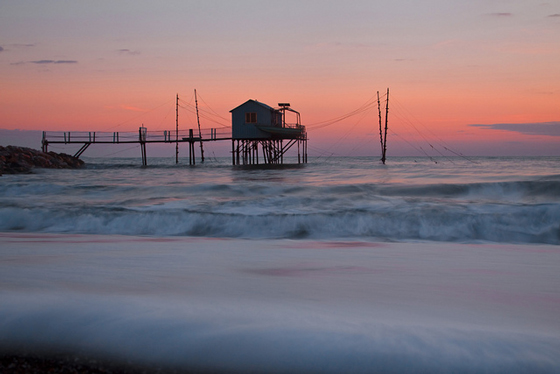 Just sit and watch a Maremma sunset and even the most unromantic soul will be hard pushed here not to swoon a little!
The Tuscany landscape in Maremma is dominated by foothill upon foothill of woodlands and a stunning two hundred and fifty kilometre long coastline with some of the most gorgeous beaches in the whole of Italy. So this page wouldn't be complete without a couple of beach sunset photos.
This pink one was taken on the beach at Marina di Grosseto.
By kind permission of
©Lucia
TIP: If you happen to "pop the question" when you are here and want to return to get wed, I have some very special places for you to do just that... but that is another page!
Love sunsets? Then take a look at these stunning ones all taken by local photographers in Maremma.
The ruin of the Abbey of San Bruzio
The ruin of the Abbey of San Bruzio is a special place to visit near Magliano in Toscana during the day, but at night under a silent starry sky surrounded by olive grove and fields of wheat, it is an altogether magical experience...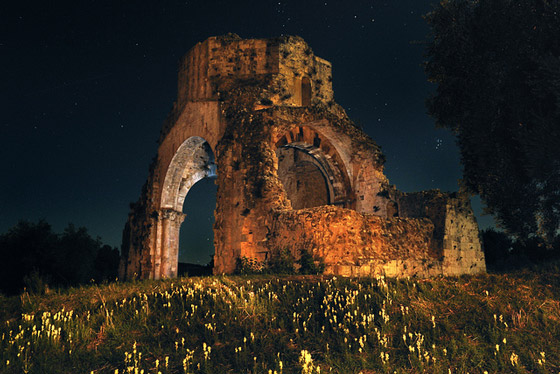 An August night in Tuscany at San Bruzio by kind permission of
©Kaoscube