3 houses for sale in Tuscany
3 houses for sale in Tuscany - off the track locations without the isolation
I want to show you 3 houses for sale in Tuscany that are surrounded by absolutely stunning countryside where olive groves, chestnut woods and hot natural thermal springs abound. Where the most activity you are likely to hear or see is that of the wildlife in your garden, olive grove, or swooping above the river alongside.
Although they are found in off the track locations, all three are within really easy reach of a local hill top town for when you need to top up your supplies of locally produced food and wine. Or want to while away an hour or so watching the world go by with a coffee and cake, or aperitivo in hand.
Each one is entirely different and Rita Renzi from the Tuscanary real estate agency and I have chosen them to give you a feel for what is available here in Maremma when you have a limited budget but nonetheless want all of that Tuscan dream. And ample outdoor space in which to breathe, feel sheltered and private. Without living in isolation in the middle of nowhere.
In the part of Tuscany that English-speaking tourists hardly ever venture into.
The asking prices were between Euro 100,000 and Euro 150,000.
A Tuscany home for sale for two. With a view.
When the thing you won't compromise on is the view. And room for visiting family and friends.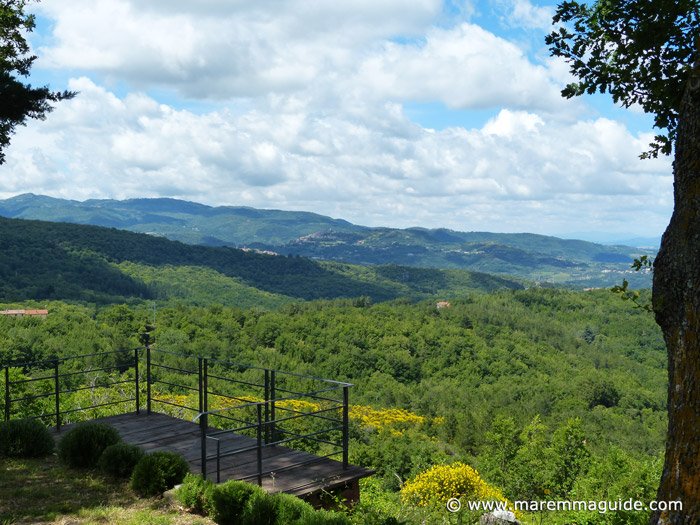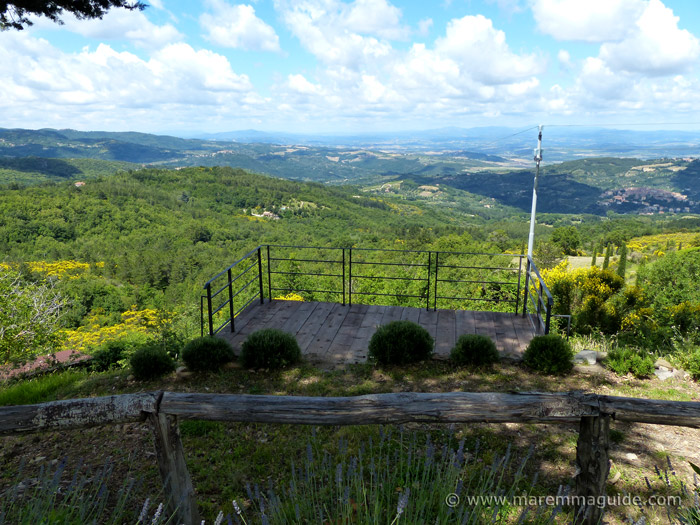 The garden is planted with a lawn, roses, lavender and rosemary. With private parking.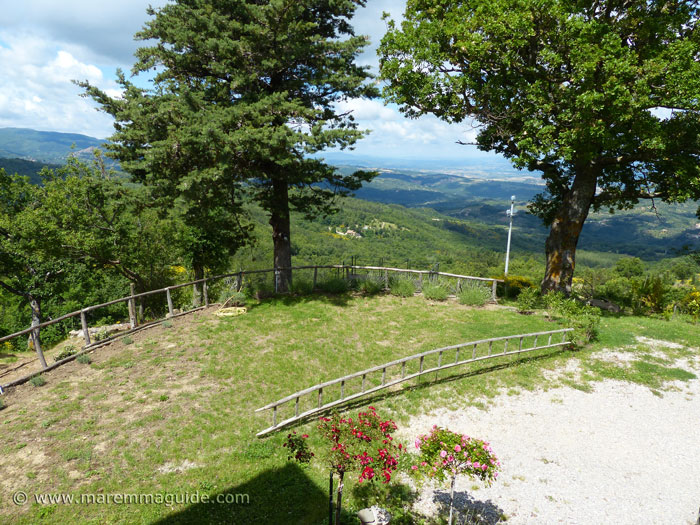 And the house is a semi-detached cottage, accessed from a very quiet hillside road.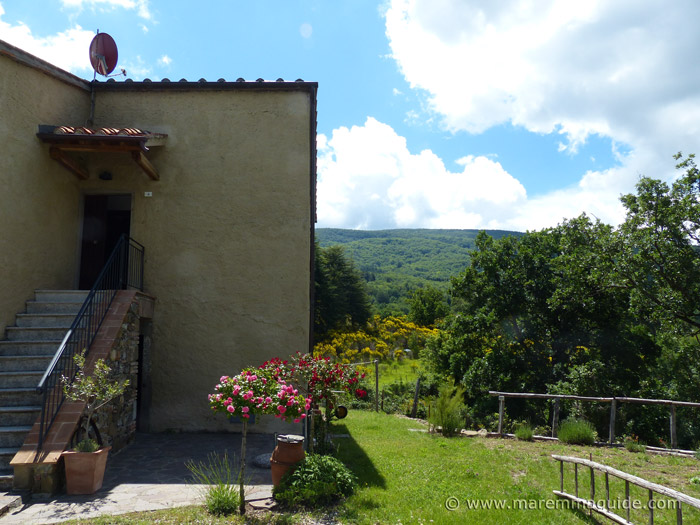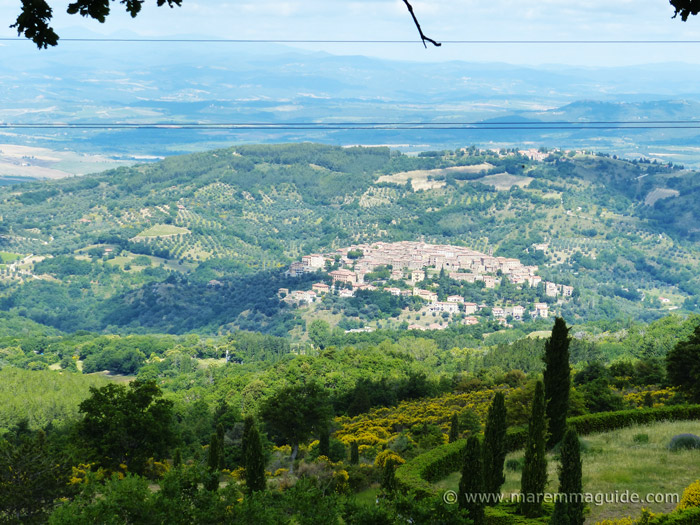 With a beautiful terracotta-tiled floor throughout.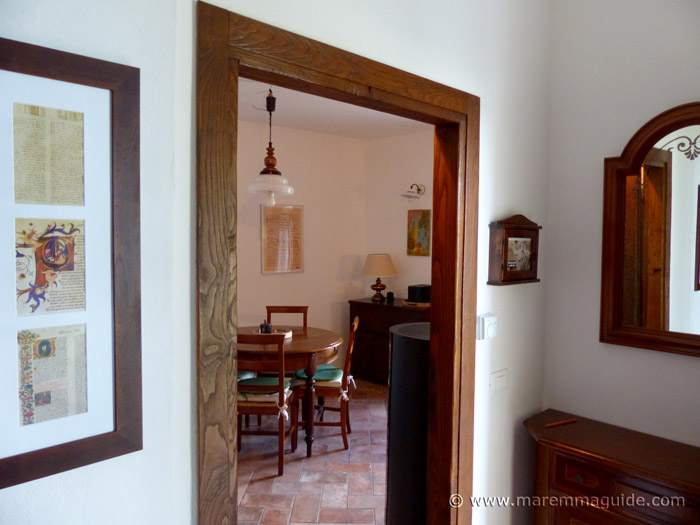 The kitchen/dining room
The kitchen and dining area is also home to the cottage's wood burning (pellet) stove.
The view out of the kitchen window along the side of the property to the outbuilding below.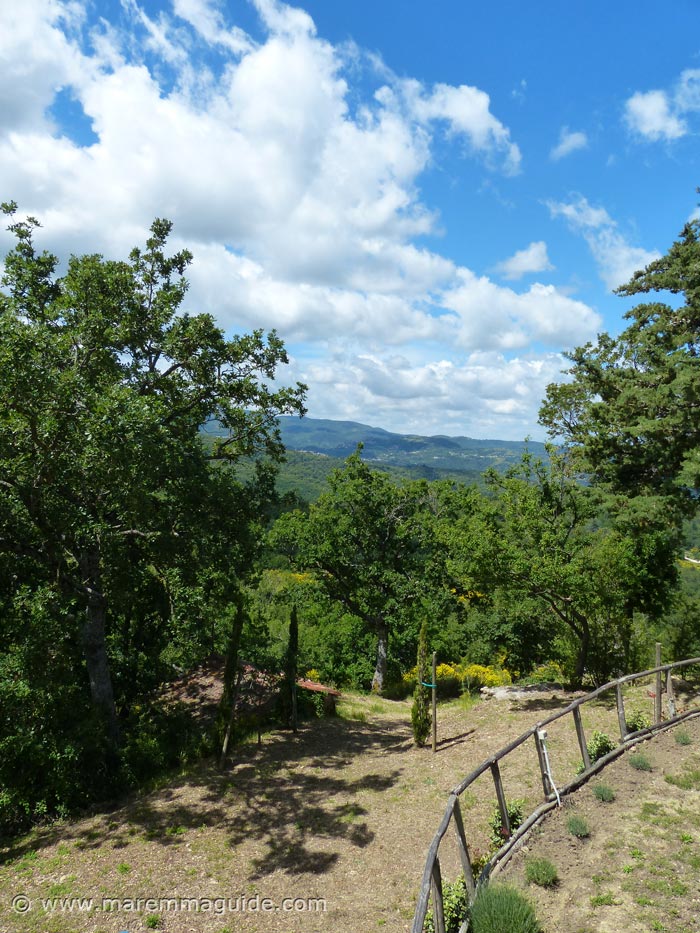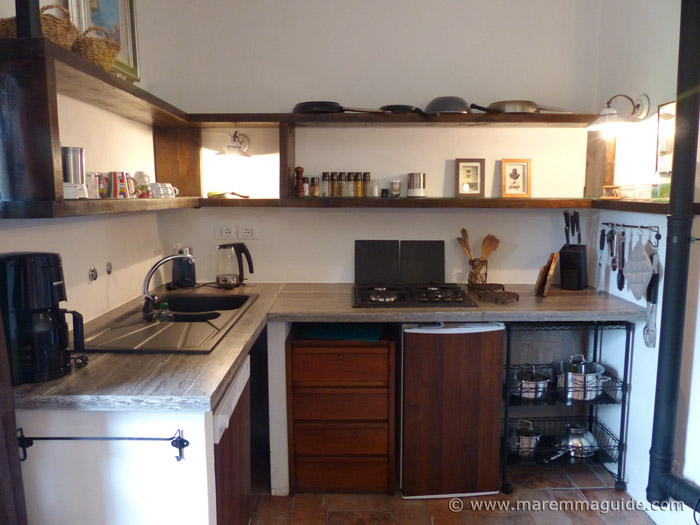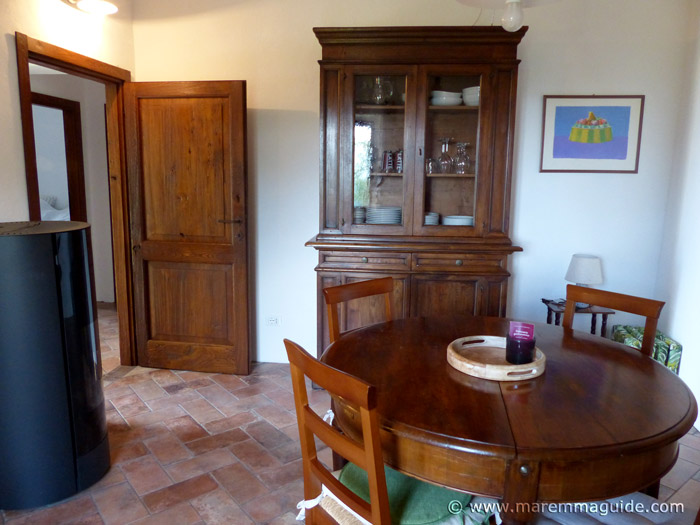 The double bedroom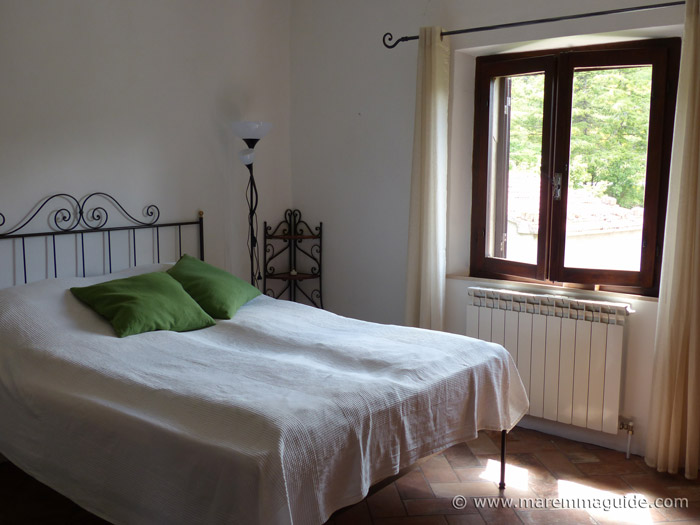 The living room
The living room is light and airy and could easily accommodate a large sofa bed. But.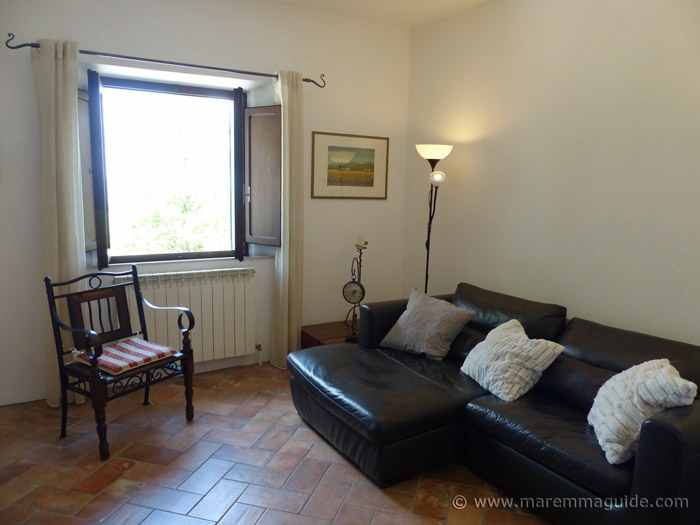 This is where the cottage just gives even more. Because, downstairs, with it's own separate entrance, is a large room currently used as a utility room, sitting under the kitchen/diner above.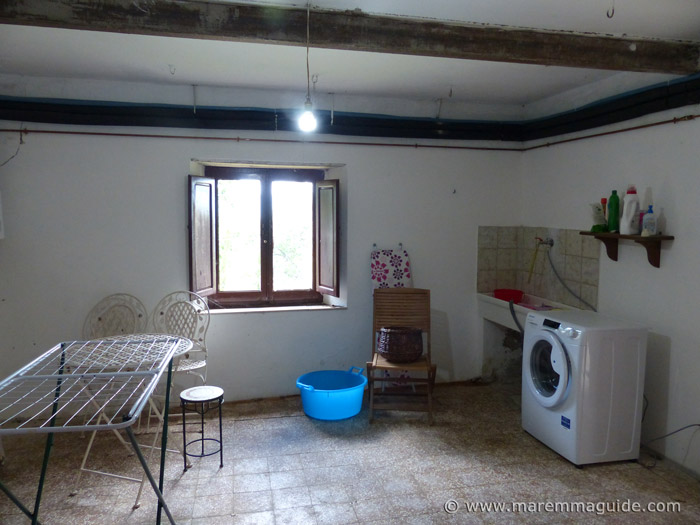 And.
It opens into a garage behind, whose double doors would make for an easy conversion into double patio doors.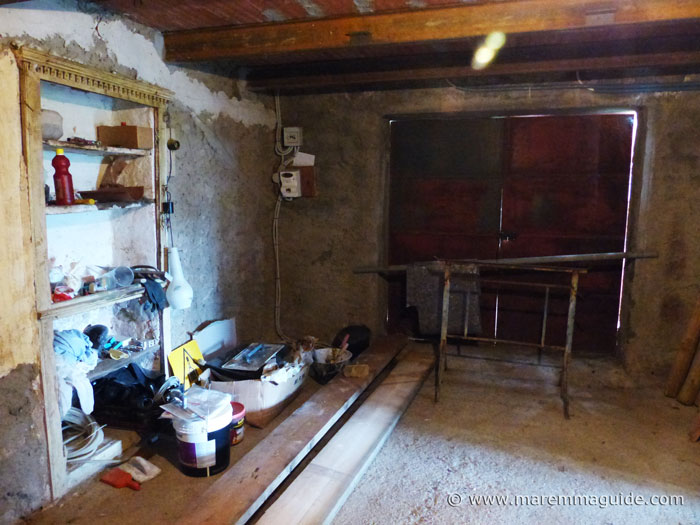 Without too much work, this part of the cottage could easily be converted into additional living and sleeping accommodation for visiting friends and family. With their own entrance, kitchen/diner, double bedroom and private bathroom.
Alternatively, a spiral staircase would join the upstairs to the downstairs.
Houses for sale in Tuscany - number 2
The stone-built house with a view and an olive grove
When you want that view. But you also want an olive grove, fruit trees, and your own small vineyard. Enough to keep you in your own wine.
And. And a rather lovely castle as your neighbour.
This traditional stone-built house gives you even more seclusion, without the feeling of being isolated. How could you when your view across the valley is this?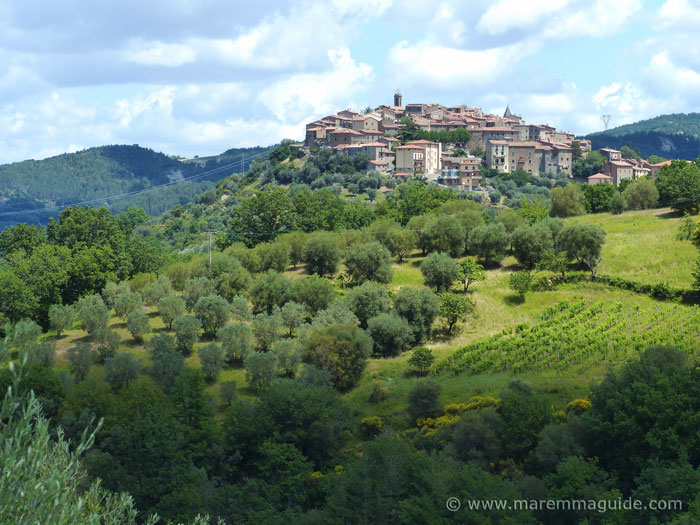 When you get that feeling...
I have to tell you that I started to fall for this property on the drive down the lane. The route takes you steeply down and down a country track. Past huge natural boulders and woodland to your left, with views and occasional hints at driveways to other homes on your right.
Just that drive was something special.
And the moment we pulled into the grass-covered frontage and before I had stepped inside, I was already contemplating how I could move my family here. What I would say to start the conversation with my husband...
This house is a traditional stone-built Tuscan home that has been fully renovated. It sits within a little under a hectare of its own land that includes an olive grove (around 60 trees) that descends down the side of the valley behind the property.
The portico and entrance with its beautiful stonework and traditional Tuscan roof.
I adore houses with these covered terrace: they are perfect places in which to sit outdoors from early morning until it is dark and the stars are your company. For there are no street lights here.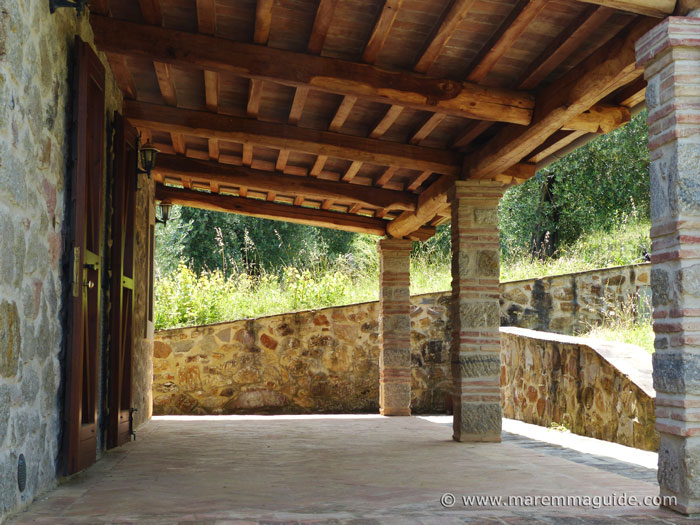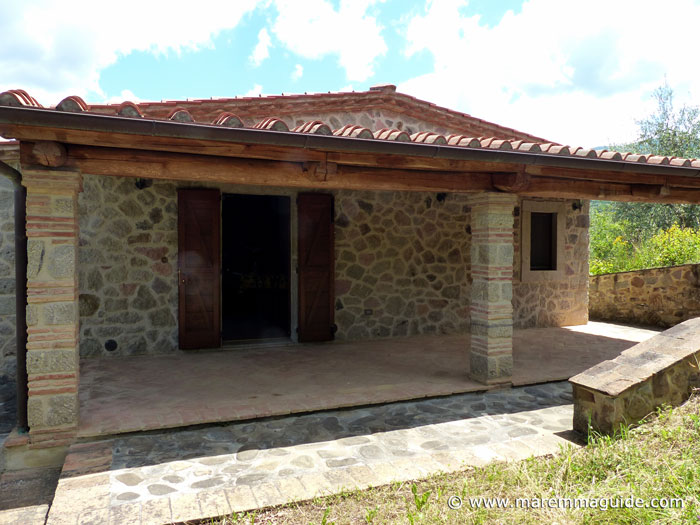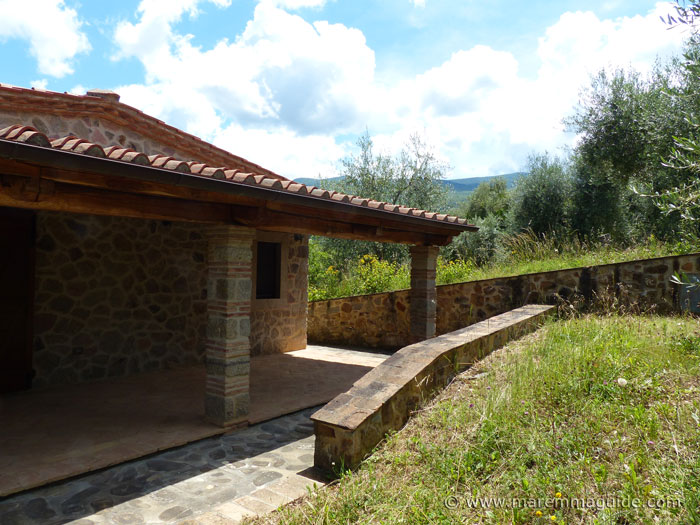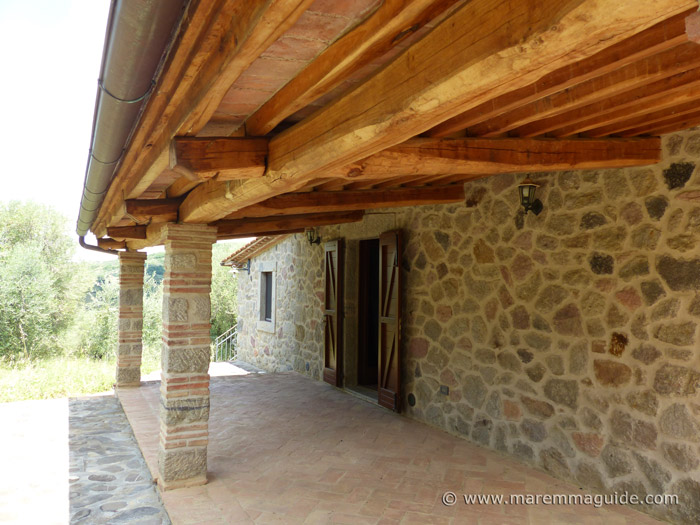 The kitchen
The living room
The living room is bright, with double aspect as there are doors that open onto the large rear terrace.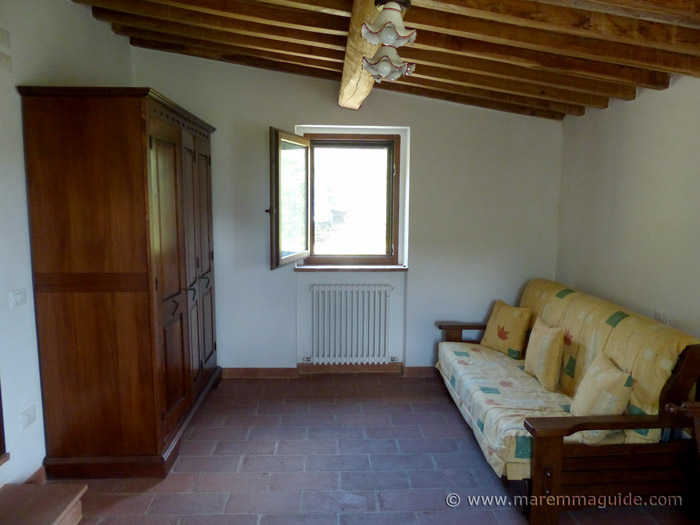 The double bedroom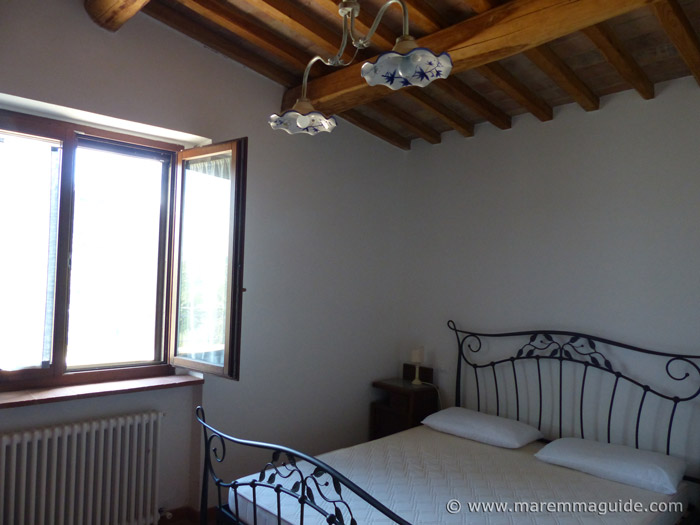 Although the house wouldn't accommodate my family as it stands, there is ample space outside to extend the single level dwelling to the right into the garden/olive grove.
Your own vineyard
The view continues.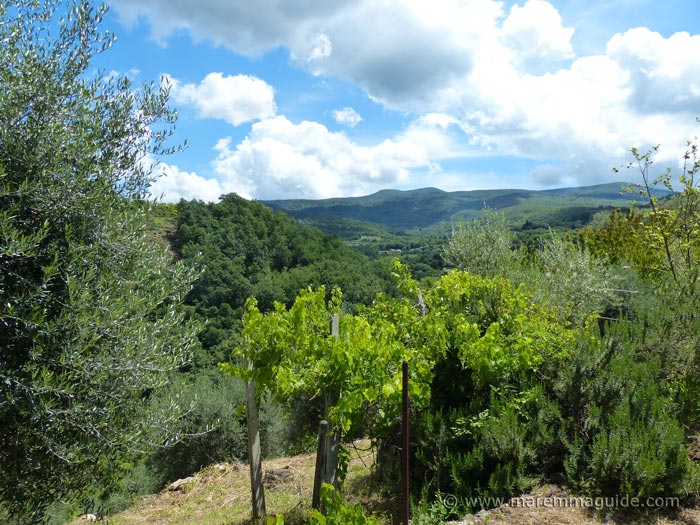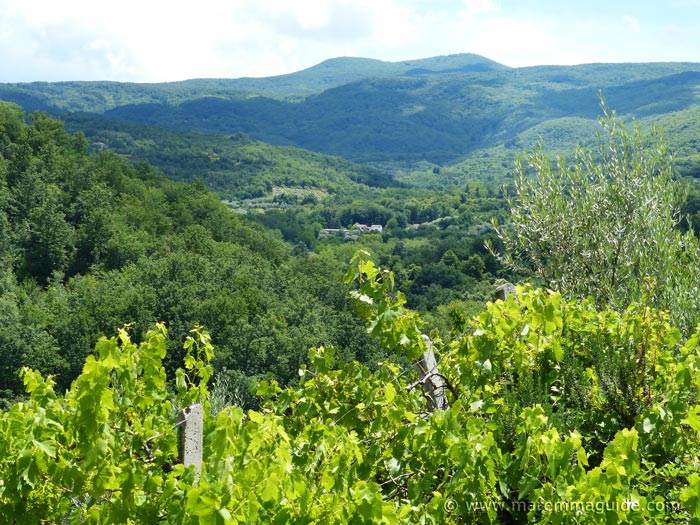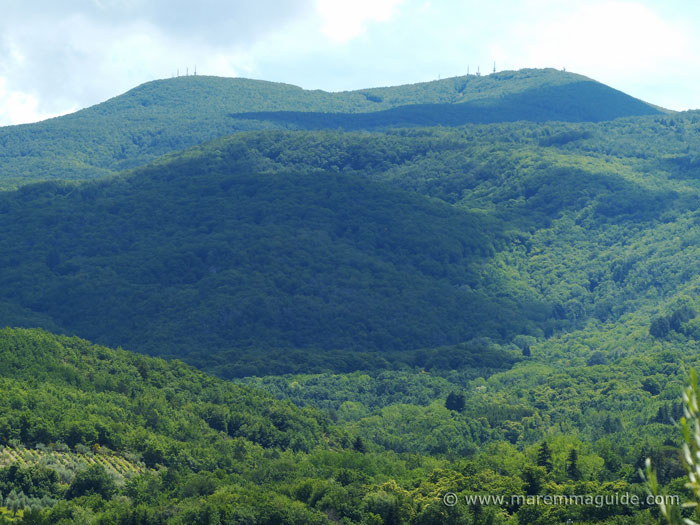 The rear sun terrace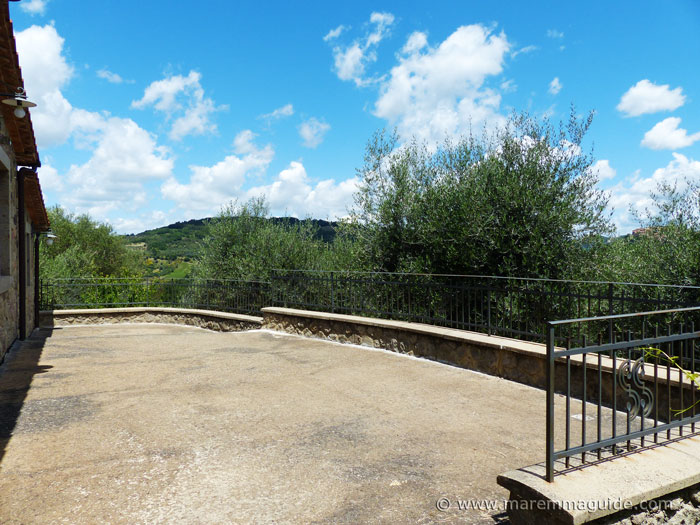 It's worth saying that you won't need a 4-wheel drive to manage the track, but its gradient and length isn't one you'd be wanting to walk every day into town. Unless, that is you are much fitter than me!
Houses for sale in Tuscany - number 3
the house with red shutters
For house number three, Rita and I wanted to take you closer to town (a thriving one just a few minutes drive away), but still leave you completely immersed in uncontaminated countryside. So we chose the house with the red shutters.
With its walled garden and about 8,000 sqm more of woodland alongside a river.
And it's because of that river that some of you will forget that you said you wanted a view.
Because.
Because the ability to walk out of your garden and take a dip in a river pool alongside your house will be more important to you than a view from your window. Just as it was many many years ago for the owners when they fell in love with it and filled it in the holidays with a growing family.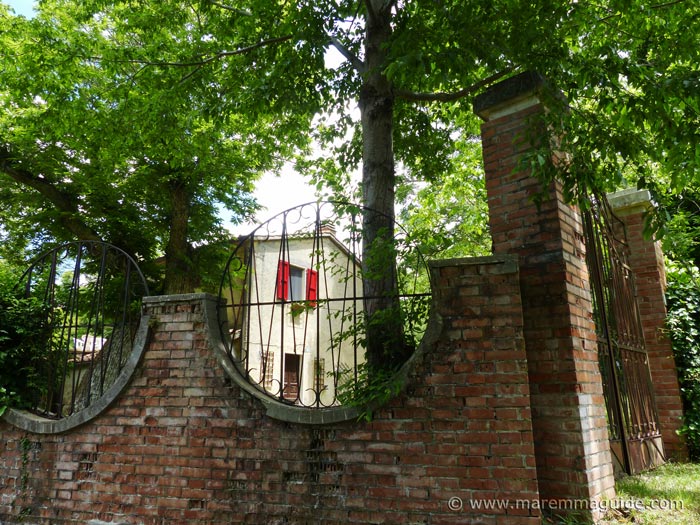 The lovely impressive front gate.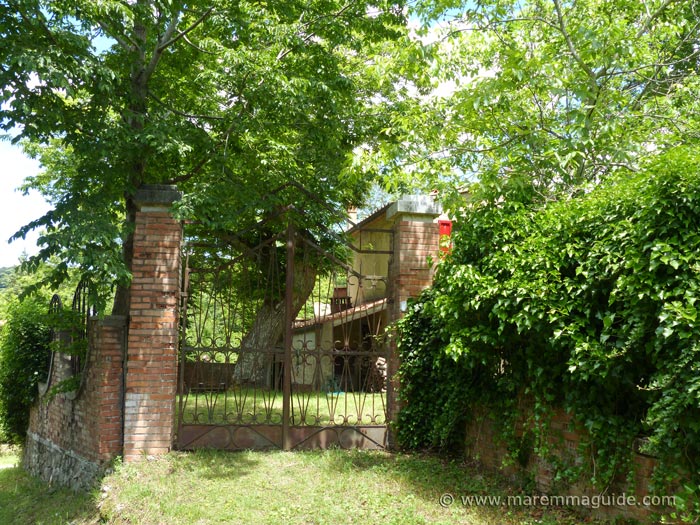 The front of the house and those distinctive shutters.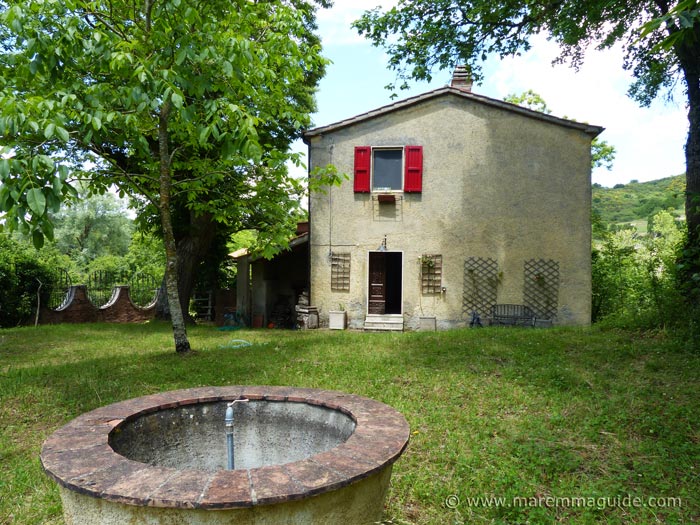 The wood-fired pizza oven: you don't know what you have missed until you have one of those.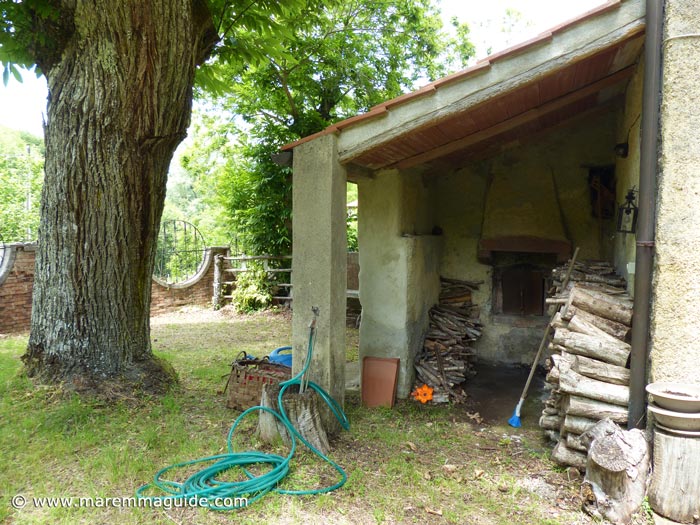 The view from the house of the walled front garden with its own (covered) well.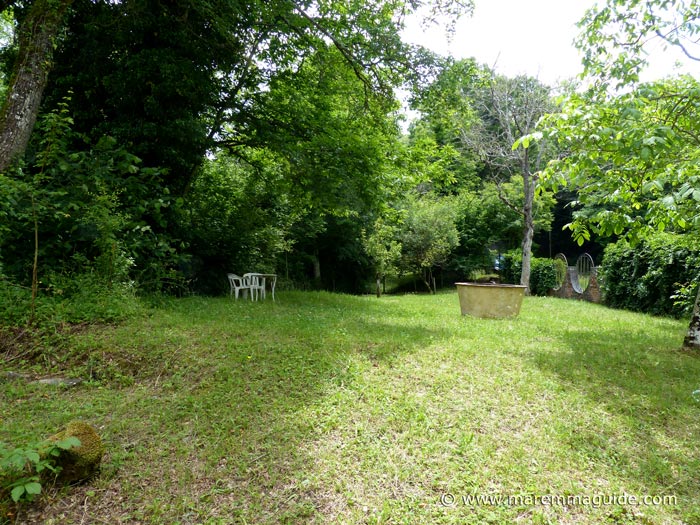 The inside of this house, it has to be said, is a rather unusual affair. But with original wooden beams, open fireplace and roof terrace, it's certainly not boring.
Inside the front door and into the dining room with its wonderful open fireplace.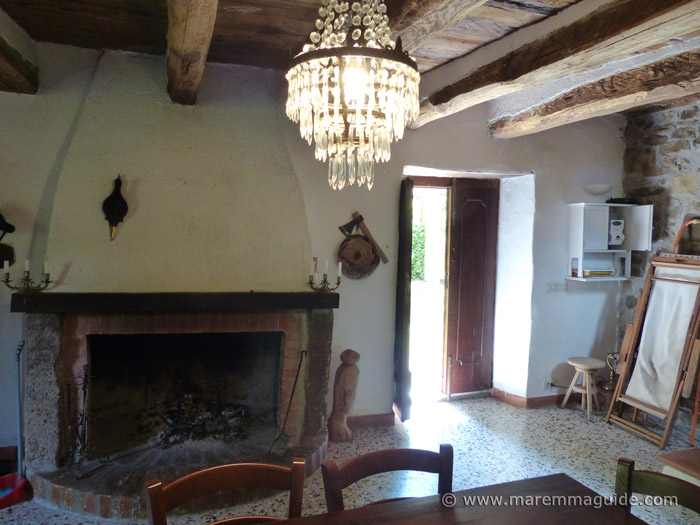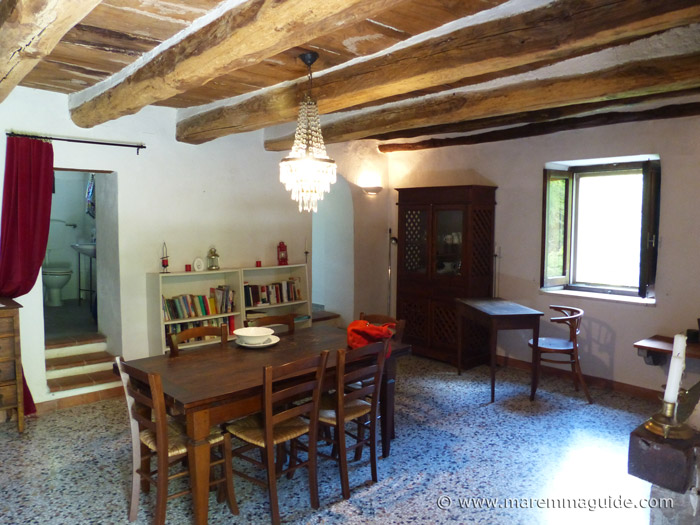 From which there is access to the bathroom and kitchen, the lower living room and the upstairs accommodation and roof terrace.
The lower living room.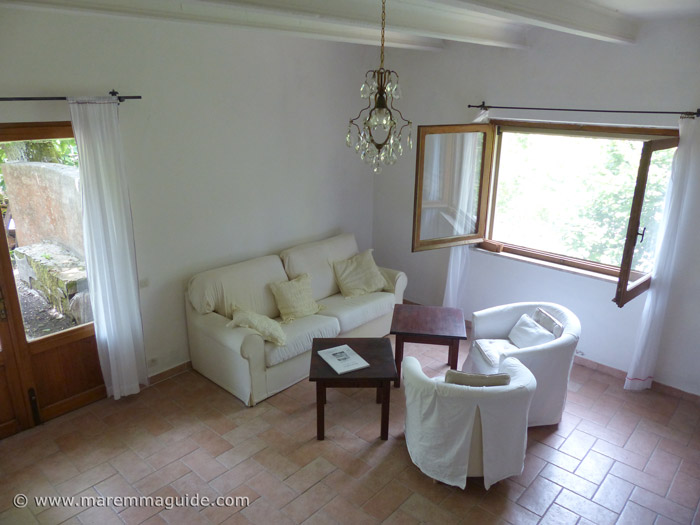 With wood burning stove and access to the garden.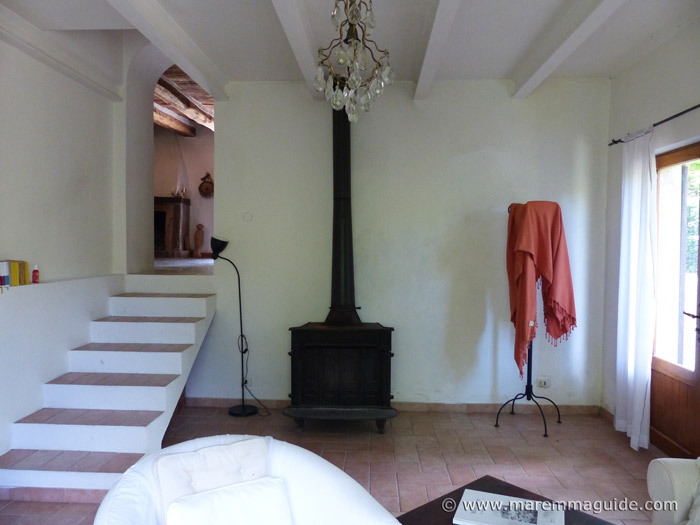 The upstairs lounge/study area.
The double bedroom. With chandelier, of course!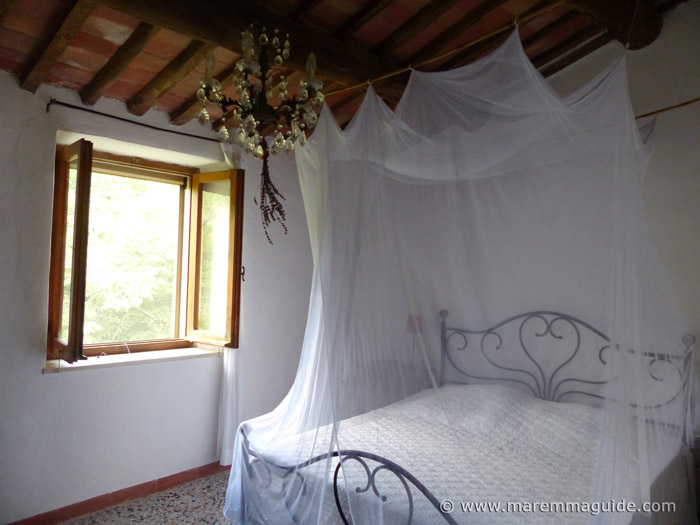 There is ample storage in a basement under the dining room, accessed from the side of the house.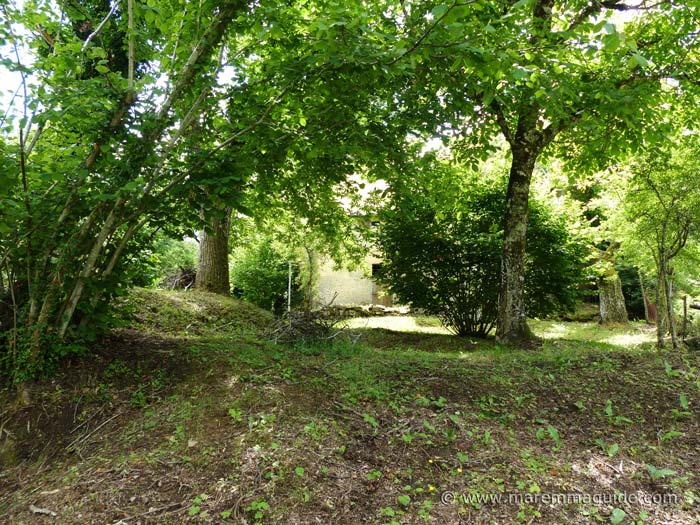 And, last but not least...
The river pool
Alongside the house, just a few steps from the end of the back garden is this.
Imagine taking a dip every morning before breakfast. And on hot sunny summer days in its dappled shade.
Bliss.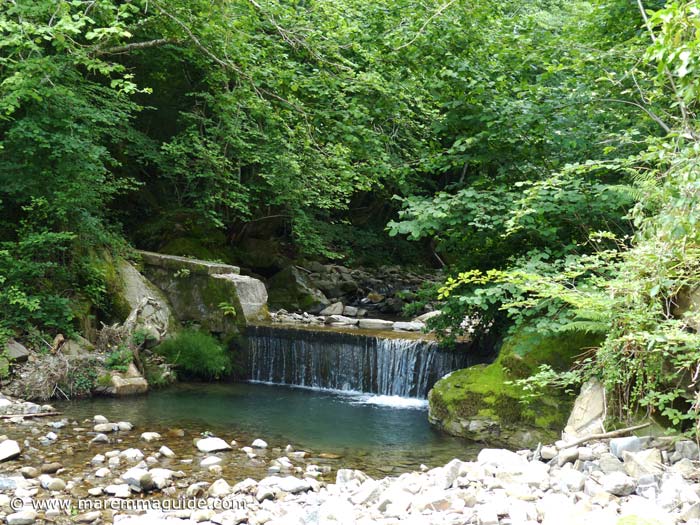 The not so bad news
Well, I told you the good news at the beginning. That all three properties had asking prices of between Euro 100,000 to Euro 150,000. But, the bad news is that all three sold very quickly. Much quicker than I could write about them.
But, others like them do come onto the market.
If you would like to know when they do, drop Rita a message below and she will take care of the rest.
Thinking of visiting Tuscany but don't want to follow the crowds?
Subscribe to my Maremma Treasures newsletter and, once/twice a month, have its beautiful, secret and hidden places delivered directly to your inbox.