Maremma Spas Italy
Maremma Spas Italy: there are two wonderful natural hot water spas and baths in Maremma in Tuscany set in beautiful countryside with free access to the public and with luxury spa resorts built alongside.
As well as a great selection of luxury hotels with wellness and day spa facilities and more... Read about them all here and plan your relaxing spa vacation in Tuscany.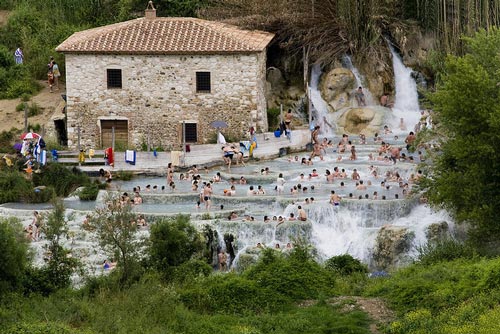 Maremma's Natural Thermal Spas
From the time of the Etruscans, Romans, through the middle ages into the Renaissance period and to today, the natural thermal spas and baths in Maremma have been enjoyed and appreciated for their curative properties.
Those particularly well documented in ancient records are the Roman thermae of Betitio Perpetuo Arzygio with the cold, tepid and hot water and steam baths at Roselle; the once thriving spa town of Bagnore (now more famous for breaking geothermal energy records); those at Bagnolo, Saturnia, the Terme dell'Osa at Talamone by the sea, Petriolo, and more recently at Pietrotonda.
Today, there remain two wonderful "terme" (thermal bath) locations set within stunning Maremma countryside where you may bathe and relax in hot sulphurous cascading waterfalls, streams and baths.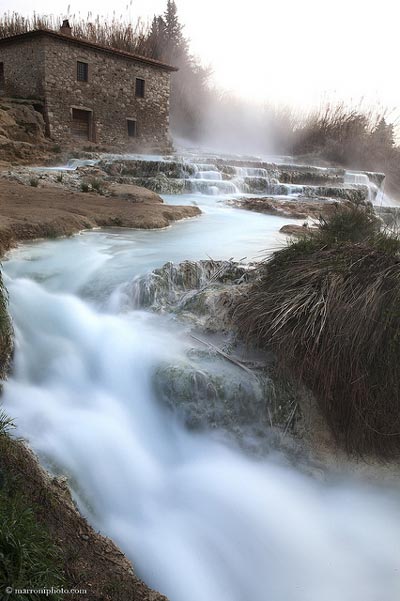 Termi di Saturnia falls by
Marco Marroni
As popular today as they were centuries ago, it will be difficult to experience them all to yourselves unless you are a very early bird or are happy to relax in their waters at dusk and watch the sunset. One of the many wonderful things to do in Tuscany for free, even in the depths of winter!
The photo of the Terme di Saturnia at the top of this page is by kind permission of aurelio candido
Petriolo Spa - Bagni di Petriolo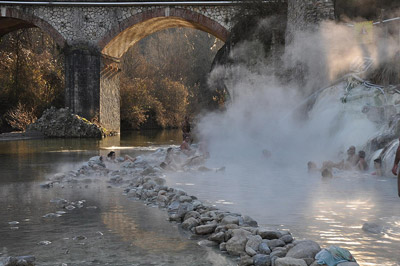 Terme di Petriolo by
arttrav
Situated in the Ombrone valley in Tuscany along the River Farma, the Terme di Petriolo have the hottest natural thermal waters in Maremma gushing out at 43 degrees C. Visited since Etruscan times, they reached their peak of popularity and fame in Italy and abroad during the Rennaisance when they were patronised by the rich and powerful, including a Pope.
Unfortunately, today this Tuscany pearl has lost its lustre: the Terme di Petriolo hot springs.
The Petriolo Spa Resort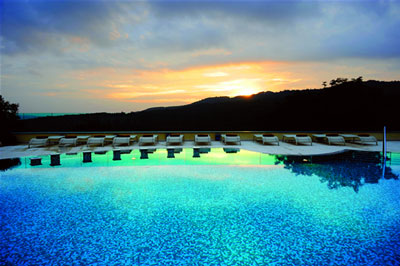 Immersed in Maremma's wooded hills and a private nature park in the Farma valley, this five star Spa Resort is described as totally amazing and rated as superb.
All of the therapies make use of the natural Petriolo thermal waters and the treatments follow the traditional Roman system of hot, tepid and cold baths. The Wellness de-stress, anti-aging and detox weekends include accommodation with spectacular views over the Sienese hills, and then there are the oriental massages, Kneipp, cosmetic medicine, micro-surgery and more... the Petriolo Spa in Tuscany.
Le Terme di Saturnia: The Baths of Saturnia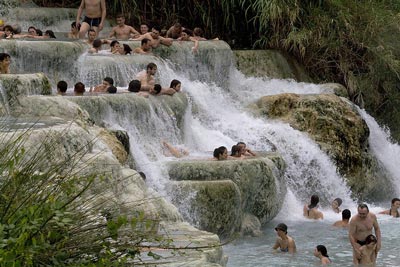 The Terme di Saturnia are no mere geological phenomenon: legend has it that they were formed during a violent quarrel between the mythological gods Zeus and Saturn! The stream of sulphurous waters that feed the spa and baths originate from springs 200 metre below the earth that flow at 800 litres per second. First filling a large pool and then feeding the waterfalls of Cascate del Mulino and Cascate del Gorello. At 37.5 degrees C, they are warm enough to take their cures even in the depths of winter: and many do! The Saturnia thermal springs.
Spas Italy: photo by kind permission of aurelio candido
The Terme di Saturnia Spa and Golf Resort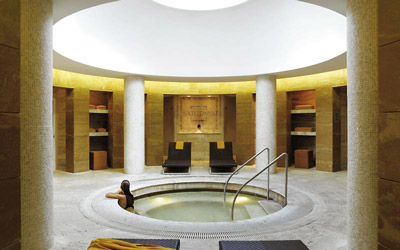 The four star Terme di Saturnia Spa & Golf Resort is a haven for those who love their spa treatments! With everything you could possibly think of for men and women including anti-cellulite treatments, mud and multi-jet therapies, foot, full body and lymph massages, facials, fitness programmes, detoxes, and aromatherapy and plankton beauty treatments... all in an architect interior design setting.
And for those who just want a dip, there is a traditional Roman bath, a sauna and steam bath, four swimming pools, waterfalls, waterways and a jacuzzi all fed by Saturnia's natural thermal spa waters. And then there is the 18 hole golf course... Spa Resort Italy.
The Maremma Spa Hotels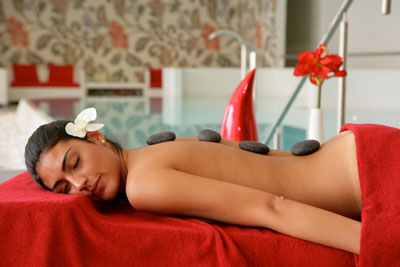 Spas Italy: photo of the four star Tuscany spa hotel Golf Hotel Punta Ala
As well as the above two Spa Resorts at Petriolo and Saturnia, there are a number of highly rated Maremma hotels that provide a comprehensive range of wellness, beauty and spa facilities for their guests. The Maremma Spa hotel Tuscany page will help you find the perfect one for you.
For the whole selection of hotels in Maremma from superb two and three star family-run establishments, to boutique Tuscany hotels and those rated amongst the top 100 best hotels in the world with every possible luxury: the best Maremma hotels page.