Maremma Sagre
Traditional Tuscany Food Festivals and Feasts
The Maremma sagre: your insider guide to festivals of food and wine in a little known part of Tuscany. Wonderful opportunities to try seasonal home-cooked Italian speciality dishes in an informal atmosphere with a whole town!
LE SAGRE in italian literally means "feasts", and is often used interchangeably in the publicity for these events with "festa" or "feste", festival/festivals.
The latter is especially true if the sagra is part of the village or towns wider celebration of an historic event, such as the re-inactment of a medieval pageant.
In every day language, however, if you talk about going to a sagra it is understood that you are going to a place to eat! AND to do so very well! - "mangia bene!".
Sagre are normally very well organised, with a family atmosphere - that is not to say full of children - but where friends, family, neighbours, and visitors all eat together and savour the local gastronomic speciality and great wine for a lot less than a similar meal would cost at a restaurant.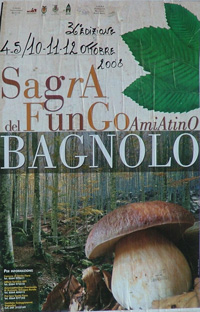 You don't get a private table - the tables are long bench picnic tables - if your party occupies only one half, you will be joined by another couple, or group of friends etc. Depending on how long you wish to linger and/or the other parties plans for the evening elsewhere, you may be joined by another group later, and then maybe another... and so the conversation at the table will change again and again...
But there will always be the important debates about food: whether the food served is good, who cooked it and how, whether it is "sciocco" - lacking in salt, better than last year, or the sagra in a neighbouring village... The preparation and eating of good food is so very much an intrinsic part of everyday life in Italy and no less so than here in Maremma.
The plates, cutlery and glasses will be plastic, and the toilet facilities will be somewhere in the vicinity - normally the local sports club etc cloakroom... BUT you get a lively evening, sometimes with a free show (spettacolo) laid on, for example, by the local dance school, and/or music and dancing.
There is always a sagra on somewhere in Maremma. In the summer months they often run for two weeks at a time - in August, for the whole month - and you will be hard pressed to choose which one... great if you like good home cooked food in a relaxed atmosphere.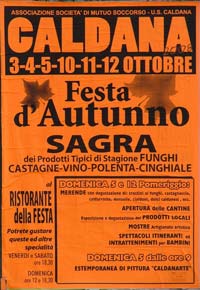 AND this is home-cooked - cucina casalinga - Maremman food. In the spring, autumn and winter months the sagre tend to run over weekends.
One of our favourite things to do after an afternoon spent on a local beach, is to eat dinner (la cena) at a sagra on the way home. The whole day just seems to take on the magical quality of those summer holidays when we were kids and the days just seemed to go on forever...
Just look for the signs along the roadside: they are usually placed at strategic points and sufficiently large to be able to take in all the information as you pass by - where, the dates, and what food the sagra is celebrating, eg porcini mushrooms (funghi), wild boar (cinghiale). Importantly, take a note of the time that the sagra starts.
The queue for the sagra will form early and grow quickly. If you have hungry little ones with you, aim to get there when the sagra opens. No matter when you arrive, you will be able to eat, your choice just depends on how long you want to wait in line.
And that is part of the evenings experience as well. A queue in Italy isn't a rigid English kind of thing: it's a social gathering! People wonder in and out depending on which friend or family member has just been spotted; conversations start up about how beautiful the children in your party are; questions get passed around as to whether a particular dish is on the menu... and who is cooking.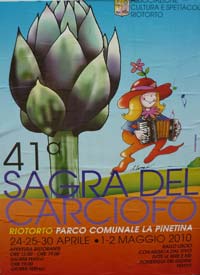 But always, no matter how the whole thing grows, everyone knows at what point in the queue they are, even if they aren't actually stood in it! At the sagre, as in the doctors waiting room etc, if it isn't immediately obvious, Italians just ask who was before them and it is resolved.
The queue also functions for choosing and paying for your meal. The menu will be displayed close to the ordering and cash desk. At the well organised events, one person usually takes your order on a pre-printed selection forms and passes it to the second, whom you pay. The queues normally move a lot faster at these sagre than those with only one individual at the desk... but, in Italy, who is in a hurry?! It's an evening out... Leave one of your party in the queue and wonder up to take a look at the menu in advance, as when you arrive at the cash desk, the expectation is that you have already chosen.
The sagre menus are normally limited - this isn't a restaurant - however, there will be two or more pasta dishes (primi piatti) and meat or fish courses (secondi piatti), with contorni, such as potatoes chips, cannelloni beans, or grilled vegetables to choose from. The speciality food for the sagra will, naturally, dominate the choices, but there is usually another option for each course. So if you don't like porcini mushrooms, chances are there will be a pasta with meat (ragu) sauce etc option. Theses dishes are good as well!
You will then either choose where to sit and your plates, wine etc and each course in turn will be brought to you in exchange for your menu choice form you hand to the person who is serving at your table (these are local volunteers). Or, you will join another queue for your tray, cutlery etc and all of your food and drink choices, before finding a table.
If you want to order another dish later on - the puddings (dolce) are also handmade! - you can and without having to re-join the queue.
The Sagre in Maremma 2015 Calendar
More than 130 different sagre in Maremma to see you through the months from April into December!