The practice makes perfect pottery holiday
in Tuscany
take your skills to another level in an incredible setting
This is no ordinary pottery holiday in Tuscany. It's no less than a ceramic fundamentals and Raku and Bucchero pottery masterclass. Taught by an expert in her craft. A woman whose destiny was to mould clay with her hands and from the moment she first did so she has never stopped.
Whose creative journey with Raku has taken her around Europe and then brought back to her home in Maremma. To Sorano. To her Etruscan and Bucchero roots. Where she now teaches ceramic courses.
Exceptional ones.
The Mara Funghi Ceramics Masterclass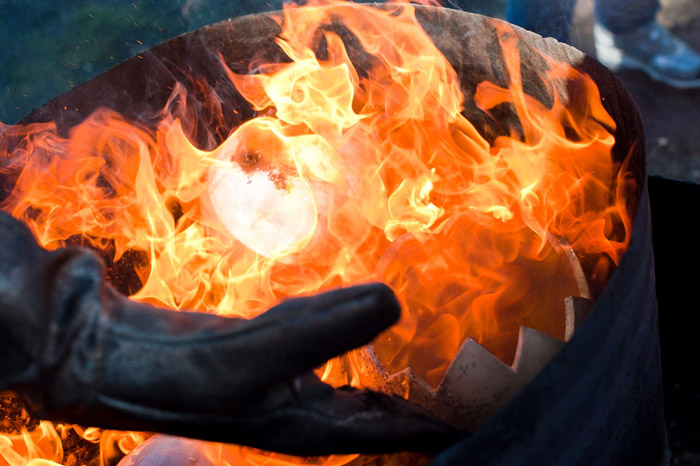 You'll be with Mara for ten days. But they will feel like longer. Not because they are overly intense, requiring you to put your head down and study hard. On the contrary. But because you will have free time. Lots of it. To expand your horizons. Creativity wise. And literally. Because you will get to walk and drive routes in an incredible countryside that feeds a creative soul.
Apart from on one day, every morning from 9am until 1pm, you will spend with Mara in her workshop. In the afternoons you are free to explore Maremma wherever your inkling takes you. The breathtaking tufa towns, the natural thermal pools and waterfalls, the sleepy hill top villages. The wineries. The kilometres of stunning coastline. And more.
And. To follow magical paths that Mara maps out for you. Along ancient roads, now footpaths through archaeological parks, to Etruscan tombs and civilisations. Along river banks that take you into a time of long ago. Paths that put you back in touch with nature. With the beauty of sunlight streaming through dappled cover above. The sound of waterfalls. And fresh water springs.
You'll return bursting with decorative ideas, your arms laden with plants and organic matter that you'll want to use straight away.
But you will have to be patient.
Because, although Mara's courses give you a wonderful freedom to develop your own style and ideas. They are highly structured. From morning number one there is a programme to follow.
A proven programme divided into two distinct phases that, rather than constrict you, will take you ahead in leaps and bounds along your creative adventure. No matter where you are along that path. Beginner, or advanced ceramicist. Mara has been teaching for many years, over which she has developed a carefully planned and proven "recipe" of technique after technique for the ten days that works. For everyone.
Bringing students to the same point on firing day. So that everybody. Everybody. Goes home with one, if not two, pieces of work in each of the techniques she has taught.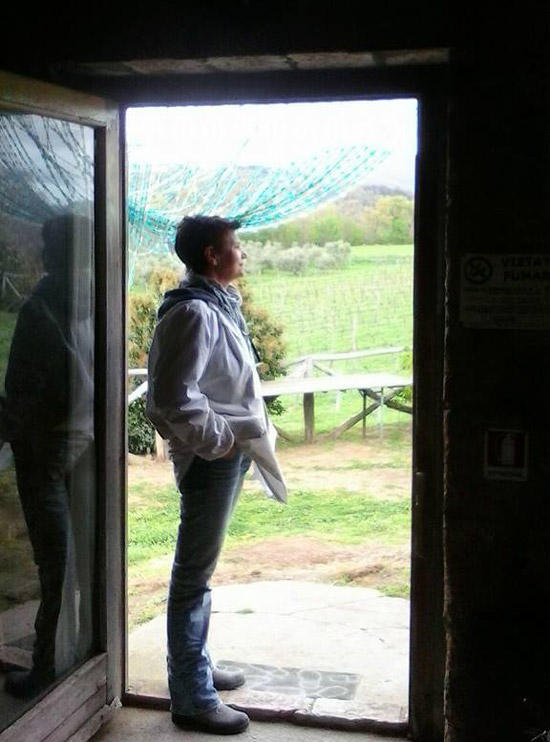 TIP. You will need to resist purchasing too much pasta or biscuits to take home with you in order to leave room for your pieces of art. Unless, that is you are planning on packing them surrounded by that pasta!
The programme
Technique after technique
The programme is dedicated to hand-building, Raku and Bucchero pottery techniques and firing.
Ten days divided into two distinct phases.
Day 1
The first of the hand-building construction techniques. At the end of which you will have made one or two objects and be the master of pinch pots.
Day 2
Day two is dedicated to creating by coiling. When Mara showed me some examples I was blown away because they were nothing like what I had expected her to show me. With not even a hint of a coil line in sight, they were highly structural pieces and sculptures.
Believe me, we are not talking of the clay dishes I made as a younster for my mum's rings here!
Day 3
Using "lastra" slabs like a pizza!
She will give you a slab of clay and teach you how to use moulds. Now when Mara teaches, everything she knows comes out. So you will know how to use a mould like a pro when you have finished this morning!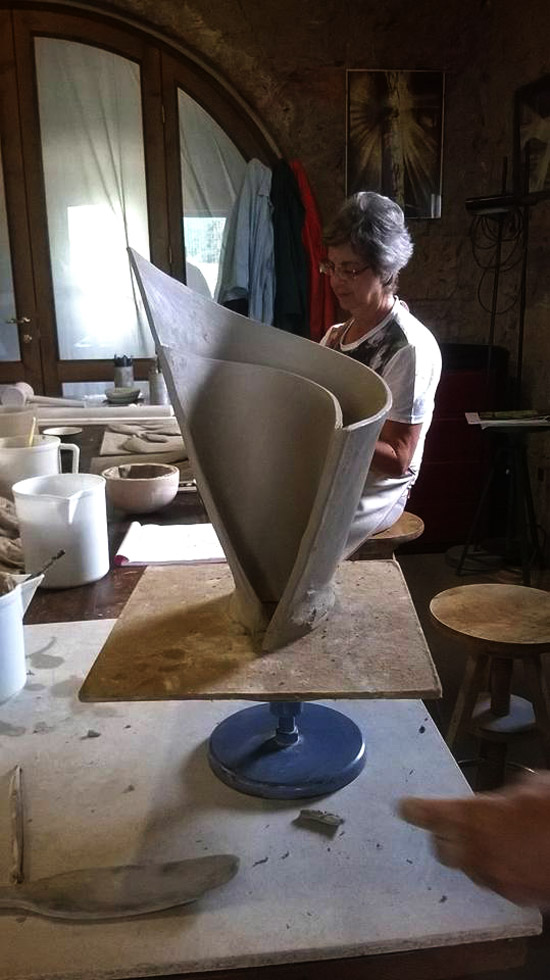 Day 4
Day 4 is sculpture day. This time you are given a block of "agila". The music is turned on and you are left to create. Using the techniques you have learnt.
Mara will be with you. To watch and guide you. And she will instinctively know if sculpture is what you were born to do. Or not. She knows. From watching your hands!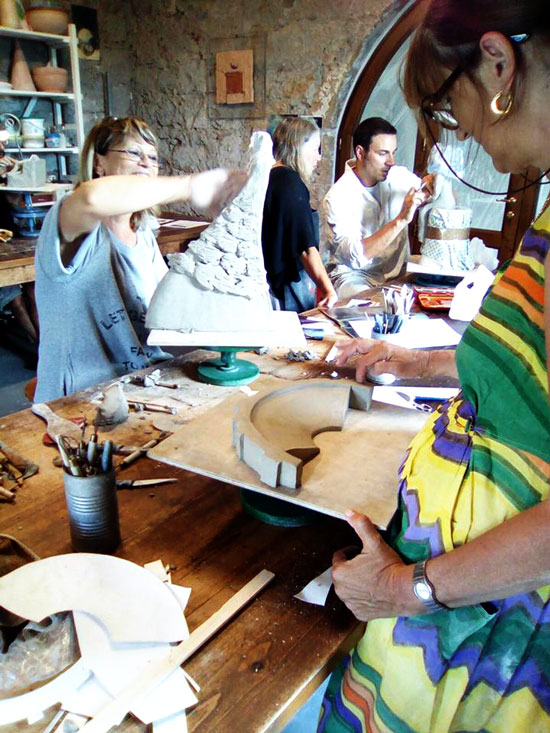 Day 5
A free day. You get the time to take a longer drive and explore further afield. (The small beautiful city of Orvieto in Umbria is just 45 minutes away.) Sleep in. Sit and read by the pool.
Because on Day 5 Mara does the first "bisquit" terracotta firing . There is nothing to "see". So you get the whole day to yourself.
But.
Day 6
Is a full day. From morning to early evening. To recoup lost time.
You will be making one piece destined to be Bucchero. And two pieces destined to be Raku. One of which will be naked Raku.
Then the magic of "terra, fuoco, aria e aqua" - earth, fire, air and water
Then comes the "cooking" as Mara describes it. Well, we are in Italy after all aren't we! And the second phase of the programme: glazing and firing.
Mara makes all of her own glazes. So you'll have the opportunity to talk glazes and problems. Successes and failures with her. And quiz her 35 years of experience.
Mara has her own approach with glazes too. She melts the glazes in a gas kiln and when the temperature is around 1000 ℃, she doesn't stop the kiln in the normal way. She opens the kiln when the glaze is like glass, removes the ceramic, puts it in a metal box and throws on sawdust.
The moment of the fire.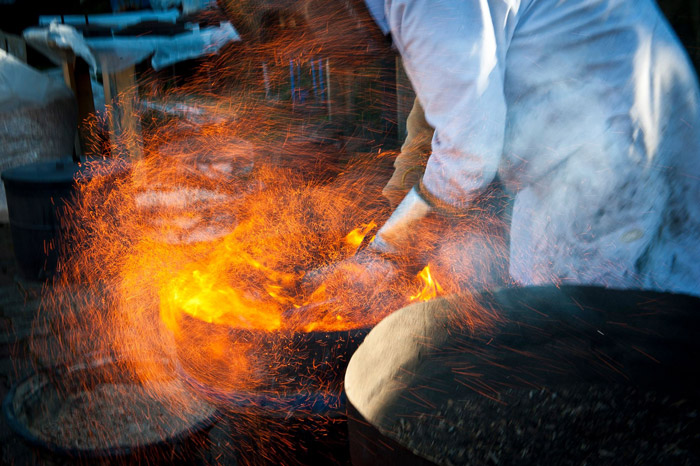 There is a lot of smoke and fire. She chooses the cover for the metal container. And waits. Just 5 minutes.
It is a very fast process.
The lid is removed and the piece is in the open air. It needs to cool a little because the glaze she uses makes the crackle.
You can hear it. There is a distinct sound.
More sawdust. Smoke enters through the cracks.
Then into cold water. Quickly. All the elements together.
The outcome will be different on different days. Even if you go through the same steps again, exactly. It depends on whether it is a wet or dry day. Cold or not. All the elements influence the piece. Every one is unique. Unrepeatable.
Naked Raku firing
You can see the results of Mara's Raku techniques in her shop. It is a definite and distinctive process. One that she has developed over the years. She doesn't use many glazes. Only Raku crackle glazes. Just black and white.
Just out of the fire.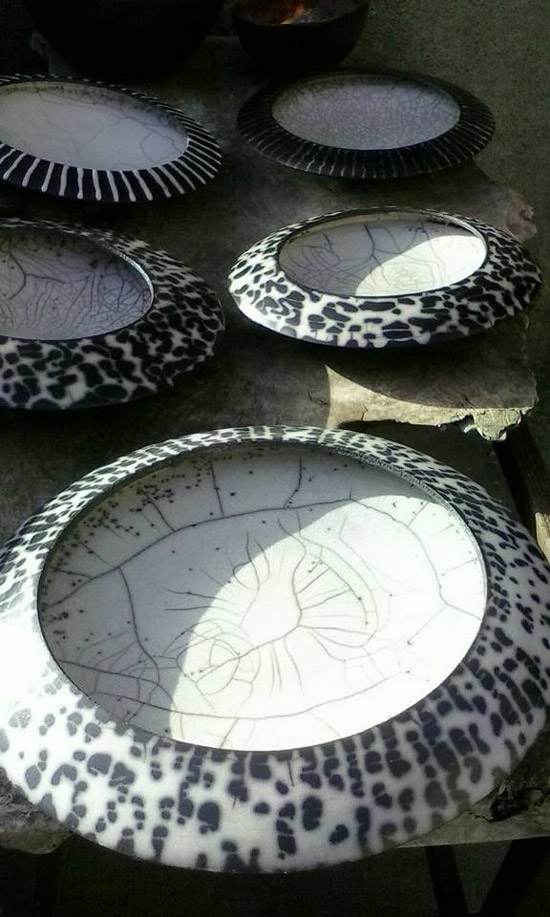 And then, with goggles and masks adorned, it is your turn.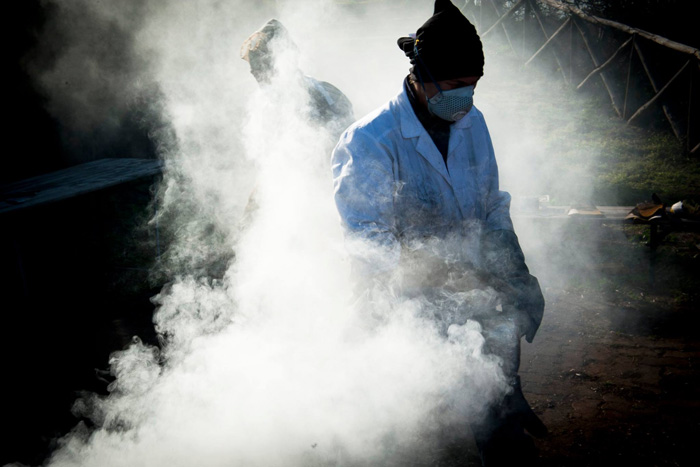 Hand-built Raku is her passion
Make no bones about it, Mara's passion is naked Raku, but she teaches you everything she knows.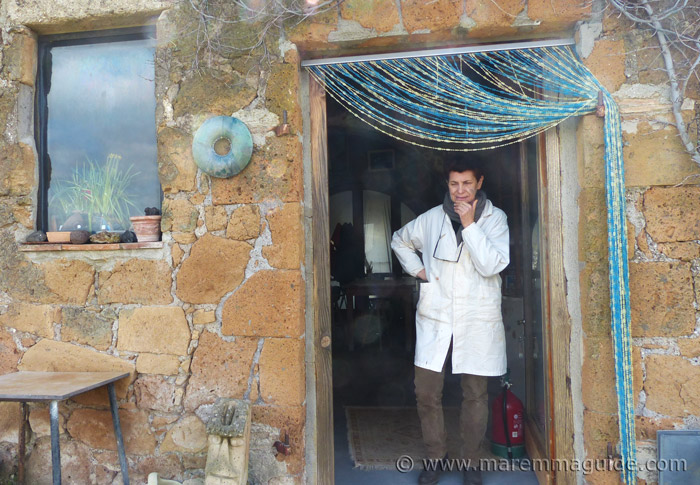 It spills out in such a natural flow in her presentations to the class, her one on one time with each of you as she guides and helps you through each day, that you won't even realise how much you are absorbing until you stop for lunch and instinct tells you to grab a pen and note pad and write as much down as you possibly can. Lest you forget!
Pitch black Bucchero
You'll learn the very magic art of reduction. Of fire in the smoke. Of pitch black Etruscan Bucchero.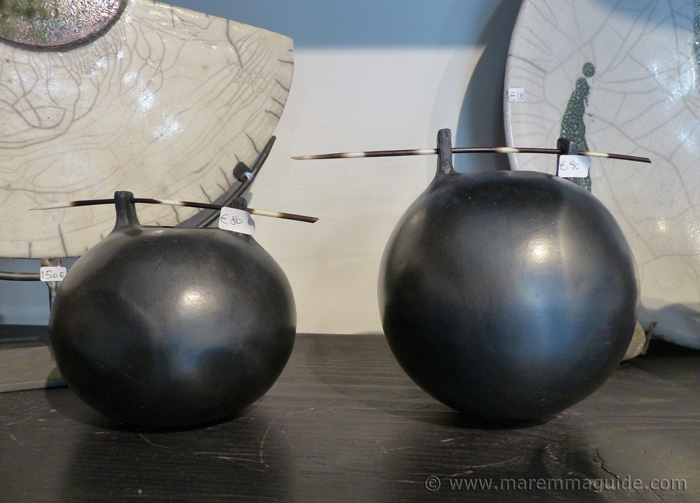 And back again! To white.
The lower temperatures that you need, and the wood to use. And not. And why.
She'll tell you how to tell whether a piece of Bucchero pottery dates from the Etruscan period or not. And why you won't do the test!
And then you'll glaze a Bucchero piece to transform it again. With Raku!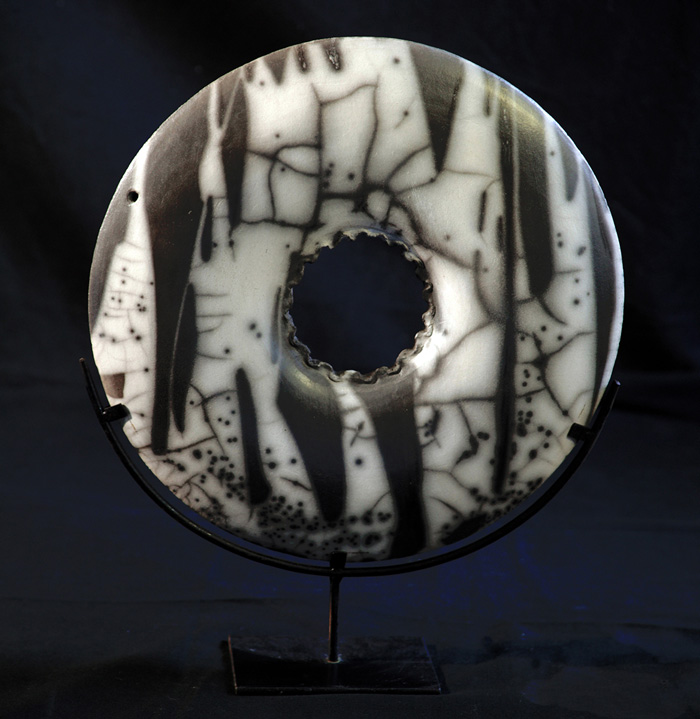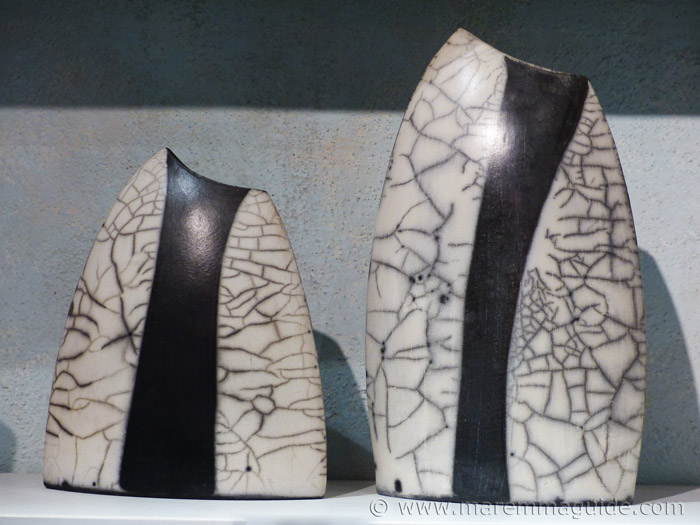 Horse hair Raku and more
You'll get to play with horse hair at 600 ℃. And other organic matter, such as sea algae. The salt from which leaves a decoration of orange spots.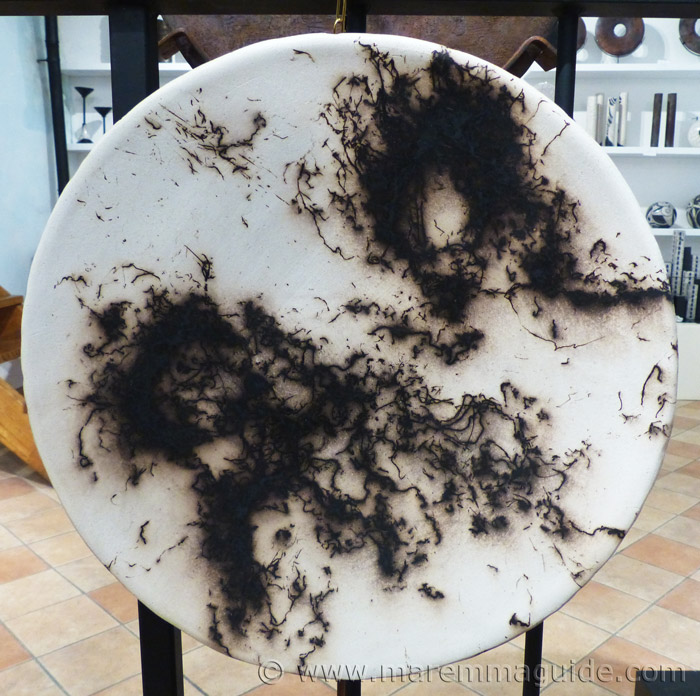 The slow cooking pit fire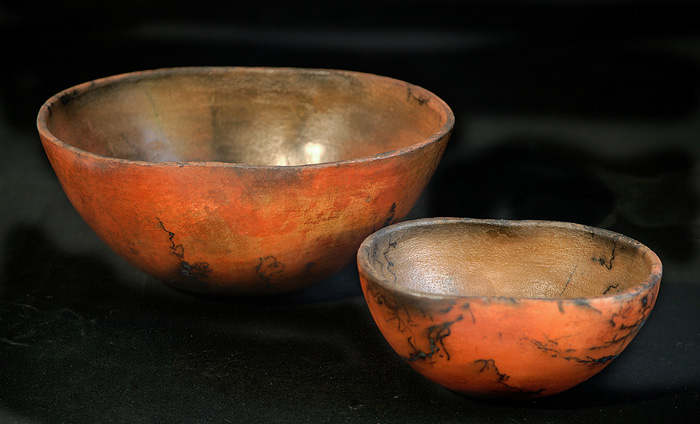 Learn the nuances of a slow-cooking tufa oven. And delight in the orange glow effects of iron sulphate, aluminum foil, and sawdust.
Mara uses the colours of her land. The metal oxides of copper, cobalt and iron.
Refractory clay
She will introduce you to an expensive special kind of clay for Raku, "refractory clay". A very strong clay that doesn't break easily.
Everyone goes home with...
Mara is not only a master of her art, but she is a master teacher. She instinctively knows how to read the needs of each group and every individual in it. To guide and encourage. To help and support.
Nobody gets left behind. Everybody arrives together at the end. When it is time to fire. She fires for everybody together.
Everybody learns every technique. The only difference is whether you make one or two objects with each one.
But everyone goes home with at least one pit-fired piece, a piece of Raku, naked Raku, horse-hair raku, and Bucchero.
Beginners and advanced
It doesn't matter what level you are at. Nor your age. In the last group that Mara taught the ages ranged from mid-twenties to 91 years of age.
There is ample time every day with Mara to give a complete beginner to confidence to continue on their own back home. To take a well practiced, advanced student, up a hike, to new level of expertise.
Specific problem? New technique to conquer?
When Mara finds something new in her own journey in ceramics, or her students want to go deeper into one technique, she invites the experts into her workshop to teach.
For example, a paper clay specialist, a once a year advanced sculpting course with Italian Federico Della Bina. And "Painting with Smoke" naked Raku masterclasses from visiting UK ceramicist, David Roberts.
Having crackle problems?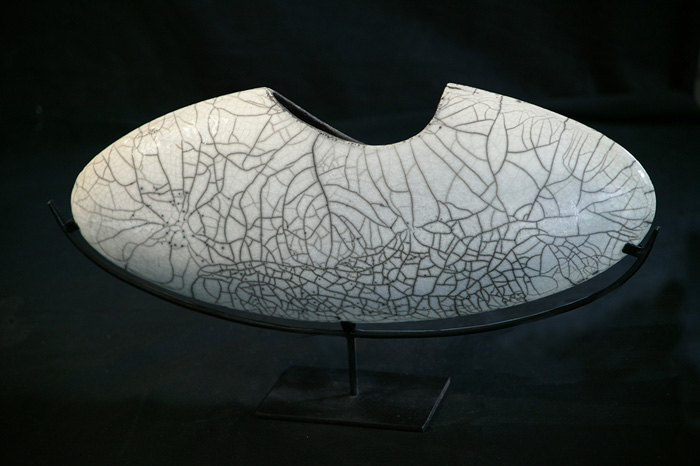 Dream of using paper clay but dare not give it a go on your own? Tried but having trouble carving it?
If you are tempted to take Mara's course and have a particular problem you want to overcome, or a technique you want to master, let her know when you get in contact.
Weekend workshops
If you'd love to, but ten days of pure pottery just doesn't fit into your schedule, then you might still be in luck. Because Mara can sometimes also arrange to schedule in a weekend workshop.
The same fun, just concentrated. With a lovely lady.
Alumni work
Just a small sample of the work that Mara's alumni have gone on to make on their own.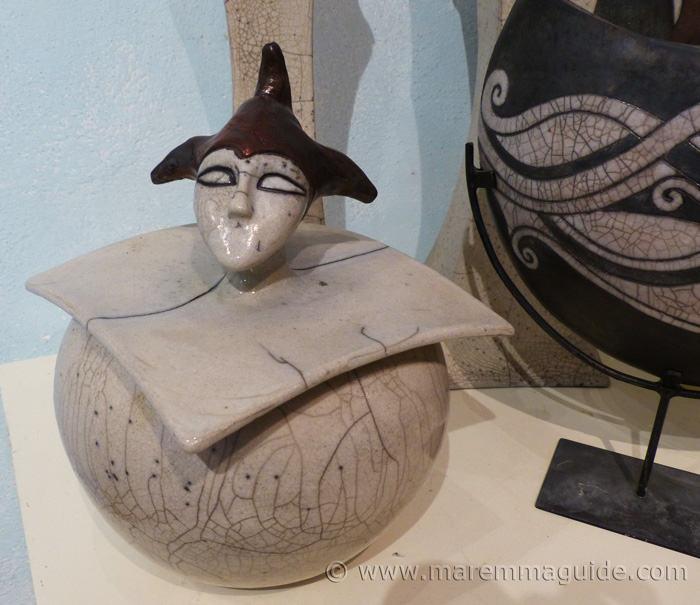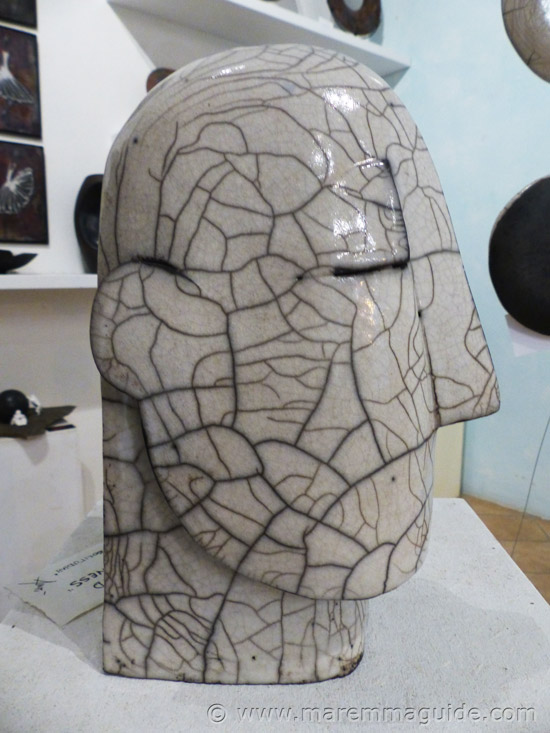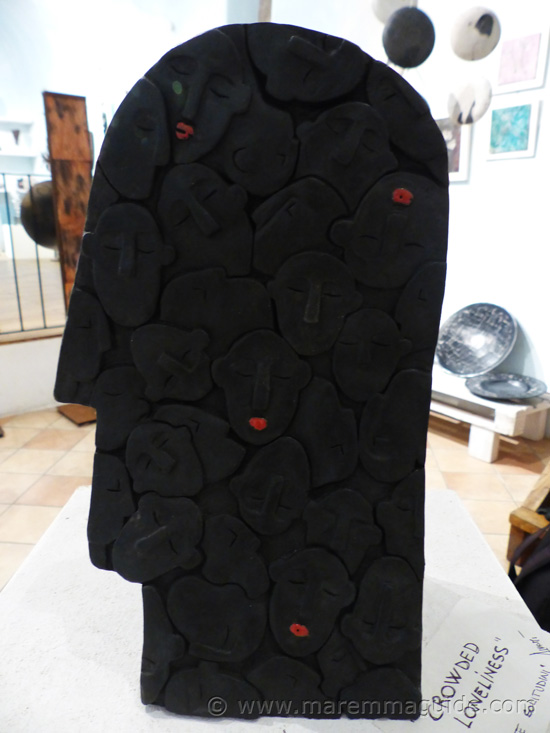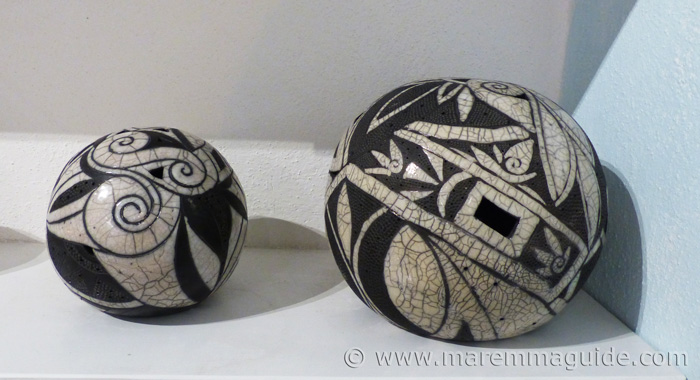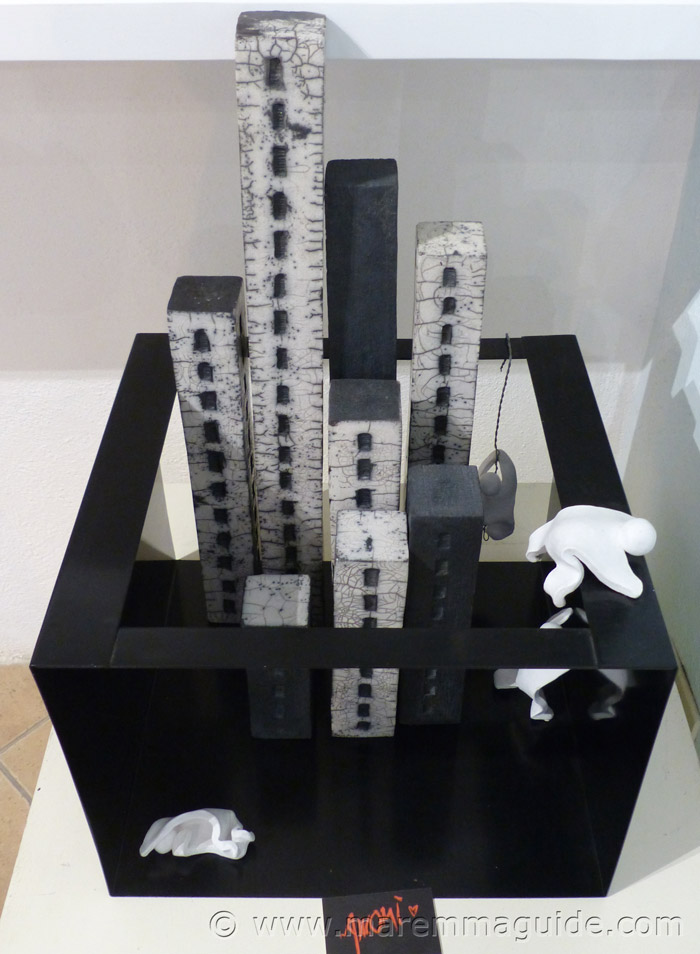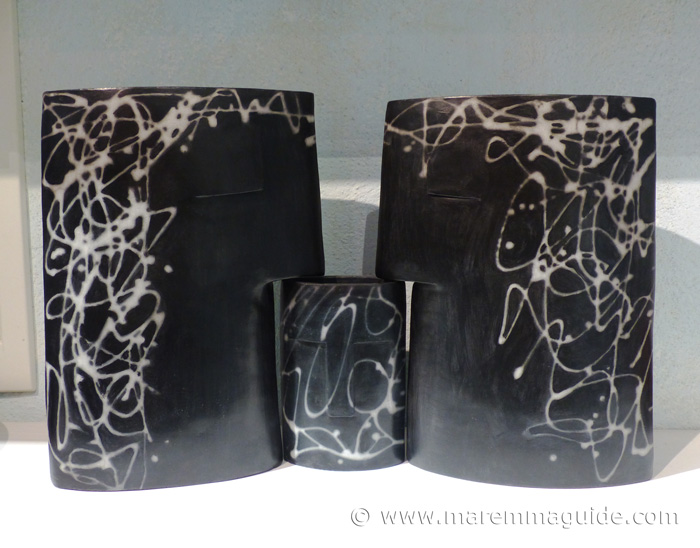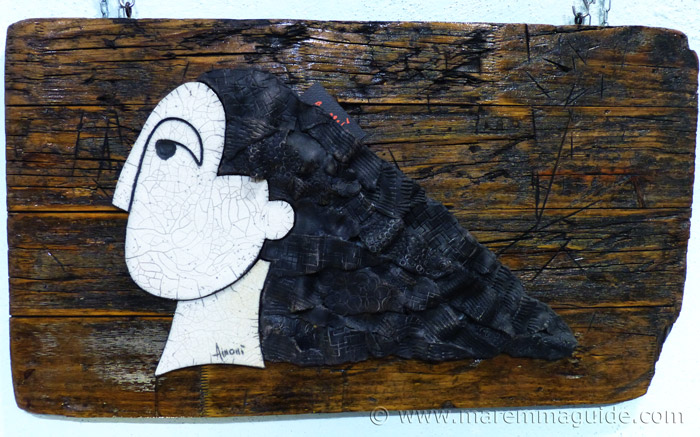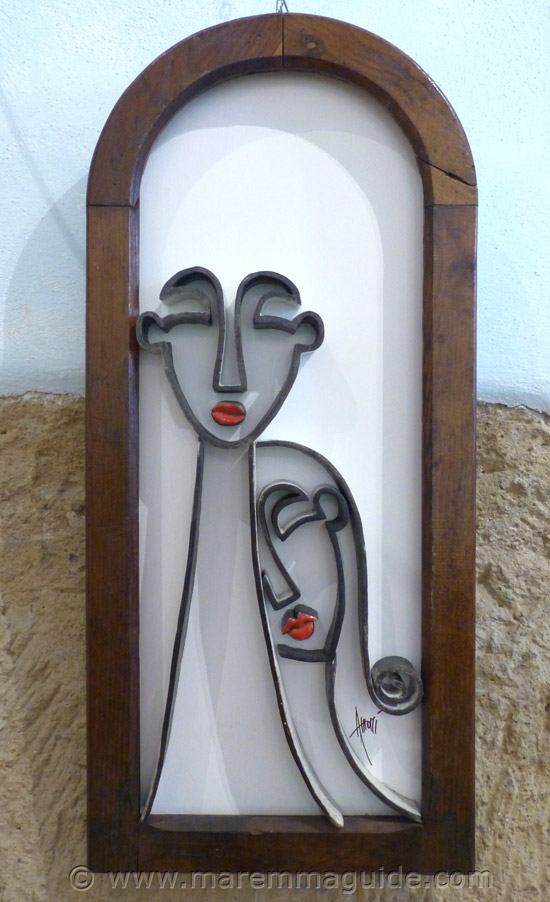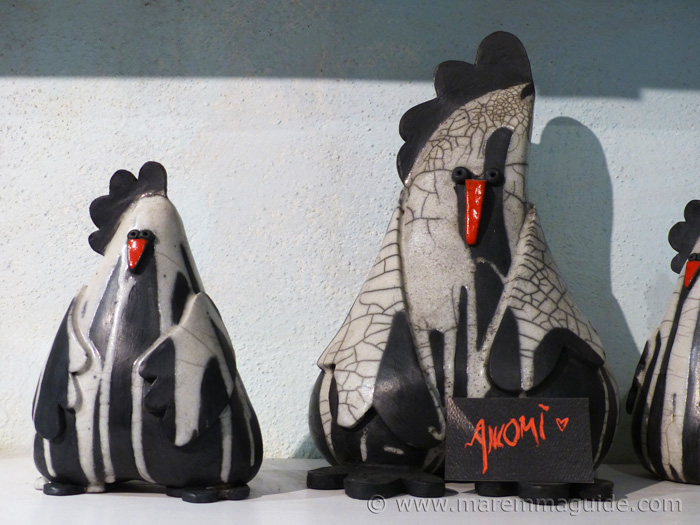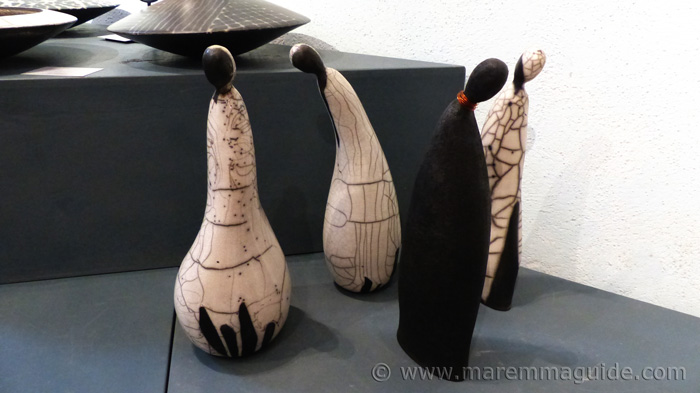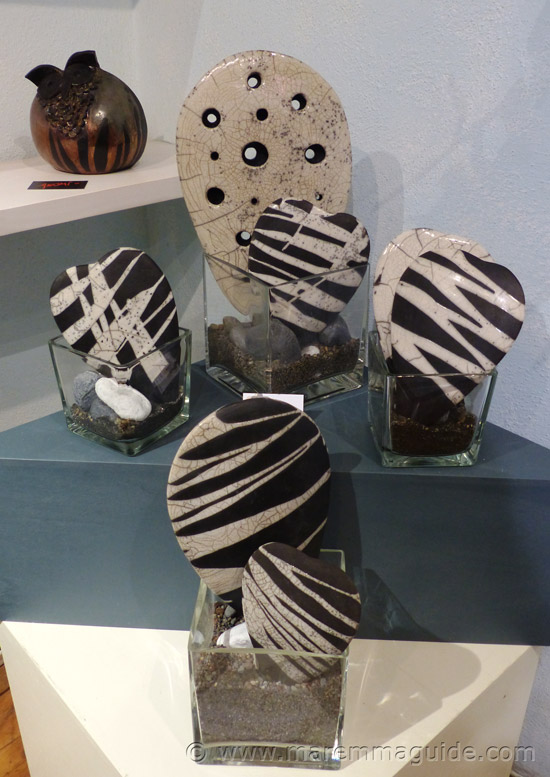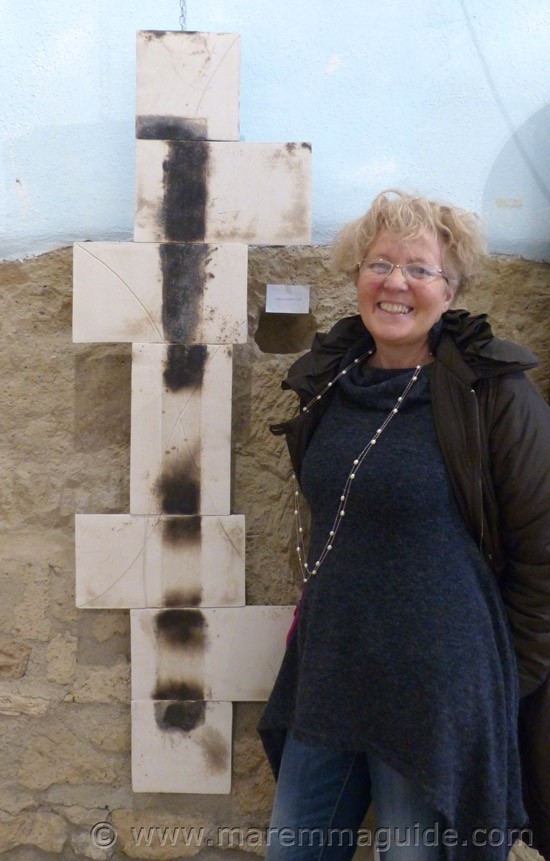 Lifelong friendships
Spend ten days in a creative setting with like minded people following the same passion and you cannot help but make friends.
What starts out as conversations about where you come from, how long you have been a potter, and what your glaze problems are. Find their way over walks out together in the afternoons and shared bottles of wine, into life stories, hopes and dreams.
Mara's alumni don't say goodbye at the workshop door on the last day. They meet again. Sometimes it takes a couple of years for them all to be able to make a date together. But when they do, they go to Mara's. And she books experts for them, in the area that they want to pursue. To take them another step further in their creative journeys.
Some of them have been meeting once a year at Mara's for nigh on 15 years. Supporting each other's trials and experiments. She starts them off with a technique and the group takes on a life of its own.
Five of them who live in Tuscany show their creations with Mara's in a gallery they run between them, in Via Zuccarelli in Pitigliano. The Magazzino Giustacori.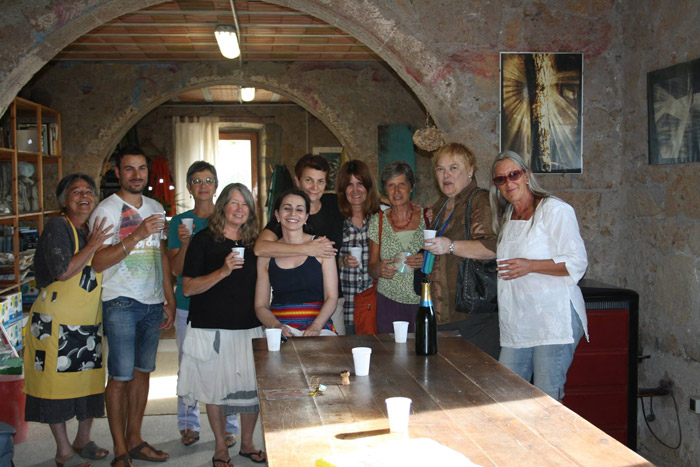 The stunning setting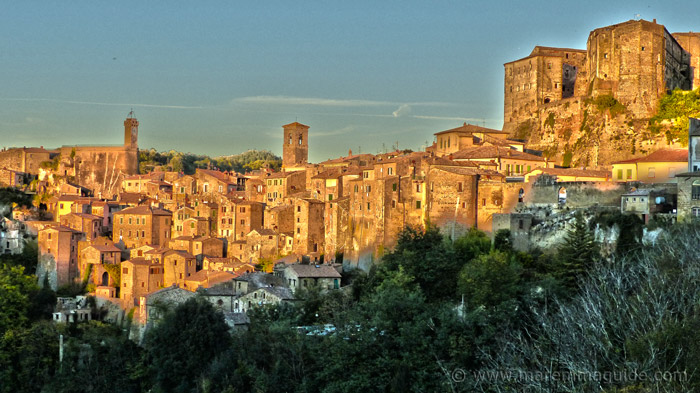 You'll be located a short walk away from one of the most stunning towns in Tuscany: Sorano. If you aren't already head over heels in love with Tuscany before you stroll its streets, you will be afterwards. It is nothing less than magical.
Mara's workshop
Mara's workshop, immersed in Tuscany countryside, is just the perfect place to fulfil your creative dreams. And it comes with a kettle and tea and coffee pots for those much warranted mugs (ceramic, of course!) of liquid refreshment as you do so.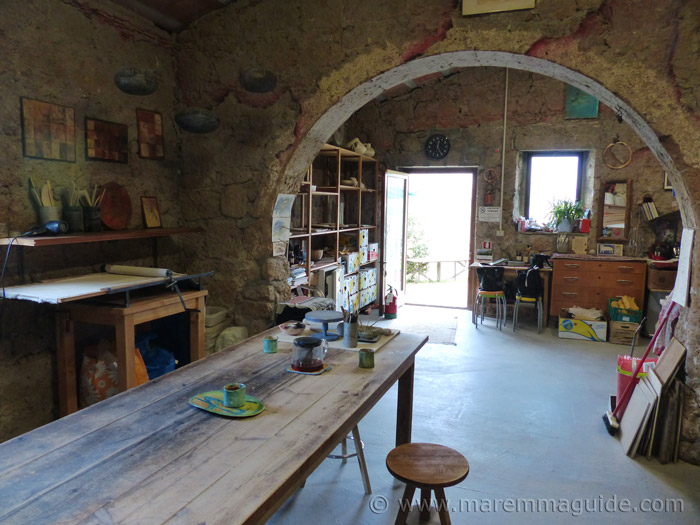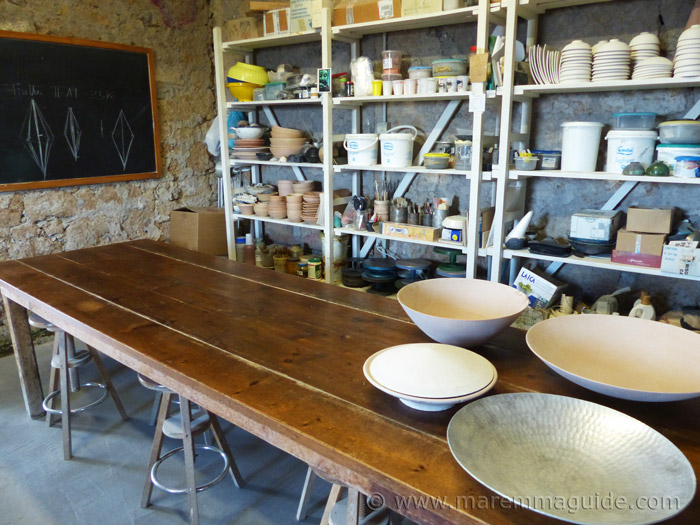 The Tuscany farmhouse accommodation
You can choose to stay wherever you would like to.
But if you would like to open your windows and doors of a morning and stroll across a lawn with mug of coffee in hand to your lesson that day, then the farmhouse in which Mara's workshop is located - Piancasale - is also an agriturismo. With independent self-catering apartments. With a swimming pool and gardens. That have been home from home for years for Mara's students.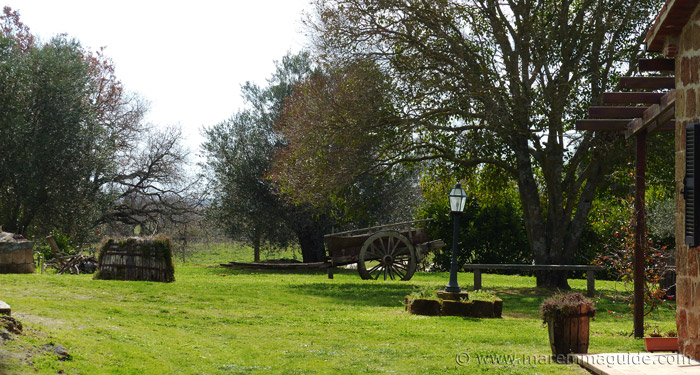 And there are special, discounted rates for those attending her courses.
The farm isn't isolated. A few minutes drive will see you in either Sorano, Sovana or Pitigliano (the nearest towns).
Or you can even can walk directly from the farm into Sorano, along the ancient pathway that passes the farm. Once walked by Etruscans. Or, in the opposite direction right into the heart of the Parco Archeological Citta del Tufo and the magnificent Ildebranda di Sovana tomb.
Contact Mara about her pottery holiday in Tuscany
To find out more about the courses, the prices and dates etc, contact Mara directly via email using the form below.
See more of Mara's work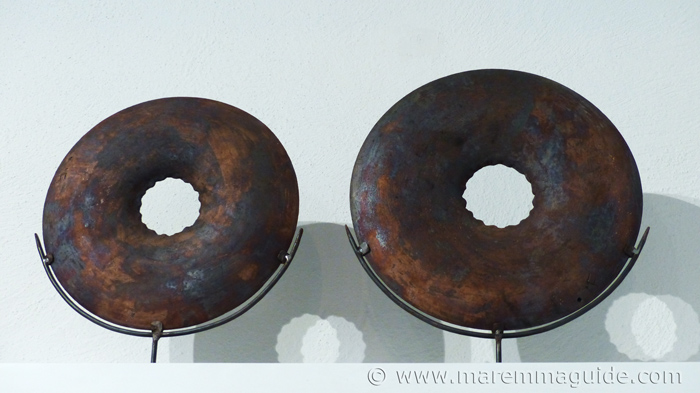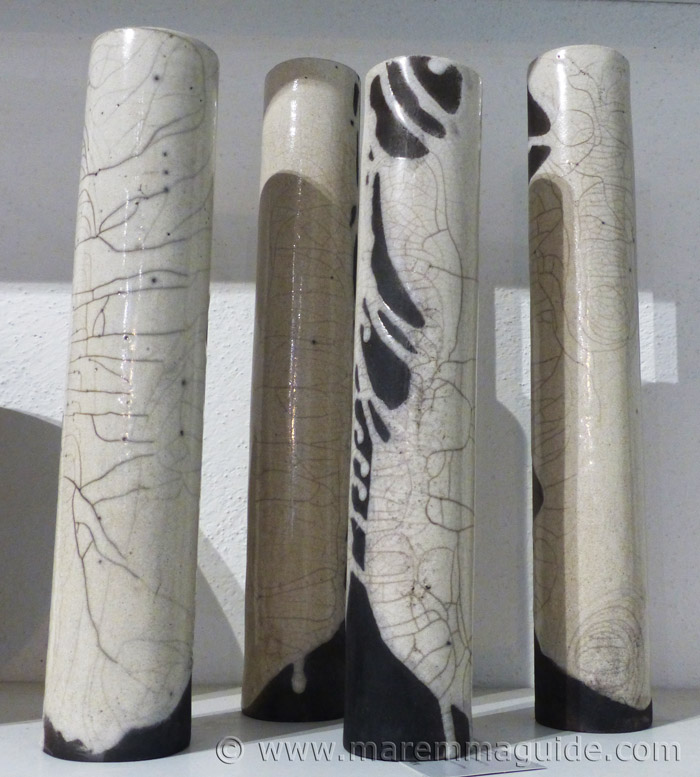 Mara's shop, Maraku, can be found in the historic centre of stunning Sorano. But if you can't get there quite yet to take a peek, you can take a look inside here.