Maremma beaches
100 breathtakingly beautiful beaches waiting to be discovered
Maremma beaches. Situated along the spectacular Ligurian and Tyrrhenian coasts, amidst protected nature reserves and parks, they will have you staring in awe at their natural beauty and the ocean panorama in front of you. They are the very best beaches in Italy.
Walk for miles along white or black sands, or sit in a small cove straight out of a James Bond film with crystal clear waters and small fish in the shallows.
Immerse yourself in their warm Mediterranean waters and take a siesta in the cool shade of the pine trees that form their backdrop. Explore the rocky shores of the tiny coves for marine creatures and beachcomb with your youngsters. Or play tag along their long sandy shores and wear them out for the great deep sleep that comes from seemingly endless summer days.
Maremma is a haven for beach lovers just waiting to be found.
Maremma beaches by location
Dip in by location. If you know where you are heading or going to be staying in Maremma, these pages give you all the beaches in and around each locality so you can quickly find the best ones for you.
Castiglione della Pescaia beaches
Follonica beaches
Grosseto beaches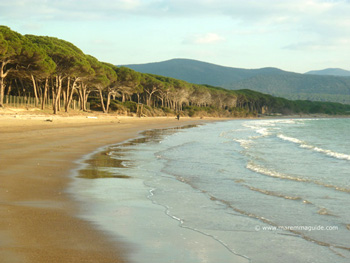 Scarlino beaches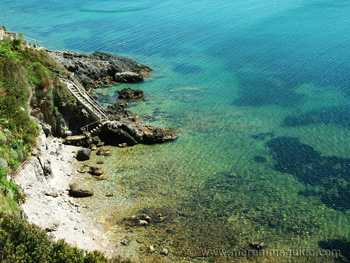 Talamone beaches
A kid in a sweetshop way to choose! All the beaches on one page
Tuscany beaches and Lazio beaches
Maremma is situated in the most south-western part of Tuscany, along the Italian coast with the Ligurian sea (the "Mar Ligure") and the Tyrrhenian Sea (the "Mar Tirenno"). Her land also extends along the "Alto Lazio" coast into both the provinces of Viterbo and Rome in Lazio. In total, over 250 kilometres of stunning coastline in Tuscany and Lazio.
And then there are the tiny, tucked-away coves on her Tuscan archipelago islands.
One of the best beaches in Maremma: Torre Mozza within the coastal nature reserve of the
Parco Costiero della Sterpaia
in the Golf of Follonica.
No idea yet along which part of Maremma's coastline you might sink you toes in the sand or go snorkelling? But you know you won't be headed into Lazio. No problem: you'll find all of Maremma's Tuscany beaches here with photographs.
Be prepared to feel like a kid in a sweetshop!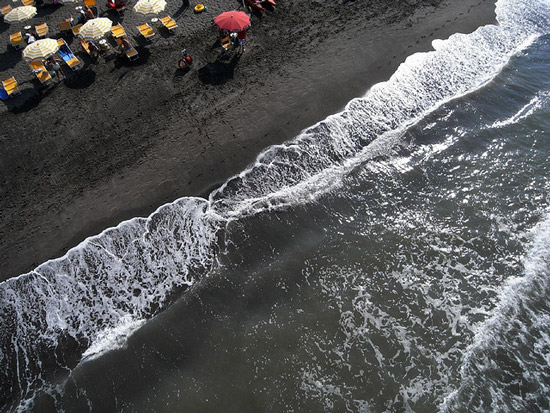 Photo by kind permission of
Opaxir
.
And, likewise, all of Lazio's, here.
Even more fun!

Take the quiz to find out which one you are destined to walk on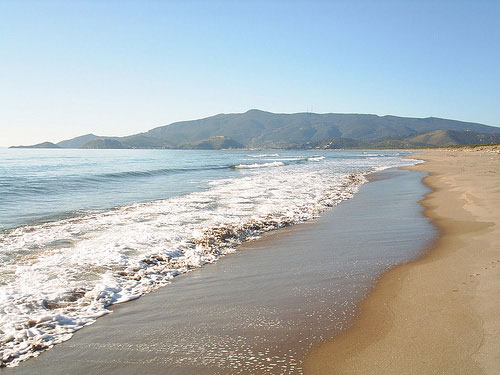 Photograph by kind permission of checcastef.
The best Italy beaches waiting for you...
Italian beaches in Maremma: what to expect
Castiglione della Pescaia beach KAP image by Opaxir.
Beaches in Italy come in two types. The sun lounger and parasol covered "private" "stabilimenti balneari", more commonly referred to as "bagni". And "spiagge liberi", the public beaches.
Find out the differences and what to expect on each in this Italian beaches page.
Maremma's dog friendly beaches
Thinking of taking your best friend - your four-legged one - on holiday with you? Then you will be pleased to know that Maremma is also home to some beautiful dog friendly beaches - "spiagge per cani". They take cats too!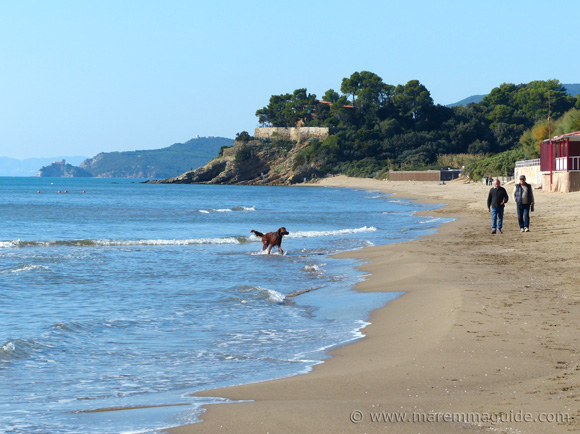 Have fun together on these Maremma dog beaches.
Camping on the beach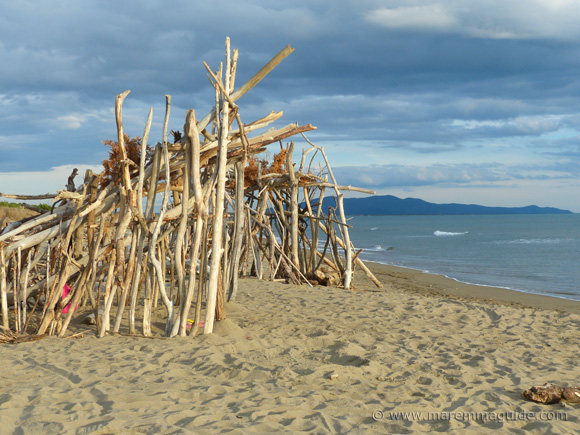 Can you or can't you? Find out here - camping on Maremma beaches.
The Blue Flag "Bandiere" awards for beaches and marinas in Maremma
The independent and non-profit organisation Foundation for Environmental Education (FEE) awards Blue Flags to the cleanest beaches with excellent water quality - click here for more information. The awards are made on a seasonal basis.
Many of the beaches in Maremma have been awarded Blue Flags for successive years. Those with Blue Flags are:
Bibbona: Marina di Bibbona Beach


Castiglione della Pescaia: Marina di Punta Ala
Castiglione della Pescaia: Punta Ala Beach


Castagneto Carducci: Marina di Castagneto Carducci Beach


Cecina: Le Gorette Beach
Cecina: Marina di Cecina Beach


Civitavecchia: Porto Turistico Riva di Traiano
Follonica: Ponente Beach


Grosseto: Marina di Grosseto Beach
Grosseto: Marina di San Rocco
Grosseto: Principina a Mare Beach


Monte Argentario: Feniglia Beach
Monte Argentario: Giannella Beach
Monte Argentario: Porto Ercole Beach
Monte Argentario: Porto Santo Stefano Beach


Piombino: Parco Naturale della Sterpaia


Porto Ercole: Marina Cala Galera


Rosignano Marittimo: Vada (Pietrabianca - Mazzanta)


San Vincenzo: Centro Beach
San Vincenzo: Conchiglia Beach
San Vincenzo: Principessa Beach
San Vincenzo: Rimigliano Beach