Which Castiglione della Pescaia beach is your favourite?
Every Castiglione della Pescaia beach. Thought there was only the one? Nope. There are lots and they are drop-dead gorgeous :)
If you are looking for information about Castiglione della Pescaia's beach you will be in for a wonderful surprise, because apart from its two town beaches - each with its own ambience - there are another four within easy reach to upon which to relax, walk, play, sunbathe, and go surfing from. Which one is going to be your favourite?
The two town beaches are called Ponente and Levante.
Ponente beach - "spiaggia di Ponente"
Castiglione della Pescaia's Ponente beach is the town's main beach, in the sense that it is located right underneath the medieval hill top fortress, alongside the main coastal road, and is fronted by "bagno" beach concession one after another, bars and restaurants. A two minute walk from the shops, it is the main place that holidaymakers hang-out.
In October, everything bar two beachside restaurants are closed. But even at the very end of the month, it is a choice spot for locals for some R&R and to top-up their tan.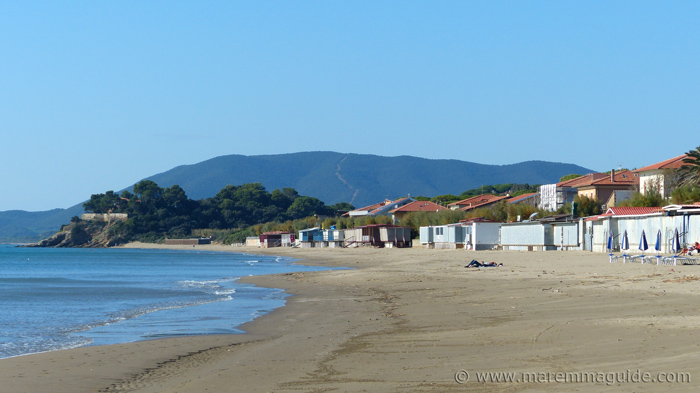 The video
Levante beach - "spiaggia di Levante"
Castiglione della Pescaia's Levante beach, just over the bridge over the river Bruna on the south side of the town centre has a different atmosphere about it.
For a short distance you will still find holiday apartments, bars, restaurants and mini shops behind it, as well as "bagni" facilities and bars on it. But it's sands then continue along the curve in the coastline backed instead by dunes that to take you to the more windswept and wild of those of le Marze and Fiumara beaches (see Grosseto beaches).
It appeals to local families as well as visiting ones who prefer a little more space and/or who like to have wild dunes and a pine wood behind them at the same time as the convenience of a bar and place to purchase a snack for the children just a short stroll away.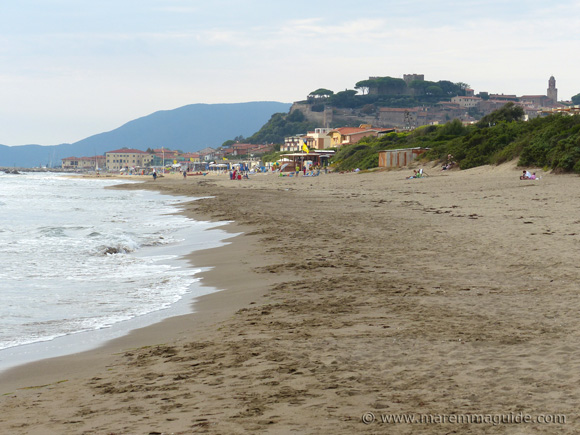 Levante beach in Castiglione della Pescaia in early October.
The view towards Monte Argentario as the sun sets at the end of a lovely November day on the beach.
Capezzolo beach: tucked-away R&R and surf
Tucked under "Punta Capezzolo", the rocky promontory that marks the end of this Maremma seaside towns' central beaches, is a bar and restaurant that makes for a great place to just hang out, go for a long walk, and surf. For the surf here is good when the sea is a bit turbulent.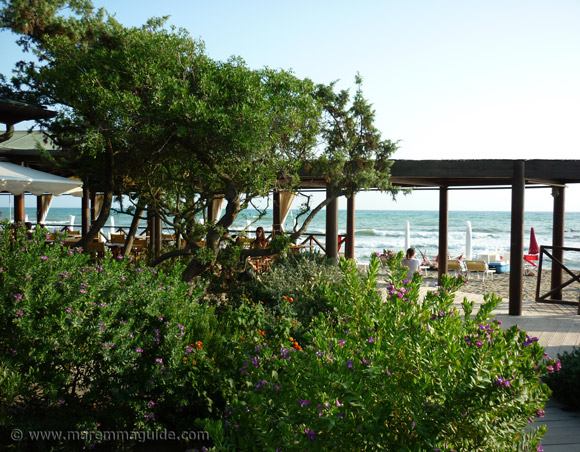 It also marks the beginning of a long stretch of Castiglione della Pescaia sands that would satisfy any walker, jogger and wear out dogs and children alike!
Capezzolo beach at the end of September.
Riva del Sole - out of season paradise
A short walk or an even shorter cycle ride from town (there is even a cycle path) will find you on beautiful Riva del Sole beach.
These sands are some of the finest in Italy with a very special dune environment that is home to colourful dragonflies, butterflies, lizards, wild boar, porcupines, foxes... and a tiny bird that loves the waters edge just as much as we do.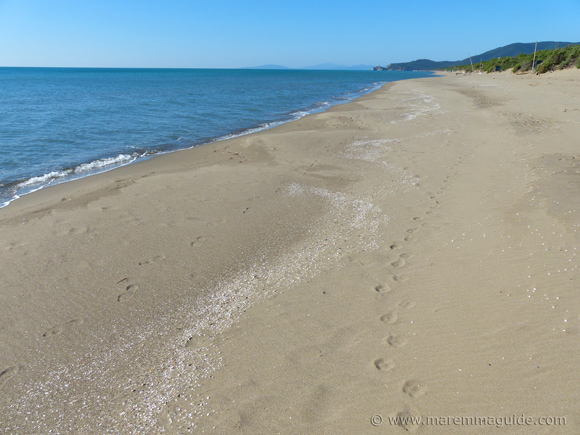 From here you can walk all the way to the "fosso" (canal) that forms a physical boundary within Roccamare beach. You'll need to cross it to continue on to the next promontory in the photo - with its really atmospheric fortress sat atop the rock outcrop - along Roccamare to the very end of the sands of le Rocchette.
Roccamare - rich and famous hideaway
Roccamare beach is without a doubt one of Maremma's best beaches and it has been a summer home - and still is - to some of Italy's most famous actresses and writers. The pine wood that backs it is in private ownership with low-level villas and swimming pools under the pine trees and private beach huts along its shoreline. A shoreline that winter storm waves have eroded away in recent years.
This is Roccamare in winter: on a wonderfully stormy, but not cold, February day.
Find out what it looks like in warner months: Roccamare beach.
Le Rocchette
It has to be said that I'm not that fond of le Rocchette beach. Each time I have visited in the hope that I would change my mind, I have left equally disappointed. It's position under the watchful eyes of the towers of Torre di Cala Galera (the tower of Galera cove) and the Fortezza delle Rocchette (Rocchette fortress) is such that it begs to be explored.
But it is at that very same spot - it's northern-most end - where you will find the "bagni" beach facilities and bars and infrastructure that is in deep need of some tender loving care. But lots of returning holiday-makers love it, so don't let me be the one to stop you venturing there to find out for yourself.
A walk along its sands during the winter months from the pineta access in the hamlet towards the promontory is breathtaking. (See map on page for access point.) And you might even be blessed with a display of what looks like snow rolling in off the waves!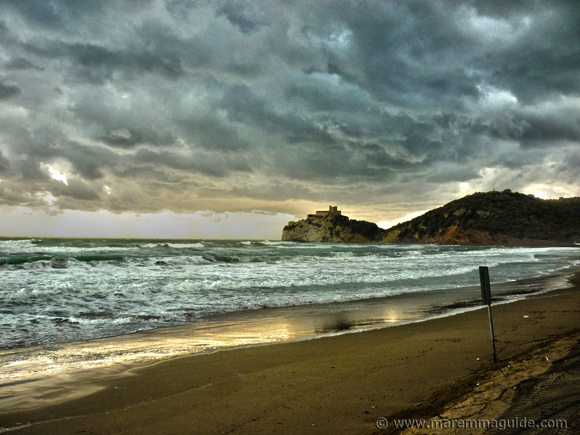 Le Rocchette beach in February.
More Castiglione della Pescaia beaches
Yes, there are more!
A little note on formalities
Around the promontory of Rocchette you will find the rocky coves of Punta Ala and the sailing port's own little sandy beach. They are still within the territory of Comune di Castiglione della Pescaia, as are the stunning long sands of Casetta Capannini and the captivating, drop-dead gorgeous, tucked-away coves of Cala Civette, Cala Violina, and Cala Martina within the Bandite di Scarlino reserve.
But as most of you searching for information about this Maremma seaside town's beaches will be looking for one that is within easy reach of the town and these aren't - you will need to drive and then walk to reach them - you will find them in their own Punta Ala beaches and Scarlino beaches pages.
The Castiglione della Pescaia beach map
Every Castiglione della Pescaia beach on one map.