The best farmhouse in Maremma
Well, more than one actually :)
Maremma farmhouse accommodation: my pick of the very best.
Farmhouse accommodation in Maremma
Tuscany farmhouse holidays don't get any more special than those in Maremma.
Whether the farmhouse is an impressive medieval villa set in the centre of a Super Tuscan wine vineyard, sat within acres and acres of olive groves or "carciofi" (artichokes) close to the most beautiful beaches in Italy. Nestled amongst cherry, peach and apricot orchards farmhouses, or home to Maremma horses or long-horned cows. Each offers a unique experience that will have you coming back for more, year after year.
But the difficult part has always been choosing will be choosing which one to stay in.
So I have made it easy: I am going to share the very best with you here.
From a chestnut woodland near a hot rock thermal landscape, to a Tuscany lavender farm with its a hilltop vineyard with valley views, to a 17th century farmhouse with en-suite bedrooms and a history that includes the legend of a beautiful maiden.
What you can be sure about is that whether your Tuscany dream is of sleeping in a traditional stone-built farmhouse with exposed beam ceilings and terracotta floors, or a spa farmhouse in Maremma with infinity swimming pools and views over vineyards to die for. You will find them here.
Farmhouse accommodation in Maremma has come a long way since the initial introduction of the concept of an "agriturismo" in Italy: indeed, a lot of Maremma farmhouse accommodation now look more like private villas than working farms! But the farm experience is definitely still there for those who want it.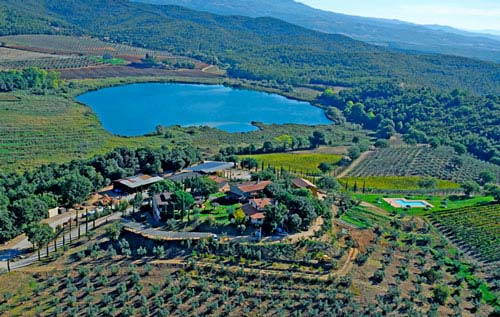 Whether it is feeding the animals, picking peaches or olives, or helping with the grape harvest and then taking a dip in a freshwater lake to cool off, time spent helping out on a farm makes for wonderful and lasting childhood (and adult!) memories.
And doing so under a Tuscan sun in Maremma has to be one of life's special experiences.
A farmhouse in Maremma in a chestnut woodland
Immersed in chestnut woodlands close to an incredible hot rock landscape (Le Biancane) and King Arthur's legendary sword in the stone at San Galgano, this traditional Maremma farmhouse is situated high in the wonderful metalliferous hills between Massa Marittima and the city of Siena, with a panoramic 360 degree view of the Valley of Mersa.
San Galgano is only a ten minute drive away and Siena 45 minutes.
Choose from apartments on the ground floor of the restored stone farmhouse (the owners live upstairs), those on the first floor of the farms converted barn, or in an independent adjacent farm cottage.
The prices for a stay here are very good indeed and are fully inclusive of all of your electricity heating usage as well as linen (your sheets and towels etc). (NB. Most farmhouses charge separately for linen and many for electricity etc.)
Short two night stays are available during the low season (1 Jan to 30 June and 1 Sept to 31 Dec), which makes I Monti perfect for a one of your bases for a spring or autumn tour of Maremma or a Christmas break.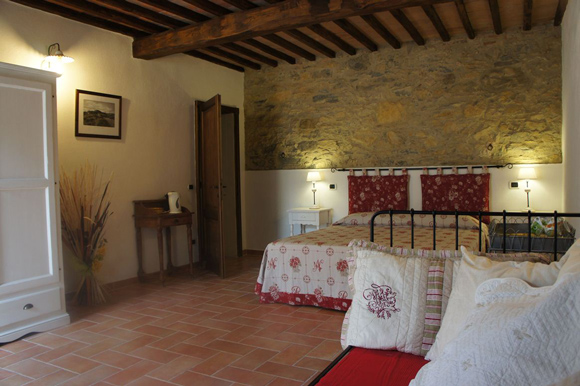 And just one of the bonuses of staying at this lovely farmhouse is that you also get to use the vegetable garden included in the price! Now how wonderful is that: picking your own veg for lunch or dinner.
An Alberese agriturismo for lovers of the little things in life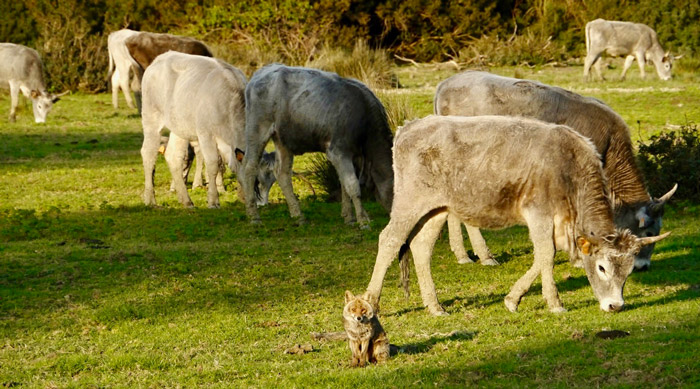 Paola's ancient Alberese family farm, located just 6 minutes from Tuscany's stunning Costa d'Argento (Silver Coast) will treat you to a taste of life in Maremma "come era" - Maremma as it was. Where the very special Maremmano cattle and horses roam wild across a spectacular area of outstanding natural beauty, amongst wild boar and herons. And where you get to converse about the day with foxes and turtles.
But a stay in the old Tenuta La Valentina Nuova farm isn't for everyone. Only a test will tell you if it is for you.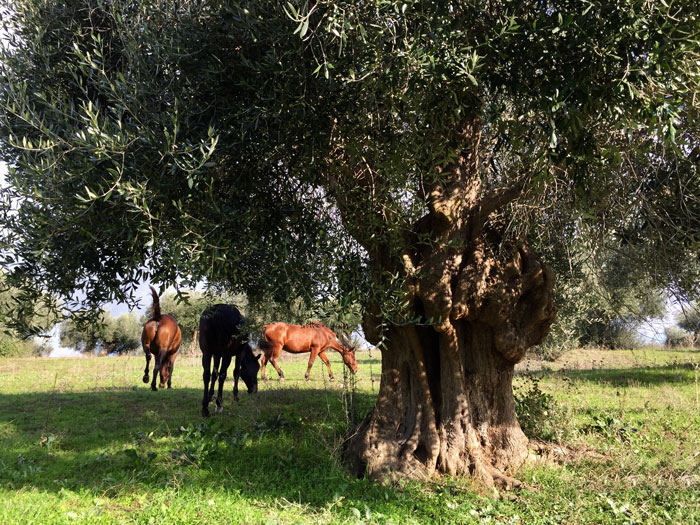 A Tuscany farmhouse with swimming pool and horses
This Massa Marittima farm is perfect for those who love to relax enveloped in unspoilt nature.
Situated as it is on the edge of Parco Naturale di Montioni - a 7000 hectare nature reserve full of wild boar, fallow and roe deer, porcupines, turtles, hawks, owls... and more - you will be treated to meeting some of the local wildlife every time you head out early in the morning or back to your apartment in the evening. (Even though I fully briefed my wedding guests one year who were staying there to expect as much, the first time Alex - a grown woman I hasten to add - saw a group of wild boar crossing the road she yelped and lost her otherwise neat composure!)
The farm has organic fruit orchards, olive groves and vineyards, and four horses which you can ride and/or help groom and take to the pastures.
And a fabulous pool, with a gently sloping shallow end perfect for toddlers and young children to sit in and paddle contentedly, or for you to dip your toes with a well earned glass of wine and watch the glorious sunset over the valley.
Choose from two double rooms with private bathrooms, two studio apartments and two larger apartments, with children under twelve years of age staying for free.
Their own fresh fruit and home-made jams with crusty Tuscan bread, warm croissants, fruit juices and coffee is available for those looking for a Tuscany bed and breakfast.
Find out more: a Tuscany farmhouse with swimming pool and horses.
A Maremma farmhouse in Tuscany lavender and olive groves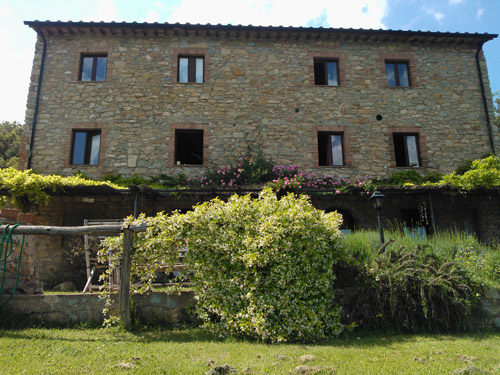 An organic Tuscany lavender, honey and olive farm with a touch of Africa might sound like a strange dynamic, but in Marina's (the owner's) hands it is one that works wonderfully.
For whilst the farmhouse apartments have touches of warm colour that reflect her travels and love of Africa, her devotion to operating the whole farm organically tells of her passion for the environment. Even the farm's swimming pool is completely organic with water lilies doing the work that chlorine otherwise would.
Getting to this Maremma farmhouse will require you driving along unmarked roads and up through Mediterranean macchia, but once you arrive you will know why so many of her guests return to do so every year. That, and because her open-door hospitality is palpable.
And if you are thinking that there won't be much to do whilst you are there, then think again! Because, amongst other things, you can take alabaster sculpture, ceramic, cooking, meditation, yoga and language classes right there.
A 17th century Maremma agriturismo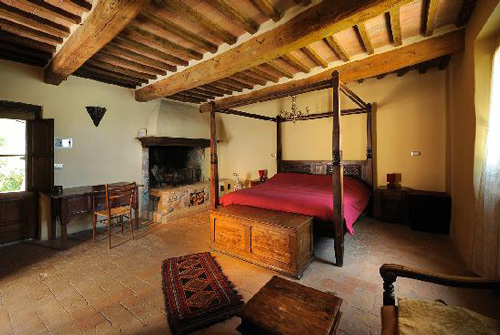 This one is for those of you who would love a rustic Tuscan experience and fabulous home cooking. But it is also a gem for the lovers of legends and tales of romance, for this agriturismo near Sorano was once a customs house on the border between what was then Tuscany and the Papal State to the south and its 17th century farmhouse is said to have been the home of a beautiful maiden.
And the stable - now the farm restaurant - was once a gathering point for locals in which to sing and dance, where many a romance blossomed memories of which are still recalled and told today.
Sant'Egle has six rooms comprising single, double, triple and suite accommodation, as well as one apartment.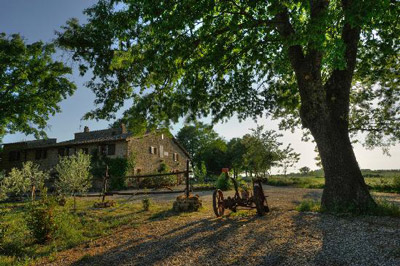 The farm restaurant caters for vegetarian, vegan and gluten-free diets and the room rates are all inclusive of breakfast. Although for an additional charge, you can have breakfast in your room if you would like to.
The hardest thing will be deciding what to do during your stay here, for, amongst many other things, you can take a yoga class, hire a vespa for the day or a car with a driver, or take a cooking course with lunch included. Select the fruit and vegetables from the farms fields, collect eggs from the chickens, a visit to a local food market, and then prepare stuffed pasta and much more. And there is a music room... and plenty of books around the farmhouse for you to borrow.
The bathrooms come with a sample of the farms own natural organic products and your room rate includes entrance to the restored ancient Sorano thermal baths that are only a short walk away.
if you are travelling with your dog, you can even book (for free) a kennel for your room.
The town of Sorano is one of those places that you must visit in Maremma: the combination of its setting perched on a tufa outcrop surrounded by woodlands, its crumbling medieval buildings amongst lived in homes, and medieval alleyways that will have you believing you shouldn't continue down them!... will leave you enchanted. I fell in love with it upon first sight!
A boutique Tuscany farmhouse
If you like to feel the touches of home when you are self catering, then these Maremma farmhouse apartments with their French chic decor might be just your cup of tea.
In a location surrounded by forty-two hectares of organic olive groves and stunning views of medieval hill top towns and villages all begging to be explored, this agriturismo is also ideally just a few minutes drive from the main coastal road and train line through Maremma, and only twenty minutes from some great golden sandy beaches.
With expansive and immaculate gardens, swimming pool and a golf driving range, on the days you decide to just sit still and not go anywhere you will still have a fantastic time.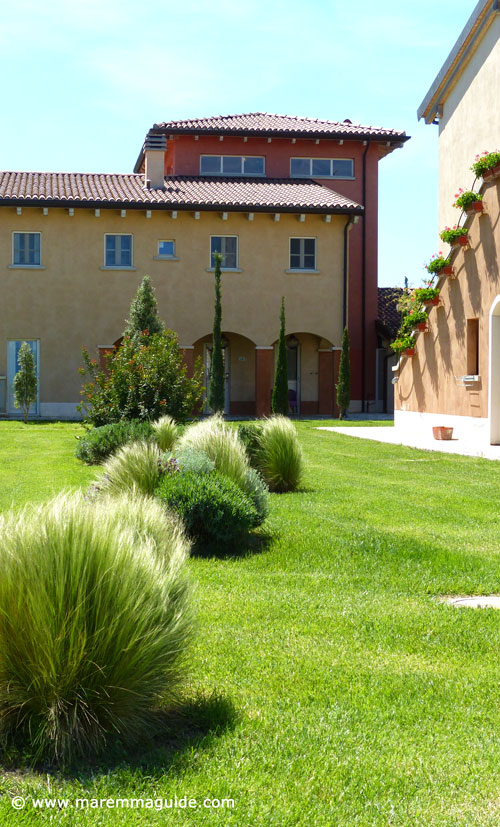 Take a look: the lovely boutique farmhouse in Maremma.
Explore some more...
A rental reservation checklist to help your Tuscany farmhouse holidays go smoothly and without any unexpected charges: over twenty suggestions of things to think about and check on if you need to.