A very special Maremma Farmhouse
Tuscany Italy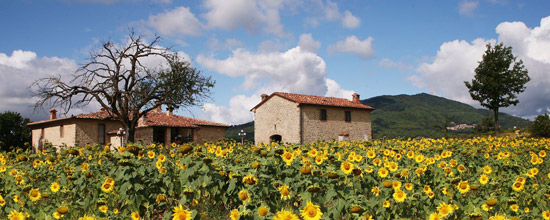 Yesterday I visited Lucia at her beautiful farmhouse in the mountains near Montieri in Maremma and leant that she has a special offer for now has a few availabilities in May and June!
Lucia and her husband brought the farmhouse with its barn and outbuildings and sixty-five acres of olive groves and woodlands in Maremma's stunning metalliferous hills twelve years ago and started its restoration. Six years ago the first self-catering farmhouse apartment was finished and they opened their doors to their first visitors.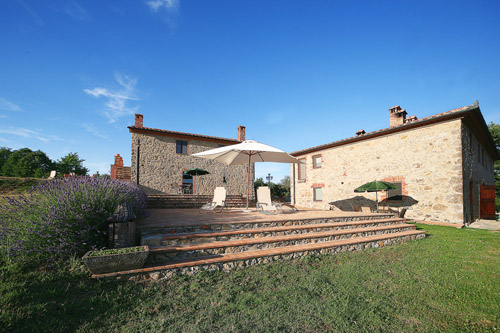 The next year they restored another part of the farm and another apartment was born, and so they continued until, today they have finished and now have five beautiful apartments and one double en-suite bedroom that they rent out as agriturismo accommodation.
Lucia's farmhouse is one of top picks in the whole of Maremma: you simply cannot beat it. Even in the depths of winter on a cold and damp January morning, the drive through the chestnut woods with the auburn coloured leaves, the panoramic views that opened-up the higher I climbed - the farm sits on the top of its own hill - with mist filling the valleys all around, was simply stunning.
Situated in the Merse Valley with 360 degree panoramic views, the farmhouse is only 10 minutes drive away from the ruins of the San Galgano Abbey, and its chapel on the hill with the Sword in the Stone, less than 30 minutes from the spectacular medieval city of Massa Marittima, 45 minutes (at most) from Siena, and only 40 minutes from Maremma's stunning coastline and gorgeous beaches. You could equally be in Firenze - Florence - in under an hour by car, or better still, catch a train from nearby Poggibonsi and arrive right in the centre of the city with no car parking hassle.
And then there is the accommodation itself, which is everything you may have imagined a traditional Tuscan farm to be and dream of experiencing. And then more. Lucia and her husband have restored each part of the farm entirely in keeping with the original structure, using traditional materials and added a touch of modernity. For you will find terra cotta floors, original oak beam and tile ceilings, two feet thick solid stone window sills, wrought-iron beds and wooden kitchen tables... But you will also find immaculate new bathrooms, and dishwashers. Alongside wood burning stoves and cookers.
Every apartment, and even the double bedroom, are very spacious: you won't ever feel cramped.
I Monti farmhouse Tuscany Italy apartment
Outside, well. What can I say. There is a very large shared patio area that has been placed to give you magnificent views of the hill top towns around and a brand new "grande" - large - infinity swimming pool.
The downstairs of what once was the barn is now a huge communal room with a large Tuscan stone open fire place, lots of tables, a coffee machine, and two bathrooms. Perfect for children to happily play in the cool out of the direct heat of the summer sun, but close enough so that their parents have no concerns about keeping an eye on them from the adjoining garden or patio. In the winter, guests have cooked-up indoor feasts over the hot coals of the fire and sat upon the sofa chatting and reading well into the night.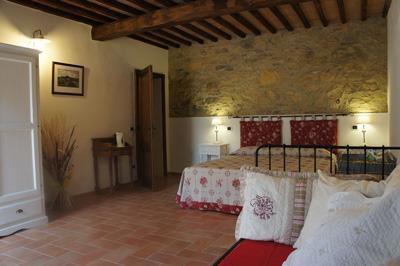 This is the double en-suite bedroom
Take one of the footpaths from the farmhouse through the woods and in thirty to forty minutes you can easily be in the hill town of Montieri or Ciciano for a tasty restaurant lunch, dinner or stroll around exploring. And only a short drive will have you in the others that you can see from the bedroom windows: Boccheggiano and Chiusdino.
Guests return year after year...
Lucia's very first guests six years ago and those who found her in the last five years return every year, some booking a whole month to stay and many don't move much from the farm out of choice!
Well, when you have views like these, when you can wander down to the farm's vegetable garden and pick your own "zucchini" (courgettes) or warm sun-ripe tomatoes to cook-up a plate of pasta for lunch. When the onions and garlic you might need are hanging in the open-air wood store for you to help yourselves (along with the logs). And when Lucia will ask if you need any supplies when she is popping into town to buy her own, why do you need to move?
Such is the ambience at Lucia's farm that her guests regularly invite her and her family to dine with them when they have cooked for dinner or to share a warm from the oven "torta" - cake - outdoors at the end of the day. But Lucia's relationship with her guests isn't fussy or cloying: she will make you feel at home - it is hard not to here - is there on hand in her own home if you need her, but she won't be knocking on your door or looking over your shoulder.
The apartments are immaculate. I would book my mum in here without hesitation and that is saying a lot!
All of which means that Lucia is usually fully booked-up well in advance for the following year. And always fully booked for the height of the summer months of July and August.
But, yesterday, she told me she now had a couple of openings for an apartment for two people in May and June at a special offer price of € 420 instead of € 485, all inclusive.
THESE WILL GO LIKE HOT CAKES!
If you are planning a visit to Tuscany in the spring or early summer and are looking for the best traditional farmhouse accommodation there is and want a chance of having one of those apartments, then contact her now! BUT, you have to tell her that I sent you to get it!
Find out if they are still available...