Maremma Castles, Fortresses and Towers
Maremma castles, fortresses and towers: hundreds of them all for the exploring. From those well preserved and still occupied today to ruins on strategic hill tops deep within thick oak, beech and chestnut forests.
Inland citadels built to retain control over the mines and mineral transportation routes through rich metalliferous hills. Fortified "le Rocce" that belonged to ruling medieval nobility, which throughout their tempestuous history frequently and bloodily changed hands and as they did were demolished, re-built, and extended with walls thicker than the length of your arm and impregnable towers.
And Spanish occupation that brought with it new architecture and - even today - changed the local language along coastal Maremma.
And then there is Maremma's long chain of coastal forts and look-out towers built at a time when devastating Barbary and Saracen pirate raids were a common experience. Whole villages and towns would be ransacked and the occupants either killed, or captured and transported to a life of slavery.
Maremma is a heaven for lovers of medieval history.
Maremma's medieval castles
Many of Maremma's medieval castles are still "living castles". Forming the - often round - historic centres of Maremma's myriad of medieval hill top hamlets, villages and towns. Narrow medieval streets full of tiny homes, with tiny doors, one on top of the other.
Others are ruins that require a trek through thick woodland and Mediterranean macchia plus a good dose of faith that you won't get lost along the way, to reach them.
Whilst the remains of crenelated walls and towers might look like piles of rubble and stones to some, they are magical mysteries to me filled with fascinating histories that have me reading into the early hours on the track of a tale of a noble woman who ruled from them, or of a siege that lasted three years...
Histories that tell of bloody battles, sieges, and changes of fortune of their occupants - for they were built to hold power over and control Maremma's mineral rich hills and mines.
Between the power plays of the Bishops of Volterra, the competing ruling noble - and less than noble - families of Maremma, the cities of Firenze, Pisa and Siena, as well as the Pope. Life in Maremma when her middle ages castles were built and lived in was dangerously Machiavellian.
And the walls and those castle, fortress and tower stones hold the tales and stories of it all.
Some have been dug over by archaeologists from Siena and Firenze Universities and their treasures - in some cases hoards of gold coins as untouched as the day they were minted - placed in those cities museums. But some of the treasures remain here in Maremma's small rural museums waiting to be discovered by you when you least expect it in a quiet village or town.
And if that wasn't enough history, nearly all of Maremma's castles were built on pre-existing Etruscan foundations or rest on buried Etruscan settlements.
Some are castles you can get married in - in one the open air! Simply unforgettable settings for a wedding that no one, not just the bride and groom, will ever forget.
Others are now in private hands: rare and unique homes with incredible panoramic views. Some of which available as vacation rentals. Especially the forts and medieval look-out towers along Maremma's coastline, where they once formed a defensive chain. Locations with a WOW factor.
Definitely for the dreamers and romantics amongst you and nothing like the Tuscany coffee-book villas you were planning on staying in!
And some are very patiently waiting for someone with huge pockets full of money and trusting, experienced hands to purchase and restore them to their former glory. Sadly crumbling every year until they become beyond rescue.
Maremma's Medieval Forts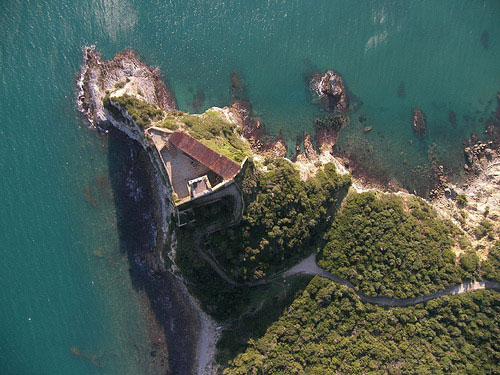 Instead of "castello" (castle), Maremma's medieval forts are most frequently known as "la Rocca" or "fortezza" and you will find the words "fortificazione", "forte", or "fortino" in the information written about them.
"Fortezza" and "fortificazione" are the Italian for fortress and fortification, respectively. And "forte" and "fortino" are the Italian words for "strong" and "blockhouse" (a single building isolated fort), used when referring to defensive strong holdings with inferior dimensions to those of either a fortezza or fortificazione.
But it is the term "Rocca" or "roccaforte" meaning fortress or stronghold that you will see more often used in Maremma. Although the word "rocca" literally translates as "rock" in the English language, in Italian it refers to a fortified building built on a high and steep position, often with a medieval "borgo" - village or hamlet - below and around it. It is for this reason that many Italian town names begin with "Rocca..." .
La Rocca Aldobrandesca di Roccalbegna
This virtually impregnable middle ages fortress was built on the summit of the cliff that dominates the town of Roccalbegna below. Designed as a refuge in the event of a siege by enemy troops, whoever owned it - and many tried to - controlled one of the principal highways through Maremma.

Climb to the top for a nothing less than stupendous view and a surprise on the way up! Places in which to play "I'm the king of the castle..." don't come much more atmospheric than the "La Rocca Aldobrandesca di Roccalbegna". Your kids will love it.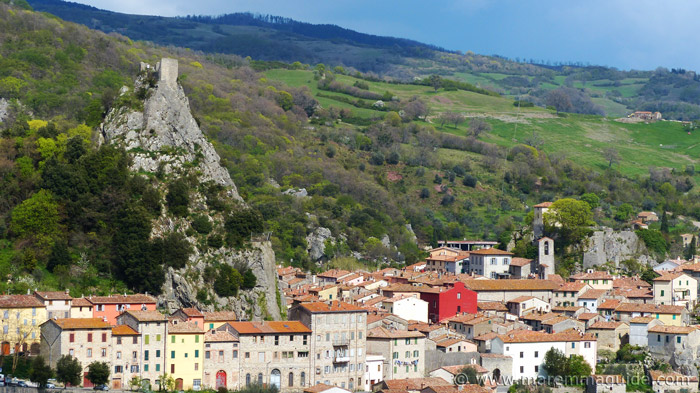 A note about the fortresses of the Aldobrandeschi family - Le Rocche Aldobrandesche

There are twenty-eight in Maremma and they are distinguishable by the fact that, rather than being isolated castles, they were more usually urban ones: built on the highest point in the centre of a hill top village or town. Often as not with the underlying bedrock protruding into their rooms, they were surrounded by a wall that contained a main master palace, a defensive or look-out tower, and other buildings all inter-connected by alleyways.
Maremma is home to many of these citadels - "citadel fortificae" - both inland within her metalliferous hills, built to control the gold, silver, iron & cinnabar mining activities in the area and the main trade route roads between Pisa, Siena and Florence. And along her extensive coastline, built as defence against military attacks from both the French and Spanish, as well as many raids by Barbary pirates.
Whether they were originally built as a ruling medieval families defensive position, or as a military fortress with a Garrison of soldiers stationed under the command of a city's captain, many "le Rocce" were later further expanded and developed into "castelli" (castles) and residences for noble families.
Some of Maremma's most imposing medieval fortresses - such as the magnificent Fortezza Orsini in Sorano - have their castles enclosed in the middle of them.
These are the forts and castles in Maremma that you can visit, together with the history of those that you can't explore but that you will see on the horizon as you travel around Maremma.
You might not be able to get inside the latter, but they have incredible stories to tell nonetheless that I could not leave them out.
Those that you can visit I have indicated with this image:

It is of my daughter's pterodactyl that goes with us everywhere: so if he has been there you can too!
At some of the castles exploring them means just around the outside as the internal structure is closed, but my page with the information will let you know what you can see.
The Coastal Towers
Maremma has a lot of coastal defence and look-out towers: if you had lived along this coastline from the middle ages into the seventeenth century and experienced the pirate attacks that villagers by the sea did, you would build a tower or two too!
The first of the towers were built during the ninth and tenth centuries by the then rulers of Maremma; the cities of Pisa and Siena, and the Aldobrandeschi family.
Then in the sixteenth century more were added by the then ruling powers of the Principato di Piombino, the Grand Duchy of Tuscany and the municipalities of Orbetello and Monte Argentario.
In the second half of the sixteenth century the Spanish occupying Maremma under the Stato dei Presidi - from Talamone down into the Papal States, the Isola di Giannutri, and part of the Isola d'Elba - significantly upped the ante with an impressive coastal defense system in their own style. Existing towers and forts were upgraded and new, huge and distinctive star-shaped fortresses built.
Torre Civette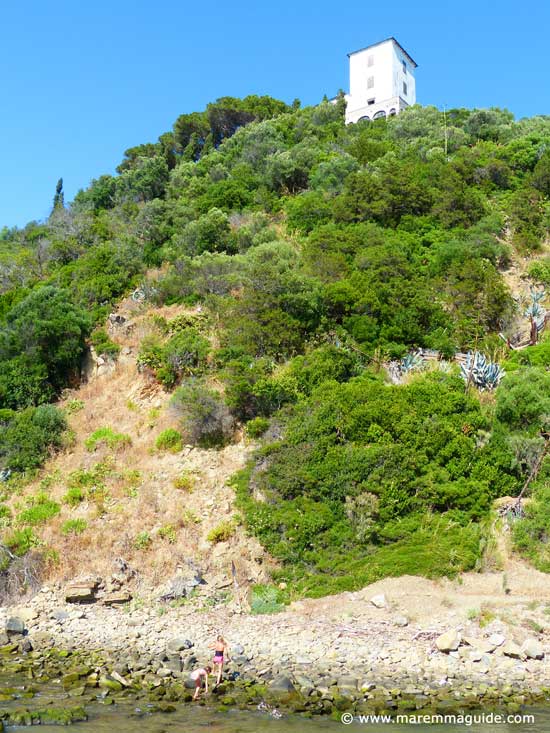 Torre Civette is a private home, currently being restored and oh, how I wish it was mine! For its views of sunsets over the Isola d"Elba are stunning and the seriously long and wide sandy beach of Capanna Civinini that it guards is one of my very favourite in Maremma.
The Torre degli Appiani in Marciana Marina, Isola d'Elba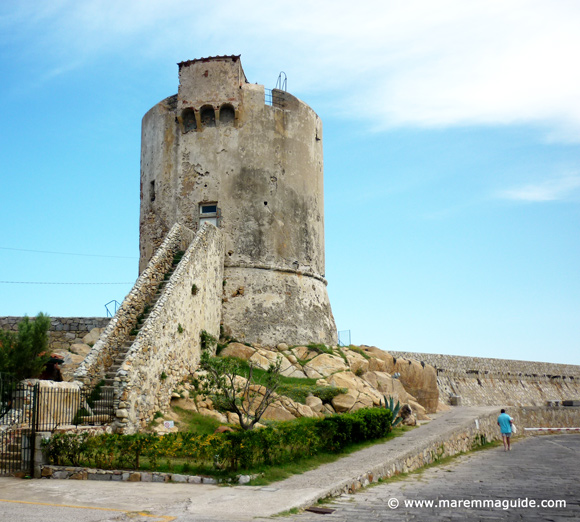 The medieval towers inland
And just when you though that that might be enough towers, when you turn inland you will find more :)
Some you just have to climb for the views will blow you away and, if you are at all like me, the adrenalin pumping through your heart as you climb their near vertical steps or ladders to reach the top will give you sweaty palms and make your heart beat so fast that even a double espresso couldn't match!
La Torre del Candeliere

This one - called the Candlestick Tower in English - is in my home town of Massa Marittima and is not to be missed. Connected to a Sienese fortress by an impressive arch, the views are spectacular. Don't forget to take your camera!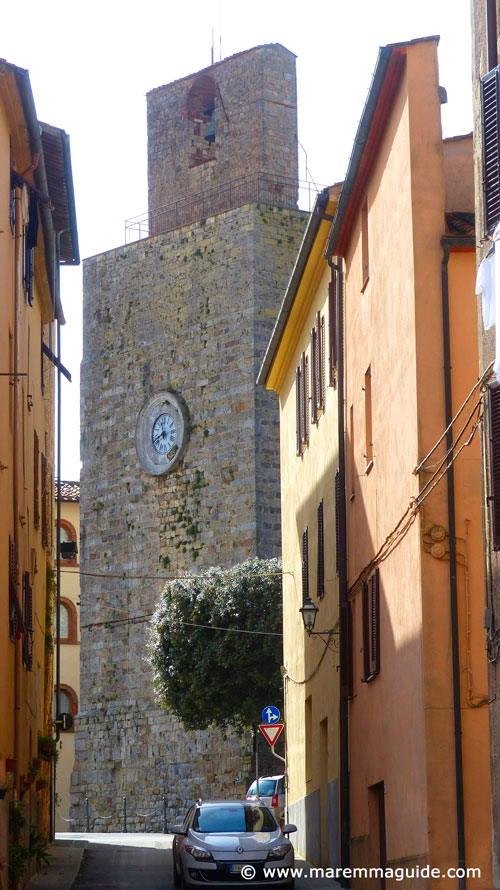 Video of the view.
La Pievaccia
You will need to walk at least a kilometre up hill to reach it and then a kilometre back, and there isn't much left but four crumbling stone walls.
But, the walk is through a nature reserve once home to Neanderthal man, a French princess and now wild boar, deer and wolves. You'll get to see the footprints of the current inhabitants :)
There is a "tardis" staircase you have to climb that will make mum feel wobbly!
A panaoramic view under blue skies and stars.
And, two mysteries that remain unsolved.
"La Pievaccia" - a fortified high middle ages church, almost forgotten and hidden away within a wood waiting for intrepid explorers like you :)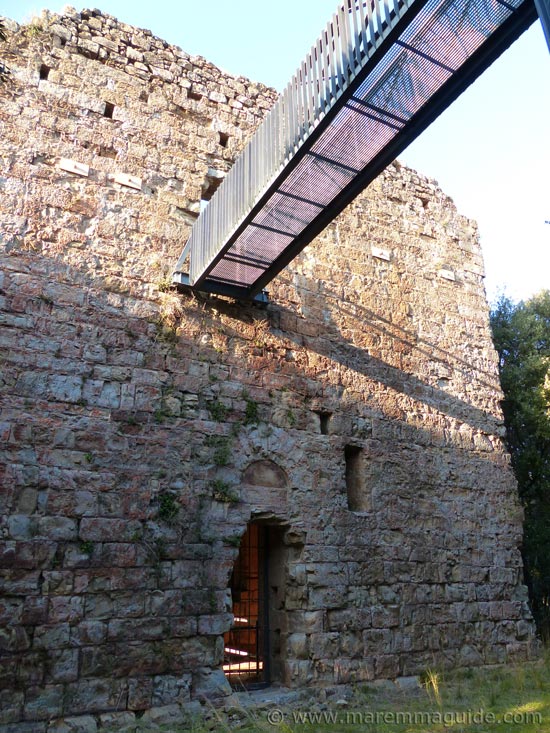 Maremma's tallest tower: the Torre dell'Orologio
The Torre dell'Orologio once formed part of the castle of Pereta, a hill town in a strategic position just south of Scansano.
It is the tallest of Maremma's surviving towers - standing at 29 feet high. This is just part of one of its walls: each of the scaffolding holes that would, in the fourteenth century, have connected this medieval tower to another structure and the church below, is now home to a pair of nesting black rooks.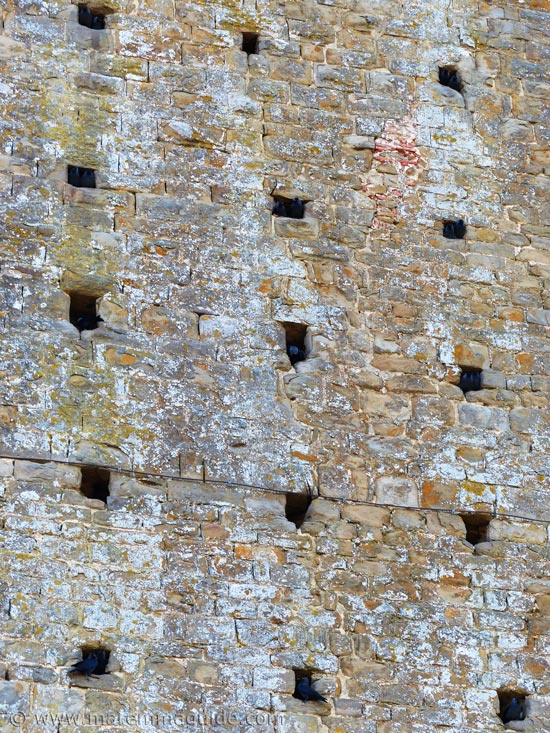 It is closed at the moment for restoration - you can see its scaffolding from miles around. But when it re-opens I'll let you know.
The Torre dell"Argentiera, Monte Argentario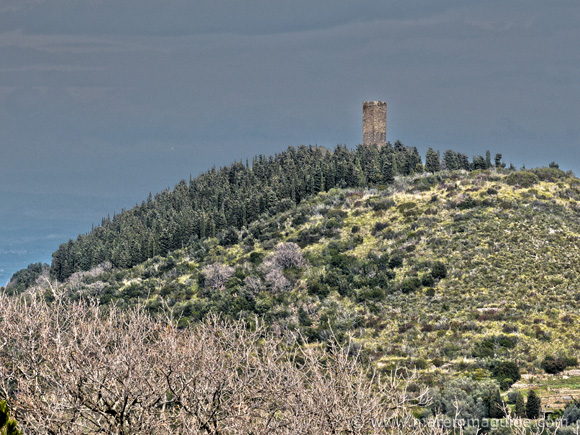 The Spanish Fortresses
The Rocca Spagnola in Porto Ercole

This is the stunning Spanish fortress, La Rocca Spagnola in Porto Ercole. Once the medieval Rocca Aldobrandesca, it was reinforced and extended by the Spanish in the 16th century.
The kite aerial photograph is by kind permission of Opaxir.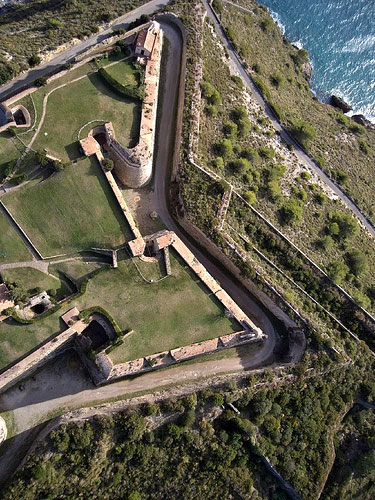 Forte Stella in Porto Ercole
Forte Stella, the stunning star-shaped Spanish fortress in Porto Ercole. Built for one reason. And one reason only. To give you two days to prepare to repel an attack. Or run. Before they came to enslave you.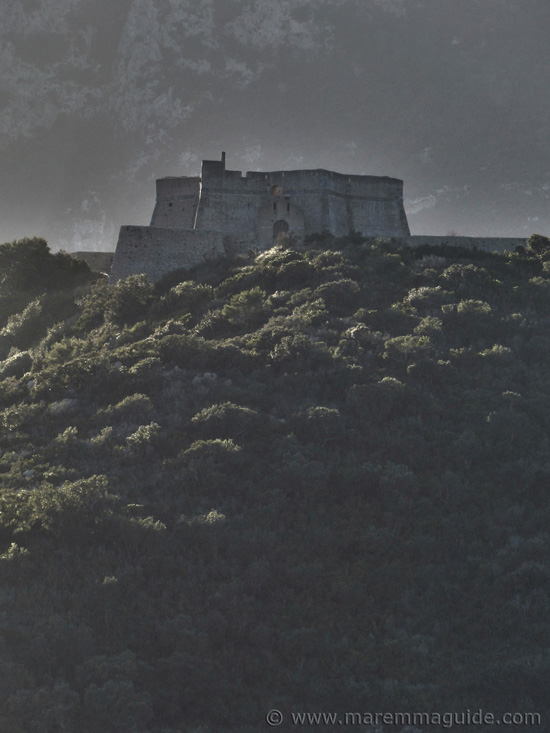 Forte Filippo in Porto Ercole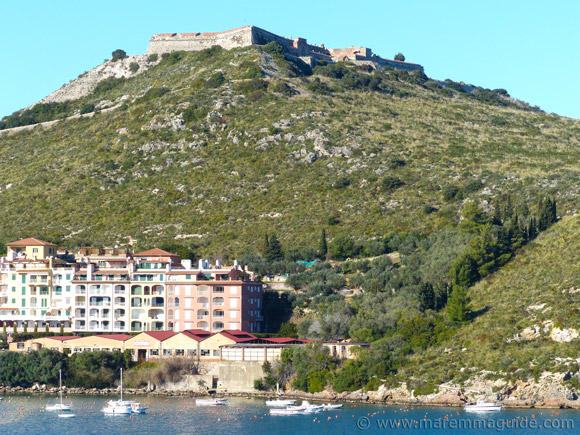 Forte Santa Caterina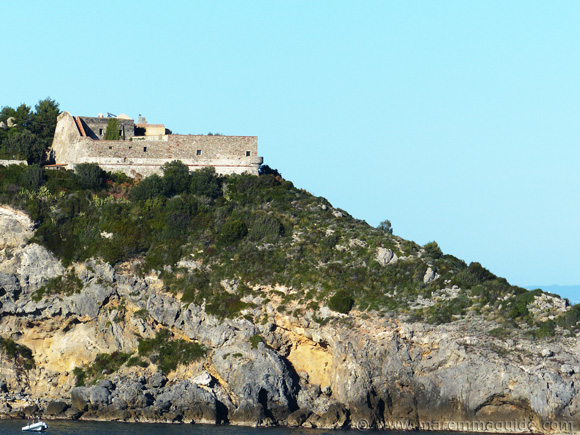 Fortezza Spagnola in Porto Santo Stefano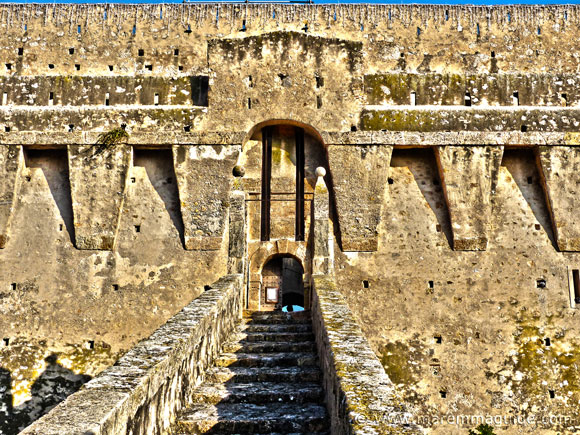 Forte delle Saline, Albinia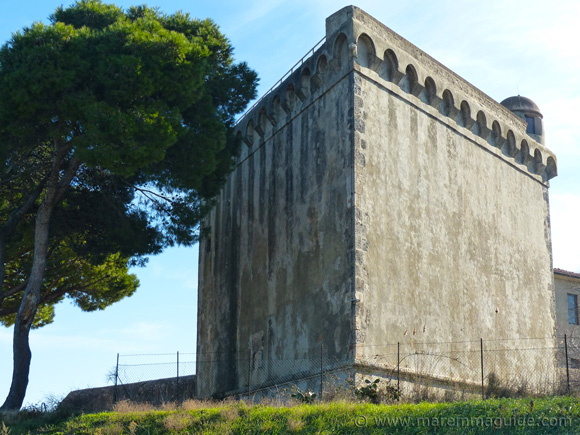 The towers, forts and castles in Maremma in which you can stay
The Torre do Cala Galera - the tower of Galera cove - has a spectacular coastal and seascape view and an internal jacuzzi! This is the place to take a girl to that she will love you forever for!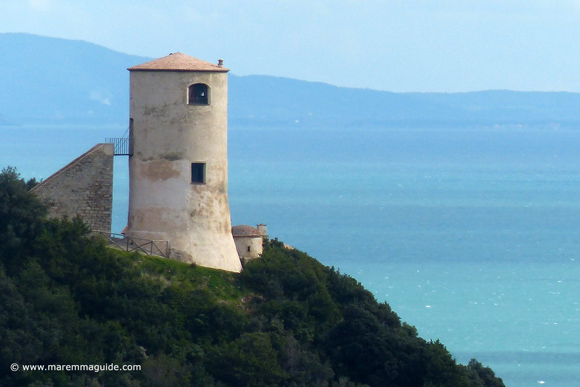 And this one is a sixteenth century fortress - in a great location in Maremma - that has a private terrace to die for and its own rocky cove. Check availability.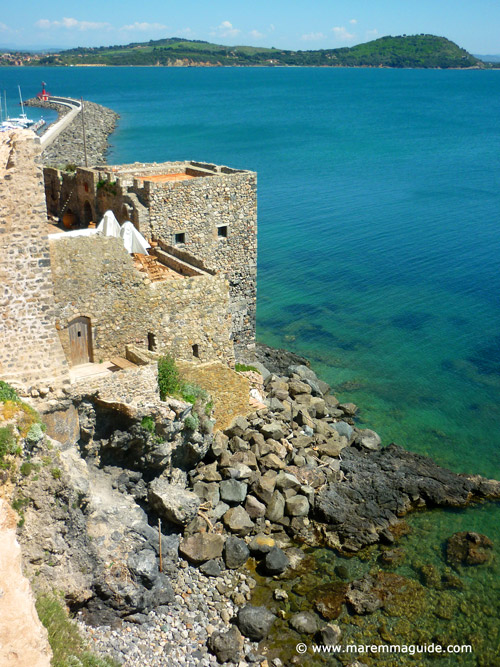 Find out more in my Maremma self-catering with a difference page.
The Maremma castles for sale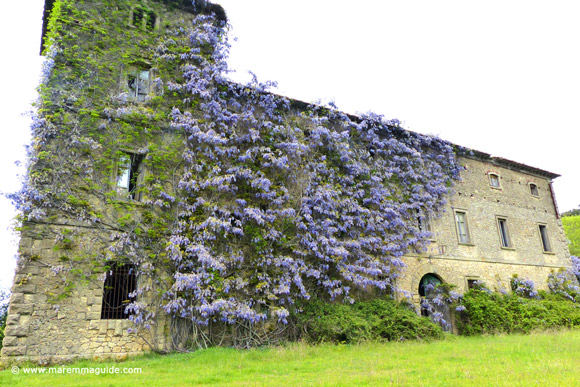 The one in this photograph isn't medieval, but is, nonetheless, an imposing and impressive castle. The wisteria-clad tower and walls are just one of its two wings. It has a internal courtyard accessible through the archway that you can see, which is so overgrown it has a mysterious and magical quality to it. The grounds are extensive and it has one of those pine-tree lined driveways that every Tuscany castle has to have :)
You will need deep pockets to restore it as the roof has already gone in places... To find out more, pop on over to my real estate page and send me a message.