Tuscany Self Catering Accommodation with a difference...
If 'run of the mill' has never been your style and you are looking for Tuscany self catering accommodation that is anything but mediocre, then I am going to share with you some very special places to stay that will leave you with incredible lifelong memories and bring a whole new dimension to "a room with a view" in Italy!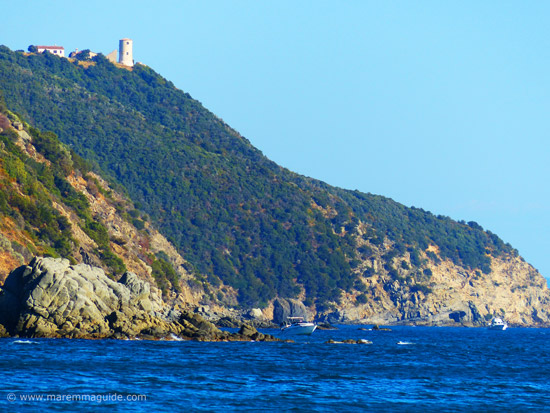 For these vacation homes in Tuscany are completely different in two ways. They are in restored medieval or Spanish towers. And they are located along the spectacular coastline of la Maremma: the unknown and wildest part of Tuscany
Where wild boar roam and root freely through the Mediterranean macchia right up to the sandy beaches. Where you will have to stop your car at night for a strolling porcupine. And where there are densely wooded hills untouched by human hand, a rich treasure of Etruscan cities and medieval towns, natural oases home to four thousand pink flamingos and rare birds.
But where you will also find a welcoming hospitality, super Tuscan wines, traditional Tuscan cooking in trattorias alongside world famous chef restaurants, more than one hundred gorgeous beaches and coves, sailing ports, wind-surfing clubs, treks amongst protected natural parks and volcanic thermal spas, palios and carnivals... That bring Italians from nearby Siena, Firenze, and Roma here every weekend and for their summer vacations. Maremma isn't Italy's best kept secret for nothing!
I hope you enjoy discovering Maremma from within these pages and decide to visit: you will leave with wonderful memories and dreams of returning...
The Tuscany Self Catering Accommodation in Maremma's Coastal Towers
The Lookout Tower
near Castiglione della Pescaia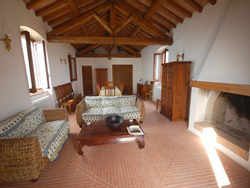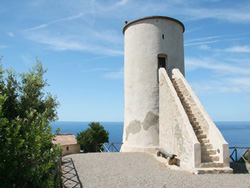 The spectacular and uninterrupted views of the Tyrrhenian sea, the Tuscan archipelago - including the Island of Elba - and Maremma's long stretches of beaches and pine forests don't come much better than from this medieval lookout tower built on a rocky promontory to protect Maremma's lords from Barbary pirate raids.
The Lookout Tower
, once an inaccessible - only reachable along a narrow winding mule track - military barracks, watchtower, sentry box, chapel, and oven house, is now a unique Tuscany vacation residence with all modern conveniences, including a sunken jacuzzi in the well that is simply magical in moonlight!
It sleeps eights, with four en-suite bedrooms, three kitchens, two fireplaces and a drawbridge!
Definately a place for lovers of ocean sunsets and those who haven't lost their childhood wonder for castles and turret stairs... If you have children with you, this tower will ignite their dreams before they even arrive and inspire them for years and years to come. I don't think self catering with mum and dad gets much more exciting than this... (Going to take my family when I can.)
Villa Talamone
Talamone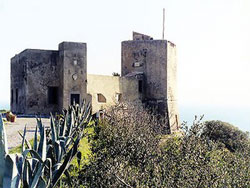 Another of Maremma's coastal fortifications against Barbary corsairs from North Africa - this time a tower built during Spanish rule along this part of the Tuscan coast - Villa Talamone (also known as Castello Presido) offers unique self catering accommodation on the edge of the Parco Naturale della Maremma.
It dominates the rocky promontory stunning panoramic views of the historic port and town of Talamone, the Tyrrhenian seascape, the long stretch of kitesurfing coastline to Monte Argentario, and the volcanic Monte Amiata.
And if its sixteenth century history and sweeping views aren't enough, if you have a lover of James Bond films amongst you, this villa is going to thrill them: it was used as a setting in the last James Bond film "The Quantum of Solace" where James Bond (Daniel Craig) reconciled with Matis (Giancarlo Giannini) and sought his help.
Set within private land with a driveway lined by magnificent cacti, its own path down to the sea, swimming pool and wooden sun deck, the villa sleeps eight with four bedrooms and four bathrooms. And if the total solitude it offers is just too much, there is internet access and a satellite TV.