The Tuscany cooking class with class!
A Tuscany cooking class with class. You'll be very hard-pushed to find other cooking classes in Tuscany Italy that match the wonderful recipe of this one (excuse the pun!).
The kitchen you'll be cooking in is a professional one in a very elegant restaurant. Once a spinning mill within the ancient city walls of a Tuscany hill town with a view.
The location. Only a short drive from some Maremma's stunning coast and beaches. I'm thinking of the walk you will want to take after the stupendous lunch that you will cook-up. And whole day's out worth of very special places to see and things to do.
And the chef, Barbara. Well. She is simply bursting with personality and warmth. You'll adore her within minutes. And end-up giving her a hug when it is, finally... because you won't be watching your watch when you are here ...time to say goodbye. Lunch started at 1.30pm, but we didn't leave until well into the afternoon..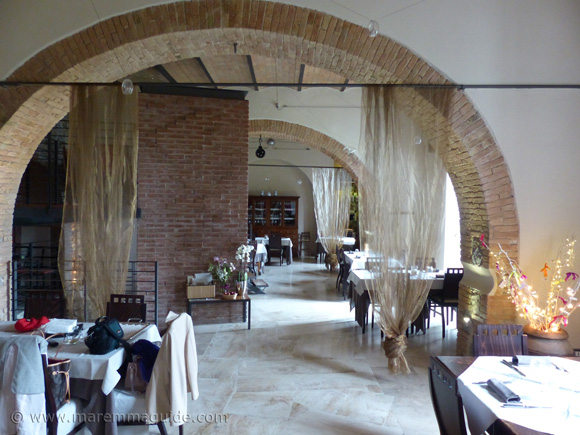 On the day I went along to join in the fun, the cooking class for the day comprised of a menu of seven dishes.
Barbara sometimes teaches a large group that has booked as part of their tour of Tuscany. In fact she recently taught a class of teenagers from a local school which they loved and haven't stopped talking about since. But on most days you will find her morning classes a really intimate affair of two to four people.
Which is a fantastic treat. Because it feels like you are cooking-up a meal in a friends kitchen. Which in fact you are: in Barbara's.
Which at first sight seems a stretch to complete from scratch in just three hours. But before you know it you will have worked your way through it with ease. So much so that it doesn't feel daunting to do it yourself again on your own back home. In fact it leaves you wanting to get home to try!
The Focaccia
First-up, the Focaccia. Not because it is eaten first, but because it needs time to rise. And rise again.
Dissolving the yeast in the tepid water... with your fingers! This cooking class is hands on - literally - from the start to the end.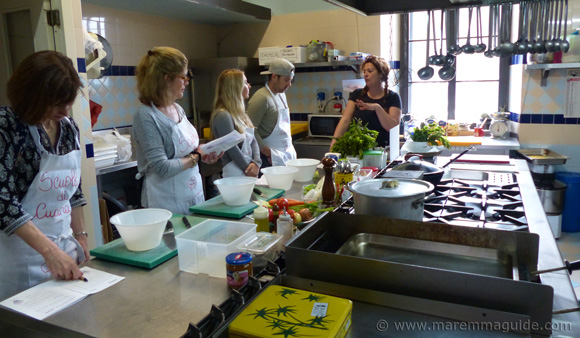 After the dough has risen, the mashed potato is added and mixed in. Time to get those hands sticky, again, and feel the consistency. It's not ready until Barbara say's so!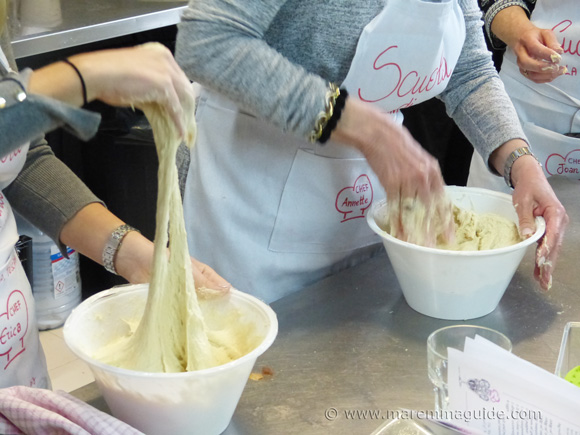 Then the dough is divided into two batches for two different breads. Both simple, but sublime. The first is fresh rosemary with extra virgin olive oil and "sale grosso" (large crystals of salt).
Letting it rise again after having prodded in with your fingers the rosemary and oil. And prodded in again and again some more salt. Those bubbles appearing on its surface are apparently a really good thing: this morning's class did really well :)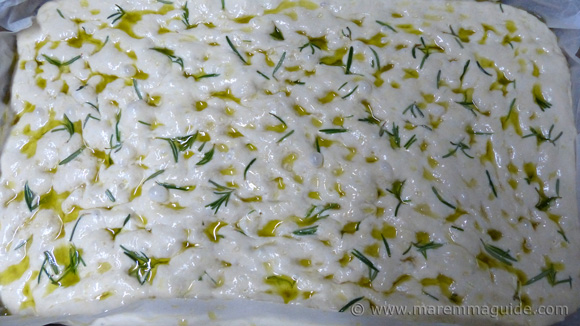 Then a fresh tomato and "basilico" one. With salt.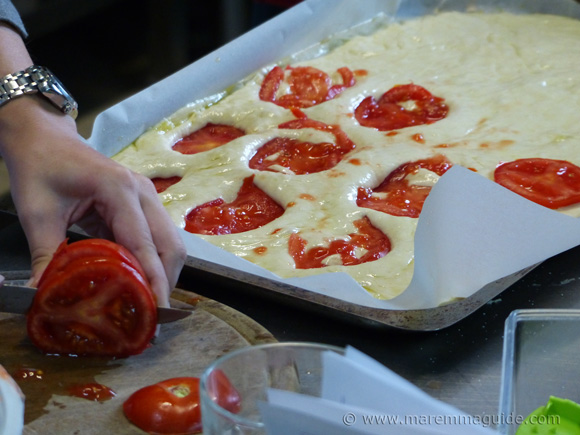 And plenty of extra virgin olive oil. Rising again in the warm kitchen.
But this one is going be prodded a lot more by the chef to sink those tomato slices and add some more oil before she is happy with it and it is ready to bake.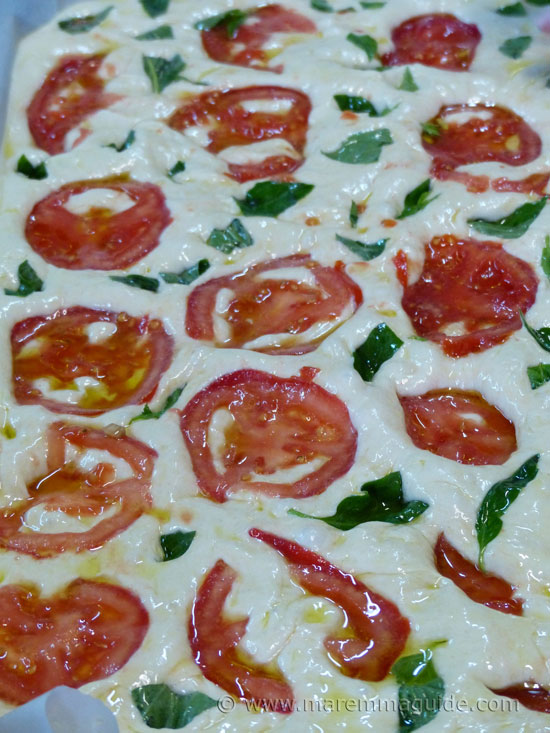 Learn how to peel tomatoes effortlessly
In preparing the ingredients for the soup, you'll get to find out how to effortlessly peel fresh tomatoes. Until the summer comes and the tomatoes take on a fuller flavour right through to their skins and don't need to be peeled, in the spring Barbara always removes the skins.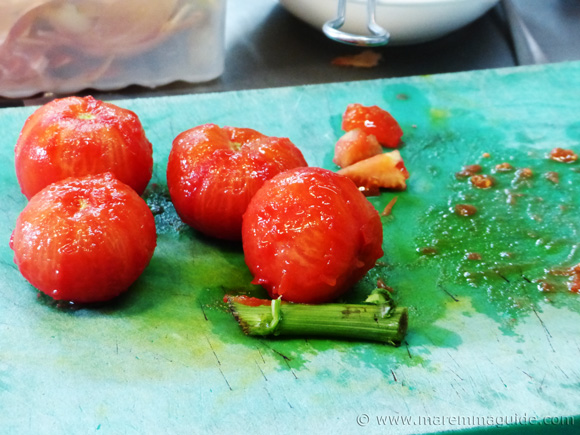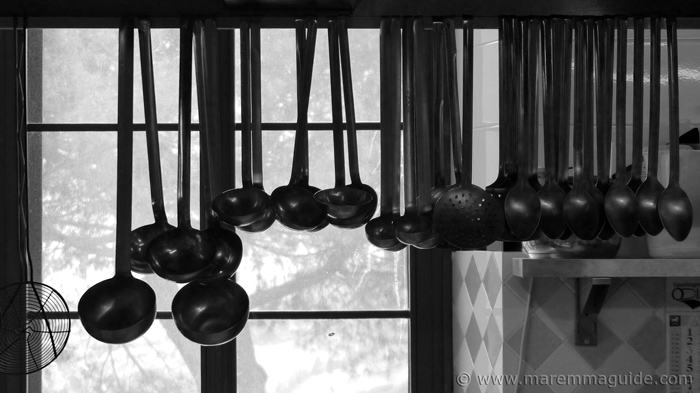 But they don't go to waste. Dried in the oven at the end of the day, or on a shelf in the kitchen when it is hot, the tomato skins are kept in a tin for adding to salads. Or as a touch of vibrant colour to dishes.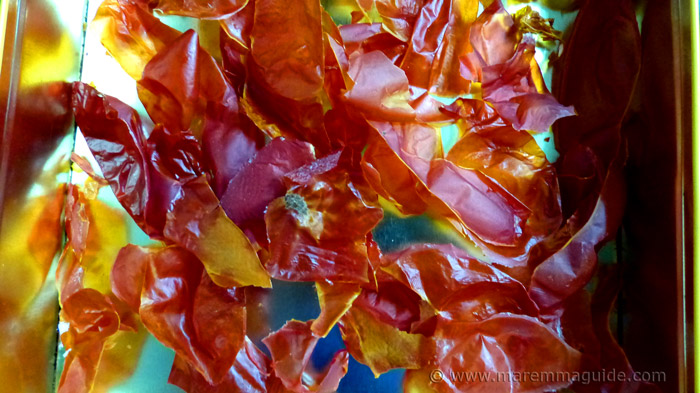 Chiusoni pasta
Learn to make fresh pasta, without eggs.
A flavoursome tomato sauce that just cries out that it is made in the Mediterranean.
And combine them together into a dish you won't forget.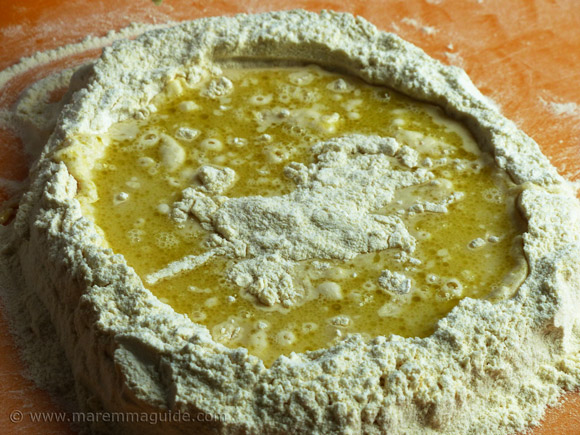 But you'll need to work for the result! You'll make the pasta - of course - by hand. And it will need to be kneaded until it is elastic and smooth. Much smoother than you probably think is OK. Which means elbow grease and effort. The man in the morning's class made that day's Chiuconi (also known as Pici) pasta and he did so really well. Barbara was mighty impressed and the pasta I have to say was the best I have tasted in a long time.
So, guys, there is no reason for you to give this class a miss!
The great thing about all of the dishes that Barbara will teach you to make is that none of them have ingredients that you will have to hunt down in shops back home. They all start with the simplest of store cupboard ingredients. And fresh, seasonal produce.
What start out as short - a couple of inches long strips - end up as long strands.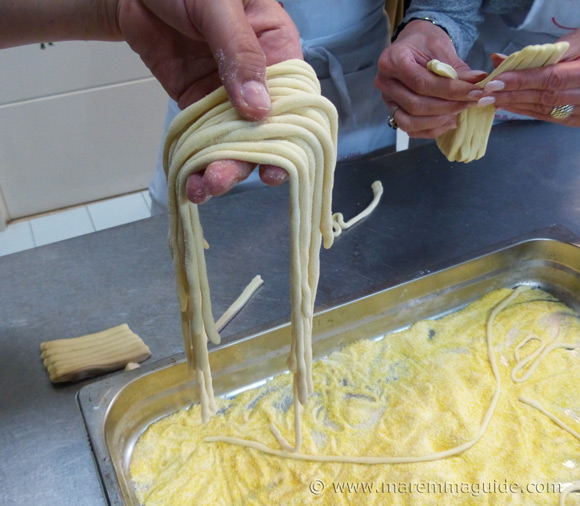 Hand-rolling the pasta before swinging each one like a skipping rope to extend it further! It's true. You do! And it is fun.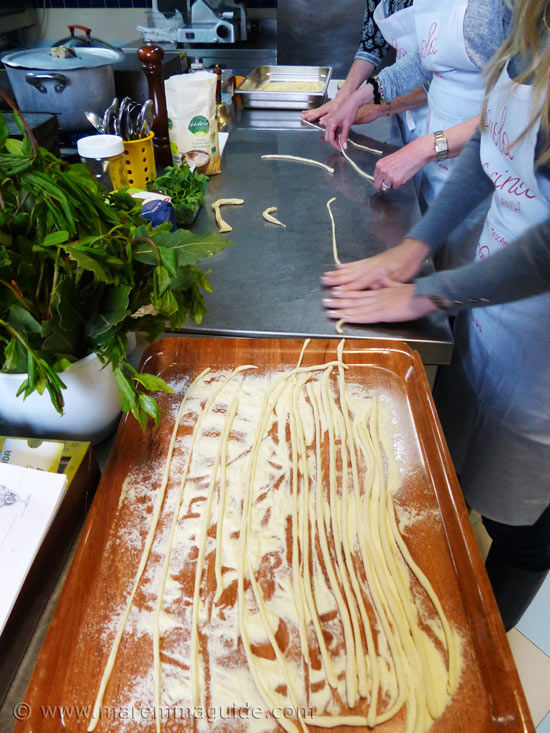 The tomato and garlic oil sauce for the pasta simmering away. You won't find a clove of garlic in sight in that pan. Instead, earlier in the morning, one of us chopped some cloves and covered them in a oodles of extra virgin olive oil. And left it alone to do its magic.
And then garlic was removed and the oil was used to slowly cook the chopped tomatoes that had been de-skinned earlier in class.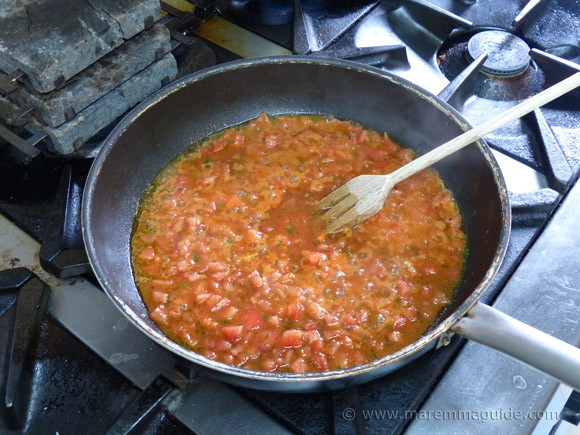 Barbara recounting the tale of how she once inadvertently frightened off some students in her class from eating the eggs in the soup you are about to make. Because, when asked how come the yolks of the eggs in her kitchen were such a rich yellow in colour, she told them that the local chickens were fed on "mice"! When she had wanted to tell them, "maize".
It wasn't until a few days later when the group organiser called her, that they realised the "buffo" thing she had done.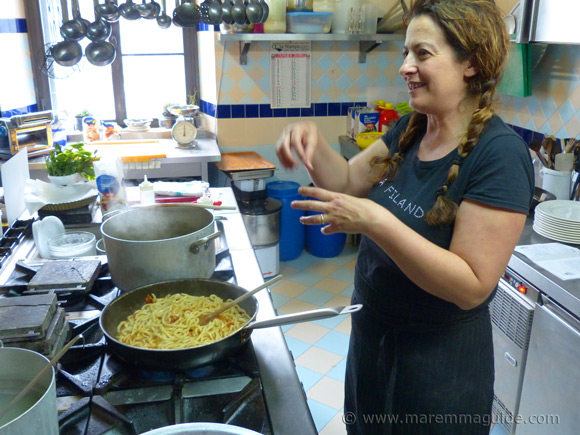 After many years of living here in Italy, I still marvel how one pan in a tiny kitchen - not that Barbara's is, but ones in most homes are - can make food that "wish you were here" postcards are full of.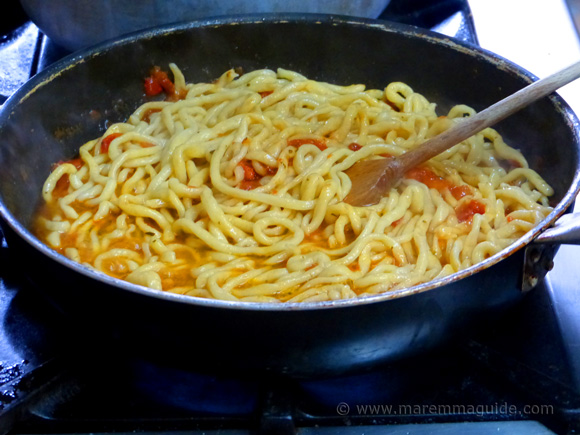 Now watch how Barbara combines them together. Despite the fact that I cook a dish every day, I still haven't mastered the art of tossing the pasta in its sauce. I just don't have the confidence to give it that swoosh up!
Book a morning with her and you will :)
Maremma's speciality soup
The poorest of the lot, but not in taste. Maremma's Aquacotta soup.
It doesn't get more authentic Tuscany than this: made by Shepherd's tossing whatever vegetables they had to hand into a pot of simmering water for their evening dinner. You'll get to make it with a "Barbara" twist. Keeping its authenticity and ever true to its humble beginnings. But adding a few seasonal ingredients to hand. Just as the Shepherd's and their wives did to the pot on the stove centuries ago.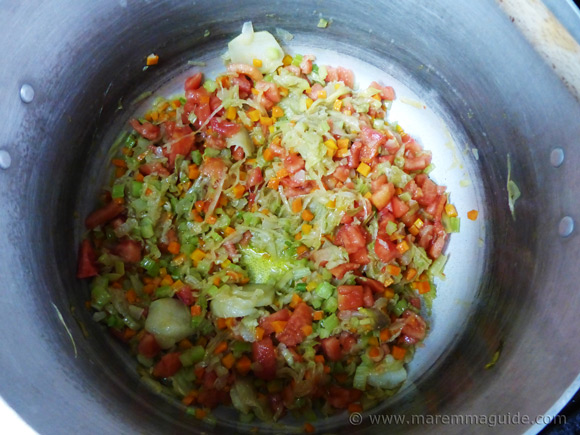 Which means that when you get back home you can confidently add your own "twist" too in the knowledge that it will turn out great.
Lightly poaching the eggs to go into the soup in a way I have never done before. In cellophane. No need to boil-up a saucepan or pan of water to cook them. Just drop them in the pasta water for a minute or two.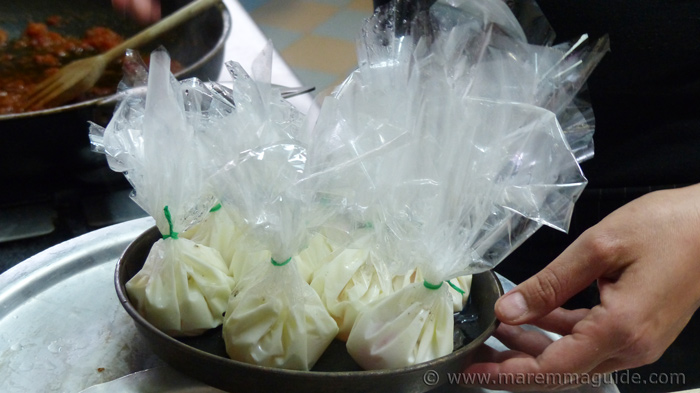 Ladled onto a slice of toasted Tuscan bread rubbed over with a clove of fresh garlic, the soup is ready. Open your egg parcel and pour it's contents into your soup. Or eat it alongside. Whichever way you prefer, it is delicious.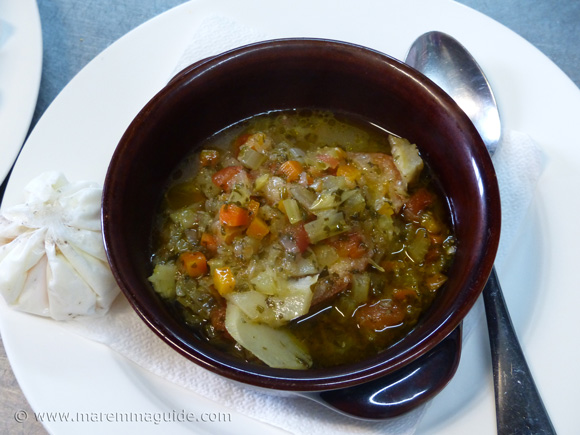 Crepes that aren't crepes!
Learn how to make crepes that aren't crepes! These are Maremma's Ciaffagnoni. A traditional Maremman dish that is so so simple, but at the same time so very exquisite. Adaptable to many different dishes, you will want it in your repertoire for those days when there is nothing in the fridge but eggs. Feed your tribe like they were kings and queens and have them coming back for more :)
It all starts with a hand whisk that makes this yellow liquid from just water, flour and eggs.
Want to know the secret to that intense, rich yellow colour? It's those free range, corn fed chickens again. Buy the best, simple ingredients and you won't go wrong in an Italian kitchen. Professional or otherwise.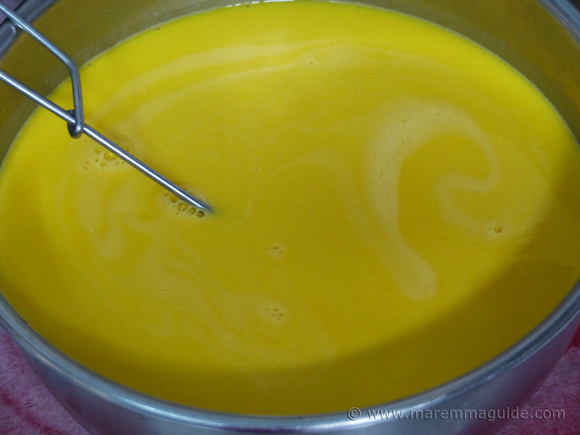 Cooking the Ciaffagnoni. Thin thin, wafer thin.
You don't use oil (or butter for that matter) to grease the pan. You'll have to take the lesson to find out what local delicacy (because, simple fare it may be here in Tuscany, but we treat it with awe) you must use instead.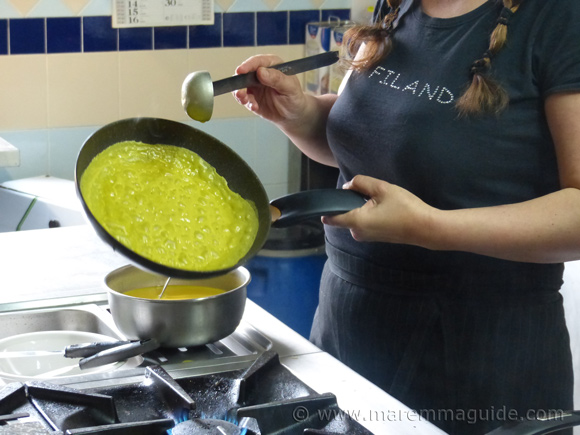 The simplest and divine way to serve them is hot with a lavish helping of freshly grated Parmesan cheese. Fold up into quarter triangles and eat. There and then. In the kitchen. :)
We did - as did the American ladies' husbands arriving to eat lunch with us - as they slid off the frying pan.
Rolling them to be cut into thin strips as "finto" (false) tripe. Or they can be used instead of sheets of pasta, with a ragu and béchamel sauce to make "pasta forno" (lasagna). Or...
By the time you have finished you will know half a dozen other things to delight your family that you can do with these paper thin wonders. And the great thing for busy mum's is that they can be kept in the fridge or frozen too for instant Italian dinners :)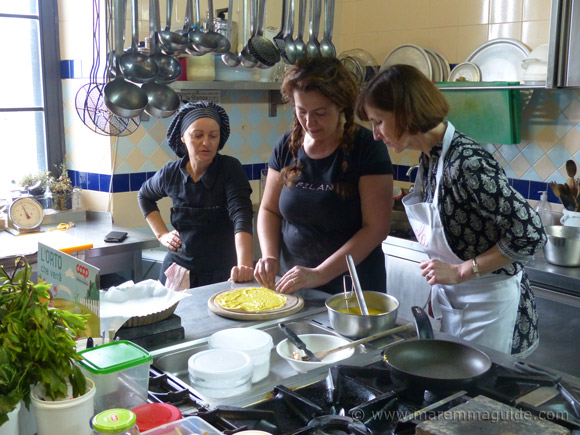 The filo pastry parcels made in heaven
The filo pastry parcels made in heaven. With simple ingredients that will surprise you. Cubes of matured Pecorino cheese and fresh, ripe, pear.
Baked in the oven until golden and then drizzled with Tuscan organic honey. A sprinkling of poppy seeds. A sprig of rosemary. Et voilà.!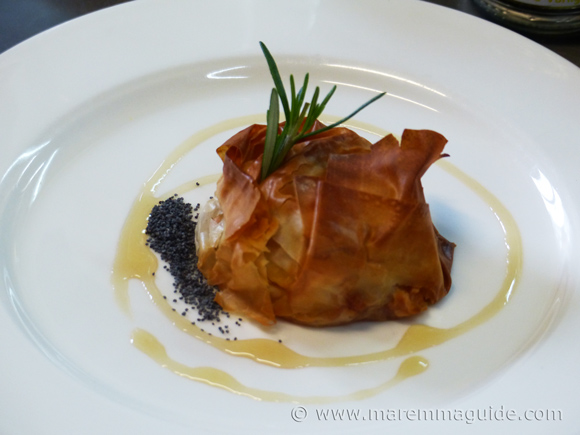 They make a wonderful pairing after a steak or similar red meat dish. But I have made them every week for my young daughter since I took this class for a light lunch with salad. She loves them and there is no sign of us getting tired of them soon.
They are sweet enough to be served as a dessert too.
The Italian almond biscotti. One is never enough. Nor two, or three!
Talking of which. The next-up will probably be the one dish that you will never, ever, stop making. For you, for friends, and as gifts at Christmas. Tuscany's Cantucci biscuits.
You will have your friends begging you for the recipe and lessons!
As well as Vin Santo wine, those intense yellow egg yolks are in these too.
Ready for the first bake in the oven, these...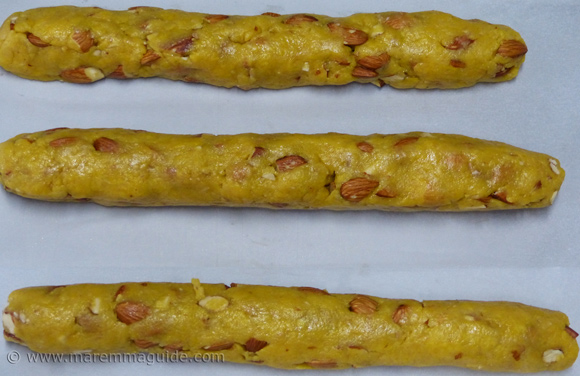 Turn into these golden "batons".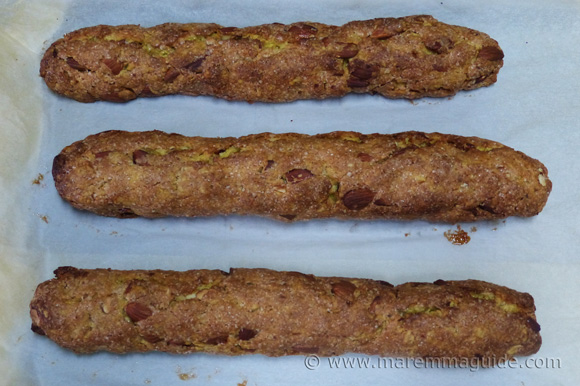 That are then cut diagonally into these. And returned to the oven for the second baking.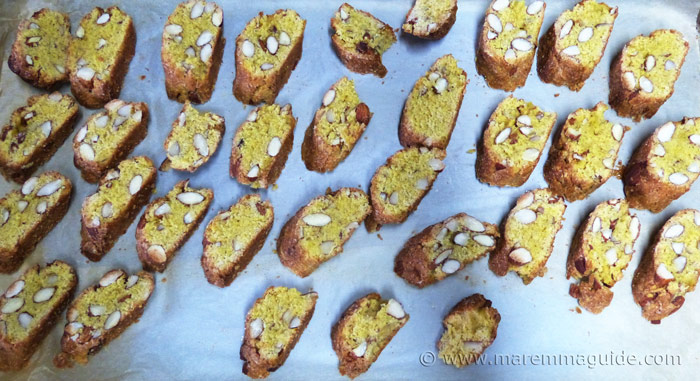 The warm crunchy crumbs that came from slicing the batons were consumed so fast that the chopping board was cleared in seconds!
Lunch is ready. Or dinner
The morning classes start at 10:30 and finish with a truly wonderful lunch at 13:30. All the dishes you have prepared.
And if your spouse or partner hasn't joined in the fun but wants to try your new creations, they can join you for lunch too. You just need to let Barbara know (and pay the lunch fee of course).
Take it from me, it is a tasty treat of a meal. My favourites were without a doubt the rosemary focaccia bread, the made in heaven pasta in garlic and tomato, and the incredibly moorish Cantucci biscotti. Actually, all of it!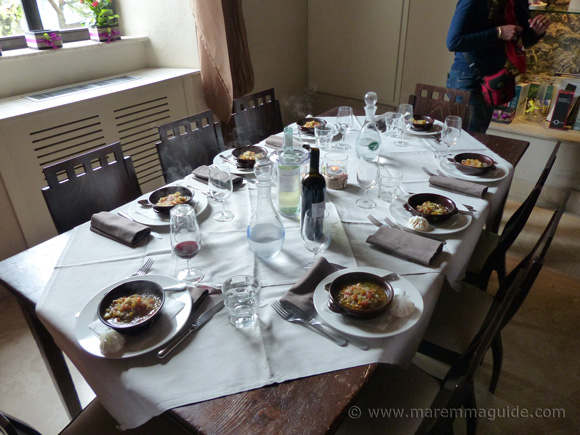 Barbara will even give you some bags for take-away treats: the remaining focaccia and biscotti. Perfect for snacks later in the day, or accompanying a bottle of wine back at your villa.
You'll get your own booklet with the recipes inside for everything you have made that day. And your apron as a great memento.
On request, it can sometimes be possible to take a (shorter) afternoon class - that starts at 17:00 and finishes with dinner at 19:00.
Located within the ancient city walls of one of Maremma's beautiful hill top towns, Barbara (and her husband's) restaurant was once a spinning mill and before that was a centuries old granary. Which they restored; keeping all of the original architectural details whilst adding a touch of warm elegance.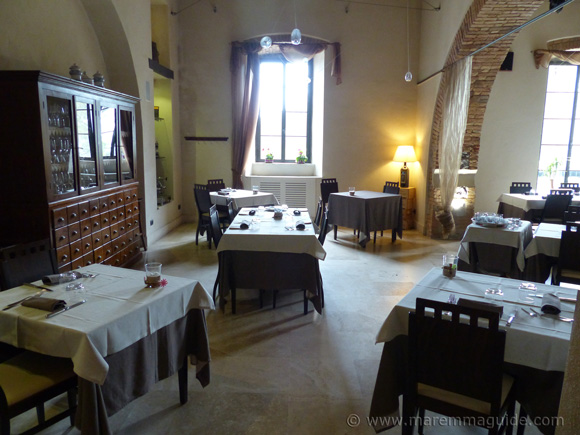 Purely pasta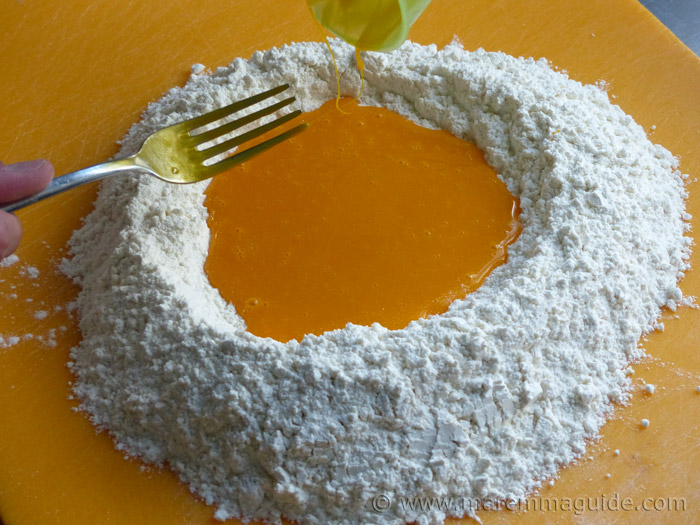 Throughout the year, Barbara also holds a pure pasta cooking class. In which, as you can guess, the whole morning is dedicated to making different pastas and pasta dishes.
What might at first consideration be thought of as less interesting than a morning of cooking dishes from antipasti through to desert, is anything but.
If you hanker after grappling with (don't tell her I used that word when talking about making pasta, as you don't "grapple" with the wondrous dough!) and conquering making homemade pasta. But not just ordinary homemade pasta. We are talking the kind that will from that day have you wanting for and eating nothing else.
Of how to turn one glorious mound of dough that you have brought to life with your fingers - you won't be using a kitchen aid mixer or food processor in this Tuscany cooking course, just plain old fashioned knives and hands - into parcel after parcel of mouthwatering morsels and more. All with the simplest of ingredients.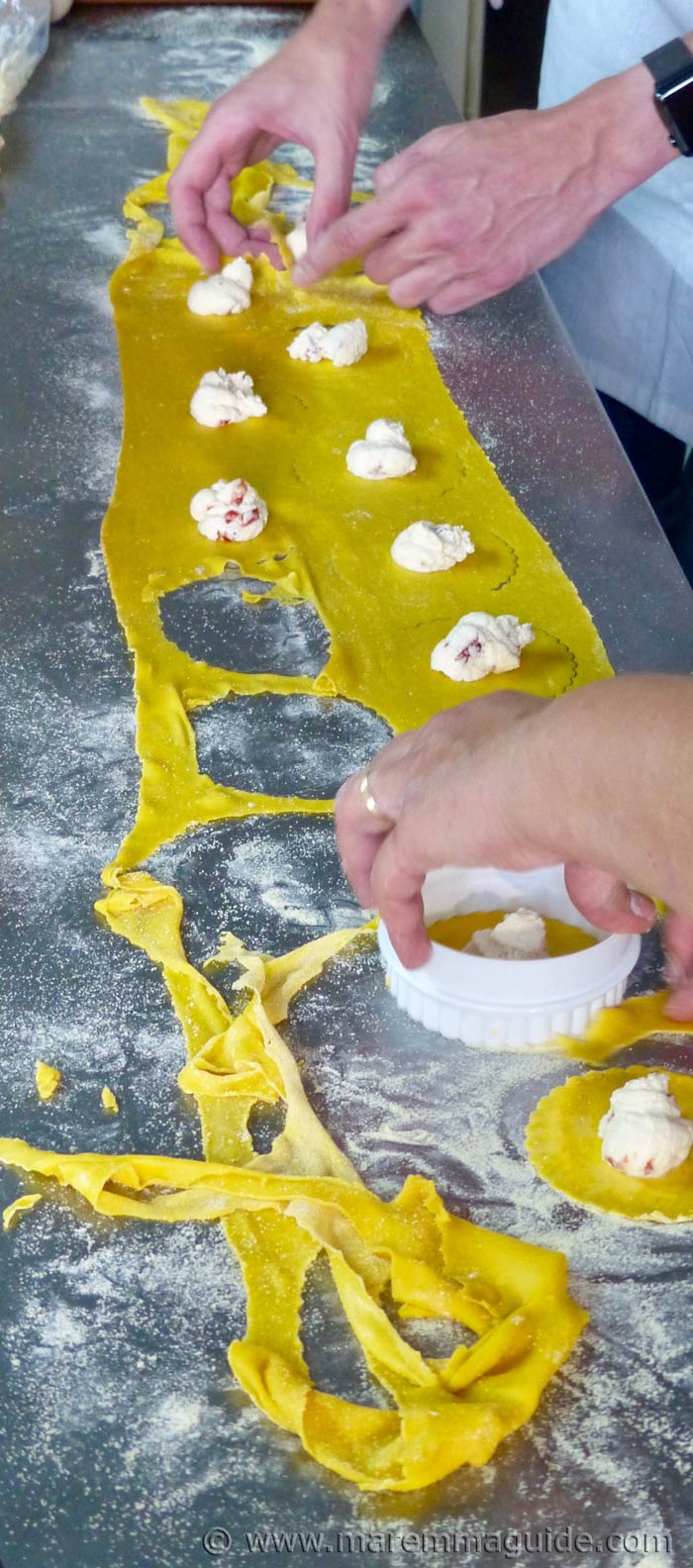 Then this is the class for you.
I'd even go as far as to say you could probably set-up a restaurant of your own that would beat hands down many outside of Italy. But that might be going too far! But re-naming your own kitchen "la ristorante di ..." wouldn't be.
Book a Tuscany cooking class in Maremma with Barbara
To find out more, to check on availability, and book a fantastic class with Barbara, send her an email here using the form below. She'll get straight back to you.
Have fun. I did! And am planning on taking my young daughter with me next time too. She has just started cooking with me and her dad and this class will give her a huge boost of confidence and have her cooking-up five course Michelin star dinners for us in no time ;)
Barbara's cooking classes are for all ages.