Cookery courses in Tuscany
From novice to pasta perfection and heaven on a plate
Cookery courses in Tuscany that are, without a doubt, amongst the best things to do in Italy. Four classes that will take you from novice to cooking pasta perfection and heaven on a plate. In the Gambero Rosso and Michelen Guide restaurant kitchen of a bubbly and charismatic chef, who will have you feeling at home in her domain from the moment you don your apron.
But don't just take my word for it.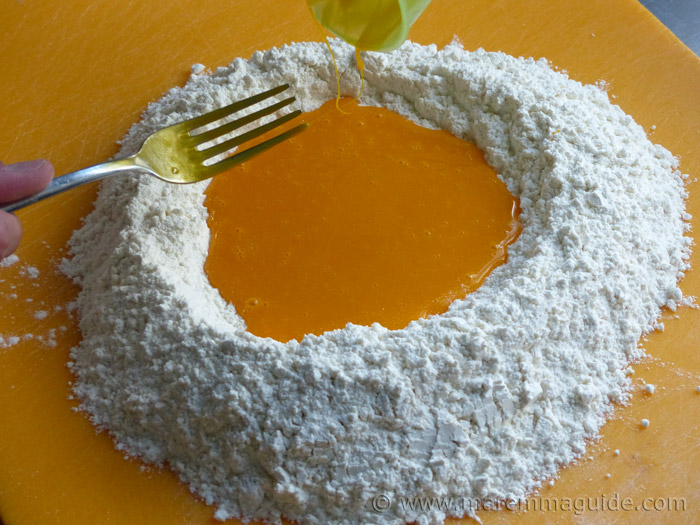 "The best thing we have done in Italy"
"The best thing we have done in Italy". That's what I got told by the guys from the States who were taking this, the second of chef Barbara's Tuscany cooking classes, with me.
Note. Barbara's courses are relaxed, small group sessions where you'll get her undivided one on one attention for the whole session. Using the same pots, pans, knives and stoves that she'll be using to turn humble ingredients into delicious dishes in the evening for dinner.
They had arrived in Italy in Naples. Driven along the Amalfi coast. Visited the wonders of Pier Francesco Orsini's monsters in the Gardens of Bomarzo. The splendours and sights of the Rome, Pisa, and Florence. And more. But today were taking a break from touring to take this cooking lesson with Barbara. They had already eaten in her restaurant one night earlier in the week and loved it. So were back to hone their cooking skills.
The guys were naturals! Barbara was mighty impressed - and told them too - with the precision of their cutting skills. She didn't need to get the robot chef out to finish the job as she usually does with the ladies in her class. And with the unusual tidiness of the kitchen as the morning progressed.
Ladies, whichever one of you is next to take a class, I reckon it is up to you to up the ante on what us girls can do!
Anyway.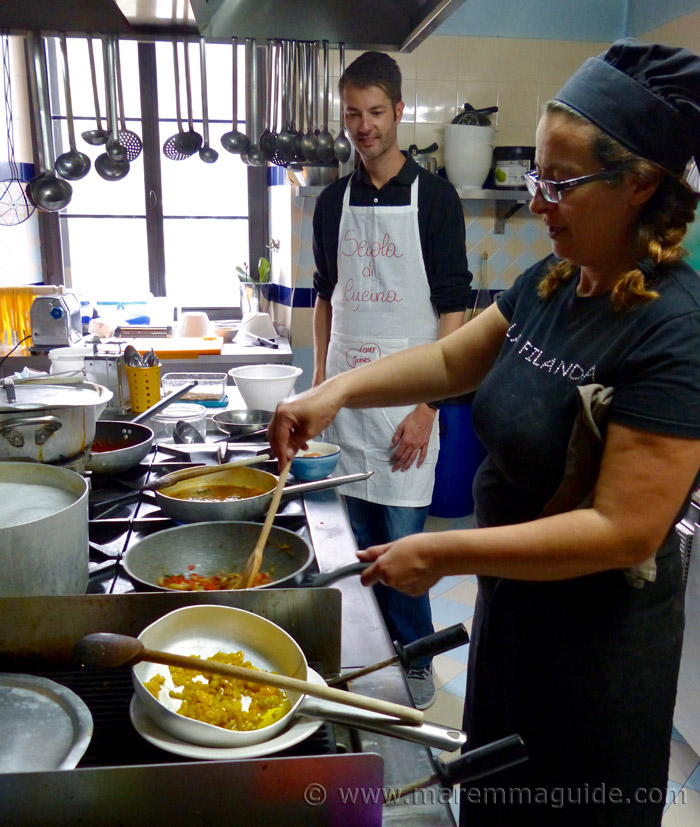 Whilst we were in raptures in the restaurant eating plate after plate of food that Barbara was bringing us for lunch - the dishes we had made together - the declaration was made.
And I reckon such an accolade, especially given that the competition included the sights of the Eternal City and so much more, should be shouted from the roof tops. For it is so well deserved.
Barbara's classes are just fabulous :)
So. Don't give them a miss. Drop Barbara an email to book your "indementicabile" - unforgettable - experience at the bottom of this page.
Not just pasta
You'll learn not only how to make fresh Italian pasta, with and without eggs. But also how to prepare the fillings, and the meat and fresh in season vegetable sauces to compliment each one.
With LOTS of tips along the way.
Which types of flours, and combinations of flours, to use and why for each type of pasta.
When to use just egg yolks, whole eggs and egg yolks, and how much extra virgin olive oil.
When only 40 egg yolks will do...
Barbara uses no less than 40 egg yolks when she makes a batch of fresh pasta for her restaurant. Forty of the most vibrant orange yolks I have ever seen.
And if she doesn't happen to tell you how come they are that incredible colour, ask her. For therein lies a a wonderful little story that only she can tell.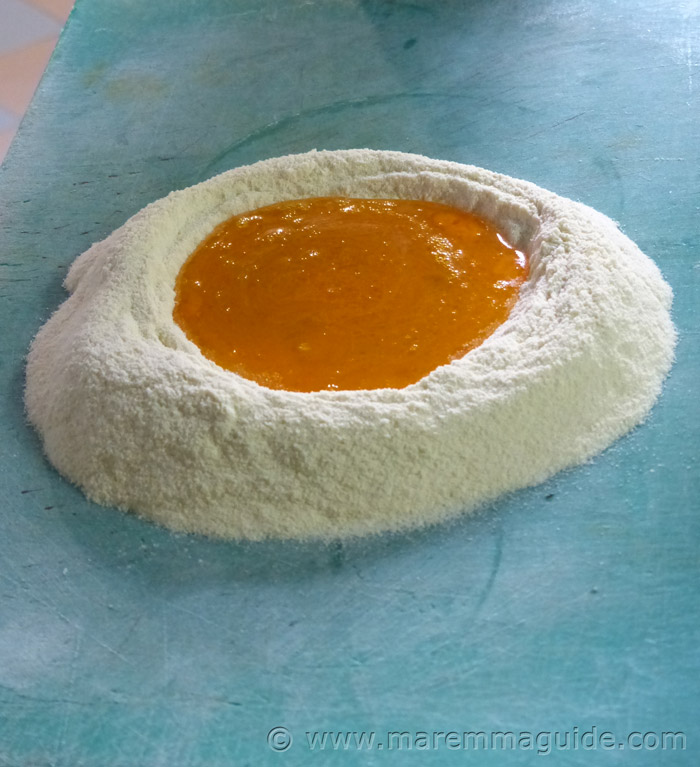 How to make the "volcano" for mixing the ingredients together. And which part of your hand to use for kneading the dough so that it turns into that perfect elastic ball.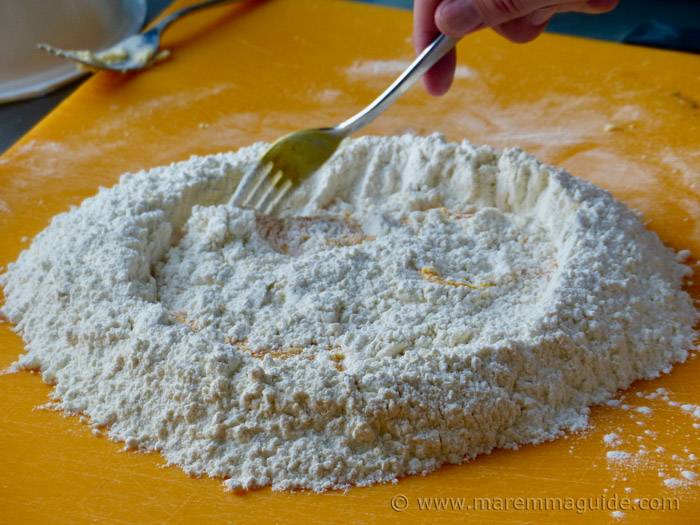 The poke!
Learn the highly skilled test that your dough is ready: the mastery of the skilled poke!
When your daughter devours worms!
Learn how to roll by hand Pici pasta - called Chiusoni in the local town - from dough made without eggs.
With the courage of a lesson with Barbara behind me, I had a go at making these for my family and visiting friends whilst they were out one spring morning hunting wild asparagus. In the end they had to dig in too and help me because I hadn't managed to roll enough for us all by the time they returned. Gathered around the kitchen top we had great fun discussing whose "worm" was the best, the longest, the perfect thickness.
Cooked and amalgamated in a garlic and tomato sauce, they were. Literally. Devoured. Every single one of them. With requests of can we make them again please mum.
Huge success :) Thanks Barbara!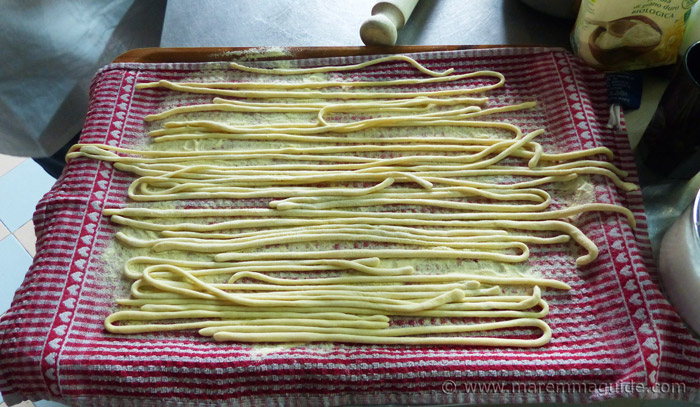 Or cut "Spaghetti alla chitarra" using Barbara's own "guitar".
It's all in the fold
And how to fold your pasta - just like Barbara's grandmother taught her - each time before putting it through the rollers. So that you too can have a chiffon scarf like the one she made on the day.
And with those glorious sheets, how to stack them. One on top of the other. And cut them through to form the ribbons of pappardelle. Without a single ribbon sticking to another. Nor the knife.
From chiffon scarfs to silk purses
From silk scarfs to silk purses. Making the filled ravioli, Tortelli. Like mini cushions stuffed to bursting with whatever you love.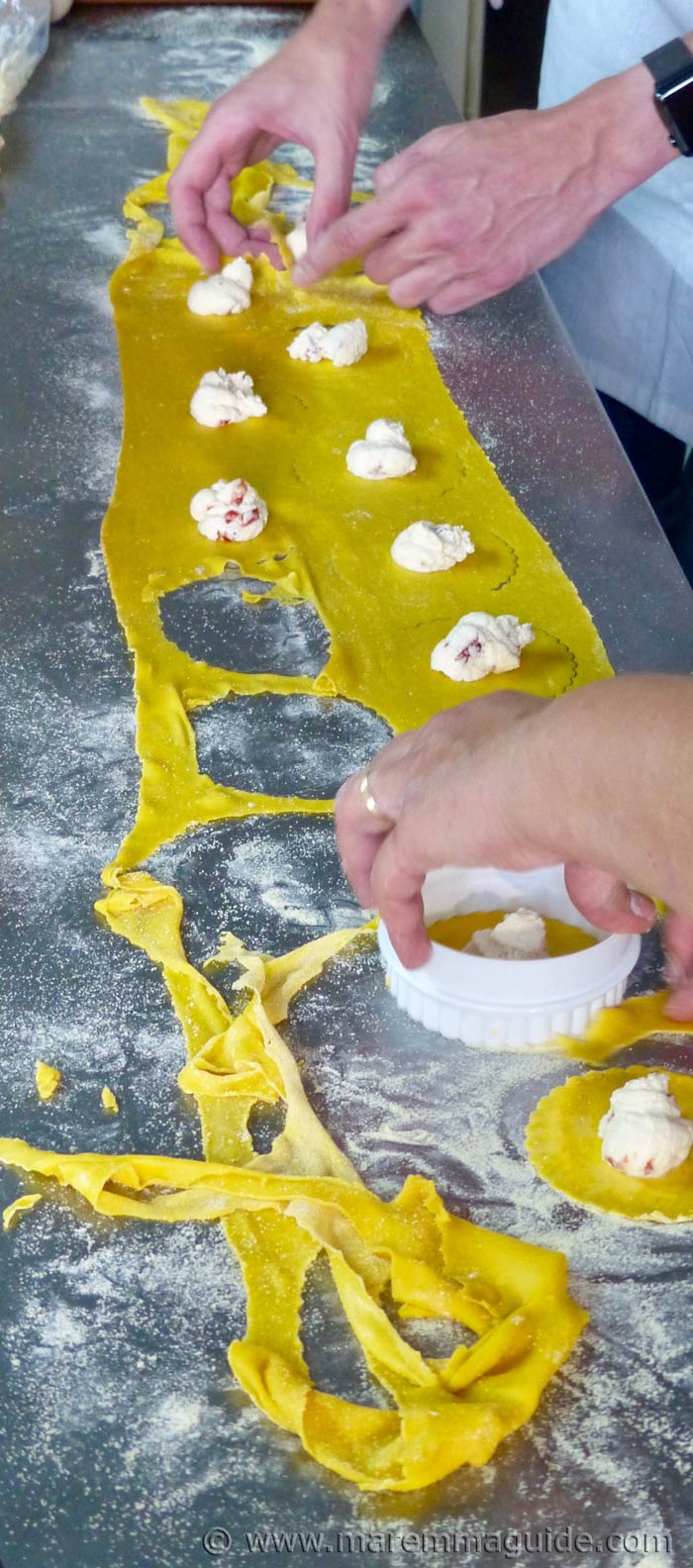 Find out how to seal the parcels so that they don't open. And why you'll probably add a pink spray bottle to your kitchen equipment!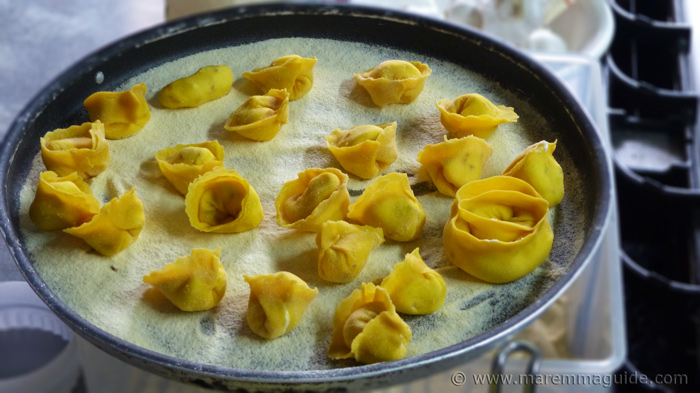 The pasta sauces
Sensory heaven
There comes a point during the morning when there are so many pots and pans bubbling away. And a large steam oven baking away its bread and biscuit contents in the corner. That with each step you take around the kitchen, an incredible aroma sweeps over you. Leaving you yearning to taste whatever it was.
TIP. Most of Barbara's students don't bother with breakfast on the morning of a lesson. They want to leave room for the incredible lunch that follows. But it is at this stage, as the morning progresses that the hunger pangs, if they haven't raised their heads before, start. And even those amongst us, like me, who have had a breakfast, beginning to feel extremely hungry.
Requests at this stage to taste the cookie crumbs are common!
The sublime from simplest of ingredients
Learn why a true Italian ragu sauce has to contain three different tomatoes. Don't you just love that colour!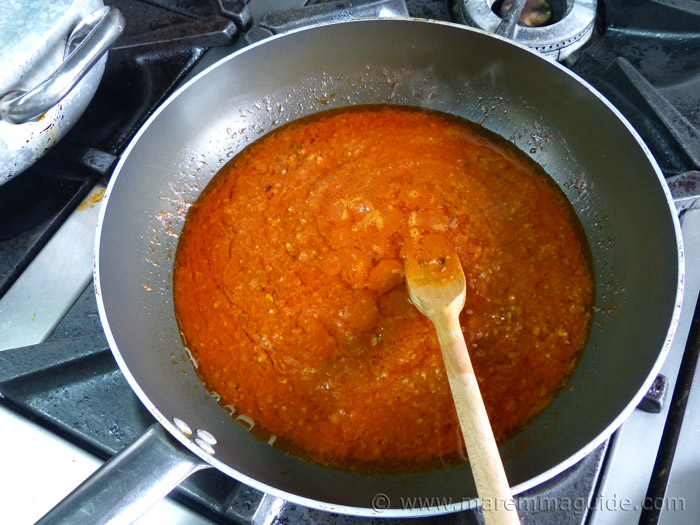 What you should to do with your sliced onions BEFORE you cook them to give you all of their flavour, but without their "sting".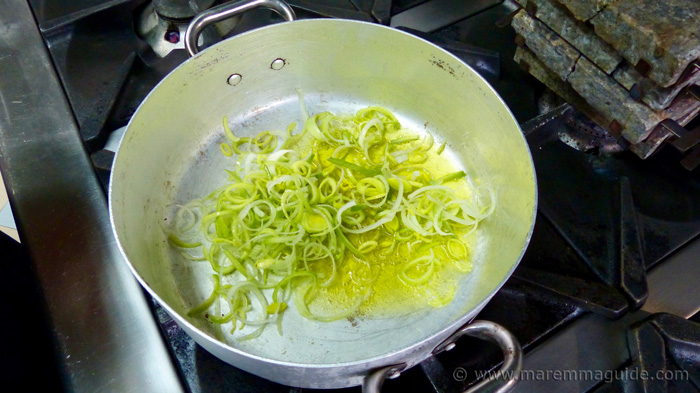 It looks to good to be true, but this combination of just yellow peppers and extra virgin olive oil makes a pasta sauce that, when eaten with one of those Tortelli, is indescribably wonderful.
Yellow peppers, not green or red. You'll find out the reason. And cooked ever, ever, so slowly.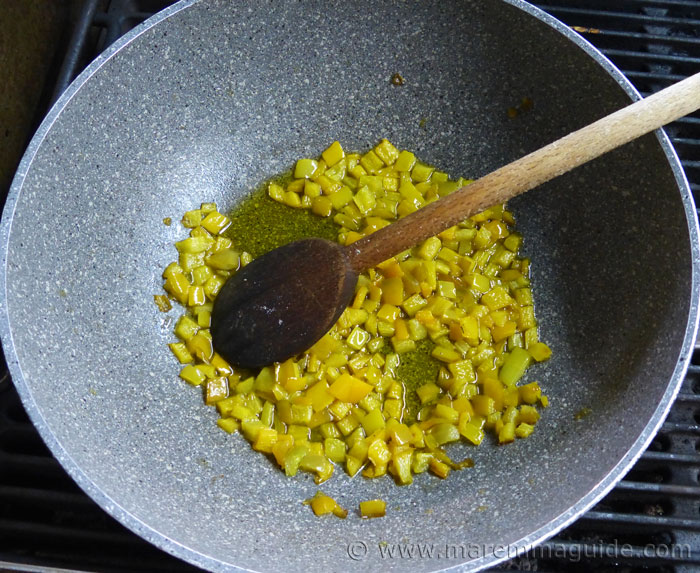 If they are in season when you are with Barbara, learn how to cook egg plant in a pan for a pasta sauce so that it doesn't absorb all the oil it can find, nor turn grey. Leaving your sauce light, not heavy and laden with oil.
It's nearly time to eat: all hands on deck!
It's getting close to lunch time but the pace in the kitchen hasn't slowed and it is all hands on deck!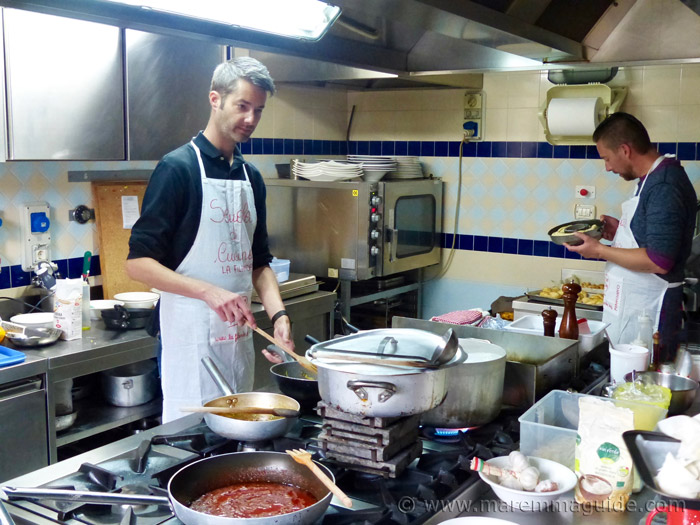 Including the expert pastry chef who has just returned from school for the day and knows a thing or two about triangulation of pastry squares and egg yolk glazes!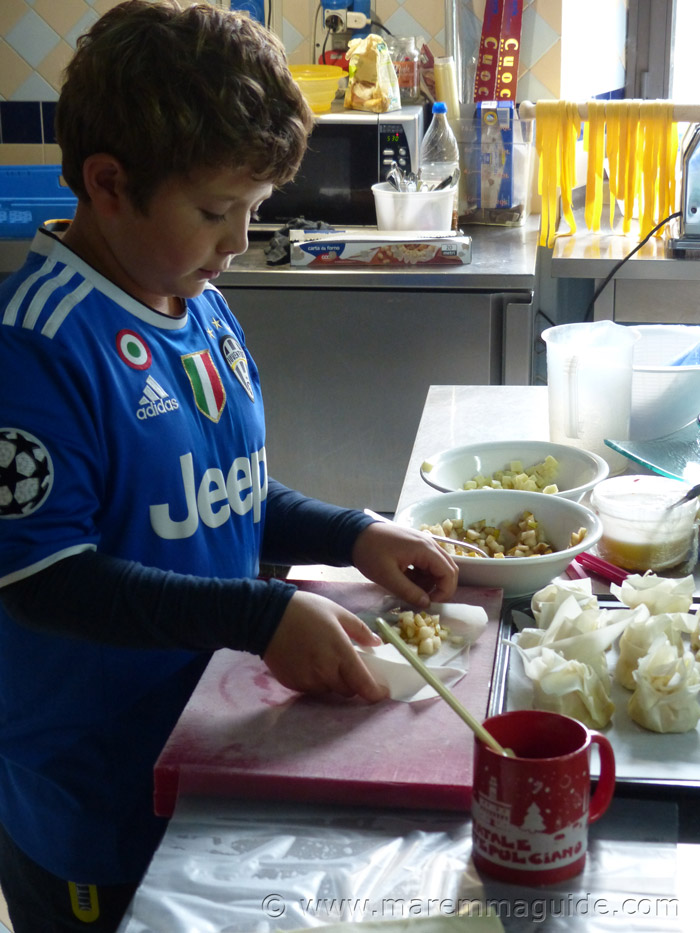 Which reminds me to tell you...
That Barbara's classes are perfect for children too. Now wouldn't that be a memorable thing to do in Tuscany together!
Heaven on a plate. Twice.
Invented that morning
I adored this new dish - invented by Barbara that morning.
"Tortellotti con caprino, bufala e pomodori secchi su dadolata di peperone e porro croccante" - Tortellotti ravioli parcels stuffed with goats cheese, buffalo mozarella, and sun-dried tomatoes. With a yellow pepper sauce topped with crispy leeks.
Heaven.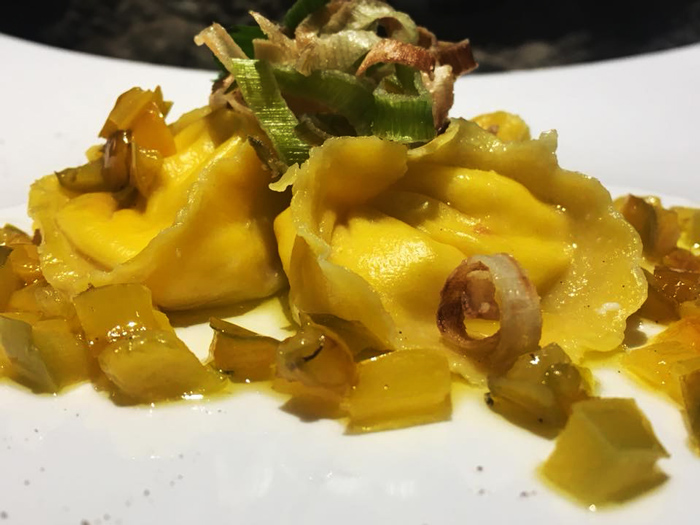 To be fair though, I have to add that it was Gian Paolo's - Barbara's husband - birthday that day and he admonished Barbara for the leeks. He doesn't like them! And was of the view that goats cheese would be too strong for most of their clients. But she and I insisted that for those who like it, the combination was wonderful.
And it is.
I even got to learn a simple thing to do with my sliced leeks before frying them to ensure that they always come-up "croccante" (crispy) and not soft.
Another secret
You'll get to find out how to prepare a variation of ravioli so that when you eat it, its contents don't end up spilling onto the plate into the accompanying sauce.
But it has nothing to do with the consistency of the filling. Nor how you seal those plump "cushions".
Parcels from heaven
This parcel can pass as either a first course, or a dessert. Inside is the simplest combination of just two, simple but fresh, ingredients that were made for each other. Combined, just like the line in the Disney film "Ratatouille", they make something more than the sum of two parts. Drizzled with local honey, just lightly, and you have a parcel made in heaven.
Go on. Go and make them. I can promise you that you won't get bored of doing so when you get home. And boy will you impress your dinner guests.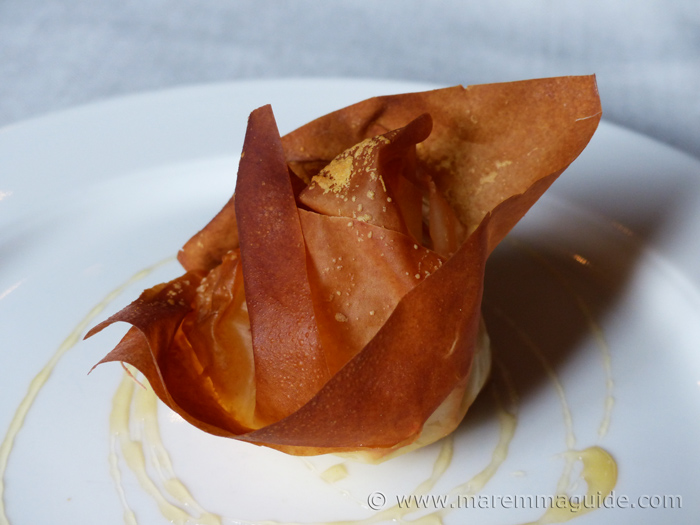 The Tuscan breads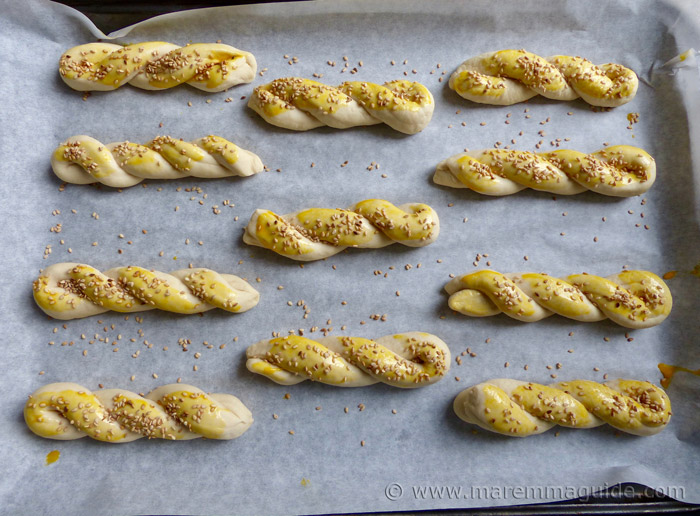 The "pasta madre lievito" - yeast - that Barbara uses for her breads is one that she has cultivated for 10 years, started with fermenting apples. But she explains that you can use dry yeast or fresh for good results too.
When only the best red wine will do...
The focaccia bread that got away! I don't know how it happened, but with so many dishes coming out of the kitchen, I didn't get to taste this one. It makes the perfect excuse for me to return!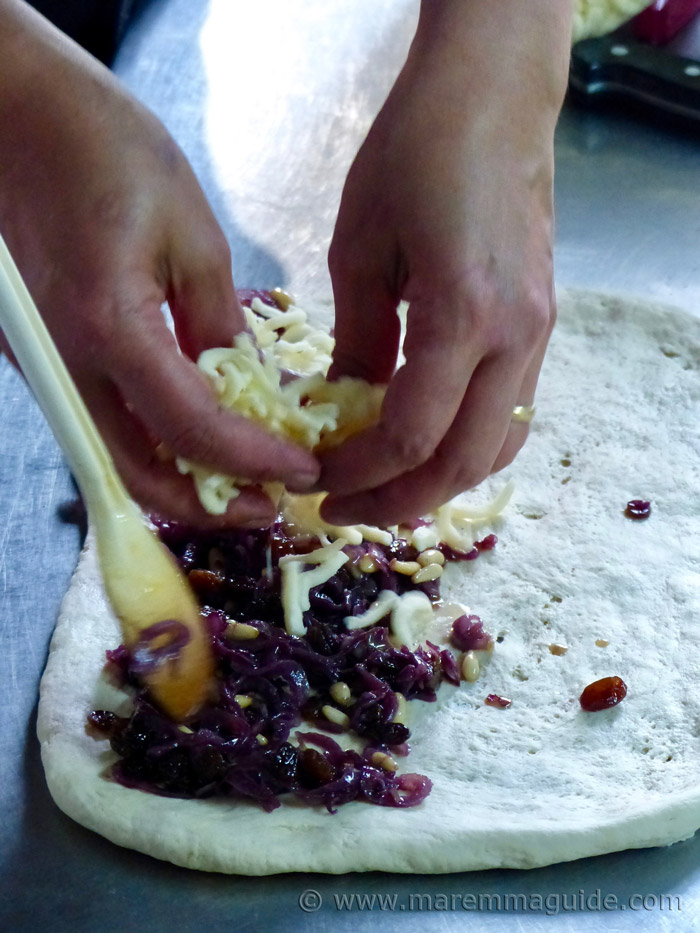 The onions that are being layered together with pine nuts and raisins in this bread aren't red onions. But white. Slow cooked in only but the best local Morellino di Scansano DOCG wine!
What the homemade pasta course covers
A four hour lesson that will teach you everything you need to know for you to be able to prepare a variety of homemade pasta. Such as Tagliatelle, Tagliolini, Pappardelle, Tortelli with seasonal fillings, Pici. And potato Gnocchi.
Together with various sauces to justly compliment each type of pasta.
The lessons are usually held in the mornings, starting at the relaxed hour of 10:00. Which will give you plenty of time to arrive from wherever you are staying in Maremma and have a second morning coffee with Gian Paolo as you don your personalised apron.
The bonus of a morning session is that it is is less constricted by time than an afternoon one, at the end of which the kitchen will be getting ready for the evening dinner guests. Having said that, with advanced notice, afternoon classes are possible.
Then a lunch/dinner - accompanied by wine - tasting what you have cooked, in the elegant ambience of Barbara and Gian Paolo's restaurant on the top floor of a restored spinning mill hill top town in Maremma.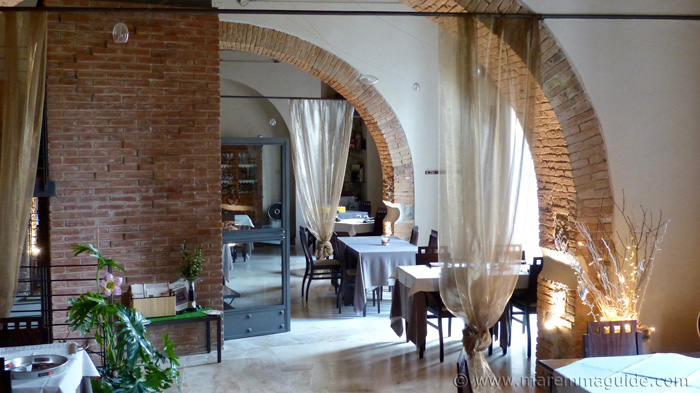 You get to take home your apron and all the recipes.
Note: On the day that I took these photographs, Barbara had organised to combine her pasta class with another of her classes, the traditional Tuscan cooking class, in order that I could photograph the images that I needed.
Three more Tuscany cooking classes
Barbara's cooking classes continue with three more wonderful lessons each packed with recipes and nothing but hands on experience. Usually with only between two and four people, everyone is chopping, mixing, kneading, stirring. From arrival until it is time to eat. Throughout which Barbara is there guiding and cooking alongside you, like the conductor of a mini orchestra.
They can be taken as stand alone classes. Each of which will leave you spinning with confidence and enthusiasm to get home and repeat what you have learnt. Or, booked together over a set of four mornings, for an in depth immersion into Tuscan cuisine that will have you re-naming your kitchen as a restaurant!
All of the classes include tasting the dishes you have prepared over lunch or dinner, with wine. Your apron. And the recipes for that day.
The traditional Tuscan cooking class
Learn how, from practically next to nothing in your kitchen, you can make food to die for.
The quality and freshness of the ingredients, as you would expect, is everything. Even the tomato puree.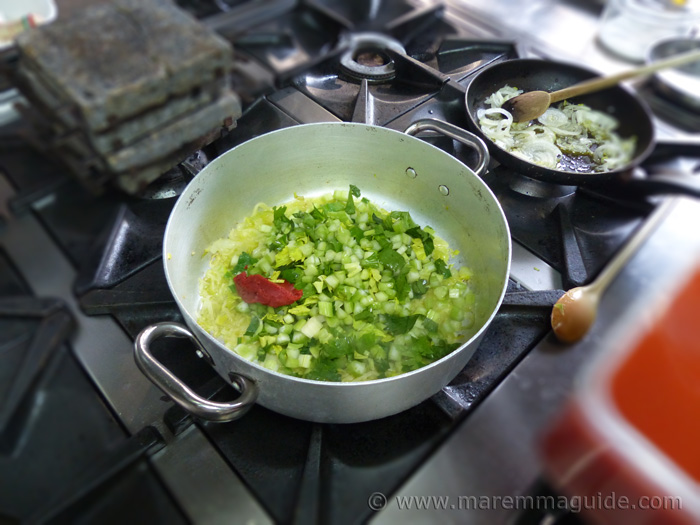 This three hour - lesson, covers six dishes:
crispy pastry with pear and pecorino cheese


Chiusoni pasta with a tomato and basil sauce


Maremma's traditional pheasant Aquacotta soup


Barbara's speciality dish, Ciaffagnoni with pecorino cheese


Focaccia Tuscan bread


and Tuscan Cantucci biscuits.
This cooking lesson is another fabulous experience.
As a complete no hoper in the kitchen when it comes to savoury dishes, Italian or otherwise, I left late that afternoon armed not only with some incredibly tasty recipes that were a dream to make. But also with the confidence to repeat them at home. Which I have. To much success and the appreciation of my family who normally rely on dad cooking in order for us to "mangia bene"!
Find out about the Tuscany cooking class here. With more photos and video.
The Tuscan soups cooking class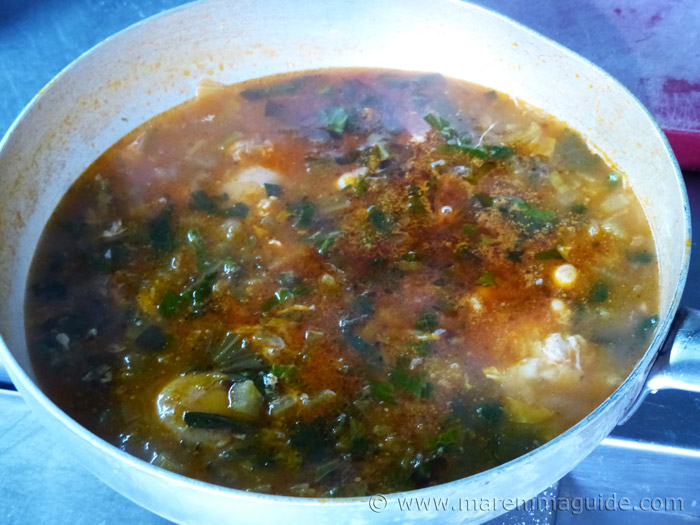 A four hour lesson making local speciality soups. Soups that have been made for centuries by the wives of peasant farmers using their precious extra virgin olive oil. Soups from mushrooms picked in Tuscan woodlands. Mediterranean vegetable soups.
Soups from chick peas and cannelloni beans.
And Maremma's famous "Aquacotta soup". Literally meaning "boiled water". It was, and still, is made with whatever vegetables the farmer had that day, thrown into boiling water. With stale bread - never a crumb wasted - added. And, if it was a good day, an egg. All that simplicity belies a wondrous meal.
And last, but not least...
The homemade Tuscan sweets/desserts lesson
This lesson is based on traditional local Tuscany recipes for sweets and desserts made with special flours. Flat cakes baked with ricotta cheese. And four hours of more delights.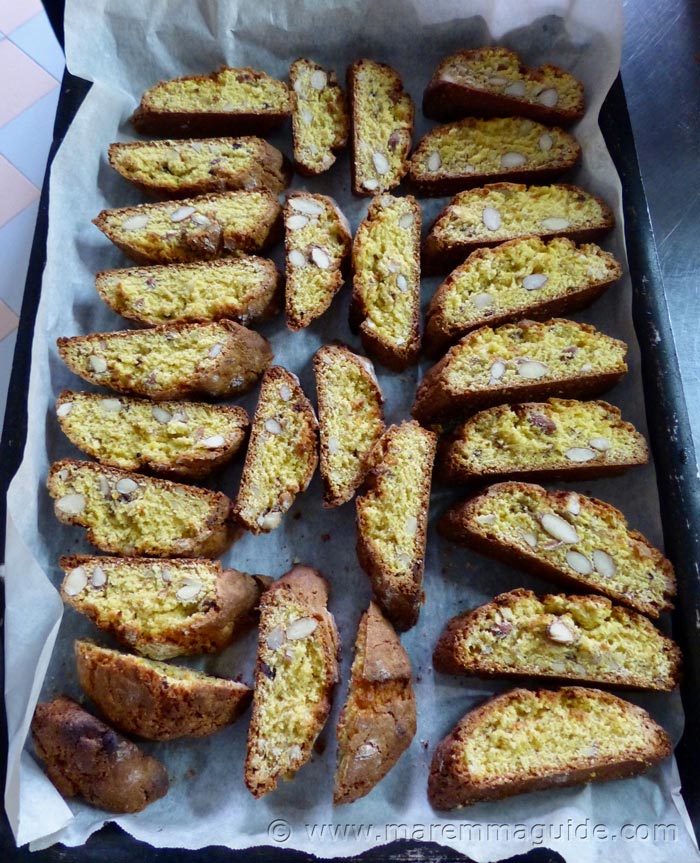 Contact Chef Barbara for more details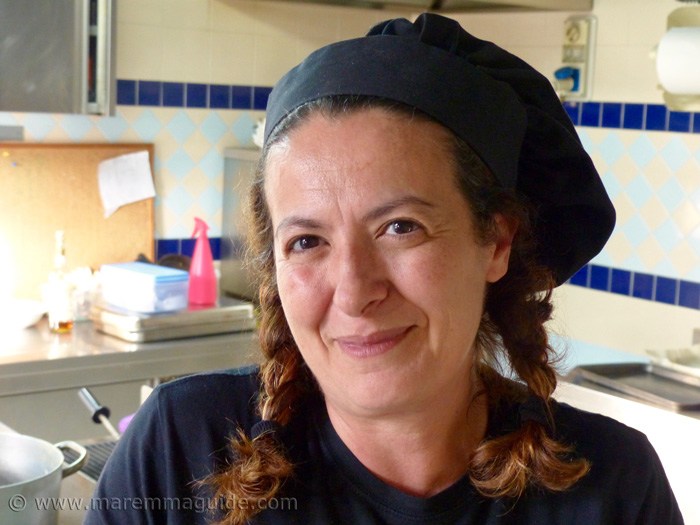 To find out more, to check on availability, and book a fantastic class with Barbara, send her an email here using the form below. She'll get straight back to you.