Maremma Maps
This page is crammed full of Maremma maps to help you explore this breathtakingly beautiful land and its special places - Maremma has many.
There is a map for each of the gorgeous Blue Flag beaches and coves, the medieval towns and hill top villages, the great places to eat, the many special places to visit... and much much more as described in this Guide.
Enjoy discovering the Tuscany and Lazio that you didn't know existed!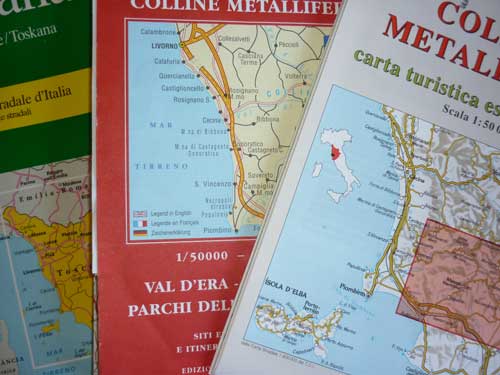 The detailed hard copy Maremma maps
To purchase your own hard copy maps of Maremma you will need to buy two: one for Maremma in Tuscany and one for southern Maremma in Lazio. Simply click on one of the maps in these carousels to get started finding the ideal one for you in the format you prefer for each area.
TIP: The Tuscany maps nearly always go beyond their brief and include the northern part of Lazio - my very favourite one does - so if you aren't planning on venturing all the way down to Rome, then just one of these will see you fine for your whole trip.
The Online Maps
The Maremma in Tuscany map. With this detailed map of Tuscany Italy, explore the whole of the region.

The Maremma in Lazio map. This Lazio Map is a map of Lazio towns, villages and hamlets within southern Maremma - Maremma Laziale.

From Archi di Pontecchio to Tuscania

The whole of Italy: an incredibly detailed map that I use all of the time to check everything from the location of a hotels car park to the distance from my room to the beach.
Italy Road Maps
My very favourite road map of Italy that has travelled with me for the last ten years and never let me down.