Tuscany Beaches in Maremma
The Best in Italy
Maremma is home to the most beautiful of Tuscany beaches lying along a spectacular coastline with the turquoise and emerald green Ligurian and Tyrrhenian Seas - the Mar Ligure and the Mar Tirreno.
It is here that you will find the most beautiful beach in Italy.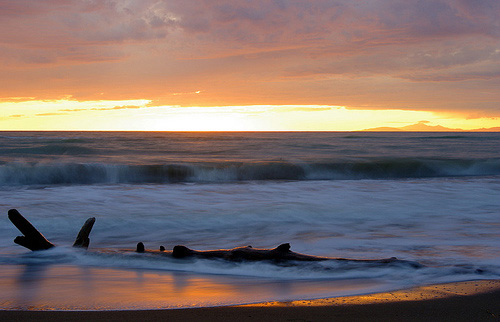 Explore each one along the spectacular Etruscan coast, the Costa degli Etruschi, in Maremma Livornese. With the unspoilt Golfo di Baratti watched over by Populonia, where the Etruscans chose to found their only city by the sea. Drive along the approach road to the Gulf and from your first glimpse of the glistening sea in the bay, you will appreciate why.
And then there are the Tuscany beaches in Maremma Grossetana, with the blue sweep of the Golfo di Follonica, the stunning Costa D'Argento, Monte Argentario and the Tuscan archipelago islands of Giglio, Giannutri and Elba. You can even see the islands of Montecristo and Corsica from this stretch of coastline.
Special places throughout the year, for me, they are at their most beautiful out of the summer holiday season when the all the parasols and paraphernalia are gone and they revert to their natural state.
Maremma in the spring, early summer and autumn is an exceptionally stunning place. Her beaches no less so. Imagine a white sand cove or a black sand beach stretching into the distance with no one but yourselves (or just a few others in the know) on it. Paradise. With their palm trees and warm crystal clear waters, you would be hard pressed to know that these beaches are in Europe and not the Caribbean or another exotic destination.
It is no wonder, therefore, that these Tuscany beaches are highly favoured by Italians from nearby Florence, Siena & Rome. And Austrian, German, and Swiss families who return to Maremma year after year for their holidays.
The best Tuscany beaches are the secret ones...
A hidden Maremma cove for those who like to walk - because it will take you some time to get there! - and families who love a bit of adventure. You will get to see some large wild boar footprints, and some blood-spewing beetles along the way there ;)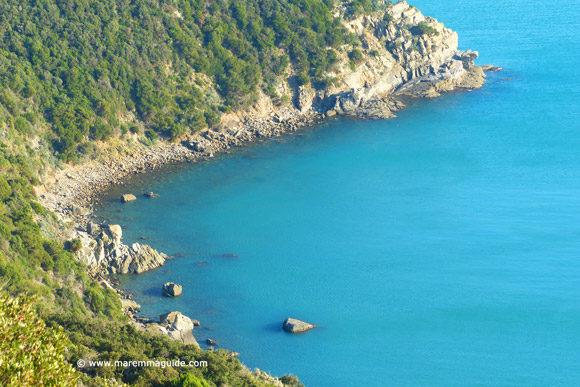 A secret Tuscany beach nestled between pillows
A secret Tuscany beach nestled between pillow lavas in a nature reserve you wouldn't know was there! But you will have to walk through head height French gorse and wild fragrant virgin's bower clematis to reach it.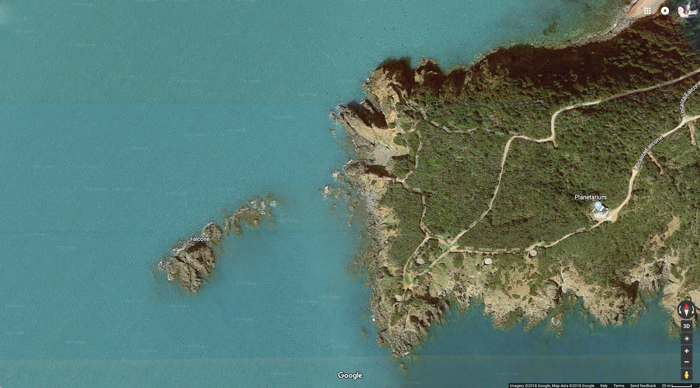 The secret Tuscany beach.
Tuscany Beaches and Marinas in Maremma
with the Blue Flag "Bandiere" Award
The Foundation for Environmental Education (FEE) annually awards Blue Flags to the cleanest beaches with excellent water quality - click here for more information. I have marked those Tuscany beaches in Maremma which have been awarded Blue Flags for successive years with this blue flag logo

.
The Tuscany Beaches in Maremma
In alphabetical order by location.
Golfo di Baratti Beaches
Bibbona
Spiaggia Centrale Marina di Bibbona
Spiaggia dei Tomboli
Spiaggia del Gineprino
Capalbio Beaches
Chiarone
Macchiatonda, Capalbio Scalo
Castagneto Carducci
Marina di Castagneto Carducci Beach
Castiglione della Pescaia Beaches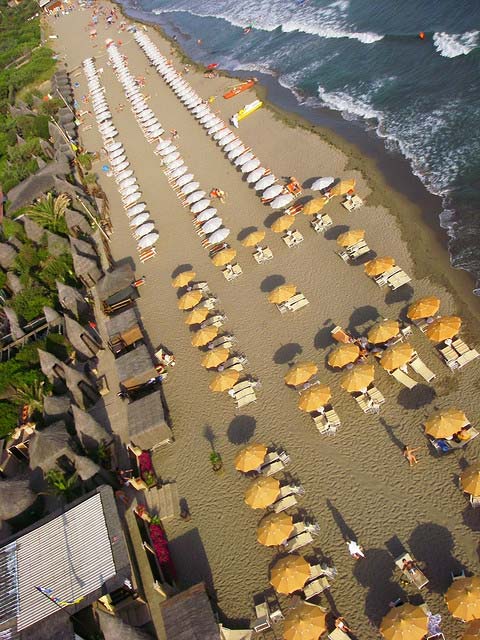 Photos by Opaxir
Cecina Beaches
Le Gorette Beach
Marina di Cecina Beach
Follonica Beaches
Fonteblanda Beaches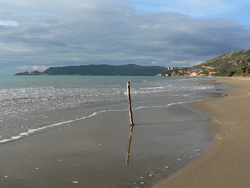 Osa beach
Photo by alisonhulot
Grosseto Beaches
Marina di San Rocco
Tombolo Grossetano, Marina di Grosseto
Isola di Giannutri Beaches
Isola di Giannutri, Giannutri
Isola del Giglio Beaches
Cala dell' Allume
Cala dell' Arenella
Cala delle Cannelle
Cala di Corvo
Campese, Giglio Campese
Marina di Alberese Beach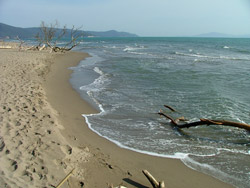 Monte Argentario Beaches
Bagni di Domiziano, Porto Santo Stefano
Cala del Bove, Porto Santo Stefano
Cala Galera, Porto Ercole
Cala del Gesso, Porto Santo Stefano
Cala Moresca, Porto Santo Stefano
Cala Piccola
Il Purgatorio, Porto Ercole
Il Siluripedio, Porto Santo Stefano
L'Aqua Dolce, Porto Ecole
La Bionda, Porto Santo Stefano
La Cacciarella, Porto Santo Stefano
La Caletta, Porto Santo Stefano
La Cantoniera, Porto Santo Stefano
La Marinella, Porto Santo Stefano
La Piletta, Porto Ercole
La Sanita', Porto Santo Stefano
La Soda, Porto Santo Stefano
Le Cannelle, Porto Santo Stefano
Mar Morto, Porto Santo Stefano
Porto Ercole Beach
Porto Santo Stefano Beach
Punta Nera, Porto Santo Stefano
Sbarcatello, Porte Ercole
Spiaggia delle Suore, Porto Santo Stefano
Spiaggia Lunga, Porto Ercole
Viareggio, Porto Santo Stefano
Orbetello Beaches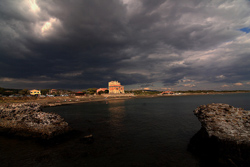 Tagliata spiaggia di Ansedonia
Photo by Afrocheye
Duna di Feniglia
Patanella
Spiaggia della Giannella
Tombolo di Giannella, Albinia

Piombino Beaches
Canaletto
Carlappiano
Fosso alle Canne
Monte Massoncello
Piazza Bovio
Sotto Bernadini
Sotto i Frati
Spiaggia Lunga
Punta Ala Beaches
Rosignano Marittimo
Spiaggia Bianche
Vada (Pietrabanca - Mazzanta)
San Vincenzo Beaches
Dog Beach
Centro Beach
Conchiglia Beach
Principessa Beach
Riva degli Etruschi
Spiaggia di San Vincenzo
Scarlino Beaches
Talamone Beaches