Il Pozzino Beach, Baratti
Maremma, Tuscany Beaches
Not many people know about Il Pozzino. But then why would they, when to get there they will park right in front of one of the most gorgeous beaches in Maremma and so why go any further? For Baratti beach is beautiful and a very special place: not only because of the stunning bay in which it resides, but also because it is home to so much Etruscan archaeology (dig still ongoing) and history involving tomb raiders and more.
And then there is the fact that the whole of the village of Baratti and its beach was until recent times buried under massive iron ore slag heaps... In short, its truly captivating. So it takes something to make you to want to wander away, even if you visit regularly like I love to.
But one Sunday I did. My neighbour told me about Il Pozzino whilst he was sharing his favourite surfing spots along the Maremma coast with me, and so this time I explored the single-track road that turns into a footpath through the Mediterranean macchia that reaches to the shoreline at the northern tip of the Gulfo. And ten minutes later, having passed two very unusual houses in the woods and with glimpses back to the sun soaked and busy beach behind me, the path emerged from under shady cover and there were the crystal clear waters of Cala Il Pozzino - Pozzino cove.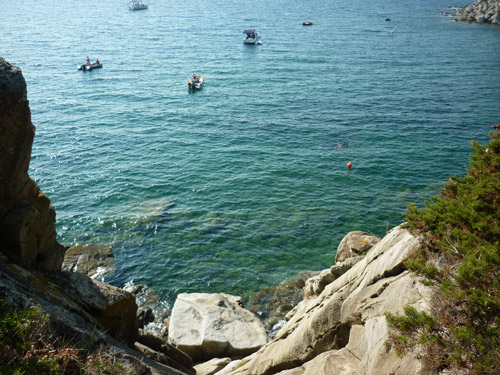 Notwithstanding that it was early September and the annual Italian holiday was over, Baratti beach was still very busy (and the car parking areas packed) on this sunny Sunday. But Il Pozzino cove wasn't.
"Pozzino" in Italian means small well, pool, pit or mine shaft.
What you swap is a busy long sandy stretch for some beach space to yourselves of coarse sand - the kind with large individual grains stick between your toes - and rocks (not pebbles). Il Pozzino is in fact two rocky bays and you will need to navigate around the promontory of the first larger one to reach the much smaller second. But with a little care, it is manageable by young children without a problem.
The great advantage of being here as opposed to Baratti beach, is that it offers perfect shallow and crystal clear water conditions for snorkeling. That's not to say that snorkeling isn't possible at Baratti, it's just that the onshore waves make it difficult to do so close to the beach. Whereas here is a perfect spot for younger would be snorkelers to learn in quiet conditions.
The fishing is good too!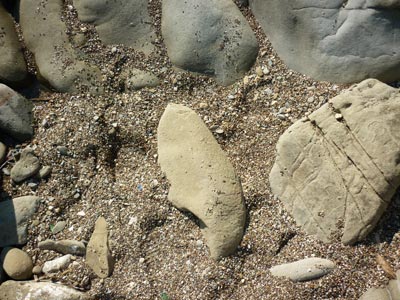 In fact Pozzino has become one of my favourite family outing locations in Maremma: as having a family that loves being at the sea and sub-aqua as well as line fishing, we can pack a picnic for the day and do all three without having to move. And then there's collecting crabs and things in the pools... and spotting the dragonflies and butterflies.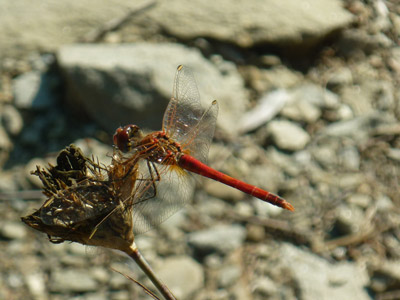 The video
Refreshments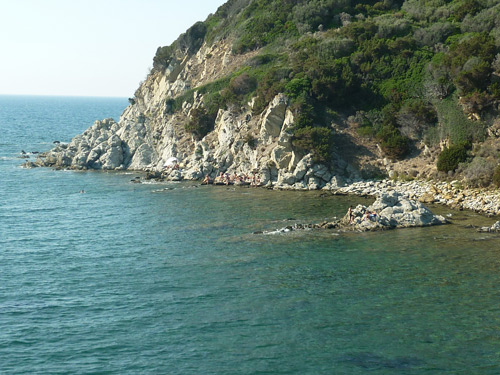 There are no bars, restaurants or "bagno" (parasol & sun bed) facilities here! My kind of beach :) The nearest are back at the entrance to the footpath and then around the bay of Baratti and in the tiny port.
Getting there and the map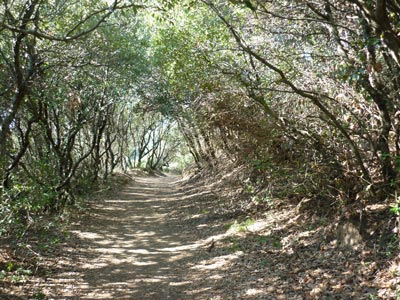 The route to Pozzino starts at the northern most car park in Baratti (the one with the min-roundabout in its centre), between the bar/trattoria/pizzera La Perla and the bar/restaurant DEMOS.

View in a larger map
All of the early part of the woodland route until the first house is parceled up into private lots - you'll see many locked gates with the owners cars parked behind them. Don't worry when the path seems to take turns away from the coast after this house ...
Just keep on it and it returns when you spot this house...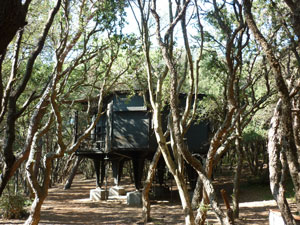 Then its just a straight walk to the cove, past one further house with a jetty that you can see from Baratti beach.
Explore some more...
You won't want to miss a trip up to Populonia on the hill overlooking the Gulfo di Baratti


Or a trek in the woods to see one of the most stunning sights in Maremma: the Le Grotte necropolis