Maremma Food
Simple food from a poor existence that tastes sublime... and a few exotic surprises
Maremma food is some of the simplest of Tuscan fare based as it is upon a very poor existence earnt in a hard and unforgiving land, supplemented by fish from the Tyrrhenian and Ligurians seas.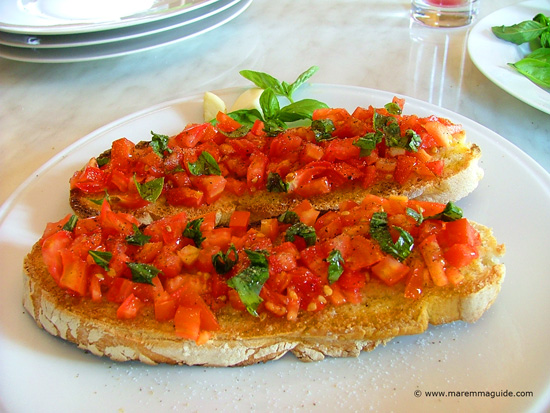 But its very simplicity - prepared from seasonal ingredients to hand - is what makes it some of the very best food in Italy.
And then the surprises happen. For interwoven amongst the traditional peasant recipes from this very special part of Italy lie some "little gems" of exotic cuisine, that upon first consideration appear so out of place, but which their histories tell are as much a part of this unique land as its bread and water.
The tales of each one reveal ancient legends and international power struggles, the marks of which still influence this land even today.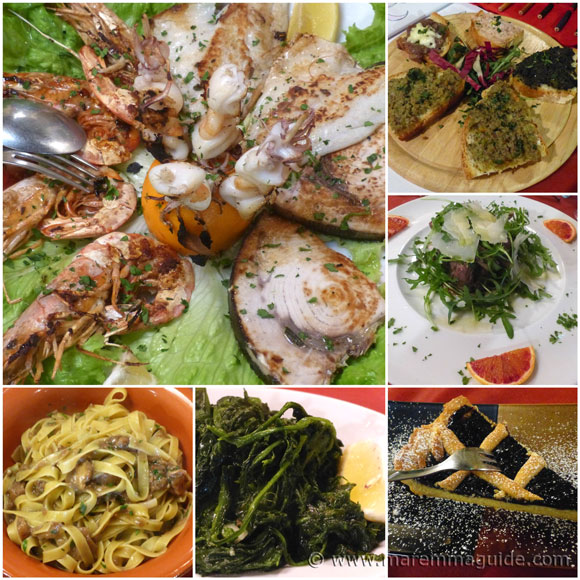 To eat one of Maremma's speciality dishes is to savour the living history of this wild place. To touch a rich Etruscan past of gold, wealth, education and prosperity. To enter into a bloody medieval past between ruling noble Sienese and Florentine families, as well as Papal machinations for control of Maremma's mineral riches and roads.
It is to taste the spices of marauding Barbary pirates who devasted coastal villages and took slaves... and to find yourself recalling a flavour of Venezia from the mothers and grandmothers of many a Venetian family who came here to drain and work this land not so very long ago.
There is "Tuscan food" in cookbooks and there is Maremma food. Enjoy the exploration.
The best foods to eat in Maremma
Well, these pages by their very nature have to be subjective as they reflect my own personal favourites and that of my Italian partner. But you are very welcome indeed to add a page of your own as well! Just follow the instructions at the bottom of either of these two pages: 10 best foods to eat and the 10 best foods in Maremma.
Gelato - Italian ice cream
Now there is gelato and there is Massa Marittima gelato! You will find a local "gelateria" (artisan ice-cream maker) in nearly every town and village in this part of Tuscany, but the gelato made by Cinzia in Bar Centrale in Massa Marittima is amongst the very best I have tasted. And I have eaten a lot over the years :)
This one is a semi-freddo chocolate mousse which she had just finished when I popped-in for a morning cappuccino. A semi-freddo has a rich mousse consistency and a 'from the fridge' coolness to it, which makes it perfect for those who have sensitive teeth or little ones who don't like that cold head feeling that comes from a mouthful of ice cream.
If you are a chocoholic, then try Cinzia's Extra Fondent for a piece of heaven you won't forget in a long time ;)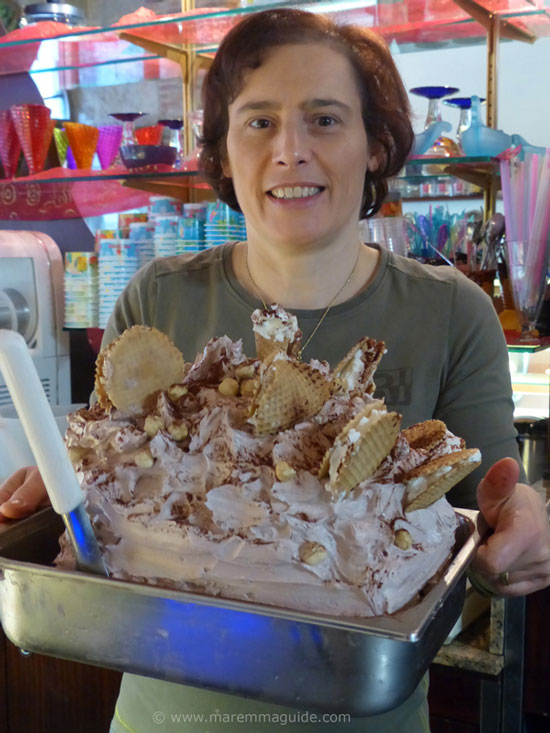 Porchetta
Now there is a cold roast pork sandwich and there is a "panino con porchetta". The two exist in completely different worlds and believe me when I say you won't want an 'ordinary' pork sandwich again when you have tried two slices of Tuscan bread stuffed with slices of this...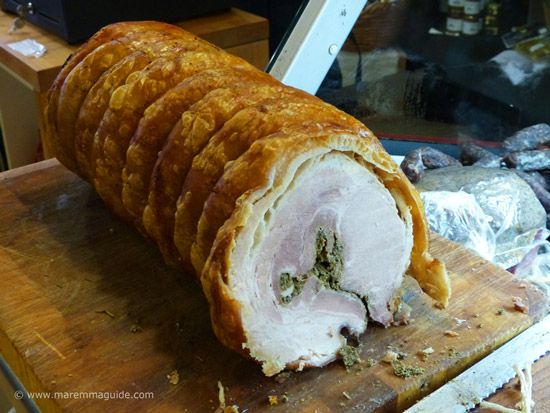 Porchetta in this part of Italy has existed since the Etruscan's lived here and is a whole de-boned pig, seasoned really well (no skimping here) with salt, pepper, garlic and herbs including rosemary.
Two great places to try it are in the bar at Pian della Speranza near Colle di Val d'Elsa on the road from Maremma to Firenze, and at La Novella in Valpiana, near Massa Marittima. Best accompanied by a glass of cool beer.
Maremma's Speciality Foods
In nearly every restaurant in Maremma you will find antipasti of sliced local cured meats. First courses of "pappardelle al cinghiale" (pappardelle pasta with a wild boar sauce) and "tortelli al ragu" (homemade pasta parcels stuffed with fresh ricotta cheese and spinach or betole, with a slowly simmered meat sauce - see the photo above).
And second courses of "Cinghiale alla Cacciatora" (a wild boar stew cooked slowly with tomatoes and red wine), all of which are amongst Maremma's traditional speciality foods and delicious.
But stay a while longer in Maremma and dig a little deeper and you will discover "Acquacotta" soup, "Cacciucco Livornese", and local specialities such as Maremman saffron, "carciofini sott'olio" (a small variety of pickled artichokes), "anguilla sfumata" (smoked eel), "salsiccia di cinghiale" (a small, hard and dark coloured wild boar sausage for antipasti), "castagna del Monte Amiata" (chestnuts from the volcanic mountain Amiata), "Miele di melata" (a sweet honey), Tuscan pecorino cheeses and prosciutto hams.
As well as the "Bottarga di Orbetello" (mullet roe from Orbetello), "Palamita del Mare di Toscana" (a Tuscan Skipjack fish) and the "Razza Maremmana" (the Maremman cattle). All of which are protected foods and belong amongst the "Presidi Slow Food".
Sfratto dei Goym
From the tufa hill towns of Pitigliano and Sovana comes a dessert that is a marriage of Maremman and Jewish cuisines, whose history goes back to the sixteenth century in Maremma's "Little Jerusalem". Sfratto dei Goym.
Not just the best Maremma deli

La Novella near Massa Marittima isn't just my wonderful local Italian food store where I shop every day for fresh bread, the best Italian wine, cheese and cured-meats. It is also a co-operative that focuses on sourcing high quality Maremma products that make for great picnic lunches as well as fantastic presents to take home.
And you can eat lunch there too! My Italian food store.
Maremma extra virgin olive oil - the best tasting olive oil in Tuscany!
Tasting olive oil in Maremma
Frantoio Stanghellini is a father and son family business with three generations of experience and my local olive grower and producer in Maremma Grossetana. I have eaten and cooked with olive oils from many different "Frantoi" in Tuscany, but for me they produce the best "Olio Extravergine di Oliva Toscano".
Click on this Frantoio Olive Oil link to read some more and to find out when they are open for tastings.
How Olio Extravergine di Oliva Toscano is made
The ten steps to making olive oil: read about the modern cold press extraction method that produces the wonderful organic virgin "olio verde" - green oil - each autumn in Maremma.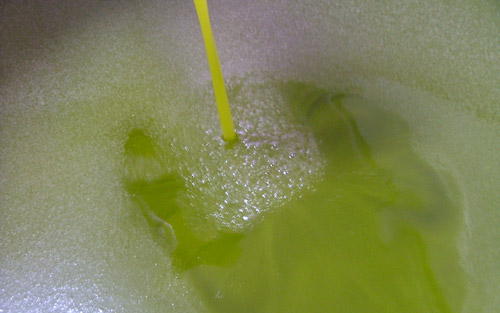 And the whole thing in photos, from hand-picked ripe olives to the wonderfully fruity "olio verde" (green oil) that emerges... to be dribbled over fresh or toasted bread (bruschetta) that same day :)
How to store olive oil

All olive oils deteriorate with time losing their depth of colour and intensity of flavour. Follow these two simple rules for storing olive oil to maximise its longevity.
The Maremma recipes
Maremma food for you to cook at home. Traditional peasant foods, based upon simple seasonal ingredients, still dominate the family tables and restaurant menus in this part of Italy and for good reason. For they are wholesome foods, packed full of flavour and with very little to worry you with regards to eating healthly.
In many cases the recipes for these "povero" (poor man's) foods require many hours of slow cooking not only to bring out the full flavour, but also to make the most of less expensive cuts of meat or cereals available each month.
Every grandmother and many mothers that I know in Maremma - and in wider Tuscany - still shop every morning for and then preparing the days lunch and dinner.
So be prepared that some of these recipes will require more than a little attention: straightforward initial preparation, but some stirring or turning over the stove thereafter. But I can tell you that family and friends will love these dishes and ask you to make them again and again... And you won't be breaking the bank to do so: these dishes are very economical.
But in Maremma you will also find everyday Italian recipes that require little skill or cooking experience and which are quick to make, but are equally packed full of mouthwatering flavours. Thank goodness for those of us with little skill in the kitchen or desire to spend hours there! and a family to feed well. I can honestly admit that my culinary skills for many years didn't go beyond tearing the seal off a ready meal and opening the microwave or oven door! But even this woman can manage these recipes without trouble!
All you need are a few ingredients ready in the fridge or cupboard.
Traditional Desserts
OK, I know that recipe books always put the desserts at the end, but I have a sweet tooth and am one of those people who check out the puddings in a restaurant menu before deciding on what to order! So my collection of Italian dessert recipes come first here!
Sfratto dei Goym
The first of which is this wonderful treat based on a honey and walnuts that will disappear before your very eyes... Sfratto dei Goym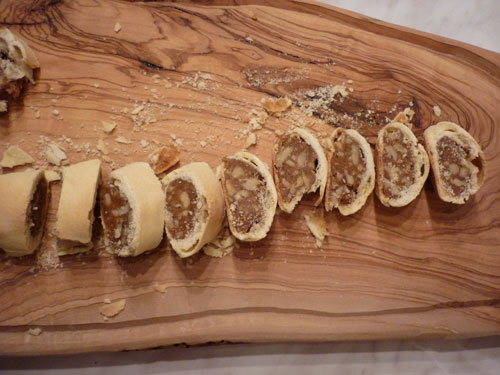 A Tuscan chocolate tart made in heaven! - "Torta al Cioccolato"
This Italian chocolate pudding is a heavenly combination of crumbly short pastry and a rich smooth creamy chocolate custard, sprinkled with a delicate crunch of pine nuts.
It is made Tuscany chef Aurelio Barattini and his family in their restaurant in Lucca and until you can catch that flight to Pisa to try it and his other traditional dishes first-hand, here is his recipe so you can taste a little of Tuscany at home.
PS. It will be devoured fast, so you will have to hide a slice away from the rest of your family if you want a second helping!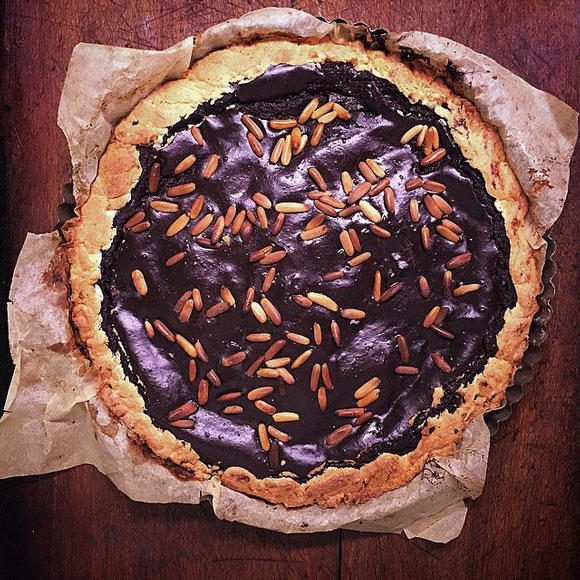 The best Italian cookies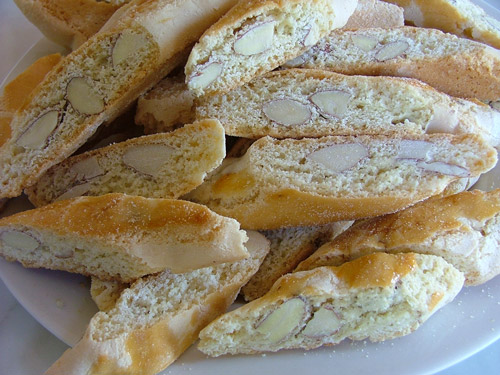 This almond biscotti recipe is our Nonnis (Grandmothers') old family "biscotti Cantuccini" recipe and is simply the best :)
The easiest Italian cake recipe ever!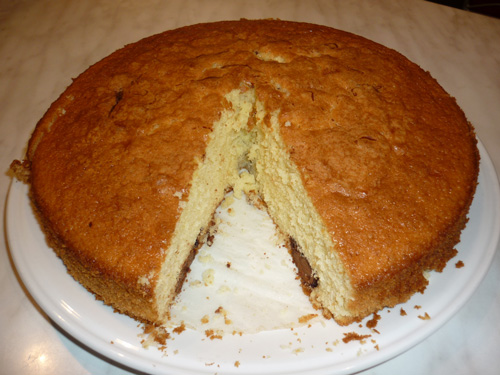 Sabina's recipe for Ciambella - a traditional Italian cake - will have you wondering why you ever made cakes differently and leave you with happy faces asking for more! Now what else promises that?! No fancy ingredients and just five minutes preparation.
Tuscan wild boar stew with dark chocolate - the recipe
A traditional Tuscan wild boar stew with dark chocolate, is a WOW! of a dish to serve on a winters night.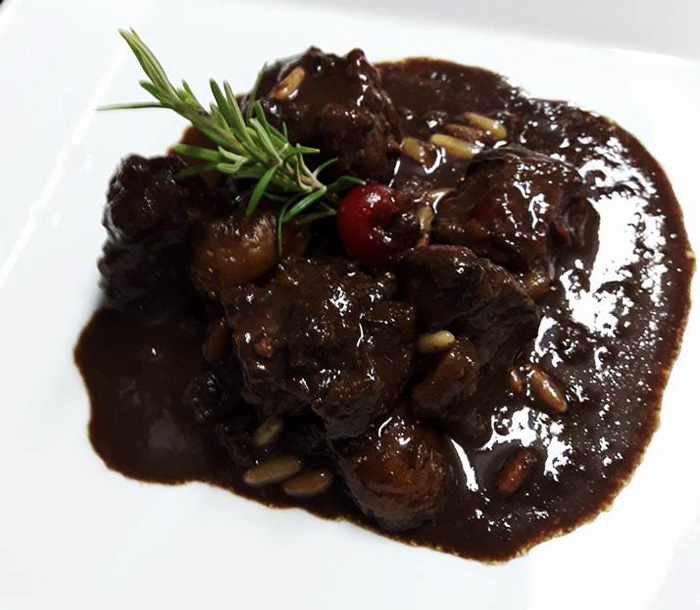 There are many variations, but don't ever be fooled by the sickly sticky ice cream sauce-covered variety that some restaurants that will remain unnamed, serve. Only ever settle for the real thing. This is it.
Olive oil mayonnaise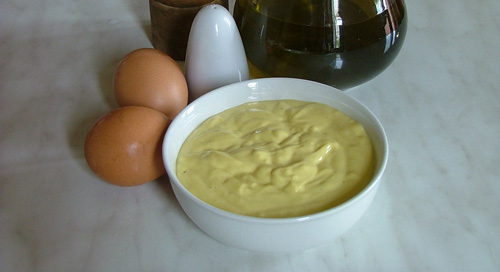 For lovers of mayonnaise.
No shop brought mayonaisse can compare to homemade mayonnaise and homemade olive oil mayonnaise is no exception. rich and intense, with a wonderful yellow colour, try some in a "panini" or with tuna and you will be hooked for life!
Bruschetta recipes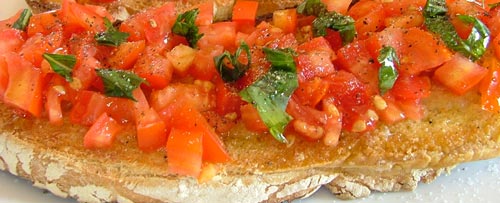 Bruschetta is one of my favourite Italian foods and one of the very easiest to make. At the heart of every bruschetta recipe is toasted Tuscan bread topped with one or a few quality ingredients, in simple combinations, with salt and pepper: simple but sublime food. Usually served on small rounds of bread as an antipasti, bruschetta also makes for a truely wonderful lunch on a hot summers day.
Two of my favourites are the very simplest: in the height of summer when the tomatoes in Maremma are abundant, bruschetta with chopped "pomordorini", basil, a generous drizzle of virgin olive oil, salt and pepper. And in the winter, when the new olive oil is just coming from the press, bruschetta with just that. Mouthwatering foods.
Favourite Italian cookbooks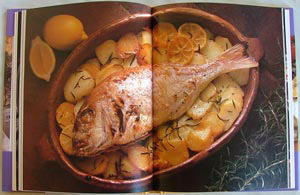 For everyday Italian cooking recipe books you cannot go wrong with these, both written by Italian chefs they are two of my personal favourites - Italian cook books.
Hire your own private Tuscany chef
If you are planning on staying in Maremma with friends and family but don't relish the co-ordination and cooking required to keep everyone happy and fed every day; after all it is your holiday too and there are so many wonderful things you could be doing instead. Then these local Maremma chefs whose speciality is fresh healthy dishes - Tuscan and worldwide cuisines - could just be the solution.
Explore some more...
Find out about Maremma's wine - if the food is this good, the wine must be too and it is :)