How to Make Olive Oil
the modern cold press extraction method at my local Frantoio in Maremma, Italy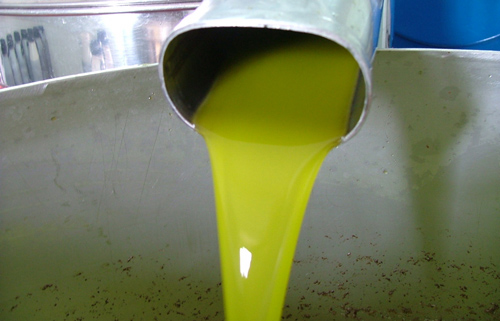 How to make olive oil in ten steps: the modern cold press extraction method used by my local Frantoio - olive oil manufacturer - in Maremma, Italy.
The "olio verde" - green oil - in the photograph above of is of their wonderful organic virgin olive oil produced this autumn. You can find out more about Frantoio Stanghellini at the bottom of this page.
The Cold Press Method

One Mix the harvested olives with those from different tree varieties in order to obtain olive oil with the desired flavour and aroma.
Two Mechanically separate the olives from any accompanying leaves and twigs etc.
Three Vigorously wash the olives in the "lavatrice" (washing machine) using an air and water mixture.
Four Transfer the washed olives to the "frangitura" - a series of rapidly rotating drums (between 1200 and 3000 rotations a minute) - to drain away any excess water and rapidly separate the olive flesh from the kernel.
Five Crush the resultant olive fruit in the steel drum of a "molitura" to form a fine paste - the "pasta d'olio".
Six Transfer the olive paste to a "gramolatura" and slowly churn for about twenty to forty minutes to break down the oil and water suspension and facilitate the aggregation of the small droplets of oil that were released during the preceeding crushing and grinding process.
Seven Pump the paste to the phase separator - a decanter centrifuge - and separate the three phases of solids, vegetation water, and olive oil.
Eight Transfer the waste solid material - the "pomace" or "sansa di olive" - from the centrifuge and collect for production of pomace oil if desired.
Nine Collect the virgin olive oil in a steel container and transfer into storage tanks or containers.
Ten Enjoy the "olio extravergine" on your bruschetta!
The whole cold press extraction in photographs.
Olive Oil Manufacturers in Maremma
Read about my local olive oil manufacturer Frantoio Stanghellini in Valpiana, Massa Marittima and the wonderful fruity and "piccante" organic Tuscan extra virgin oilve oil that they produce from "Olivastra! olives: Frantoio Olive Oil.