Maremma Italy beaches: on which one of these one hundred undiscovered and unspoilt beaches in a part of Tuscany that nobody tells you about, is it written in the stars that you were meant to walk on, swim, dive, surf and snorkel from all day, until the sun setting over the ocean silhouettes the archipelago islands and takes your breath away?
Maremma beaches
Whether you dream of warm shallows perfect for young children, secluded coves reachable only by foot through thick Mediterranean macchia, or great surf along vast open stretches of beach, you will find them all here along Maremma's spectacular coastline with the Ligurian and Tyrrhenian seas.
It is for good reason that the roads out of Florence, Siena and Rome to Maremma are filled with weekender's on a Friday night, and similarly early evening on a Sunday heading in the opposite direction!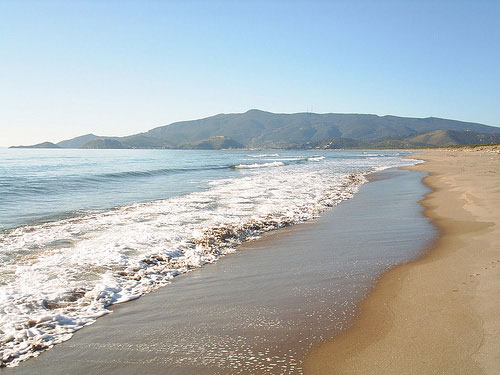 Undiscovered and unspoilt
From the northern coastal tip of Maremma, south of Livorno at Castiglioncello, down along the beautiful Costa degli Etruschi (the Etruscan Coast). Around the Canale di Piombino and into the Golfo di Follonica.
Around the promontory of Punta Ala and its hidden coves. Down past Castiglione della Pescaia into the Costa d'Argento (the Silver Coast). With the Marina di Grosseto, the wild Marina di Alberese, the Laguna di Orbetello, and the gem of Monte Argentario near the southern point of central Maremma.
Then into the realms of the northern Viterbo coast and Lazio country.
Island of Elba beaches
But Maremma's beaches don't stop there, for they also include those of the ever so special island of Isola d'Elba.
From the lovely Marciana Marina to the Marina di Campo, Lacona, Porto Azzurro, Portoferraio, and around again, with all of the islands tiny coves in between.
Thirty Tuscany island beaches all within the stunning environment of the Parco Nazionale dell'Arcipelago Toscano.