Birdwatching in Maremma Tuscany Italy
The possibilities for birdwatching in Maremma Tuscany will surprise and delight you. Whether you are a serious birder or just a casual birdwatcher, Maremma is a natural haven for a huge variety of birds and home to some of the most important protected reserves in the whole of Italy.
A female Kingfisher - Martin Pescatore - at the Laguna di Orbetello by Nello Alberti
You don't have to walk far in any direction anywhere in Maremma to start spotting. Whether along one of Maremma's many beaches backed by dunes, pine woods and mixed salt and fresh water marshes. Around her lagoons and lakes. Or even as you drive along the superstrada (advisable that someone else is driving when you spot them ;) where falcons always hover above the agricultural land alongside.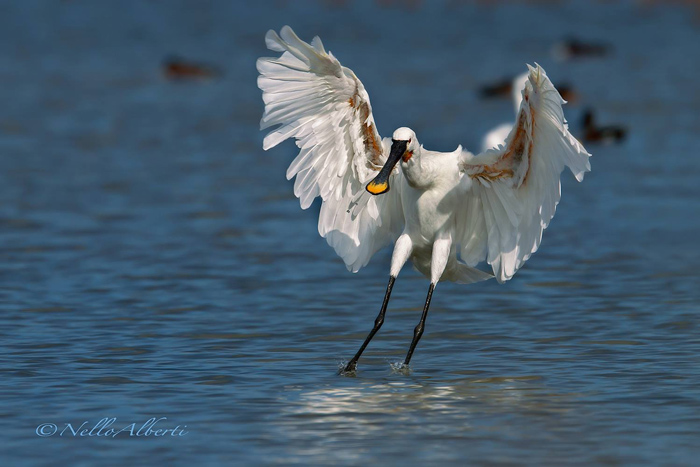 But for those sites where you could birdwatch all day and all night, these are the exceptional places to visit.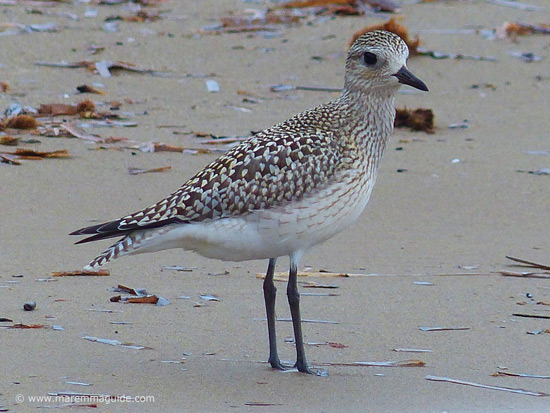 A Sanderling on Capanna Civinini beach Maremma in Tuscany in September.
Riserva Naturale della Diaccia Botrona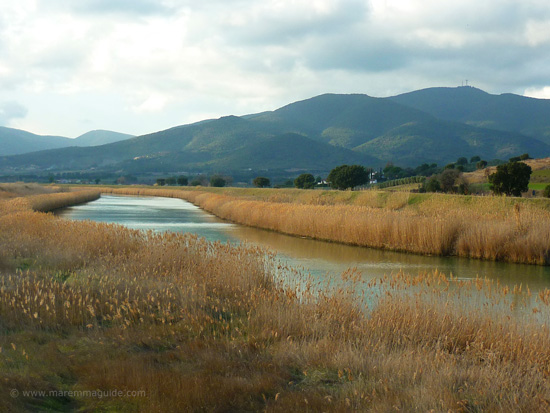 The 1,273 hectares of the Riserve Naturale della Diaccia Botrona near the lovely coastal town of Castiglione della Pescaia include 700 hectares of marshland and 400 hectares of pine forest. The wetlands are home to the largest number of wintering water fowl in the whole of Tuscany, and are not only one of the most important in Italy but in the world. (It is a Ramsar wetland.)
"Fennicotteri" - pink flamingoes in flight over the Diaccia Botrona reserve in February
With over 200 species of birds in annual residence or wintering-over, you'll be able to spot the Eurasian Coot, Common Moorhen, Little and Great Egrets, Mallard, Northern Shoveler, and the Grey Heron. As well as the rarer "airone rosso" Purple Heron (Ardea purpurea).
If you plan a night watch, there are Tawny, Barn, Little Eurasian Scops and Short-eared owls.
Best times for birdwatching
Take your welly boots: the "stream" on the left in October is the footpath!
Spring is particularly good for the "Cavaliere d'Italia" - the Black-winged Stilt, Avocet, Common Tern, Little Bittern, Little Grebe, Larks, Common Nightingales, Marsh and Great Reed Warblers, and Common Snipe.
In summer the lower water levels and exposed muds bring species of waders such as Redshank, Common Greenshank, Spotted Redshank and Curlew.
Late summer early autumn is the best time to see the rarer species such as the Black Stork, as well as pink flamingos as their numbers swell for overwintering.
In winter you'll see wild geese, Mallards, Teal, Widgeon, Spoonbills, Egrets, Cranes, and Marsh Harriers in flight over the marsh.
Other birders have spotted and photographed Meadow pipit, Cormorant and the Shoveler.
The pine forest is home to the nests of "grande garzaia" (heron), Grey Heron, Little Egret, European roller and the Great Spotted Cuckoo. But note that it isn't open to visitors.
Of particular importance is that the reserve is also home to the "Falco pescatore" - Osprey (Pandion haliaetus), the "Ghiandaia marina" - European Roller (Coracias garrulus), the "Tarabuso" - Eurasian Bittern (Botaurus stellaris), and the "Albanella reale" - Northern Harrier (Circus cyaneus).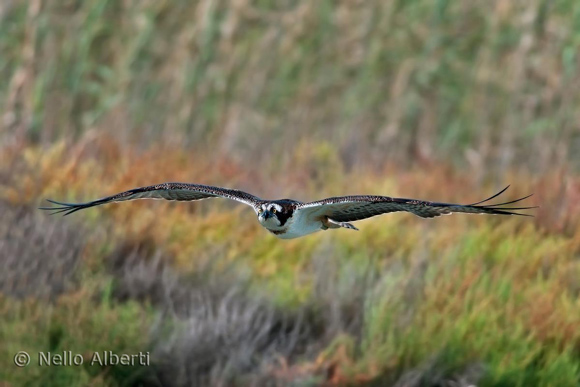 Falco Pescatore - Pandion halicetus - Osprey
Access and entrance fee
The Riserva della Diaccia Botrona is open all year and there are two of main access points. The first at the the colourful building that houses an interactive museum about the reserve called the Red House - Casa Ximenes. And the second along the track to Isola Clodia accessible from the road to Buriano.
Entrance to the reserve is free (but not to Casa Ximenes).
Boat birdwatching trip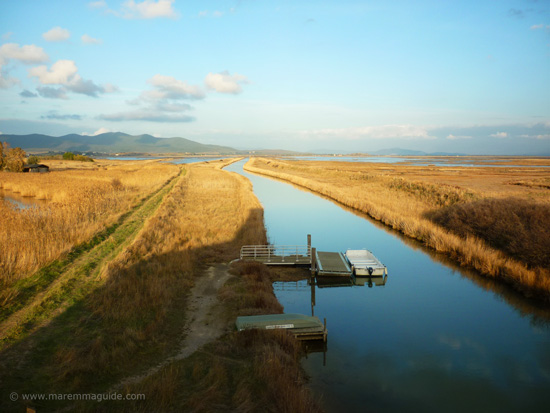 Birdwatching boat trips along the La Diaccia Botrona canals depart from Casa Ximenes.
You will need to book in advance as the boat won't make the trip without a minimum of five people - the link will take you to my page with all the details.
Riserva Naturale Padule Orti - Bottagone, Venturino Piombino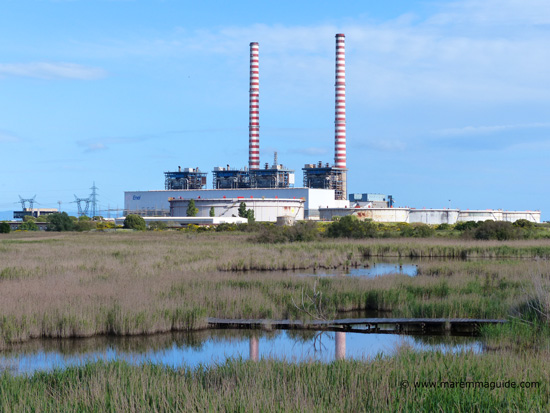 The Padule Orti-Bottagone reserve with the unmistakeable local landmark of the ENEL electricity power station.
This 126 hectare WWF site comprises of two different habitats: a saltwater marsh called the "Orti" and the freshwater swamp of "Bottagone". It is the 50 hectares of the Orti marsh that are an important feeding and resting ground for the "fennicotero rosa" pink flamingo.
The Bottagone on the other hand is the most extensive reed bed site in the whole of the Province of Livorno.
The Reserva Naturale Padule Orti-Bottagone is also home to the oldest human settlement in the floodplain of the Cornia river: in the north-west of the Oasis, a prehistoric settlement of fishermen-hunters dating back to the Bronze Age - late Neolithic period (between 3,500 and 2300 years BC) was found in 1997.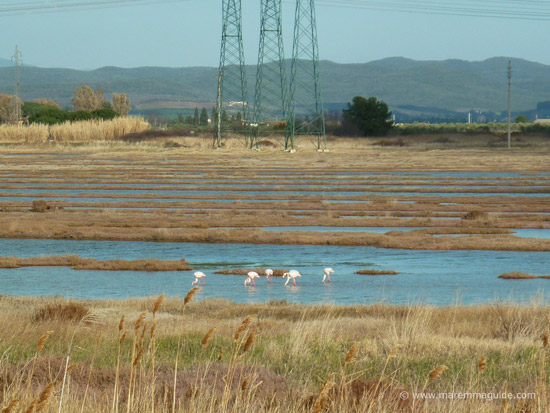 There are 202 other species of birds.
In spring, many species of migratory birds including Black-tailed Godwit, Ruff, Common Ringed Plover, Pied Avocet, Sandpiper, broad-billed, harrier, honey buzzard, Short-eared Owl and Long-eared Owl, Bee-eater, Redstart, Whinchat, Swallow, and Mousebird.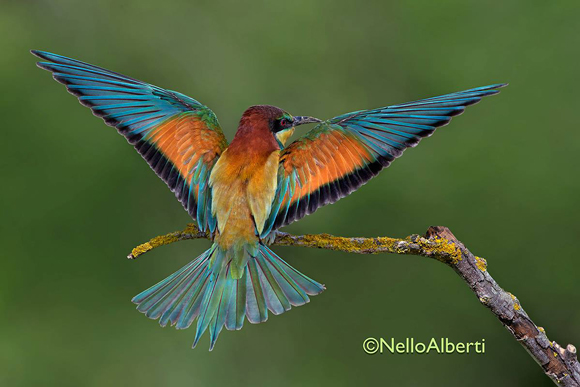 Merops apiaster - European bee-eater - Gruccioni in Maremma Tuscany
In winter: Mallard, Widgeon, Gadwall, Pintail, Teal, Shoveler, Common Shelduck, Pink Flamingo, Grey Heron, Great Egret, Little Egret, Bittern, Lapwing, Snipe, Curlew, Marsh Harrier, and Peregrine Falcon.
Some rare breeding species: Bittern, Little Bittern, Purple Heron, Marsh Harrier, Kestrel, Knight of Italy, Avocet, Lesser Grey Shrike, and Moustached Warbler.
There are two observation huts and two tower hides on site.
Remember to take your boots as well as your binoculars; you'll need them!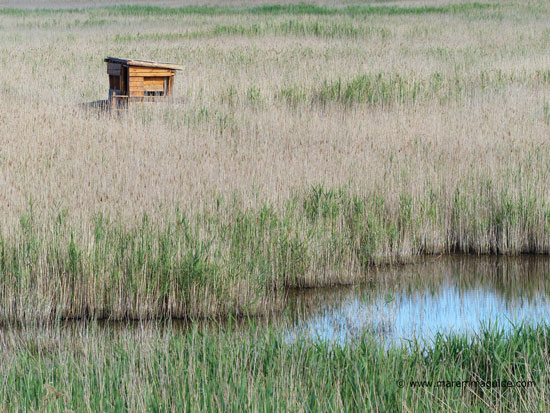 Visiting
I have to say that whenever I have driven past this WWF site - and that is often - it has always been closed except on one September afternoon when they had an open day and we arrived too late at 4pm to be permitted to take the trail :(
Access and all of the paths start from the Visitor Centre and there is a fee to enter.
The reserve is open from January to May and from July to December. It is closed for the whole of June so as not to disturb the nesting birds, but visits can still be made then by appointment.
From 1 September to 31 May, there are guided tours on Saturdays and Sundays, starting at 10:00 and 14:30 hours through September to April, and from 10:00 and 15:00 during May. No pre-booking required. Guided tours are available in July and August, but by appointment only.
When the opening day coincides with a national holiday, you are strongly advised to telephone or send an email to check the opening arrangements. Where I went wrong on occasions!
For bird watchers and photographers dedicated access is provided at suitable times (eg dawn) with specific rates. By reservation only. Telephone +39 338 4141698 or 389 9578763.
NOTE: All reservations must be made by 17:00 hours at least two days before the actual date. E-mail: ortibottagone@wwf.it
Oasi del Padule di Scarlino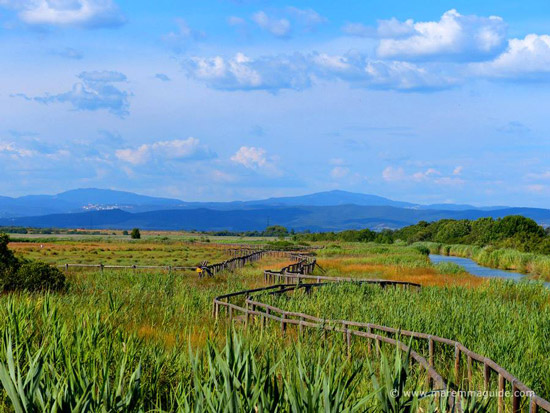 The marshlands of the Il Padule di Scarlino are a mosaic of fresh and brackish water environments covering 190 hectares and home to 190 species (2012 count) of birds. And whether a birdwatcher or not, they are a lovely place to take an unusual stroll with views of Maremma's hill towns above the reeds.
December 2013 sighting: a pair of Grus grus - Common Cranes - have decided to over-winter in the Padule :)
A perfect location if you happen to pack your binoculars in your suitcase for Tuscany on the off chance that you might get the opportunity to do some birdwatching, as elevated the wooden path that takes you across the marsh means that you don't need to have packed your boots too. Even sporting flip-flops from a day on the beach opposite will enable you to explore.
TIP There is a huge fig tree at the beginning of the path - you can't miss it as when it is in fruit they will be all over the ground too - perfect for a snack for later in the hide.
Access and entrance fee
The Oasis is open all year. The only access point is from the car park next to the Museo Acheologico di Portus Scabris (MAPS), in Puntone di Scarlino. Entrance is free.
There are two hides from which you can also spot wild boar crossing the marsh.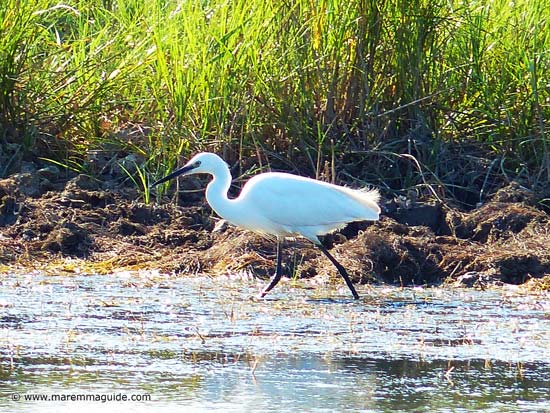 The wading and feeding Little Egret are easy to spot even for a complete novice like me, as is a bird of prey or two always in the air near the road margin of the marsh. Such is my sense of humour that I was particularly taken by the two headless Mallards...
What is extra great about this place - apart from the fact that it is also only a few metres from a great stretch of beach (and a donkey reserve for any little ones amongst you) is that it is entirely wheelchair accessible, hides and all. There isn't a part of the length of the wooden path on stilts through the marsh that two legs can go but wheels can't.
The bird species here include: the Black-tailed Godwit, Black-winged Stilt, Common Kingfisher, Common Moorhen, Common Pochard, Common Reed Bunting, Eurasian Bittern, Eurasian Coot, Eurasian Curlew, Eurasian Reed Warbler, Eurasian Teal, Eurasian Wigeon, Garganey, Great Cormorant, Great Reed Warbler, Grey Heron, Greylag Goose, Little Egret, Little Grebe, Mallard, Northern Lapwing, Northern Shoveler, Sedge Warbler, Water Pipit, Water Rail, Whinchat, and Wood Sandpiper.
The Padule di Scarlino is also home to the Purple Heron and the only nesting site in the whole of the Province of Grosseto of the Moustached Warbler.
The birds of prey: the Common Buzzard, Common Kestrel, Eurasian Hobby, Montagu's Harrier, Northern Harrier, Western Marsh Harrier, and the Osprey.
Non-bird wildlife to spot include many "cinghiale" (wild boar) - you'll hear them grunting in the reeds alongside the footpath! - Maremmano cattle, Coypu, dragonflies, butterflies, lizards and many more. There are plenty of wildlife photo opportunities and you don't even have to get your feet wet.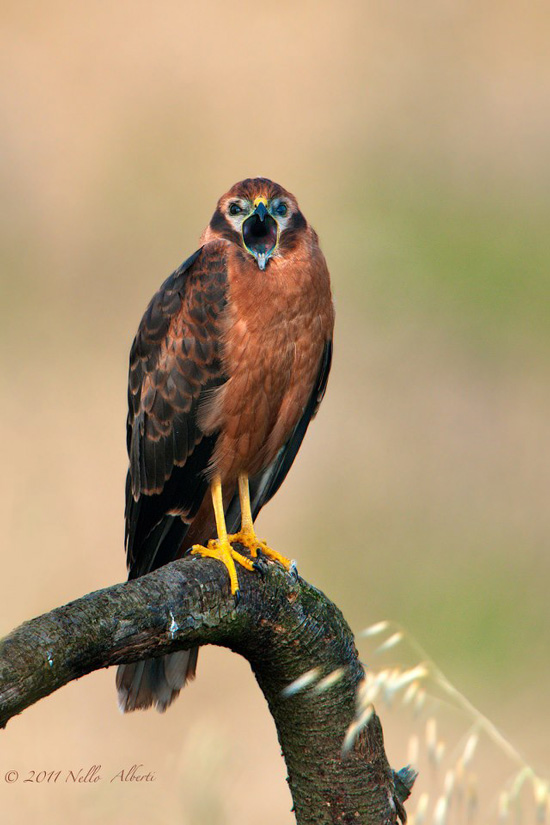 Albanella Minore - Circis pygargus - Montagu's Harrier
Visit in winter - at the very end of November/beginning of December and you will be able to see this incredible natural spectacle: a nightly starling murmuration.
Padule di Bolgheri, Castagneto Carducci
The Padule di Bolgheri is a coastal area of 513 hectares within the Comune of Castagneto Carducci of cultivated and uncultivated land, wet meadows, 150 hectares of ponds, pine forest, dunes and beach. The WWF site is both a Special Protection Area, a Site of Community Importance and a Ramsar wetland.
In spring: Black-tailed Godwit, Ruff, Redshank, Greenshank, Spotted Redshank, Black-winged Stilt,
In winter: Mallard, Wigeon, Shoveler, Pintail, Gadwall, Teal, wild goose, Lapwing, cranes, Peregrine Falcon, Dove, Snipe, Eurasian Bittern, Cattle Egret, Great Egret, Common Owl, Marsh Harrier and Sea Eagle.
Also present are the Purple Heron, Swallow, Mousebird and Redstart.
Breeding birds include: Little Grebe, Black-winged Stilt, , Coot, Water Rail, Tawny Owl, Lesser Spotted Woodpecker, Green Woodpecker, Red-bellied Woodpecker, Cuckoo, Short-toed Treecreeper, Eurasian Sparrowhawk, Indian Golden Oriole, European Roller, Eurasian Reed Warbler, Great Reed Warbler, and the little "pendolin", Eurasian Penduline Tit.
In 2008 there was an exceptional nesting pair of storks, a species which for 200 years was missing from the Maremma and has since returned every year.
Visiting
The Oasis is open from November to April on Saturdays and Sundays at 09:30 and 14:00. resevations are required.
Telephone + 39 338 4141698 or 389 578763. E-mail: bolgheri@wwf.it cell.
Group visits can be arrangedby appointment for Tuesdays and Fridays.
Access is available to wildlife photographers and birders by appointment at dawn on Tuesdays and Fridays. The reservation must be made before 17:00 two days before the chosen date.
Bosco Rocconi, Roccalbegna & Semproniano
The kingdom of the rare Lanner Falcon in Maremma, this WWF Mediterranean forest with spectacular canyons covers 139 hectares and is both a Site of Community Importance and a Special Protection Area.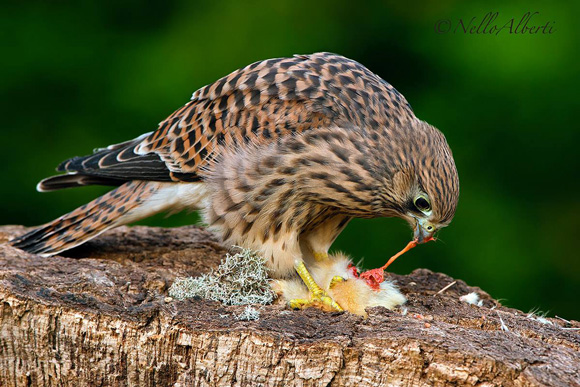 Faclo tinnunculus - Gheppio comune - Common Kestrel
Visiting
By appointment. Telephone +39 320 8223972. The tour starts from the main piazza in Roccalbegna - you will need to take your own car. - and last between three and four hours. There are two routes, the longest covering about 6 kilometres with a 200 metre drop.
It is a hiking tour, so be prepared for some walking. But you will be rewarded with views of birds of prey, particularly the Lanner falcon, in flight from the observatory tower on top of the limestone canyon outcrop that overlooks two rivers. And an experience of emersion in one of the wildest parts of Maremma.
If you happen to be a botanist too, you might like to know that the forest is also home to 28 species of orchid.
The inaccessible cliffs are also home to the Peregrine Falcon, Eurasian Honey Buzzard and the Short-toed Snake Eagle, as well as Tawny, Eurasian Scops, Little and Barn owls.
Capra Matilda, Roccalbegna
Capra Matilda is a protected WWF area of 65 hectares of forest, pastures and cultivated land in the foot hills of the Monte Amiata near Roccalbegna.
The local birds include Tits, Common Chaffinch, European Goldfinch, Eurasian Magpie, Western Jackdaw and Grey Heron, as well as various species of hawks that come from nests on the nearby cliffs of the WWF Forest Rocconi site and resident "assiolo, barbagianni, civette and gufo" owls.
Visiting
Open all year by appointment. Telephone +39 0564 980123 or 334 9447214. E-mail antonio_pastorelli@virgilio.it
Lago di Burano, Capalbio Scalo
The 410 hectares of the Lago di Burano WWF oasis near Capalbio is both a Special Protection Area and Site of Community Importance. A former hunting estate, includes a stretch of untouched twelve kilometre long coastline with sandy dunes backed by Mediterranean maquis scrub. Behind the dunes is a brackish lake covering 140 hectares dominated by a tower which every photographer in Maremma - except me so far! - has photographed. Especially beautiful at sunrise and sunset.
There are 274 species of birds, including Tufted Ducks, Pochard, Grebes, herons, flamingos, many birds of prey, such as the Marsh Harrier, the Northern Harrier, Osprey, Lanner Falcon, and small birds such as Warblers, the Subalpine Warbler and Zitting Cisticola. 
If you are lucky you will also spot a rare skunk!
Visiting
The reserve is open from September to May, but is accessible only via the guided tours which operate on Sundays at 10.00 and at 14.30 - no appointment necessary - and during July and August on Mondays, Wednesdays and Saturdays at 18:00, but only by prior reservation
Group visits can be arranged out of those times by appointment.
And, it is possible for birdwatchers and photographers to arrange access at other times.
The tour is about two hours long and takes place along the sandy strip that separates the sea from the wetland. The trail is about 2 km, totally flat and easy to negotiate even after rain.
Tel. 0564 898829. E-mail lagodiburano@wwf.it
Riserva Naturale ed Oasi della Laguna di Orbetello, Albinia
Justifyably the most famous of Maremma's birdwatching sites, the Laguna di Orbetello is located along the migratory routes of thousands of over-wintering birds. The 1,000 hectares site includes both the Bosco di Patanella and the Casale Giannella, and is one of Community Importance and a Special Protection Area. The 300 hectare saltwater lagoon is a Ramsar Wetland.
The bird species include flamingos, the Black-winged Stilt, Great Egret, Grey Heron, Osprey, Shoveler, Spoonbills and Avocet. Orbetello lagoon is also the only breeding site along the Tyrrhenian coast of the Common Tern and Little Tern.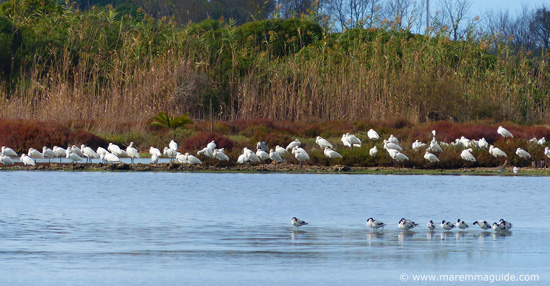 Spatola bianca (Platalea leucorodia) - the Eurasian Spoonbill
Visiting
The Oasi di Orbetello is open to visitors from 1 September to 1 May each year on Saturdays and Sundays from 09:30 and from 15:00. The lagoon closes at 15:30.
Access during July and August is by appointment only on Tuesdays and Saturdays at 17:00.
Guided tours are possible if you arrange in advance.Tel: + 39 0564 898829. E-mail: oasiorbetello@wwf.it
The Patanella forest is open every day. Again, guided tours are possible.
Visits to the ornothological footpath and hides of the reserve cost €5,00 for adults, and €3,00 for over 65's and children aged 6 to 14 years of age. Free entrance to WWF members and children under 6 years of age.
Photographers and birdwatchers can gain access at alternative times by arrangement and for a fee.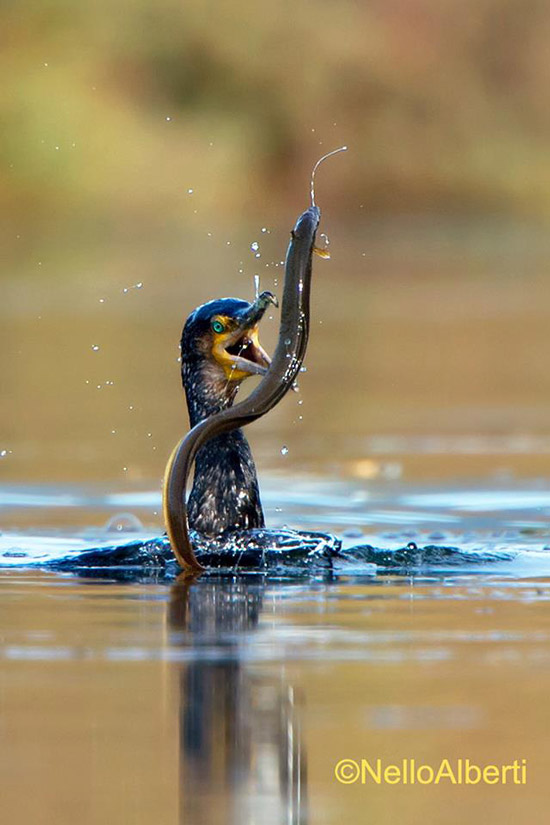 Cormorano e l'anguilla - Cormorant catching an eel - and he does eat it! A fantastic shot by Nello Alberti.
San Felice, Marina di Grosseto
The WWF pine forest and dune environment of San Felice with its brackish man-made canal is a Special Protection Area coastal site located within a Site of Community Importance
The pinewoods are home to the European Roller.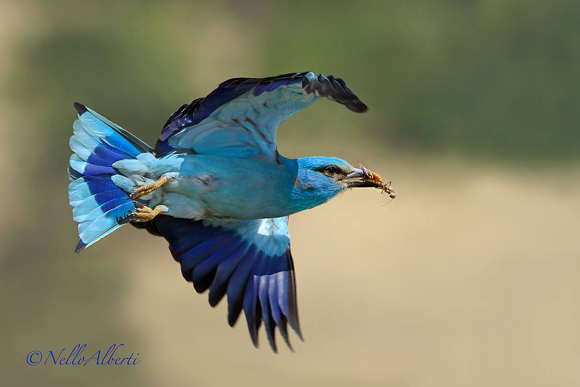 Coracias garrulus - European Roller - Ghiandaia marina in Maremma Tuscany
Visiting
Open all year. Daily guided tours by appointment. Tel +39 331 5264929. E-mail sanfelice@wwf.it
There is a circular walking route/nature trail and bike path through the site.
Organised birdwatching trips
Ombrone river canoe birdwatching tour
Take a two hour guided birdwatching trip in a Canadian canoe along the Ombrone river in the spectacular Parco Regionale della Maremma.
NOTE: These trips have been cancelled during the remainder of the autumn-winter 2013 due to bad weather.
Departures every day from 07:00. Reservations required - by 17:00 on the day before - at the Visitor Centre in Alberese. Tel: +39 0564 407098. The ticket price of €20,00 included the use of a pair of Tasco 7x35 binoculars.
Guided birdwatching in the Maremma Regional Park, Alberese
There are two options in the Parco Regionale della Maremma. The first is a guided three kilometres - about two hour - autumn through to spring tour through a wetland of marshy grassland, dunes and ponds.
Tickets cost €15,00 for adults, and €12,00 for children aged 6 to 14 years, or the older amongst you aged 60 and over. You will need to make reservations at the Visitor Centre in Alberese. Tel: +39 0564 407098.
For more information: www.parco-maremma.it/it/itinerari/p1-birdwatching.html
The second trip is a more leisurely winter birdwatching draft horse-drawn carriage tour. The carriage has a waterproof covering, so even on rainy days you can still get up close to the wintering sites of many birds in the park. There are three two hour trips and one four hour one. And you can even do some night-time spotting as one of the two hour trails is an evening one.
But it won't just be birds that you will spot! Expect to see deer and wild boar too.
Ticket prices start at €14,00. The itineraries can be found here: www.parco-maremma.it/it/itinerari/itinerari-in-carrozza.html
Reservations are agian via the Visitor Centre.
Watching you watching me! A seagull hitching a free ride on the ferry to the Isola del Giglio.
The Maremma Ornithological Group - The Gruppo Ornitologico Maremmano (GOM)
The main local orinothological group in Maremma Tuscany is the Gruppo Ornitologico Maremmano, or GOM for short, based in the Museo di Storia Naturale della Maremma (the Nautural History Museum of Maremma) in Grosseto.
They produce a newsletter called the "L'Occhione" (The Curlew), which you can obtain by sending an enail request to dragom@quipo.it
Their website is at www.maremmabirding.it and is full of some fabulous photographs. I am very envious of the birders patience, time and skill on taking those. Complimenti.
Another web site you might want to scheck out is the Centro Ornitologico Toscano at http://www.centrornitologicotoscano.org for its species bird map.
Select your bird and the month in which you will be visiting Tuscany and it will instantly show you the locationsthroughout Toscana at which that bird can be spotted. The only trouble, but significant one, is that the red location dots on the map aren't labelled. You will need to contact them and ask them for details from their database.