Italian Beaches
in Maremma, Italy
Italian beaches come in two types: private or public. If, like me, your experience of beaches before arriving in Italy is that of home in the UK, USA, or Australia, then your first sight of an Italian beach could come as quite a cultural shock. It was for me.
Literally covered in row upon row of tightly packed sun loungers and parasols, as I walked past for the first time I could not help but beg the question of my Italian partner as to who could have possibly have allowed beaches and seafronts to be sold into private hands...
But all is not quite what it seems!
Le Caldane beach on the Isola del Giglio by
lultimavoltache
Private & Public Beaches in Maremma
The differences between the private and public beaches in Italy...
The "Private" Maremma Italy Beaches:
"Stabilimenti Balneari" or "Bagni"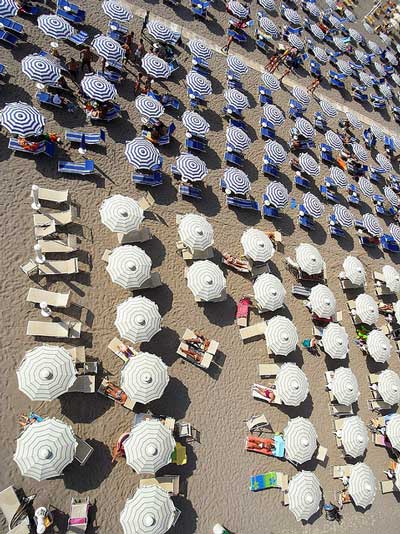 Marina di Grosseto beach courtesy of
Opaxir
Private or not?
Interestingly, beaches in Italy covered in sun loungers (lettini) with multi-coloured parasols (ombrellone) are not privately owned at all, but rather they are "concessions" granted to an individual by the local authority (commune) for each town.
And, the waterfront on every Italian beach (proportedly the first 10 metres) is public.
If you can find an access you may walk down to the beach front between the competing and different coloured ombrellone bagni. In reality, however, this is often impossible with the bagni butting right up one against the other.
In the beach vacation destination of Rocchette near Castiglione della Pescaia, for example, along a 3.4 km road that runs the length of the village and parallel with the coast and beaches of Roccamare and Le Rocchette, there are only two public access points. And neither are usually signposted or marked. The whole stretch of pine tree (pineta) backed coast is fenced or gated by the camp sites, bagni, and other private establishments that operate there.
Officially, public access to a beach must be possible through the "bagni", but you would never know that faced with only the entrance to their bar or restaurant, and it is rarely inforced. It is easier to find the local public, or "free", beach and then walk along the beachfront.
The advantages of hiring for the day (or week) a sun lounger etc. from a "bagno" is that they also provide a bar, restaurant, changing cubicles, showers and toilet facilities for their clients.
The Italians, especially, favour the local bagni and it is an integral part of their summer vacation, with a rented apartment close by. In the summer months a family will rent an apartment or campsite place for a month or the entire summer school holiday period, along with a spot on the beach with a local "bagno". Often as not the grandparents will look after the grandchildren for the whole holiday, with the parents joining the family for the weekends and their "ferie" - summer holiday.
During the month of August nearly the whole of Italy is on vacation down at the beach. Most families return to the same holiday accomodation and beach every year. Children grow up with a "summer family" and lifetime friendships are forged.
The "bagni" definately have their advantages if you have very young children to cater for. I have succumbed on a few occasions when spending the day on the beach together with other Italian families and have to say that it made a welcome change to do it the Italian way, with everything at hand etc. But otherwise I prefer my beaches open and natural: I have never been good at staying in an ordered line for any length of time!
Public Beaches - "spiagge liberi"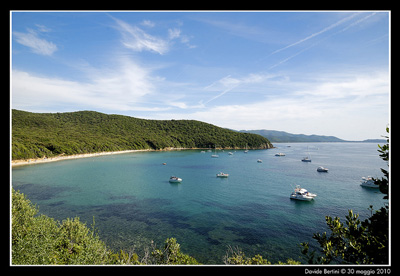 Italian beaches in Maremma: Cala Violina by
daberto
For me, one of the best options for experiencing the beauty of a Maremma beach is to take a short trip out of town to a nearby cove, or "cala". They are never that far away and with only a walk or short trek through a pine forest you can emerge onto a beach straight out of a scene of a 007 James Bond film.
Again, they are best visited out of season, or first thing in the morning, or late afternoon (stay and watch the sun go down) for an experience of the beach to, or nearly to, yourselves. Not all Italians favour the regimental ombrellone and some head for these beautiful, sheltered spots for a little rest and relaxation.
A TIP The pine cones collected (on the way back!) make a great start to getting the BBQ going. If it has rained within the last few days and you are really lucky and the scent catches your nose, you may even find a porcino (Boletus edilus) mushroom or two... This spring, an exceptional nearly perfectly round white truffle weighing 100 grams was found by a beach walker and her dog in the pine woods - le pineta - behind the Marina di Grosseto beach: so you never know what you will find to add to your dining table!
Otherwise, most communes/towns have ensured that one or more of their beaches are wholly, or in part, "liberi", public. If they exist along a towns central beach, they will be found either at the ends, or sandwiched between two competing "bagni". If the distinction isn't obvious, you will need to access the waterfront alongside or through a "bagno" and walk along the beach until you find the public section. In the summer months of July and August, it will be crowded.
Alternatively, beaches on the outskirts of a town are more often public or proportionately more so than "private".
Italian beaches out of the height of the summer season...
Punta Ala beach all to yourself in October
Out of the height of the summer season, the distinction between private and public doesn't exist, as all of the "bagni" are closed with the "ombrellone" etc cleared away. All the beaches are open and you an walk or play unhindered along their entire lengths. It only takes a week or two either side of the start or end of the summer holiday period and the difference is amazing.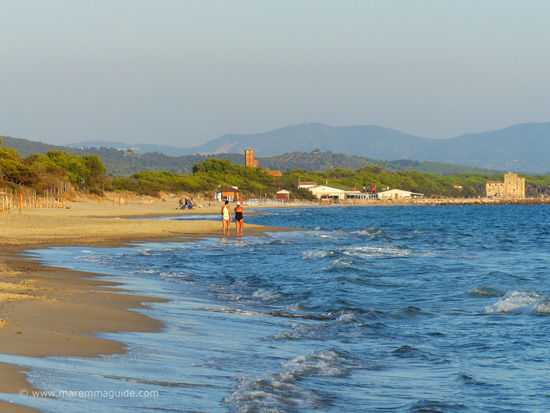 Il Pino beach Maremma in September
Try the second week in September and you will conveniently find one or two bagni open for a cafe during your early morning jog or evening stroll, but most will be will closed and their owners away on their own vacation.
Chasing sunbeams across Castiglione della Pescaia beach on an early October afternoon...
Maremma beach hotels and camping on the beach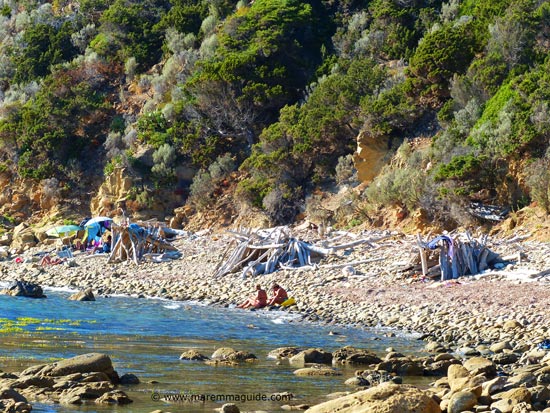 Thinking of camping or lighting a fire on an Italian beach not in a campsite? Better read this first!
All of Maremma's campsites that are right on the beach and the best beach hotels.