Italian Cook Books
My favourite everyday Italian cooking
recipe books
Great Italian cook books. If you are looking for easy Italian recipes or an authentic Italian pasta recipe then you will find them in these Italian cookbooks. They are my favourite everyday Italian cooking recipe books.
I love eating good food, especially home-cooked Italian food, but I am one of those people for whom cooking isn't a natural skill! (I can make wicked puddings and desserts, but that's different and comes from wonderful times spent with my Gran making suet-sponge puddings... I digress.)
Both of these books are written by Italian chefs and have never let me down.
The first of my favourite Italian Cook Books
Simply Italian
by Valentina Harris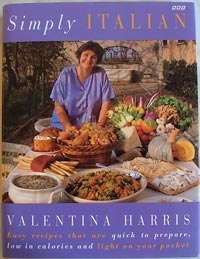 Italian Cook Books: Simply Italian
Three reasons why I love this book:
One: Richly illustrated with full and double page colour photographs.
Two: Very easy recipes with straightforward instructions in one short paragraph (or two for a few).
Three: There is never a long list of ingredients for each recipe - the essence of Italian cooking is a simple combination of fresh and quality ingredients - I just need to decide whether to purchase fish or chicken etc and I'm set.
The beginning of Valentina Harris's introduction to her book reads as follows and for me it summarises precisely what I have found to be the case in practice.
"In the course of travelling around the world teaching authentic Italian cookery to quite literally hundreds of people I have had the opprtunity to talk to countless readers of my cookery books. The question which I am asked most often is this: 'Of all the books you have had published, which is the one which is most suitable for everyday, normal family cooking?'
This has been the inspiration for this book. I thought a lot about this simple request for a book containing really unpretentious, cheap and cheerful Italian food, so I went ahead and wrote it.
Whilst writing it, I bore in mind the scenario of a family just like my own, sitting round a table and eating food that people of all ages can enjoy.
The recipes in this book are mostly recipes that I repeatedly cook for my own family.
This is not 'restaurant' food, nor is it dinner party food, it is just honest, basic eating.
It is food which requires a minimum amount of time in the kitchen, is easy and not too expensive to shop for, and is not too rich or packed with calories and fats."
With regard to her mention of calories and fat content, she has a great recipe for pasta with fat-free tomato sauce - "Pasta con Salsa al Pomodoro senza Grassi".
My partner sometimes oven-bakes the fresh fish he catches (when he is lucky!) on a bed of sliced potatoes with rosemary and when I saw him do this for the first time I thought, "I know that recipe!". It is this one from the book: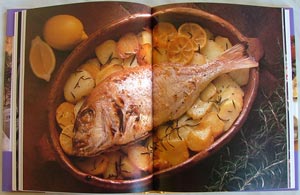 "Pesce Arrosto" - baked fish on a bed of rosemary, potatoes and garlic.
It is so simple to prepare and tastes delicious.
TIP: when the potatoes are cooked, so is the fish.
The recipes are divided into the following:
soups
rice and risotto
pasta
meat
chicken dishes

fish
egg dishes
salads
vegetable, and
desserts
The second of my favourite Italian cook books
100 Great Pasta Dishes
by Ann and Franco Taruschio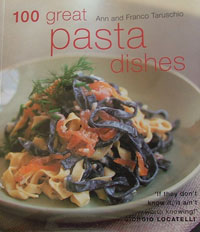 Italian Cook Books: 100 Great Pasta Dishes
Three reasons why I love this book
One: Its equisite design, full of professional photographs that are wonderful pictures in their own right.
Two: When I read this book I breathe Italian food... I can easily pass an hour absorbed in the recipes with a glass of wine in hand, before starting to prepare something for our dinner.
Three: It is full of stories and tales of the history of pasta and the individual dishes.

The beginning of Ann Taruschio's introduction to the book reads:
"This pasta book offers recipes we have collected and used by us from various regions of Italy, as well as favourite recipes given to us by family and friends.
Some of them are quite complicated, but there are also some extremely simple ones.
None of the recipes is beyond the capability of the average cook and, certainly, none requires the skill of a chef with a brigade of assistants."
Some, but not all, of the recipes do take longer to prepare than those in the Simply Italian recipe book above, and I do need to do a quick check that I have all of the ingredients needed, but the results are delicious.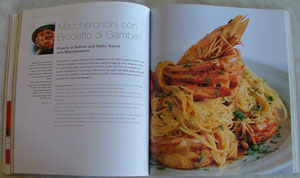 I you know someone who thinks that pasta is spaghetti bolognese, then this is the book for them: it will set their taste buds alight!
Every time I open this book I feel hungry.
The book is divided into recipes by type of pasta:
lasagne and vincisgrassi
timballi and pasticci
cannelloni and ravioli
spaghetti
tagliatelle
penne, and

cold pasta
sweet pasta
More Great Italian Cook Books
More great Italian cookbooks available from the Amazon online store.