Italian Food Blog
The Best Food Blogs
about Culture and Italian Food in Italy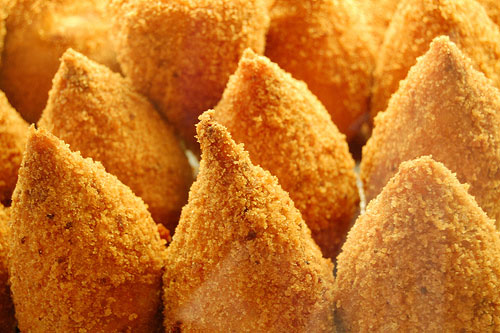 Finding a good Italian food blog that combines culture and Italian food - they are just so inextricably linked in Italian life - quality posts, great recipes and photographs isn't easy.
These are my personal favourites. Between them they will give you:
insights into Italian food customs;


information on Italian food history and famous Italian food;


the best places to go shopping for and the preparation of common
foods in Italy;


great tips on how to cook Italian food;


traditional Italian food recipes;


Italian cookbook reviews;


glossaries of Italian food names;


and, wonderful pictures of Italian food.
Enjoy!
The beautiful photograph of Arancini above is just one of checcastef's stunning pictures of Italian food that she has kindly agreed for me to use in the Maremma Travel Guide. The link will take you in a new window to her Flickr photostream: it is well worth a visit.
The Good Food Blogs
Italian Food Forever
The website Italian Food Forever and the accompanying "Mangia Bene Blog" is written by Deborah Mele who's "love affair with Italian cooking began about 35 years ago when I married into a large Italian family overflowing with talented cooks".
Deborah's Blog is literally crammed full of recipes - including traditional Tuscan dishes - each one with a great photo and, at last count, sixteen cook book reviews. Plus great articles about about wonderful places to eat and her excursions in Italy.
This link will take you to the Italian Food Forever home page http://www.italianfoodforever.com/ (it will open in a new window).
Italian Recipe Blogs
that deserve a special mention
Lucullian Delights - An Italian Experience
This Italian Food Blog deserves a special mention. It is full of great recipes - including gluten free ones - but it is for its wonderfully simple and elegant presentation that I have included it here. It stands out from the crowd of other Food Blogs and, indeed, has recieved many accolades beyond my own appreciation.
In this Blog the beautiful photographs taken by Ilva - the author - take centre stage and fill each page with colour. Each photo could easily be a poster print on your wall at home.
Ilva is Swedish and lives in northern Tuscany with her Italian husband and three children.
Visit Ilva's Blog here http://lucullian.blogspot.com/. (I've deleted the link for the moment as there are problems with the server.)