The 10 Best Foods to Eat
in Maremma, Italy
10 best foods to eat: antipasti
This page is home to the 10 best foods to eat in Maremma, Italy: wonderful local speciality dishes from an undiscovered and stunning rural land in Tuscany and Lazio where home cooked food still follows the seasons.
Over dinner one night I asked my Italian partner what were his top ten favourite foods in Maremma in the hope that I could compile his and mine together into a top ten list, but it didn't quite work out that way!
His choices, even under coercion, where so different from mine that we have a selection of both of our choices here and another ten on the next page! That way I was able to include most of our favourites with those of other members of our family who joined in the debate!!
Here then is the first page of the 10 best foods to eat in this very special part of Italy.
Antipasti of mixed sliced cold meats and cheeses
Visit any "salumeria" (delicatessen) or supermarket deli counter here in Maremma and you will find a truly wonderful array of cured meats - beef, pork, wild boar, roe deer - from bresaola, to capicollo, finocchiona, prosciutto, salame di cinghiale, soppressata and lardo, not to mention salsiccia (sausage) which Fabio loves to spread raw on bread.
A great way to try them is to order a mixed antipasti at a local restaurant and experience each of their flavours accompanied with slices of various pecorino cheeses, "crostini misti" - mini bruschette with chicken liver pate, chopped fresh tomatoes with torn basil, salt, pepper and olive oil - and "sottoli" (local small artichokes, mushrooms, olives, onions etc, literally "under oil").
I could eat "just" that for days and be blissfully happy every time: everyday Italian food at its best.
Bruschetta con olio extravergine di oliva
- Toasted Tuscan bread with extra virgin olive oil
Late October to early November sees the first press of olive oil in Maremma: the best olive oil in Italy! And there is nothing more sublime than the simplest of ways of eating it, drizzled either on slices of fresh or toasted Tuscan bread (plural because one is just not enough!).
And for the simplest of bruschetta recipes, rub the toast with a clove of raw garlic, drizzle the olive oil generously over it, and then sprinkle salt and pepper to your taste. Our local olive oil has quite an intense and piquant flavour, so I don't add the salt and pepper. But, like wines, the aroma and flavour of the oil produced from each grove is influenced by its terroir - the soil, the geography, and geology - so you may find that a little pepper is just perfect for your olive oil.
Pinzimonio
This is one of my partners real favourites and I have to admit it took me along time to succumb to trying it many years ago as the idea of dipping things in oil just didn't go well eating healthily etc, even though I admit that I pile my sandwiches with mayonnaise. But once tried, never rejected again!
Pour a generous quantity of your extra virgin olive oil into a tiny ceramic bowl - they make them especially for the job here in Maremma - add "aceto balsamico" (balsamic vinegar) - although Fabio doesn't! - and salt and pepper. Then dip in your prepared raw vegetables and eat accompanied by some freshly sliced bread. It is a wonderful way to get children - and us ! - to eat our five portions of fruit and vegetables a day - and as they are raw you don't loose any of their vitamins through cooking.
Fabio's preferred vegetables are "carciofi, cicoria, porri, carote, and finocchio" (artichokes, chicory, leeks, carrots and fennel) - I'll take a photograph the next time he sets out to eat this and add it here for you to see.
Asparagi Selvatici
- wild asparagus
From the beginning of March - and into early April if you are lucky - you will find wild asparagus growing in the hedgerows along the country lanes and around the perimeter of the woodlands in Maremma. These green to dark purple shoots are a real foragers treat. Lightly boiled and then added to beaten eggs they make a delicious "frittata" (omelette).
Not many of ours, however, make it all the way home as there are little (and large!) fingers that seem to eat as many as they put in the basket. The smaller ones I have to admit do taste wonderful raw and what better bliss is there than taking a long walk in the fresh spring air and teaching your young ones about foods by searching for them? I have become known as the waddle duck on these trips as I always, being a little taller than others in our party, seem to end up "walking" straddled across a ditch or stream picking the asparagi that have been spotted on the opposite banks.
If you happen to be in Maremma in March and fancy finding your own asparagus, just keep an eye out for parked cars along the lanes with no one in them: you will find the occupants not far away at a good picking spot.
Pappardella al sugo di Cinghiale
- Pappardella pasta with wild boar sauce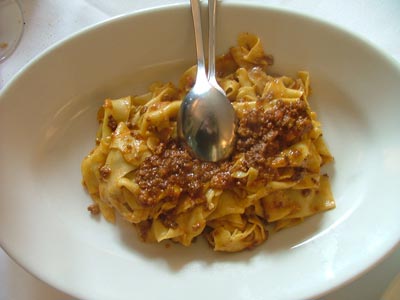 10 best foods to eat: Pappardella di Cinghiale
Fresh handmade ribbons of pappardella pasta topped with a slow-cooked "ragu" (meat sauce) of cinghiale (wild boar) or, "lepre" (wild hare). Sprinkle on a generous grating of parmigiano cheese and the combination is just wonderful. My favourite "primo piatto" (first course) in Maremma.
Of course, serve with a glass of red Maremma wine!
Tortelli Maremmani
- Tortelli pasta from Maremma
10 best foods to eat: Tortelli Maremmani
This is one of Maremma's traditional dishes: handmade tortelli pasta - large ravioli - stuffed with a mix of fresh ricotta cheese and either cooked "spinaci" (spinach) or "bietole" (chard), egg and a little "noce moscata" (nutmeg). Topped with a generous quantity of slow-cooked beef ragu sauce.
And, again, served with a glass of red wine.
Cinghiale in Umido or alla Cacciatora
- Wild boar stew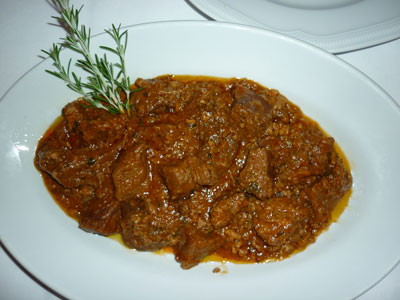 10 best foods to eat: Cinghiale alla Cacciatora
Every trattoria or restaurant in maremma will have their own recipe for this traditional Tuscan dish, but the one I like the best is "Cinghiale alla Cacciatora" - the hunters wild boar - which is cooked very slowly in tomato and wine, with black olives and herbs, including juniper berries.
Eaten with fresh Tuscan bread to mop up the sauce it is my very favourite "secondo piatto" in Maremma. I just wish I could cook it like my Italian relatives and the chef at our local restaurant does!
Again, this dish, like the first course of "pappardella di cinghiale" above, calls out for a glass of one of Maremma's wonderful red wines.
The Il Leccio restaurant near Massa Marittima is a great place to try "Cinghiale alla Cacciatora" (as well as the pappardella and tortelli).
Cacciucco Livornese
- Italian Fish stew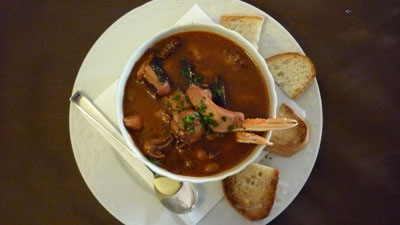 10 best foods to eat: Cacciucco Livornese
Maremma is Tuscany at the sea, with over 250 kilometres of coastline with the Tyrrhenian and Ligurian seas stretching into the Regions of Lazio and Roma. Here you will find wonderful fresh seafood dishes from the catch of the day and none is more traditional than Cacciucco Livornese: a mixed fish stew.
This dish is from Livorno, a coastal city and port to the north of Maremma and from which Maremma Livornese gets its name. It consists of a mixture of more expensive and sought after fish such as lobster, to those considered "povero" (poor), left at the end of the day after all the others have been sold, cooked together in a tomato sauce.
Everyone has their own combination of fish that they consider essential for making this stew (you should hear the debates!), but in general if you see "pesci da zuppa" in the fish mongers - which literally means fish of the soup, then you can be sure of a good base from which to start. There are normally at least half a dozen different crustaceans, molluscs and fish in Cacciucco, from mussels, to octopus, "scorfani" (scorpion fish) and squid, with some recipes calling for a dozen different ones. Fabio won't make it unless he can get hold of "palombo or gattuccio" and then adds "polpo, scampi, gamberi and scorfano".
It is sometimes served with fresh Tuscan bread accompanied by raw cloves of garlic for you to rub onto the bread before eating. But I prefer Nonna's (our grandmother's) take on the recipe and the traditional Livornese way, where she toasts the bread, rubs it with the garlic cloves - just like making bruschetta - lines the bowls with the bread and piles on the stew. The juices of the stew soak in to the bread: delicious!
Serve with red, not white wine!
The La Sirena restaurant in Piombino serves a really good Cacciucco.
Pecorino con pera fresca e miele
- Pecorino cheese with fresh pear and honey
A matured "stagionata" pecorino (sheeps milk) cheese served with slices of fresh pear (usually served hard, rather than fully ripe), a small pot of honey and some bread is a simple combination that works in a way that defies initial belief.
Serve it as an after dinner dish at home with friends and you will start something that everyone will thank you for over and over again. Try the combination with the addition of walnuts, or as a twist, serve a really strong pecorino - a well matured "pecorino secco", with honey and Vin Santo. Enjoy! You won't think of bread and cheese in the same way again, I promise you!
Biscotti Cantucci e Vin Santo
- Italian almond biscuits and fortified wine
10 best foods to eat: biscotti Cantucci
Cantuccini biscuits as they are also called are traditional Tuscan biscotti, packed full of almonds and twice cooked. Delicious anytime of the with a cup of coffee or tea, but especially wonderful when eaten traditionally dipped in the fortified sweet Italian wine Vin Santo. A perfect authentic Italian dessert to end a meal with your friends and family that is so so simple to make at home.
This easy almond biscotti recipe is our Nonna's (Italian grandmothers) and makes the very best Cantucci.
Sfatto dei Goym
For the sweet toothed, this is a "dolce tipico" (typical sweet) made in the stunning tufa hill towns of Pitigliano and Sorano. The recipe is very local and reflects the ancient mixing of Maremma and Jewish cuisines when Jewish families settled in Maremma from Siena, Rome and Florence to flea Popal persecution in the mid-sixteenth century.
Difficult to find in restaurants and shops outside of the area of either of these two Tuscan hill towns, but you can sometimes find it at the handmade food stalls during wine and food festivals. If you do see it, don't miss the opportunity: the pastry (actually an unleavened dough made from flour, sugar and white wine) forms a hard outer coating to the rich and very sweet filling made with honey, walnuts, orange rind and nutmeg. You won't need much as it is very sweet: a perfect treat to sustain a walk through the Etruscan Vie Cave that join the two towns.
Sfratto dei Goym is very much a local Maremma gastronomic speciality and is included amongst the "Presidi Slow Food" - Slow Food Presidia - foods whose production, once at risk of extinction, is now protected by law. To find out about the other Slow Food Presidia foods and other speciality Maremma dishes, go to the main Maremma Food page (link below).
What are your 10 best foods to eat in Maremma?
I have no doubt that if you have visited or live in Maremma and are reading this then you will have some favourites of your own. Tell me what your 10 best foods to eat in Maremma are using the form below and I will add them to this guide as your recommendation. If they are dishes at your favourite restaurant in Maremma, tell me which one and I'll include a mention so that visitors can seek them out and try them for themselves. If you have some photos too that would be great!
---
Explore some more...
Go to another 10 best foods to eat in Maremma


Find out about "le Sagre" - wine and food festivals in Maremma and great places to eat traditional Italian dishes of home-cooked food


Visit my local Italian food store


Find out about Maremma wines - some of the very best in Italy - including the very first Super Tuscan wine