My Local Italian Food Store
and Salumeria Italiana
One of the best of Italian Delis in Maremma, Italy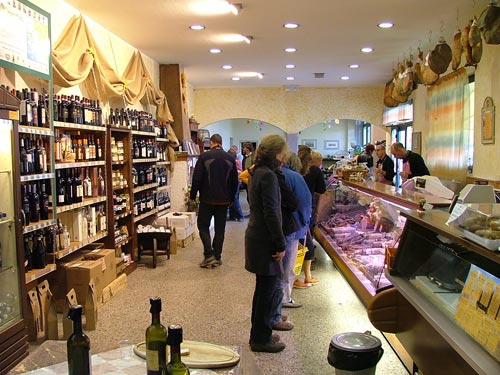 La Novella: my wonderful local Italian food store
La Novella near Massa Marittima in Maremma is my wonderful local Italian food store where I shop every day for fresh bread, Italian wine and cheese and cured-meats. They specialise in "vini e prodotti genuini di Maremma" - Maremman wine and products - of which there is an expansive and tempting selection.
But La Novella is more than just one of the great Italian delis in Maremma, it is a professionally-run co-operative that focuses on sourcing and selling high quality products, always with a friendly and welcoming service. And you can eat lunch there! (info and link at the bottom of the page). I just love the place!
The following is a selection of what is available at La Novella: I hope you enjoy browsing like I do!
Typical Italian Cheeses from Maremma

Part of the Italian food store La Novella's wide selection of typical Italian cheeses from Maremma
The soft - "fresco" - Italian cheeses available from La Novella include:
Caciotta il Guerriero
Pecorino Caciotta al Peperoncino
Pecorino al Tartufu
Pecorino Fresco DOP. Manciano
Pecorino Grosseto Media Stagionatura
Pecorino Semi-stagionato Latte Crudo
Pecorino Toscano Fresco

And the varieties of hard Italian cheese:
Parmigiano
Pecorino al Farro
Pecorino Amiatina
Pecorino Amiatino Scodellato
Percorino Cenere
Pecorino di Grotta
Pecorino PeKora

Pecorino Latte Crudo
Pecorino Marzolino
Pecorino di Rocca
Pecorino Rosso Amiatino
Pecorino Stagionato Primitivo
Pecorino Toscano Stagionato
Italian Deli Meats: Salumi
Part of the Italian food store La Novella's wonderful selection of Italian deli meats from Maremma

La Novella has an extensive range of Italian cured meats that include:
Bresaola
Capocollo
Culatello
Finocchiona
Lardo
Lonza (or Lonzino)
Mortadella
Mortadella con pistacchio
Mortadella di cinghiale
Pancetta
Pancetta arrotolata
Prosciutto toscano a Tranci

Salame di cinghiale - wild boar salami
Salame toscano - Tuscan salami
Salamella dolce
Salamella magra
Salamella piccante
Salamino
Salsiccia di cinghiale - wild boar sausages
Soppressata
Speck di cinghiale
Spianata di cinghiale
They also stock a few non-cured meats such as "prosciutto arrosto" (baked ham), with a wonderful texture and full of flavour. I buy this when I have a hankering for good old fashioned home-cooked ham, egg and chips!
And, "salsiccia di maiale" - a fresh meat sausage which my partner along with his friends and family (I just don't understand the desire!) love to split open and spread the contents on fresh bread for lunch or a "merenda" (snack).
Some of the Best Italian Wines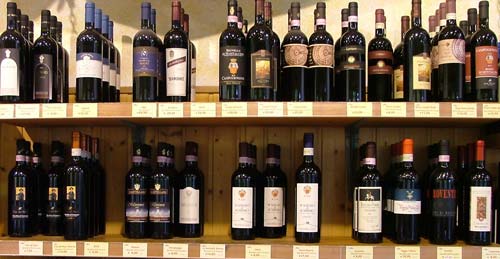 A selection of some of the best Italian wines from the Italian food store La Novella
La Novella's own wines are great quality table wines, and their Rosata when available is particularly wonderful sipped chilled with a visiting girlfriend on a summer evening...
They also have a great selection of some of the best Italian wines from Maremma, other parts of Tuscany and further afield, including Sicilia (Sicily). Plus dessert wines and "digestivi" such as Grappa in a multitude of elegant bottles that are just too pretty to throw away and make great olive oil dispensers.
Coming soon... their Tuscan wines online - such as the Brunello di Montalcino Luciani 2003, or Rosso di Montacino Luciani 2006 - and Italian wine gift baskets.
Olio Extra Vergine di Oliva
- Extra Virgin Olive Oils
A selection of the spicy olive oils available from the Italian food store La Novella
Some of the best Italian olive oils that I have tasted come from my local olive oil growers in Maremma. La Novella "Olio Extra Vergine di Oliva" - Extra Virgin Olive Oil - is a high quality cold-pressed olive oil.
They also sell flavoured extra virgin olive oils (see below under Condimenti) for drizzling on your pasta or adding an extra dimension to your cooking, olive oil and balsamic vinegar cruet sets, and an Italian range of quality olive oil skin care products and olive oil hair products.
Pasta Secca - Dried Pasta
Pasta alle verdure e pasta speciale

A selection of the special dried pasta available from the Italian food store La Novella
All of these wonderful colourful pastas are hand-made only with natural ingredients: water, durum wheat flour, and dried vegetables, chilli, or cuttlefish ink.
They do not contain any artificial colours, flavourings or preservatives.
Farfalline 7 colori
Gnocchi grandi 7 colori
Farfalle bandiera
Penne rigate 7 colori

Radiatori 7 colori
Spaghetti 7 colori
Spaghetti all nero di seppia
Spaghetti al peperoncino
Pasta Biologica - Organic Italian Pastas
Penne rigate biologiche
Fusilli biologici
Conchiglie biologiche
Pici biologici

Pappardelle biologiche
Tagliatelle all'uovo biologiche
Pappadelle all'uovo biologiche
Spaghetti alla Chitarra biologici
Salse Biologiche - Organic Sauces

Pesto Rosso and other organic sauces from the Italian food store La Novella
The vegetable used in the preparation of these sauces are all grown organically, and selected and prepared in the shortest time possible to retain their full flavours.
Passata di pomodoro fresco - fresh tomato passata
Pomodoro e basilico - tomato and basil
Salsa di pomodoro fresco - fresh tomato sauce
Salsa piccante di pomodoro fresco - fresh tomato sauce with chilli
Pesto al basilico - basil pesto

Pesto rosso - pesto with a base of sun-dried tomatoes
Pomarola - another authentic tomato sauce
Salsa arrabbiata - tomato pasta sauce lightly spiced with chilli
Salsa ai funghi porcini - porcini mushroom sauce
Salsa alle olive - olive sauce
Spices - Spezie
These spice selections cover all eventualities for the herbs and spices you will need to prepare traditional Tuscan pasta, pizza, meat and fish dishes.
Preparato per pici toscani
Preparato per spaghettata di mezzanotte
Preparato per penne all'arrabbiata
Preparato per spaghettata piccante - for a hot chilli spaghetti
Preparato per spaghettata delicata - for a delicate spaghetti sauce
Aglio, peperoncino e prezzemolo - garlic, chilli and parsley
Preparato per bruschetta calda toscana

Preparato per arrosti - spices for roasts (meat and fish)
Set per pasta - a set of spices for pasta
Set per pizza - a set for pizza
Set per arrosti - a set for roasts and barbecues
Set per bruschetta - a set for bruschetta
Set per griglia - a set for grilled fish and white meats
Condimenti - Flavourings

Blackberry balsamic vinegar & other balsamic sauces from the Italian food store La Novella
"Olio extra vergine di oliva aromatizzato" - flavoured extra virgin olive oils - for drizzling on your cooked pasta, pizza or focacce, or for adding to your meat and vegetable sauces.
In handy small re-sealable tins:
Condimento all'aglio - with garlic
Condimento al peperoncino - with chilli

Condimento all'arancia - with orange
Condimento alle erbe italiane - with Italian herbs
And in elegant bottles:
Condimento olio extra vergine per carne - for meats
Condimento olio extra vergine per verdure - for vegetables


Aceti - Vinegars
Aceto di vino Chianti D.O.C.G.
Aceto balsamico classico

Aceto balsamico classico extra
Condimento balsamico bianco
Creme balsamiche alla frutta - Balsamic Vinegar and Fruit sauces
Crema balsamica al fico - with fig
Crema balsamica alla pera - with pear
Crema balsamica alla prugna - with plum
Crema balsamica alla fragola - with strawberry
Crema balsamica all'aceto balsamico
Gelatine - Marmalades with a difference
The La Novella "marmalades" do not contain fruit! Instead, in the production of these "gelatini", the fruit has been substitued with wine, vinegar and other characteristic ingredients. Mmmm!
Gelatina di aceto balsamico
Gelatina di vino Monteregio

Gelatina piccante di aceto balsamico
Gelatina di vino Aleatico dell'Elba


Creme per Tartine and Ragu sauce
Creme di Cacciagione
These are creams made from animal meats for spreading on toasted bread to make great tasting antipasti and canapes.
Crostino di cinghiale - wild boar
Crostino di lepre - hare
Crostino toscano - chicken livers
Creme Vegetali
These are pure vegetable creams for making "crostini" (especially good when the bread for the crostini is toasted), an "aperativo" or a great tasting "antipasto".
Crema di funghi porcini tartufata - with porcini mushrooms and black truffle
Crema di pomodori secchi - with sundried tomatoes
Crema di olive nere - with black olives
Crema di carciofi - with artichokes
Ragu
A tasty ragu sauce with a base of wild animal meats (wild, boar, pheasant or hare) for a quick and savoury first pasta course.
Ragu di cinghiale (wild boar)
Ragu di fagiano (pheasant)
Ragu di lepre (hare)
Zuppe - Soup mixes

Zuppa soup mixes from the Itaiian food store La Novella
These are ready-prepared dried soup mixes for an authentic Maremman and Tuscan "zuppa" without the need to check you have all the necessary ingredients! Great for when I'm in a hurry (and because I'm not particularly brilliant in the kitchen!).
The mixes and recipe all serve four people.
Zuppa Maremma
Zuppa del nonno
Zuppa saracena
Minestrone toscano
Acquacotta
La ribollita
Zuppa povera di farro
Zuppa di funghi

Dolcezze - Sweet things

A slection of the dolcezze available from the Italian food store La Novella
Marroni sciroppati - chestnuts in syrup (great to eat on their own, or with some whipped cream and a dusting of cocoa)
Miele di acacia - Acacia honey
Miele di castagno - Chestnut honey (try drizzled over matured pecorino cheese and you won't want to eat your cheese any other way again!)
Miele millefiori - honey from a thousand flowers - a typical Tuscan honey
Lunch at la Novella:
Italian deli meats and cheeses
If you are exploring the heart of Maremma and are on the road between the spectacular medieval Massa Marittima and the Gulf of Follonica, then La Novella also makes a great stop for a light lunch - "pranzo leggero", or a panino (sandwich) at any time of the day (so long as they haven't sold out of bread!).
Browse the cured-meats selection... choose your accompanying Italian wine and cheese... and they will slice and prepare it to order.
In Italian terms it will be a "light lunch", at this Italian food store isn't a Maremma restaurant and as such doesn't serve primi piatti of pasta, secondi piatti of fish and meat etc, but by no means will you leave hungry!
They have table seating indoors and outside in the shade.
At the end of one visit to us, a friend asked that we stop at La Novella so that he could purchase a panino for the flight home (he isn't fond of aeroplane food) and he emerged with an enormous slice of schiaciatta filled to the brim with prosciutto and matured pecorino cheese. He consumed his "paninio" on the flight with quite a few envious onlookers and since then most of our visitors have taken to stopping at La Novella to do the same!
To take a look at la Novella's "Menu Semplicita e tradizione per il tuo palato" Italian deli meats and cheeses lunch menu, click on the link.
La Novella Italian Food Store
Opening Hours
From April to end of October: open all day from 0800 to 1930
From November to the end of March: 0800 - 1230 and 1600 - 1930, closed on Wednesday afternoons.
La Novella
Localita Il Cilindro, Valpiana
Massa Marittima (Grosseto)
58020
Italia
Tel: +39 0566 919005
Fax: + 39 0566 919194
www.lanovella.it