Looking for the Best Restaurant
Maremma has many...
But this is my very favourite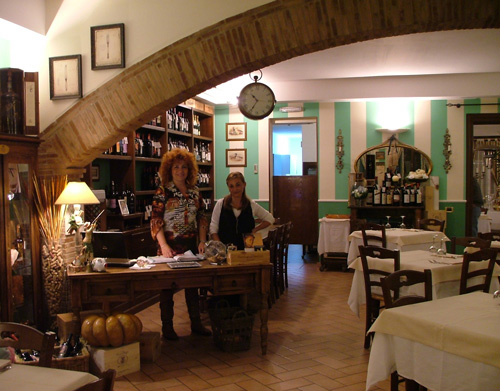 Looking for the best Maremma restaurant? Maremma has many great places to eat, from restaurants, trattorias, osterias, pizzerias, spaghetterias, to merenderias. But this restaurant is my very favourite and also that of my friends and family.
But we are not alone, for everytime I eat there the restaurant is always full and the owner has to turn customers away. Be warned! Book in advance if you can, even at lunchtime for the same evening if you happen you find yourself in the area.
The restaurant is in a tiny hamlet called Cura Nuova, just south of Massa Marittima on the road to Follonica.
It is often unmarked on many of the the maps of Tuscany and you can drive through Cura Nuova before you realise you had even entered the place. So again, be aware!
So then, the best of Maremma Restaurants...
Ristorante "Il Leccio"
Cura Nuova, Massa Marittima
The Restaurant Il Leccio serves Maremman specialities, "specialita Maremmane" and is a meat restaurant. (If you are looking to dine on fish, there are some good restaurants in Follonica to try.) The husband and wife team (he is in the kitchen and she is out front) and all their staff provide an excellent service: very friendly and welcoming, efficient but never intrusive, and always accommodating.
The atmosphere and ambience is relaxing, with the restaurant "decorato con buongusto" - tastefully decorated - in a living/dining-room style. With linen tablecloths, napkins, and lovely large wine glasses etc, it is a proper italian restaurant. But, unlike some I have dined at, the prices at "Il Leccio" are very reasonable.
Both the breadth of the menu (see below) and wine list are extensive. The cooking is wonderful and consistently so: there is not one of their dishes I would not recommend. All of their pasta is homemade, excellent and cooked perfectly. Their meats are barbecued on a real wood-burning fire.
And if you have a sweet tooth like me and have space, all the puddings are also homemade - try the flaming Creme Catalan, it is bliss!
(And for those whose experience of dining out in Italy is sometimes marred by the condition of the cloakroom facilities - especially if you have young ones with you - those at Il Leccio are spotlessly clean.)
Have a browse of the Ristorante "Il Leccio" menu below, it is full of Maremman speciality dishes.
Click on the image to read it all!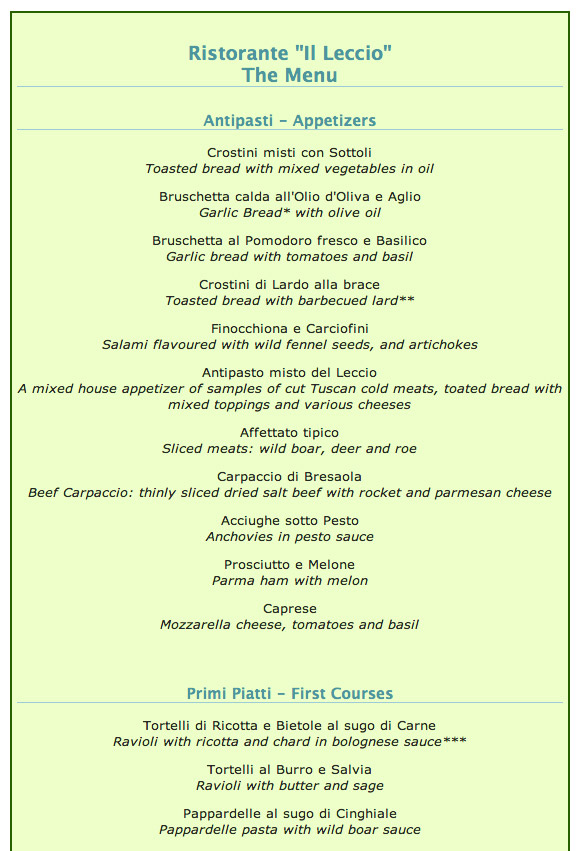 The Cinghiale alla Cacciatore - wild boar stew
This menu link will take you to their full regular "dolci" - Italian desserts - menu.
*Garlic bread in this context isn't that which we have become accustomed to purchasing in supermarkets ready to go in the oven, but rather toasted bread rubbed with fresh garlic and drizzled with olive oil.
**"Lardo" isn't the packs of lard fat that you can buy for cooking with, but slices of a much loved in Italy, pig fat. You have to try it to be convinced!
***The translation of "bolognese sauce" conceals the fact that "sugo di carne" tastes many many times better than any bolognese sauce you may re-heat from a jar back home. Do I love italian food? Yes!
****Fresh pecorino cheese is softer than the matured variety and has a milder flavour.
Alternatively, how about a Maremma Restaurant feast that you will talk about with friends for a long time to come?
Feel like savouring a number of home-cooked Maremman dishes all freshly prepared (I'm not talking sample sizes here!) at a price that won't break the bank? Then I can highly recommend their fixed price "Tasting Menu" - "Menu Degustazione" at Euros 30,00 per head.
This menu includes cover charge, (wonderful) local wine, bottled water, a great plate of antipasti, two traditional Maremman pasta courses, a second course of mixed barbecued meats with "contorni" (side dishes), a homemade desert, coffee and "digestivo" - grappa or limoncello liqueur etc.
A word of warning, do go hungry or you won't make it past the second pasta dish!
Ristorante "Il Leccio"
Menu Degustazione - Tasting Menu
Antipasto - Appetizers
Crostini
Toasted bread with mixed toppings
Affettati Misti
Mixed cold cut meats
Sottoli
Mixed vegetables in oil
Bruschette
Garlic bread with olive oil
Primo - First Course
Tortelli al Ragu
Ravioli with Tuscan bolgnese sauce
Pappardelle al Cinghiale
Pappardelle pasta with wild boar sauce
Second - Second Course
Griliata mista alla Brace
Mixed Grill/barbecue: Guinea Fowl, ribs and sausage
Contorno - Side Dishes
Patate arrosto
Roast potatoes
Insalata mista
Mixed salad
Dolci della Casa - Home-made Dessert
Caffe e Digestivo - Coffee and after dinner drink
Ristorante "Il Leccio" is open from Sunday to Friday for lunch and dinner, but closed all day on on Saturday.
A note for the summer. Il Leccio has two rooms: the one at the front of the restaurant, which you enter first, is air-conditioned. And a second at the side/rear, which in the summer is opened via its large windows to the outdoors and evening warmth. So, if you prefer to dine in a cooler environment, remember to ask for a table in the air-conditioned room.
Read more reviews of this restaurant
Buon appetito!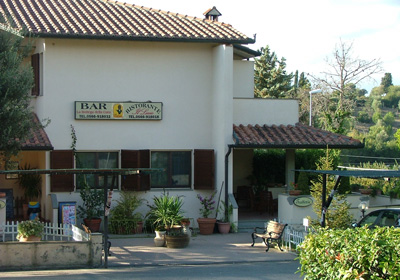 Ristorante Il Leccio: Tuscany Restaurant Maremma
Tel: +39 0566 918018
Mobile: +39 339 5641710