Tuscan wild boar stew with chocolate
- the recipe
This traditional Tuscan wild boar stew recipe, with dark chocolate, is a WOW! of a dish to serve on a winters night. And given that the bitter cold part of our winter here in Maremma is due to start this weekend, I thought I would share it with you now as I get our wild boar meat out of the freezer to cook it up for a dinner with a difference.
Added bonus is I have no worries about teenage tastebuds not liking this: my young daughter devours it!
Wild boar in Italian is "cinghiale" and this recipe is known in Tuscany as "cinghiale in dolceforte" or "cinghiale agro dolce" - both meaning a bitter-sweet stew.
Huge disappointment
If you are visiting Maremma and get served anything like this sugary dry confection that I happened to be served at a restaurant that will go unnamed, I will be so sorry. It isn't the real thing.
No self-respecting Tuscan chef would drizzle copious amounts of chocolate ice-cream sauce over a "cinghiale in dolceforte".
Not even a drop.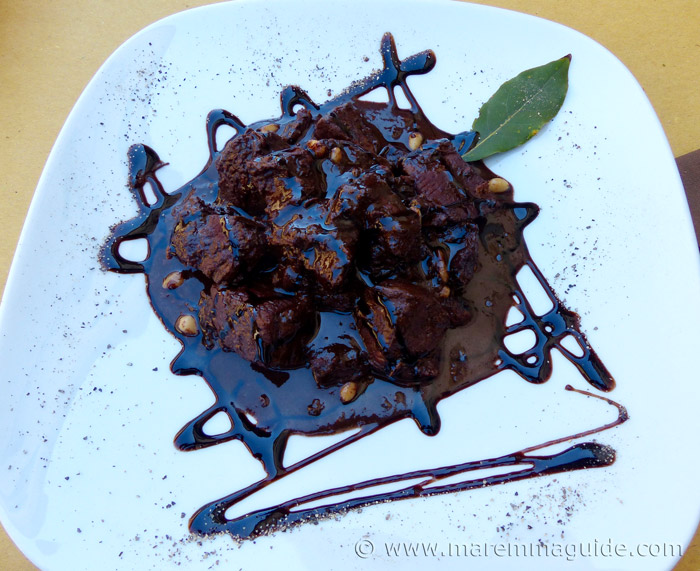 You can imagine my disappointment, especially as I had ordered it for a visiting Swedish friend to introduce her to this local speciality.
Never mind.
I am going to give you the recipe for the good stuff. The stuff that comes out of Florentine grandmother's kitchens. Made with love and just natural ingredients.
The Italian recipe - the real thing
This is "nonna" (grandmother) Alvara's recipe.
You can substitute - and Alvara often did - depending on what grandad and the rest of the town's "cacciatore" (hunters) had caught and shared between them that week - "lepre" (hare). Which works just as wonderfully well.
The Tuscan wild boar stew ingredients
about 1.5 kilos of wild boar (If you are making the recipe with hare, about half a hare)
30 grams of "prosciutto" (cured) ham - a mix of lean and some with fat
40 grams raisins
30 grams of grated dark chocolate
30 grams of pine nuts
20 grams of candied lemon and orange rind
50 grams of sugar
1/2 an onion
1/2 a large carrot
2 sticks of celery
a pinch of parsley
plain flour
1 small glass of red wine vinegar
good red wine
extra virgin olive oil
water or stock
salt and pepper
How to cook the wild boar stew
1. Divide the wild boar into 14 pieces. Wash them. Then marinate them overnight in about a half litre of red wine with a little salt.
2. Before cooking, squeeze the pieces and dry them. Then put them into a casserole dish without water: add salt, cover with a lid over a low heat for about 10 minutes so that the meat releases the water it has absorbed. Throw away the released liquid.
3. Chop the vegetables and the ham together with the parsley and brown them with about 6 tablespoons of olive oil, some salt, pepper, and the pieces of wild boar.
4. When the meat has taken on some colour on all sides, drain off a good part of the fat, and sprinkle on a pinch of flour. Stir and cook adding hot water - or stock - a little at a time.
5. In the meantime, prepare the "dolceforte". In a glass put the raisins, the grated chocolate, the pine nuts, the candied peel, the sugar, and "enough" red wine vinegar. Just a little, because there is always time to add more later.
6. Add to the casserole dish with the wild boar and bring to the boil until incorporated. (Note: The sauce always tastes better if it is made the day before and re-heated.)
7. Serve piping hot.
8. For a simpler sauce, make with just the sugar and red wine vinegar.
Serve with a side dish of seasonal vegetables and bread.
Buon apetito!
This is what the real thing looks like!
Cinghiale in dolceforte at the Trattoria La Grotta in Roccalbegna, where they have been making it for 20 years. Thank you Lucia Lorenzoni :)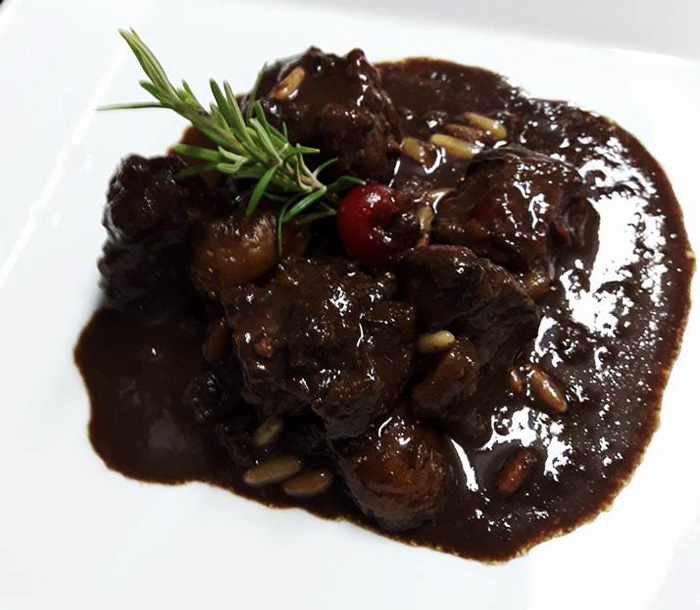 Mmmm.... I don't think this sow is best pleased!