A secret Maremma cove
This secret Maremma cove is for walkers, lovers of rocky shores and families who love it bit of adventure. When you do get there - and it takes a while! - it will be all yours! A Tuscany beach - albeit a tiny rocky one - that no one else knows about :)
This isn't a place to visit in Tuscany for those on a sightseeing trip or for those in a hurry: it will take you one and a half hours to reach it on foot and another one and a half hours up steps and hills to get back!
The coastal path is deserted - the chances are you won't meet another soul - and there is nothing to "see" ;)
Just...
Mediterranean macchia with rosemary and broom in bloom buzzing with huge bumble bees and butterflies. And tiny pink cyclamens flowering timidly along the path.
Footprints of BIG wild boar and horse hooves.
Scenery to make you stop and stare and stare.
And sunsets on the way back like this.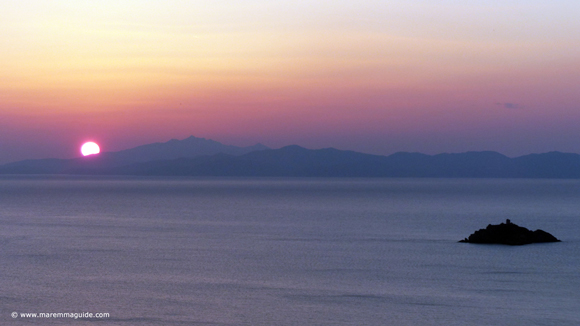 (Oh, and if it has rained, large hungry mosquitoes floating on top of puddles just waiting for you to pass! You just have to manoeuvre around them quickly!)
Nothing then really ;)
But if those kind of nothings would make you happy as a bee, then read on and I'll take you there.
You'll need to plan ahead a bit... unlike me!
These photographs were taken on a wonderfully warm Sunday afternoon at the beginning of March: spring was in the air everywhere and it was 18 C°.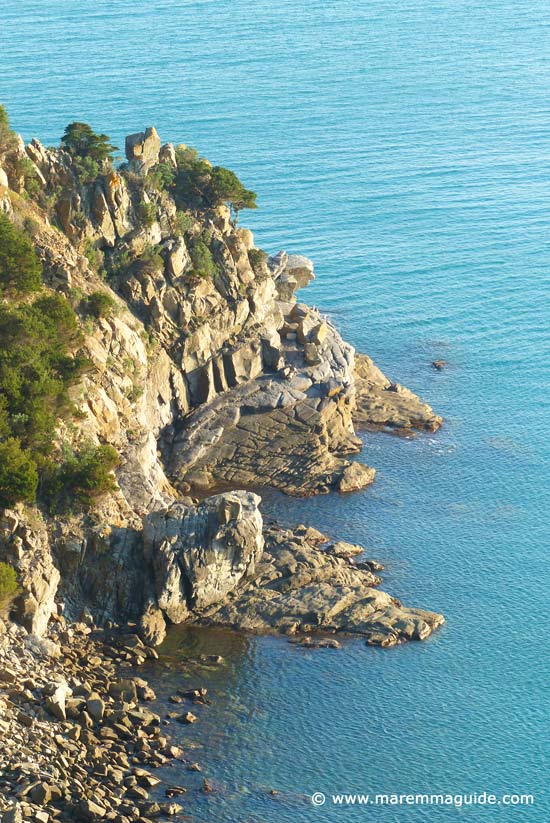 As is usual in our family (usually my fault!), we had set off later than planned after lunch and, although I had it in my head to find the path down the cliff I knew was there and make the trek all the way down to the shore, I hadn't told my husband or daughter!
Now we should have turned back along the main path - which is long enough! - when we reached what I was pretty sure was the start of the cliff path, as it was getting late and it was clearly going to take us some time to get to the bottom of it. But I wasn't going to get this far and not make it all the way down.
My hubby is no fool and knows me and this coast well and started to ask whether I was planning on going the whole hog, to sensibly advise that it was going to be dark very soon and statements to the effect that we would perspire a lot getting back up the path and he would stay put thank you and wait for me to return.
The first part of the path down the cliff side is easy going.
So I started with, "... just to the next bend so I can take a photo". And then the next bend. (I didn't fancy going down on my own: there are wild boar in these bushes!) Until his protestations started again. But by which time we were so close that our daughter could see the rocky pools and there was no stopping her in wanting to touch them!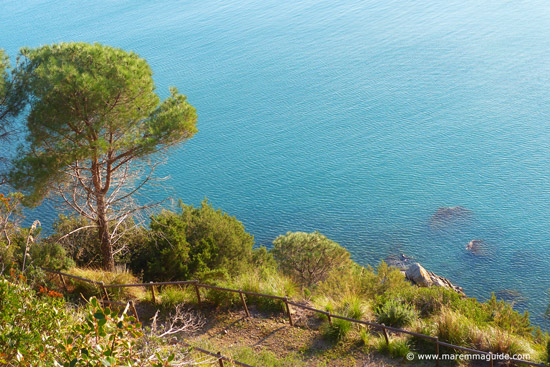 And this part towards the end isn't difficult either.
So all the way down we went. Together :)
The footpath down
Now you need to know that, although the main coastal path is wide and really easy going - suitable for 4 wheel drive vehicles (there are a couple of houses hidden in the macchia) - the path down the cliff is a different kettle of fish altogether.
It is difficult going. It's latter part is stepped with a wooden hand-rails, but they aren't the kind that you can rely on to be stable, are missing in places, and you will get splinters holding them!
And rock slides have crashed through the path in places.
But it is the bit in between that is the difficult stretch.
When you get to the bottom
When you get to the bottom of the path you will end-up standing on top of a large boulder with rusted-iron rings embedded in it.
From here, you will have to negotiate around a very large boulder and climb over rocks to move along the shore.
We couldn't stay for long - much to all of our disappointment - and had to make quite a pace to get back before it got pitch dark. Dad even picked-up a large hefty stick on the way back just in case a wild boar, or even wolf, decided to enquire who we were! Now, although we all made light fun of it, I knew part of his motive for doing so was serious.
We made it to our car just minutes before it got dark, but not before someone had thrown a large rock in the macchia behind mum - as she was dawdling taking photos of the sunset - that made her think that a boar was coming out of the trees and frighten her. Followed by laughter and boar sounds made all the way down the trail after her...
Adventures that are remembered for always are the simplest kind :)
The treasure found: a cove all to yourself...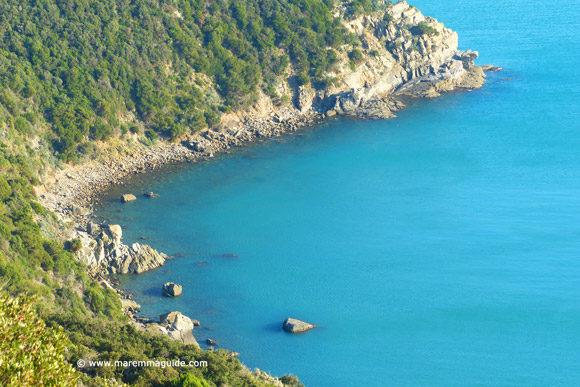 If you are more organised than me...
If you are more organised than me then you could make a full day of the adventure and take a picnic with you. There is a hidden picnic spot along the route.
And/or visit the next cove along - see the map - too.
And make it all the way around the promontory with the tower of Torre di Cala Galera, to the beaches of Le Rocchette and Roccamare. Those of you who are great logistic planners with more than one car in your holiday party, will have already organised leaving a car there too so as to avoid walking all the way back :)
The sun setting on the rocks in my secret Maremma cove...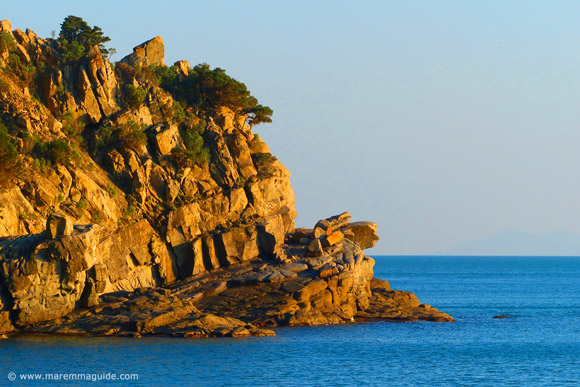 The map
Find out where it is: the Google satellite map.
The video