Fiumara beach Grosseto
Dreamy dunes and stupendous surfing
Grosseto's Fiumara beach surprised me. And, at one and the same time, nonchalantly strode into my personal list of the very best beaches in Maremma.
Now, that isn't an easy thing to do when this part of Tuscany's coastline is crammed full of tiny, pristine white sand coves and long, long, stretches of gorgeous beaches that all warrant a place in a top 10 list. And my own top ten was already well full.
But it did so. And it is going to stay.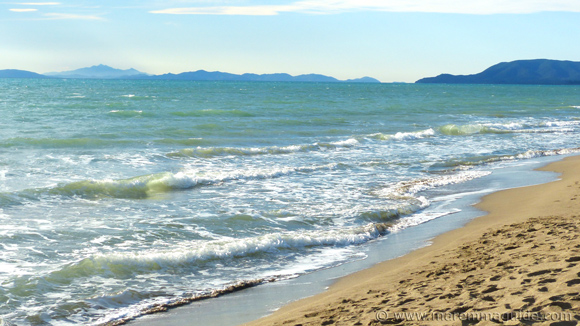 "La Fiumara" beach is famous for its kite surfing and, boy, the surfing to be had here is good :)
But as much as I love photographing the colourful kites from the beach, I'm not a surfer, and so it isn't for that reason that it won the day.
The kite surfing establishment and school Kite Beach Fiumara is located here, on the northern side of the man-made San Leopoldo canal that reaches the sands.
I'll explain.
It is fair to say that, in most cases, when a beach joins another along a long stretch of sands, you don't normally notice a difference when you leave one and walk onto another: after all the delineation is solely a man-made nomenclature thing, as irrelevant to sand grains, wildlife and onshore waves as it is beach walkers.
And Fiumara beach is just a short walk along a long stretch of sands from the Marina di Grosseto beach. A well-tended one, with beach bathing establishments, bars and restaurants and covered in the summer months with row upon row of coloured and striped parasols, sun loungers and mini tables.
But here, just a few minutes walk away, the ambience is so different. Markedly different. For here it is windswept, wild and natural. Here the sands are deeper underfoot, so much so that you will sink into them as you walk along the shore.
The widest and deepest stretch of golden sands in Maremma.
Wider even than its windswept and completely natural neighbour on the other side, the lovely Le Marze beach.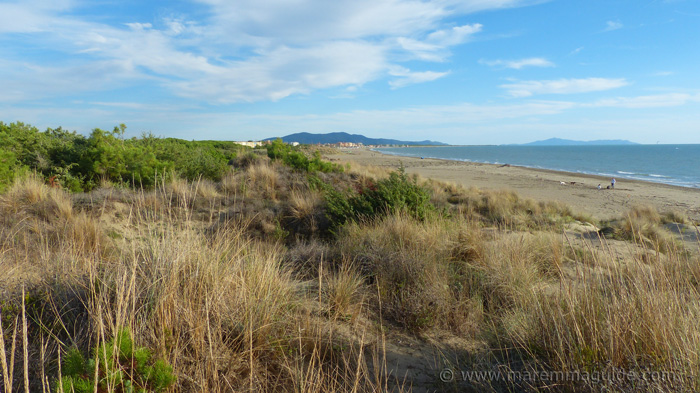 Looking south towards the Marina di Grosseto and Monte Argentario in the far distance.
All backed by dreamy dunes. The pristine, rolling up and down, with tufts of grass and spiky plants, ever changing shape and form kind. The hundreds of years old kind, with new embryo and foreshore dunes and pioneer species, all the way through yellow dunes to fixed dunes and the climax stage macchia and conifer woodland behind. Called the San Felice Oasis.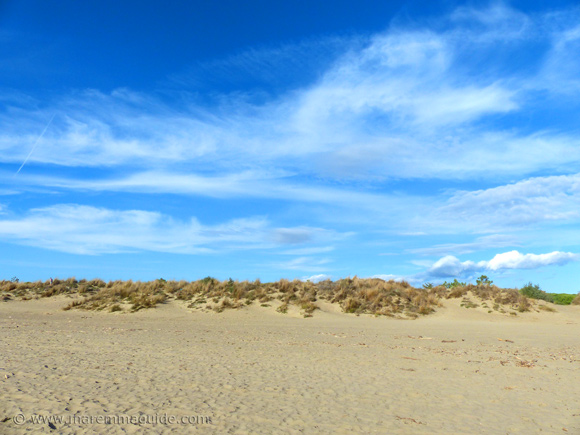 Looking inland: October afternoon skies over the dunes.
Now I did say that Fiumara beach had won a place in my top ten beaches in Maremma, and so this is a personal thing. But if you have ever studied biology as a teenager and gone on a field trip to Wales to see the ecology of the Oxwich Bay dunes in the Gower Peninsula. Or studied sedimentary geology. Then you will understand that to stand - albeit treading very lightly - on a dune environment like the one backing Fiumara beach is something special indeed.
These are some of the most well preserved dunes in the whole of Tuscany.

If you want to explore them, there is a designated route - with lots of information boards: www.oasisanfelice.it/img2/downloadStatici/2.pdf
To discover the amazing plant life found there and watch the dragonflies flitting above, or the lizards scampering between them is a delight.
Taking a rest: the scarlet darter dragonfly.
Now I appreciate that that isn't the kind of thing that is going to appeal to all, but this might.
As wild Tuscany beaches go, this one is easily accessible. You don't need to go trekking for hours to reach this beaches' wonderful sands.
And once on them you can walk or jog for literally miles and miles. For as long as it takes you to reach the next town along the coast, the lovely Castiglione della Pescaia and a whole host of other beaches.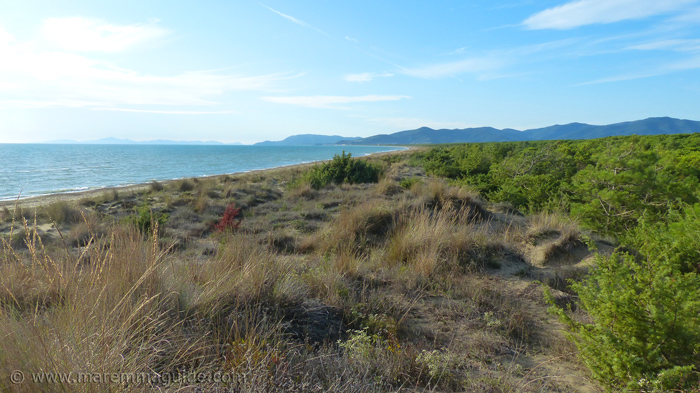 Stood on the dunes looking north towards the beach of
Le Marze
and the port and fortified hill town of Castiglione della Pescaia.
You can do so along with families walking their dogs - dogs that are nothing less than crazily ecstatic when they see the sheer length of beach and water in front of them - and riders on horseback, and not be bothered or encroached upon, or need to divert your path for one of them; the beach is that wide.
The fact that there are just as many animal footprints on these sands as human tell its all. Everyone loves this beach! And behind the dunes you'll find those of foxes, porcupines, hedgehogs, and turtles too, between wild orchids and sea lilies :)
Or simply sit and play on its sands and build sandcastles. The views of the islands of the Tuscan Archipelago are wondrous.
And fish for Mullet, Sea bass, Black-striped pipefish, Herring smelt and more.
A note about swimming. Fiumara beach isn't a shallow beach once you reach the waters, not a huge drop, but noticeable and different from most of the pancake-flat Follonica beaches further north.
Getting wed on a Tuscany beach
Or you can even have your wedding here. You will need to have your civil or religious wedding ceremony held elsewhere, but you certainly can do what other brides have chosen to do and have your wedding lunch and receptionon Fiumara's sands, covered in candles and tables all decorated in white as the sun sets over the sea.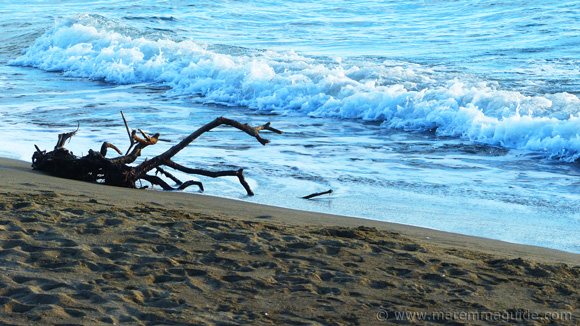 Walking back along the sands as the light is fading and the sun setting.
Refreshments on the beach
There's a bar or two and a beach establishment - so no need to go without a much needed coffee if you want one - but other than those, that's it. Just sand and sea.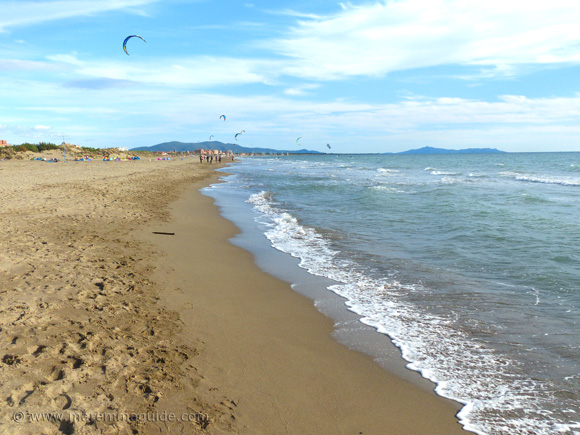 Kite surfing in October.
The video
Getting to Fiumara beach and parking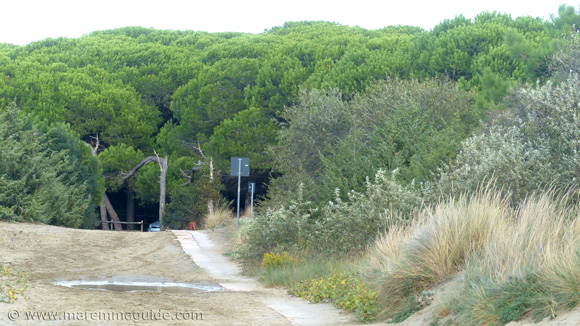 Access couldn't be simpler. The road you want is the coastal road between Castiglione della Pescaia and the Marina di Grosseto: the Strada Provinciale SP158 delle Collacchie, that joins Follonica with Grosseto.
NOTE. The speed limit along this stretch of coastal road between the Marina di Grosseto and Castiglione della Pescaia is a maximum of 50 km for the most part (even if the locals don't often keep to it) and is monitored.
If you are heading there from Castiglione della Pescaia, just after you drive over the bridge that traverses the canal San Leopoldo, take the next right signposted for Marina di Grosseto. And then the next right, which takes you directly to the beach and a car park (pay and display during the summer months). It is a gathering place for surfers.
Alternative parking within the" pineta" (pine wood) behind the beach can be found by taking an immediate right once over the bridge into the woods. Be careful of the deep holes and ruts in the track, especially those at its entrance. When they are full of water it can be hard to judge their depth and they are deep in places. Trust me I know!
The track is also signposted for Fiumara Kite Beach, and as a dead-end, which it is! And you won't be able to miss the numerous signs warning you of the hazard of falling branches and trees.
Or, you can park your car/camper in the "area di sosta" area on the other side of the road and walk on over.
The satellite map
More Grosseto beaches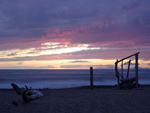 Principina a Mare
Marina di Grosseto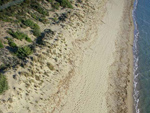 Le Marze
Marina di Alberese