Principina a Mare Beach
Grosseto beaches, Maremma
Principina a Mare beach is a very popular Maremma beach for young families. Backed by a lovely "pineta" - pine wood - in which you will find cycle routes fit even for tricycles and footpaths to wander along and stretch your legs, as well as numbered jogging stops with warm-up and exercise routine boards to prompt you... And a children's playground, it has a really relaxed feel about the place.
Perfect for a Tuscany family beach holiday. In fact most Italian holidaymaker's who come here come back to the same apartment rental or house year on year for their summer vacations: the mums bringing the children down and the dads following at the weekends or for their month of August break.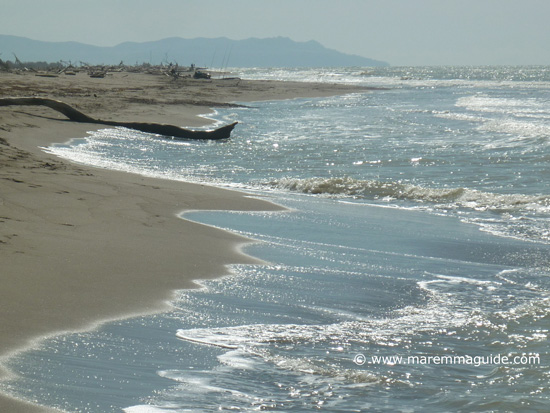 However, if you are looking for a holiday base in Tuscany that will give you a beach within walking distance as well as the magic of a medieval hill town, and/or a ruined castle or two, then you won't find any such history in Principina a Mare. Close by yes, but not in the town itself. It is new (by which I mean not middle ages!, mainly post 1950's) and does really well what it was designed to do: be a relaxing seaside holiday home.
The main road into Principina a Mare is a dead straight residential road off of Maremma's main coastal Aurelia road, through pine woods - called the Pineta del Tombolo that runs the length of this part of the Maremma coast from Castiglione della Pescaia all the way down to the southern side of Principina a Mare - into the small town all the way to where it comes to a circular dead-end at the beach and returns back on itself into town.
On one side there is a strip of shops including a bakers, butchers, bars, as well as a small supermarket and - in the summer - various seaside holiday knickknack, and children's beach toys and inflatables etc shops etc. And on both sides purpose-built self-catering holiday flats, apartments, villas and homes.
But Principina a Mare isn't a bustling place out of the summer season: the whole place is practically closed-up. Visiting at the end of March, just before Easter, things were beginning to stir with the occasional person at work on their annual building repairs and garden tidying, but I had to drive into next door Marina di Grosseto to find lunch.
Car parking
The closest car park for the beach is at the very end of the road, which will locate you right behind the dunes. Otherwise, if that is busy during the summer, public parking is available alongside the shops in town and in the many residential road off-shoots.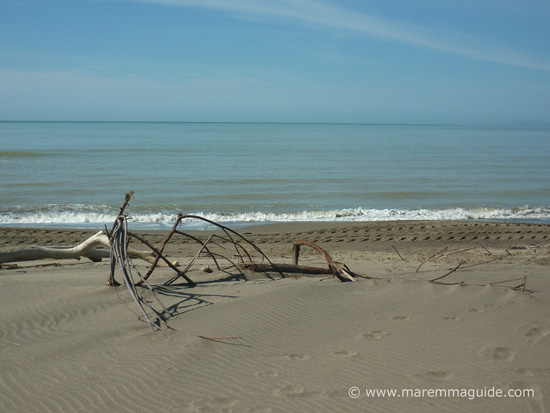 Above and below: the views that will greet you just over the dunes from the end car park: golden sands and a blue sea.
Looking northwards towards the Marina di Grosseto and Castiglione della Pescaia
The beach
Principina a Mare beach is a really wide stretch of medium-sized grained golden sands, with an initial fairly shallow gradient into the sea, dunes and a lovely "pineta" wood behind.
It held the Bandiera Blu award in 2015 for beach and water quality.
There are numerous bars and food outlets as well "bagno" sun lounger bathing facilities open during the summer - 15 June to 15 September months - along its stretch.
Many who come here will have an apartment rental in town from which they cycle or walk to the beach through the pineta and then back for lunch. And most will leave all of their sun parasols, buckets and spades on the sand when they are not there during the day and bury them as my friends do overnight! I don't think anyone has ever lost anything.
The Video
A sad fact - Principina a Mare beach out of season
Whilst Principina a Mare beach is the perfect spot for little ones during the summer with lots and lots of sand where they can happily play around you for hours at a time, in March I was so disappointed to find it dirty. And I don't mean covered in driftwood of all shapes and sizes, for that on another Maremma beach would have made for a fun beach combing treasure morning or afternoon out.
OK, I admit it, this driftwood is even too big for me to take home!
The day I visited in March the tractors were busy removing the larger pieces of driftwood before, the sand sifters and rakes came out. But I wouldn't have let my little one (even a bit bigger as she is now) run along or beach comb on these sands unguarded by my beady eyes before they had finished and beach has been cleaned thoroughly.
For amongst the driftwood not only was there an inordinate amount of plastic waste, but sanitary pads, medicine bottles still with their contents in... And a lot of doggy poo. Sad or what? Come on Grosseto, this just isn't what I want to write about. And it isn't like this on other Maremma beaches.
Best Principina a Mare beach accommodation
Try the self-catering apartments of the Residence Mareblu just 400 metres from the beach and with its own garden: it is a family accommodation option rather than a luxury break one, but has a good reputation for clean rooms and helpful staff.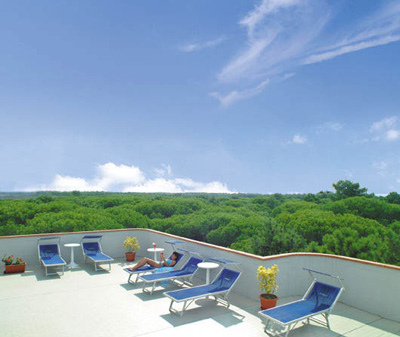 More Grosseto beaches
The next beach along heading north you will find - what some may describe as the more sophisticated - the Marina di Grosseto beach. With apartment buildings, shops, bars, restaurants and "bagni" built right up alongside and on the beach and a long wide paved promenade.
The southern end of Principina a Mare touches the beginnings of the nature reserve for which Maremma is famous, the Parco Regionale della Maremma, where you will find the beautiful Marina di Alberese beach.
Marina di Grosseto
La Fiumara Kite beach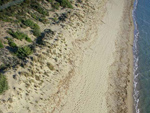 Le Marze
Marina di Alberese