Principina a Mare
Grosseto, Maremma
Principina a Mare is a Maremma summer holiday destination: a small town with a small town feel about it. Completely empty and deserted in the winter months, it comes into its own as a relaxing location for mums with kids and young families in the summer.
There's no hard edge feel to Principina a Mare: it's the kind of place where the best kind of children's summer holiday memories are made and forged, never forgotten. Where as a youngster you will remember cycling around with your brothers and sisters or summer friends late into the night after dinner. Along the cycle paths in the dunes and pine trees of the "pineta" pine wood that backs them. Or up and down the many residential side roads, and into town for an ice cream when mum says you can have one that night... Or to a puppet show as an end of holiday treat.
You'll not find flashing lights and casinos, here .. and it feels safe.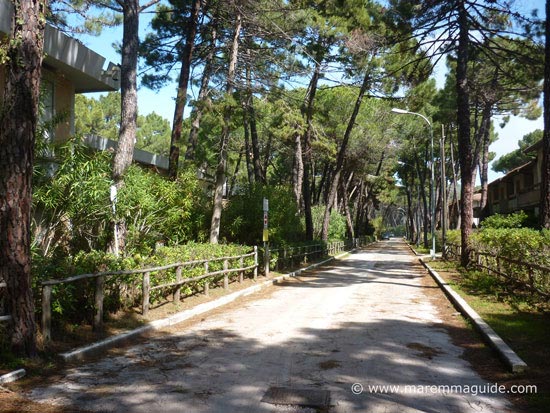 A typical residential road with holiday accommodation under the pine trees along both sides of its length.
Principina a Mare is the kind of place where everyone eats breakfast, lunch and dinner and all snacks in between outdoors in the shade of their terrace or under the pine trees in their garden. And where, after lunch you'll only hear the sound of a tiny babe crying or the occasional voice of a mum telling her kids to play a little quieter as everyone is taking a siesta... And then a couple of hours later everyone will be up and out and back on the beach again until it is time for showers and dinner.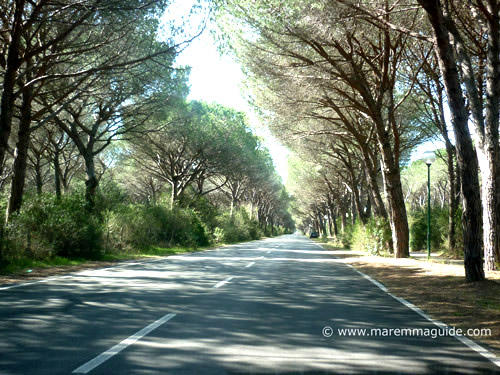 The main road into town
MY TIP: Principina a Mare is an ideal base in Maremma Tuscany for a family with young children beach holiday. The beach and everything you need is within a very short walk away. You won't need a car for the days you opt to stay there. And when you want to explore Maremma's medieval hill top towns, castles, towers, Etruscan tombs, shops, museums, wineries, wildlife reserves and more... you won't have to drive far. The bonus is that you will then be back in an environment ideal for young kids when you get home. Less stress for them and for you.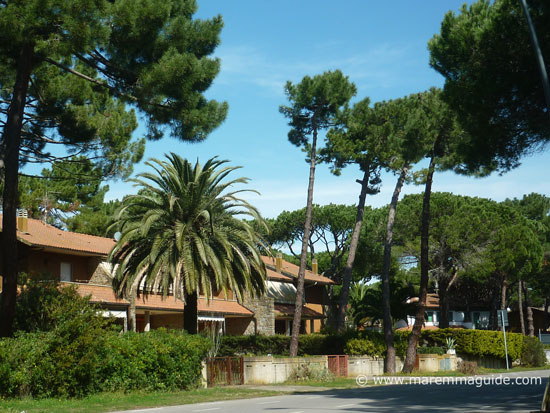 The beach
Principina a Mare beach is a lovely family summer holiday beach: with expansive wide sands even at high tide, a fairly shallow incline into the waters, dunes and a great pineta behind in which to find a cool spot or play, walk, jog and cycle... It is no wonder it is one of Maremma's favourite family spots to relax during the summer.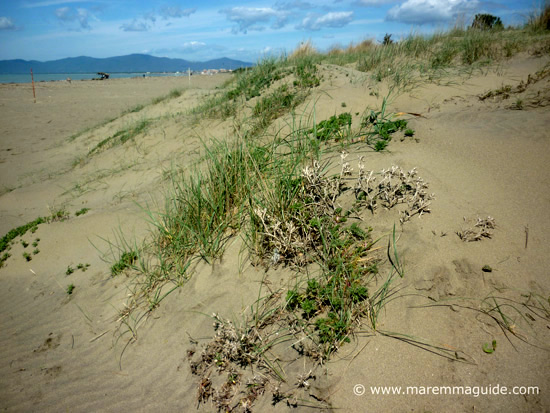 Shopping
Most families will arrive with the car laden-up with their essential food stocks and baby supplies for the duration of their vacation: it isn't that there aren't any shops, there are. You'll find a "pasticceria" (bakers), a butchers, a chemist and a mini supermarket etc, but the prices are higher than those at a nearby COOP or major supermarket.
There is even an doctors and Accident & Emergency clinic - a "Pronto Soccorso" by the beach, especially for the summer visitors.
Children's Entertainment
In the summer evenings there is an outdoor puppet show in the centre of town. Be aware that the ticket prices make it a treat rather than an every night experience, and it does finish quite late for tiny tots (not because of the length of the show, but the interval - see below).
A note to mum's
The "interval" is inordinately long, during which chocolates, ice cream, candy floss and then and toys and other things are sold by the hosts. It can make the wait for the second part of the show all too much for some little ones being late in their evening and quite a few end up missing it, going home in their parents or grandparents arms... Which is such a pity.
Best places to stay
There are lots of places to choose from if you are looking for self catering options. Most come with a small garden as well and on street parking. Principina a Mare does get busy during July and August, but even in those height of season months it still has a very laid back air to it and you'll find a car space close to your apartment if there isn't a designated one.
Amusing to read are the occasional signs that warn of tree roots emerging in the road: you won't find a side road in Principina a Mare that is isnt hummocky, and your car will rock and roll as you make your way to your apartment there are so many roots!