Maremma Beach Towns
the best in Tuscany Italy
One of the most frequent requests for help that I receive is from mums with young children looking to find a beach town in Maremma with lots of facilities and things to do for the children. Lovely places to stay on the beach itself, or only a very short walk away (no driving). Plenty of shops, and lots of restaurants to try out (not looking to cook a lot). And it must have a historic medieval centre for mum and dad to discover, with lots of alleyways and a piazza or two to sit in and sip a glass of wine...
Well, Maremma has a lot of lovely beach towns. But not many also satisfy the coffee table book Tuscan hill town image, as many were developed since the end of the Second World War. But where they do exist along the "Granducato di Toscana" coastline, at their centres are medieval castles, forts and towers that originally provided protection from Barbary pirates. And the occasional impressive Spanish fort or two, or three! The picturesque Castiglione della Pescaia and beautiful Porto Santo Stefano in Monte Argentario being just two such Maremma towns.
Castiglione della Pescaia is popular amongst the jet set of Rome. With its pretty medieval hilltop heart, sailing port, beaches and restaurants, it makes for a perfect first time location in Maremma. I always take my visitors there.
And another - but you will need to take a glorious short ferry crossing to reach it - is the very lovely Giglio Porto on the very special Island of Giglio in the picture below and at the top of the page.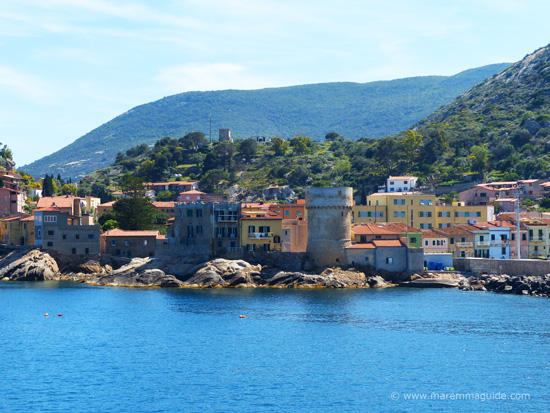 So to help those of you also looking for a beach town or village base for your Maremma vacation, here you will find my growing list of them all to help you get started. I am adding new locations as fast as my fingers will type and my own family commitments allow!
NOTE: An additional request that is sometimes included with the list above, is for great Tuscany farmhouse accommodation. Well, great or not, you won't find an "agriturismo" in any of the towns themselves: by their very nature, the farms are located in the countryside out of town.

But the good news is that you won't have to travel far out of town to find one. Maremma has many and some of the best are situated between towns only a short distance from a beach. But that will mean that a car, or at least very willing cycling legs :) will be necessary in order to get around.
The Maremma beach towns and villages