The best beach towns in Tuscany
are in Maremma
The best beach towns in Tuscany are in Maremma. From family seaside towns, to small coastal retreats, to a Riviera along a once Spanish gold coast. Maremma has them all. And some.
Take a look.
When you want it all!
One of the most frequent requests for help that I receive is from mums with young children looking to find a beach town in Maremma with lots of facilities and things to do for the children. Lovely places to stay on the beach itself, or only a very short walk away (no driving). Plenty of shops, and lots of restaurants to try out (not looking to cook a lot).
And it must have a historic medieval centre for mum and dad to discover. With lots of alleyways and a piazza or two to sit in and sip a glass of wine.
Well, Maremma has a lot of lovely beach towns. But not many also satisfy the coffee table book Tuscan hill town image, as most were re-developed after the end of the Second World War.
But where they do exist along the "Granducato di Toscana" coastline, at their centres are medieval castles, forts and towers that originally provided protection from Barbary pirates.
And the occasional impressive Spanish fort or two, or three!
Castiglione della Pescaia
My first pick is Castiglione della Pescaia. Not because it is any more beautiful than the other eight I want to tell you about. But because it has no less than six beaches.
Two literally just a hop and a skip from the main street. Or even straight out of your accommodation's front door if you choose one that is right on the beach front.
The others within a very easy walk or easy cycle ride away: two join straight onto the town's north and south beaches. But looking at the coastline from the stunning viewpoint up top from the old city walls, you can't tell where one starts and another ends.
Which one will end up becoming your favourite?
With it's fishing port and spectacular location, Castiglione della Pescaia has long been popular amongst the jet set of Rome and is always buzzing with visitors. Most of whom stroll along main street with gelato in hand, nonchalant to the fact that it is also the main coastal route and that they are holding up traffic!
During the summer - actually anytime! - if you are heading along the coast, don't expect to drive through this town at any normal semblance of appropriate speed.
The plus side: you get to see the port and its two lighthouses, the expensive sailing boats and the latest Italian fashions!
The Riviera vibe in Maremma
Tuscany's Riviera doesn't stop at La Spezia and the Cinque Terre. But the unending crowds do.
Maremma's Argentario and it's Silver Coast with the fishing port towns of Porto Ercole, Porto Santo Stefano and tiny Talamone, are where Italians go on their beach holidays for a chilled out time in nothing less than 360 degrees of stunning scenery.
And lots. Lots of aperitifs :)
Porto Ercole
Porto Ercole along the Silver Coast - the Costa d'Argento - in Maremma's Argentario, is a small fishing port with a tiny town beach and no less than three Spanish hill top fortresses protecting it.
But that tiny town beach isn't the only one close by. Pack your day pack and jump in the car, or catch a town bus, and in minutes you'll be spoilt for choice between some of the most secluded and beautiful coves in Italy.
And the stunning long stretch of golden sands of the Riserva Naturale Duna Feniglia.
The town itself is packed with bars, restaurants and shops that will mean you won't have to drive anywhere once you return home from the beach.
But you will want to leave.
On foot. To walk up the hill to the old town.
Dating from the Etruscans, conquered by the Romans, and owned and fortified in the 13th century by the Countess of Sovana, the stunningly beautiful red-headed woman who ruled Maremma. In 1557 it became one of Maremma's five coastal towns that were the State of the Presidi. In the possession of the Crown of Spain.
For 151 years.
And the architecture, fortresses, and local dialect remain.
It's no wonder that Porto Ercole is officially one of the most beautiful towns in Italy.
And the view of the port from old town is well worth that climb. Not to mention the view of Orbetello - Maremma's little Venice - and it's lagoon below.
Porto Santo Stefano
Porto Santo Stefano is Porto Ercole's big sister.
Located just a 15 minute drive around the coast it too is a fishing port. With it's own imposing Spanish fortress guarding its sea approach.
But it is all the more busier than Porto Ercole, because it is from here that the ferries to the very special Tuscan islands of Giglio and Giuannutri leave and return.
With a definite Riviera vibe about the place, you'll be spoiled for choice of bars, restaurants and shops.
And. Although there is no beach right in the centre of town, there are no less than 13 stunning coves and beaches within a short drive or bus away.
And Feniglia's twin sister, the equally beautiful Giannella beach that encloses the northern part of the Lagoon of Orbetello nature reserve.
Local Maremmani people adore time spent in these two towns and on their beaches. I don't think I need to say more!
Porto Santo Stefano's Spanish fortress - the Fortezza Spagnola
Talamone
Talamone has a huge significance in Italian history, for it was here in May 1860 that three hundred men secretly waited in the fortress - the Rocca Aldobrandesca di Talamone - to join Giuseppe Garibaldi and his other volunteer "Red Shirts" on an epic journey to southern Sicily. In two stolen steam ships.
A journey that changed the face of Italian history.
But today you will much more probably already know of Talamone because of James Bond. For it was in a villa overlooking the town - that you can actually rent as holiday accommodation if you want to! - that 007 James Craig in the film Quantum of Solace, tracked down and confronted René Mathis.
The town has a small marina and tiny coves that, even if you've only made a day trip to visit the area and the Rocca, will entice you down the cliff side steps to take a dip in their sparkling turquoise waters.
But most holiday makers at Talamone come on a single-minded mission. To spend all thedaylight hours possible on its main sandy beach - the Spiaggia della Fertilia. Sweeping around the bay, its onshore winds make it a kite and windsurfing haven.
Tuscany island life
Another Tuscany beach town - but you will need to take a glorious short ferry crossing to reach it - is the lovely Giglio Porto on the very special Island of Giglio.
Tiny. With a tiny beach. But, oh boy, does it have some special beaches within a bus ride away. Secluded tucked away spots that vacation dreams are made of.
You'll have to catch the first ferry crossing of the day from Porto Santo Stefano to make the most of your day trip to Giglio.
TIP: When that perfect parking space in the port isn't
Porto Santo Stefano is a busy place and that perfect parking space right along the seafront opposite the ticket office - marked out with white lines that usually indicate in Italy that it is a free public parking space - isn't. Perfect. I mean.
I know because I parked in one. But that feeling in my gut that it was just too good to be true to be able to arrive in town and find a space, and a free one at that, right in front of the ferry, was one I didn't ignore. Thankfully.
So I left my lot in the car and crossed the road to the Harbour Master's office to check. Turns out that they are reserved parking spaces for the harbour.
So we then had to go round the long one way system in town, find a car park and wait for a space. And then walk back into town and queue for tickets.
We missed our ferry!
The modern seaside towns in Tuscany
These coastal towns were built after the end of World War II and so you won't find them bursting with medieval churches and gorgeous Renaissance buildings. But that doesn't mean that you won't find in them just what you need for a day trip to the beach from Florence of Siena. Or a week's holiday where the going is easy.
Especially if you have a young family. And even more especially if you have toddlers in tow.
Take it from generations of Italian mums and grandparents, long summer beach vacations with little ones don't come much more stress free than here.
And I ought to mention, the beaches are wide, flat as a pancake, fine golden sands. And the shallows are just centimetres deep, filled with crystal clear warm waters.
There are three towns on my list: Follonica, Marina di Grosseto, and Principina a Mare.
Follonica
The coastal town of Follonica has no less than four glorious beaches. But that's not the only reason Italian holiday makers have come here every summer for three generations. And, have second homes here.
The summer population of the town increases by 15 fold it's that popular!
It's main shopping street called Via Roma, is pedestrainised and runs straight through town, practically down to the beach. With it's brand name clothes shops, bars and ice cream parlours that stay open in the summer until 11pm, it is the perfect Italian location in which to meet and be seen after dinner. Child buggies and all.
And for a proper "passeggiata", running alongside the beaches to the north of town and finishing in its centre is Viale Italia. Again pedestrainised, it is a wide strip lined with restaurants, bars, ice cream parlours and holiday accommodation.
Which brings me to one of the key reasons Follonica is so popular as a beach town: it's holiday accommodation, whether that be hotel, boutique B&B, apartments for rent, campsites and even a Swiss holiday village. Are all concentrated behind the beach.
Which means that, at the beginning of the school summer holidays when the parents are still working, Gran only has to walk a short distance to take her grandchildren to the beach. Sometimes just through the dune if she's in the family's space in the campsite. To get them back for lunch and an afternoon "nanna" (sleep).
Then back to the beach for the afternoon and home again for dinner. Before the evening promenade.
In the height of summer, during the evening - in time for a pre-dinner browse and until late - Via Italia is lined on it's beach side with stalls selling everything from mobile phone covers to more artisan objects, such local cheeses and olive wood platters.
And if the kids want a break from the beach, there are no less than two (one either end of town) bouncy castle sites in the shady pineta (pine wood) behind the beaches.
And, a short cycle away an Aqua Park.
Two cinemas - the second opens in the summer and is open air. A daily (mornings) covered market selling fruit, vegetables, fish, wine, and more. Right in the centre of town.
And a huge open air market on Friday mornings selling everything from kitchen utensils to stilettos to salami and lots of clothes.
It won't come as a surprise that generations of mums and dads from Florence and Siena holiday here. From the start of school holidays at the beginning of June, through to the last day of August. That toddlers who grew up together on the sands now bring their children to play with those of their best summer friends. In the same place, on the same beach, staying in the same campsite or apartment.
Marina di Grosseto
Marina di Grosseto has huge, more expansive beaches than Follonica that stretch as far as the eye can see. And it too has a pineta: a glorious wide cool shady one with cycle tracks behind expansive dunes.
And the second homes and holiday accommodation are behind the beach.
But the feel here is altogether different. It's so less crammed.
The grid of streets behind the beach is lined with, in the main, semi-detached and detached houses. And pine trees. Whose roots emerging from under the tarmac you will have to cycle around or drive over carefully. And there are lots!
And the word "streets" is a misnomer. Because they are single-lane wide, quiet, residential cul-de-sac type lanes.
And those houses don't open their front doors right onto the pavement. There are gardens in front and gardens behind.
Everything about Marina di Grosseto has a sense of space.
There is a beach promenade lined with "bagni" with their restaurants and bars. Flanked by modern apartment blocks with sea views and some of the oldest houses in the town.
Unlike Follonica, shopping isn't concentrated in one part of town. There are small food supermarkets on the corners of the different residential sections. Never far away from home.
And, again, unlike Follonica, this is a fishing town. The Marina is the place that many weekend fishermen keep their boats. But it is also the place to go of an early hour to buy the best fish around: it doesn't get fresher than directly from the hands that caught it that night.
Principina a Mare
If you fancy something right behind the beach, but smaller still than Marina di Grosseto. Still with some facilities, but forgoing boutiques and brand name shops. Then the laid back lazy summer day atmosphere of Principina a Mare might be just the thing.
There's one main street in and out of town. Lined with small shops and a few bars and restaurants. The accommodation is mainly apartments in two-storey buildings separated by the same pine tree root lanes.
But things are more concentrated than at Marina di Grosseto. There isn't the same sense of space.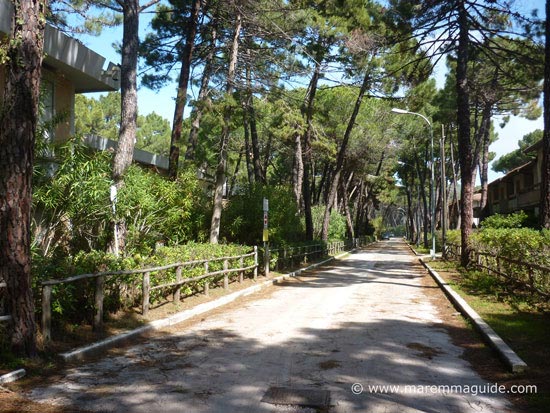 That being said. The space. The space that families go to Principina a Mare for is outside. The pineta and the beach. The pineta is large. With cycle tracks and even an exercise work out route within it. And the beach - in the summer when it has been cleared of the winter debris and cleaned - is lovely.
In the summer evenings there are theatre shows for the smaller kids. But that's it.
What you give up on evening entertainment or Italian passeggiata company, you gain in spades in an altogether rare gentle ambience in which kids can tricycle home from the beach behind mum. It's all flat going. From sand to apartment doorstep.
And the older ones can go out after dinner on their bikes with holiday friends. No fast roads to contend with.
And you can leave all the beach gear and toys of the day at your spot on the beach when you go home for lunch. They'll still be there waiting for you in the afternoon. (Long may that continue.)
Principina a Mare is a summer only town: purpose built for second homes and summer holidays, it closes when the season does. Reopening the following year.
Rocchette
If you're not worried about having shops or facilities on hand, then the even smaller hamlet of Rocchette might suit.
Because it has a variety of accommodation options right behind the beach and is an easy cycle ride or short car trip into the seaside and fishing town of Castiglione della Pescaia.
The beach - Le Rocchette.
The Tuscany hill towns you don't want to miss
These hill towns in Tuscany will take your breath away and capture your heart. Magical places set in stunning scenery in the part of Tuscany that most people miss.