Best Grosseto beaches
Windswept and wild to Italian-style: you can't go wrong
The best Grosseto beaches: from tamed sands with a choice of bars and restaurants upon them, to windswept wide, wild and dreamy dunes. Something for everyone: lie on them, play on them, walk and run on them, gallop your horse or wind and kite surf along them. Even have your wedding lunch on them... Then do it all over again the next day (well not the wedding!), any day, because the best part is that these Maremma beaches are gorgeous anytime of the year.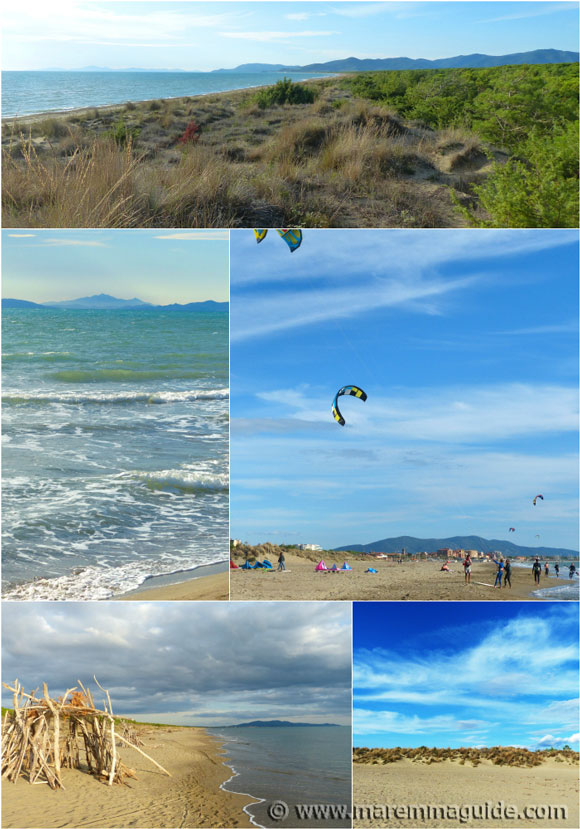 Marina di Grosseto beach
As its name suggests, Marina di Grosseto beach is right next door to Grosseto's marina and it's whole length is backed by beach establishments with their own bars and restaurants. It is here that you can hire a sun lounger and table with parasol - every "bagno" has its own distinctive colour - grab a coffee and eat a hot lunch all whilst still in your bikini.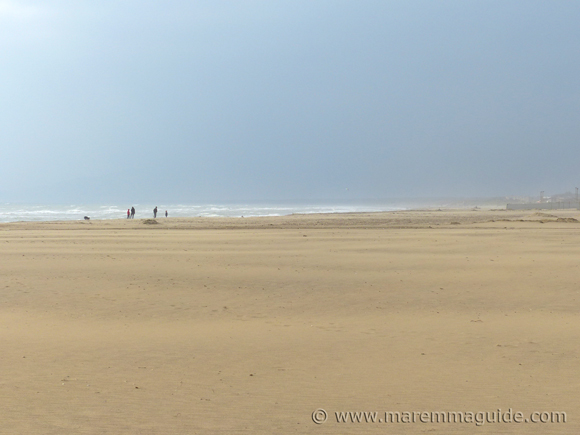 Marina di Grosseto beach in April: the onshore winds were blowing the sands and the beach had a wonderful surreal atmosphere.
Some of the "bagni" even have their own enclosed kiddies playing area with slide and swing which, although I cannot imagine a child preferring those to the wide sands and a bucket and spade, no doubt make for a more relaxed coffee and aperitivo times for mum with toddlers in hand. And, of course, come with bathroom facilities.
The small seaside town of Marina di Grosseto is a very relaxed affair of weekend and summer homes and rental apartments, none of which are more than a couple of minutes walk or cycle from the beach. It is an ideal beach holiday location for families with young children who want to rent a place on the beach for the week as well as their apartment, and want to stroll around town in the evening, window-shopping, or taking in an aperitivo etc.
Principina a Mare beach
But next door is the best beach in Grosseto for holidays with young families. Much, much less built-up and busy than its neighbour, Principina a Mare beach is backed by a lovely pine wood and has a really relaxed feel about the place.
Even the cycle routes through the pine wood to the beach and back home to the holiday apartments are fit for toddlers and their tricycles. And it is the kind of place where mums leave all the beach play things on the sands when they take the family back for lunch and a nap, and find them all there, just as they left them, when they return in the afternoon.
The live footage follows after the introductory photos...
Find out more ---->>>> Principina a Mare beach.
And now for the wilder of Grosseto's beaches...
Fiumara beach
Fiumara beach, also locally known as Kite Beach Fiumara for obvious reasons!
Fiumara beach is just a short walk along the sands from its neighbour the Marina di Grosseto beach, but it is an entirely different experience altogether.
An eclectic fusion of kite surfers, wind surfers, families walking dogs ecstatic at the sheer amount of open space and water in front of them, horse-riders, fishermen, children playing, and groups of friends sat talking, all on the widest beach in Maremma with deep, deep sands that sink under foot and pristine dreamy dunes.
Le Marze beach
Walk a little further along the coast towards the beaches of Castiglione della Pescaia and you will arrive on Grosseto's northern-most beach, le Marze. This is Maremma at its most relaxed and a little exclusive, but not for reasons that might immediately come to mind. This isn't a posh beach by any means. It is untamed and beautiful because of it.
And it comes, if you are lucky, with some magical surprises.