Tuscany hill towns you don't want to miss
in undiscovered Maremma
These Tuscany hill towns will take your breath away and capture your heart. Magical places set in stunning scenery in the part of Tuscany that most people miss. To the south of Pisa, the north of Rome, and the west of Florence and Siena. In a spectacular land called Maremma.
Where everyday Italian life on the top of oak-wooded hills and volcanic rock cliffs closely follows the seasons and traditions of centuries. Where children grow up in homes built upon Etruscan foundations. And grandparents watch them play in the piazza and streets enclosed by medieval fortresses, castles and towers. Incredible architecture as occupied now as it was centuries ago.
Special places with spectacular panoramic views of the surrounding landscape that will take your breath away, they will leave you feeling that time has all but stood still in this part of Italy.
Way off the Tuscany tour routes - you will be hard pressed to find another English speaking tourist during your visit - they are perfect for the independent traveller seeking an experience of real every day life within the Tuscan countryside.
Where men do sit together every day in the shade under trees in the small "piazzi" (sometimes so small, other than for the sign on the wall, you would be forgiven for not recognising it as a "piazza" - town square) engaging conversation with whoever passes by.
Where the women do hang out the washing - knickers and undies, the lot! - along pulley-lines between apartments across narrow medieval streets or over tiny balconies. There are no tumble dryers here.
Where the local children are known and recognised by the same people who remember the antics of their parents when they were younger, and who grew-up with their grandparents. Families in these towns and villages live in the same homes that their ancestors occupied for centuries, albeit now with gas, electricity and water connected.
Here, the wonderful, slow pace of everyday life is dominated by the changing seasons. The pruning hard of the vines or olive trees, the tending to the grapes, the harvesting of the abundant summer cherries and apricots.
And then the autumn grapes and olives. The first press of the olive oil in the shared "frantoio". The sagre celebrating the autumnal chestnuts or porcini mushrooms.
But a stay in these Tuscan hill towns and villages does not have to be at the expense of visits to the main cultural or tourist centres of Tuscany. Depending where you choose - Maremma is an extensive land - you can be in Siena, Florence, San Gimignano, Volterra, Moteriggioni, Pisa and even Rome, in under an hour.
Nor does the tranquility that you will find in these villages and hamlets, so profound that the experience calms your heart and soul - a special thing indeed - have to equate to solitude. Even if you are exploring this wonderful part of Tuscany and Lazio alone.
Just strike-up a conversation - a "Buongiorno" will do - and you will be warmly welcomed.
Say something else - it doesn't have to be perfect Italian! - and you will be asked if you have seen the beautiful church around the corner? Or if you know that you can go down the mine just outside of the village? An offer will be made to go and fetch the key to the church... Indicate that you are looking for some refreshments and someone will offer to show you the way in person to the only bar in town.
As yet undiscovered by English and American visitors, many Germans, Swiss and Austrians have brought second homes amongst these hills for the stunning locations and pure peace they offer with the beautiful Tyrrhenian coastline right on the doorstep.
Wishing you a great time exploring each and every one of them in Maremma :)
I've listed them in alphabetical order.
But.
First...
The undiscovered hill towns of Tuscany - a bit of fun!
If you have no idea where to start exploring these hill towns in Tuscany and are a bit of a romantic, why not dive in instead by choosing a door?
There are more than 100 Tuscany doors to choose from. But you only get one key.
Take your time. Be sure.
Or don't be! Choose the one that the moment you see it, you know. Even if you don't know why. It is the one. And take a chance.
But just the one. No cheating! I will know ;)
When you are ready, click on your door.
And find out where in Tuscany it takes you.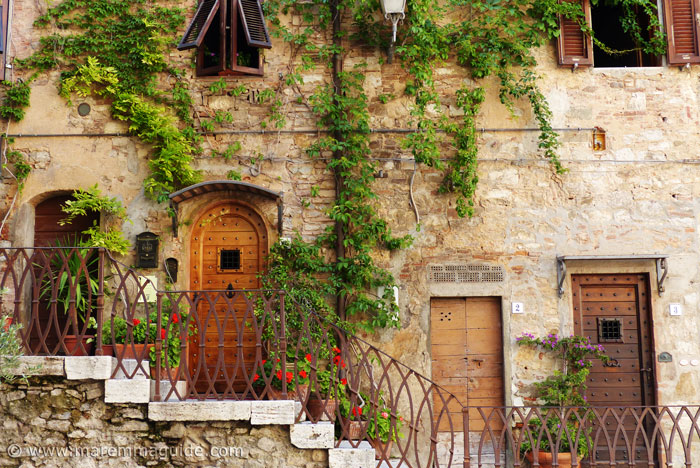 Which Tuscany door will you open?
Maremma's Tuscany hill towns
In alphabetical order...
Plus 3 not on hills