Buriano, Grosseto
Maremma hill towns
Buriano, Grosseto is lived in and loved rural Tuscany. As you enter through its medieval entrance gateways - "le porte" - and go up and up its medieval alleyways, you will find one tiny house on top of another. Washing hung out on lines, plants well tended and watered, cats cleaning their paws... each one known by its name. Everyone home, but still near perfect silence.
And part of the magic of visiting Buriano is getting there. Not to mention, its legends, a miracle and hidden churches :)
The drive to Buriano takes you along narrow country lanes - it isn't a major route by any means - and until you start to climb the "Poggio Ballone" (hill) on which the town sits, you will be forgiven for thinking more than once that you are lost.
I have visited Buriano a few times and on this visit found the lane that I normally take closed due to subsidence: we have had a second very wet winter and more than one road in Maremma has disappeared overnight.
So I back-tracked and took a narrower side lane that my female sense of direction told me was the right route and then did what most men wouldn't.
I stopped and asked the first local and his dog for directions just to be sure. (Sorry guys!) He confirmed that the road that I was on would get me there and to take the right-hand turn after the bridge. And then always right and straight on, which would lead me up the hill.
But things don't always materialise in the countryside here in Maremma as described! And what is a bridge to one man isn't to a woman!
But needless to say, keeping an eye on heading up the hill, I got there with a smile on my face.
The view...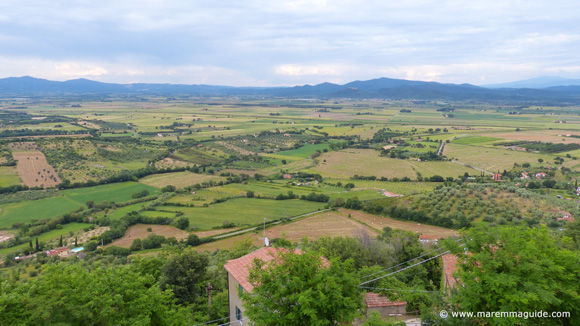 Note: I didn't have a dirty camera lens, those specks in the photograph below are lovely House Martins swooping in the air. :)
Now most people will probably only see Buriano from the hill town of Vetulonia. Because, whereas both are rural towns on wooded hills, Vetulonia is famous and mentioned in travel guides. Well, those that bother to mention this part of Tuscany and Maremma that is! For its 70 metre diameter tumulus Etruscan tombs built in the seventh century before Christ, and as having been rediscovered by the local family doctor and self-taught archaeologist Isidoro Falchi as the vanished Etruscan city and metropolis. Missing for more than seven centuries.
But as far as off the beaten track rural Tuscany goes, with tiny medieval streets for the exploring, Buriano beats Vetulonia hands down every time.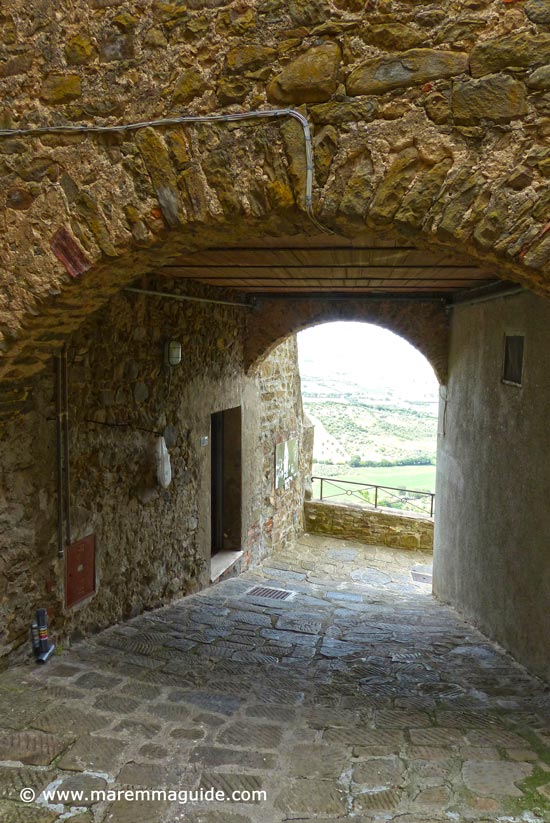 Now, that isn't to say that Vetulonia isn't worth visiting, it is. But rather than for the remains of its cyclopic wall which is highlighted in most guide books and disappoints most visitors as all they can see is just a few large stones. For its Etruscan tombs and the Indiana Jones experience that they will give you.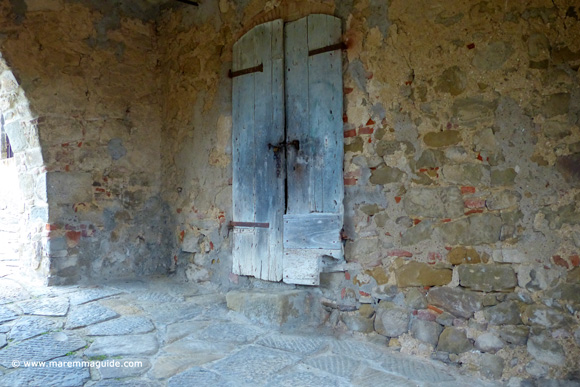 And it has a castle :) guarded by a lion ;)
The Castello di Buriano
The Castello di Buriano: just the remains of an external wall and a tower, with its internal floor plan hidden underground. Sitting high up on the terraced hill.
It doesn't look promising seen from Vetulonia as somewhere to explore, but it is.
A surprise in Buriano!
You will see in Buriano something that you won't find elsewhere: large poster size photographs on the walls of its streets and houses. Reproductions of black and white photos taken in the 1940's and 1950's and onwards of locals. Of children and teenagers, now grandparents. Of town "festas" and picnics, of sisters arm in arm, and school friends together. And a wedding. Each with the names of the people in them and their year of birth and, in some cases, year of death too.
The photograph was taken in Buriano on 29 September 1948
How clothes and fashions have changed. But the people and families are constant.
I am sure that there is a motive unknown to me for the town's decision to place these memories of a time not so far past in the open in Buriano.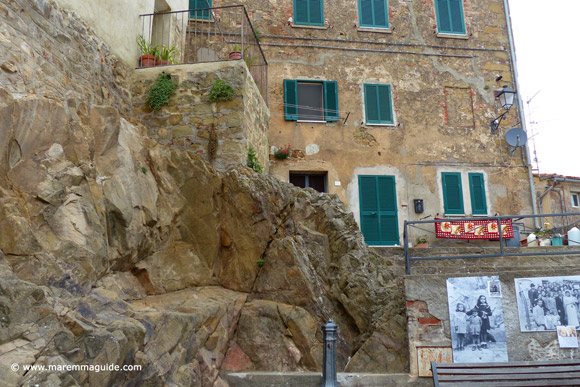 But to me, walking around, they left me with an implicit sense that Buriano doesn't want to become - and I so hope that it doesn't - another hill town in southern Tuscany vacated forever by its youth seeking work. And thence destined to sit shuttered-up as a ghost town.
The photographs also served as a reminder of how fleeting our lives are.
Laid-back rural Tuscany
So, if you are in the Castiglione della Pescaia area and fancy a true taste of rural Tuscany, a walk around this medieval and Renaissance (the majority of the buildings inside the town walls are of the Renaissance period) hill town will leave you not only chilled-out big time, but with a conundrum.
How is it possible in this century that in a town in which buildings are squeezed up against and on top of each other within a circle of medieval walls, with streets so narrow that only an Italian Ape can pass through. In which the apartments and houses are all occupied. Can you mid-afternoon, when everyone is home, hear a pin drop? Bliss :)
Then, a little later children playing outdoors, a mother calling them... A radio starts gently playing in the background. I was the only stranger there on an early summer afternoon, yet there was conversation to be had if I wanted it.
Pass the time of day with a "buon giorno" with a local (they are called "burianesi") and you could happily have a conversation that lasts an hour. Learn an old man's life story, where he worked and in which house higher-up in town he was born.
Here every cat here is known by its name.
And at around 6.30pm if you are still there, another gentle change takes place. People come out - immaculately presented, for that is the Italian way - for their "due passi", their evening stroll.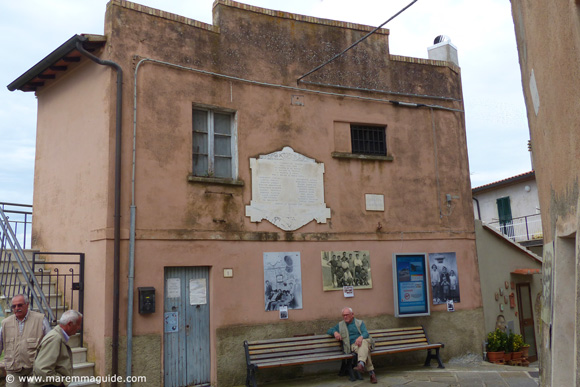 Men gather by the wall with a view by the main piazza for a chat that will cover old ground but still go on for hours. And the old ladies will will listen from their windows above, smiling and greeting you as you pass by.
If you take a real liking to Buriano as I have, you might want to know that there are some apartments for sale - tiny old ones and new build luxury ones - with panoramic views that would make waking-up each morning and opening your windows something very special indeed.
A little of a lot of history...
The earliest surviving record mentioning Buriano is from the first half of the eighth century, at which time Buriano was just scattered settlements on and around the base of the hill.
It's subsequent history is inseparable from that of its castle: for in medieval times here in Maremma, as elsewhere in Europe, the owners or rulers of a castled settlement also usually owned the surrounding lands and rights to them. And such was the case with Buriano.
A century later, the powerful Aldobrandeschi family owned the lot and started to build their "rocca". A fortress on top of the hill and a church, the Chiesa di Sant'Andrea. A church since lost and, despite searches in the woodlands around, it remains so today.
In 973, the Aldobrandeschi gave the castle and its grounds to the monks of the Abbey of San Salvatore at Monte Amiata. But they returned soon thereafter, not long after the year 1000, and began many years of further fortification works. Transforming the fort into a castle proper.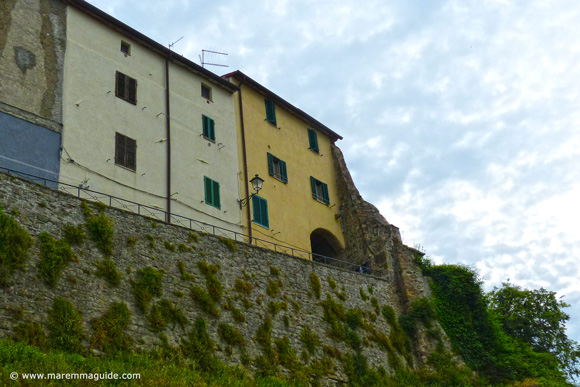 In the eleventh century the Aldobrandeschi gave the rights of rule of the castle to their friends, the local Lombardi family, who occupied it - but not without being troubled by countless raids by mercenaries paid by the Republic of Siena - for three centuries. Then in 1332, for reasons I have yet to confirm, the Lombardi family were forced to surrender all of their possessions, including the castle to the City of Siena. In short, they will have done something that severely displeased Siena, such as supporting an opposing interest. Life was like than in middle ages Maremma.
In the wheelings and dealings for control over Maremma's lands that followed, Siena traded Buriano a few years later to the city of Pisa.
And in 1398, the Appiani family of Piombino conquered the castle and it and Buriano became part of the properties of the Principality of Piombino. Where it remained until 1815. In that year, the lands of Maremma were divided between the Granducato di Toscana and the Pope. Buriano became part of the Grand Duchy of Tuscany.
It's a cats life in Buriano!
Legends, a miracle and missing churches...
The legend
From medieval times, Buriano and its neighbour Vetulonia became rivals in all things. Local legend has it that the bell from one of the town's churches broke away one night and fell into the valley between them. It is not clear to which church the bell belonged, but that doesn't seem to matter now!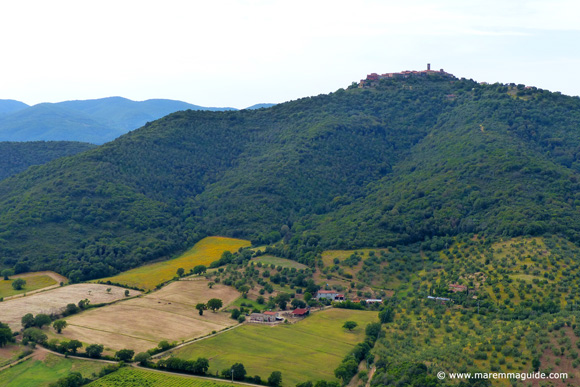 A local apparently found the bell and carried it to his church, which was not in the town from which it had fallen. Unsurprisingly, the owning town wanted it's return, but it appears that that was denied (for how long is not clear!). The two towns became enemies, as yet still unreconciled! Don't you just love stories like this!
And to mark the fact, the church bells of each town aren't rung on precisely the hour, but a couple of minutes apart to mark the rivalry :)
I am going to have to wait the hour toll on my next visit to Buriano to check whether that is true :)
The miracle and a dragon
The "Romitorio di San Guglielmo" - the hermitage of St. William - which is in the woods along the hill top past the castle, was built in 1597 on the site of where the Virgin Mary is said to have appeared to the hermit Saint William of Malavalle (William of Aquitaine).
Local legend has it that William Malavalle, once a French knight of the Aquitane family and a descendant of the noble family of Poitou, ex-communicated by the Pope Eugene III for the extreme dissolute and immoral life he had led. Fought and killed during his life in penance as a hermit, a local dragon that was terrorising the area around Castiglione della Pescaia.
After his death on 10 February 1157, a community of Malavalle hermits quickly established and spread across Tuscany into the regions of Lazio and le Marche. The Catholic Order of St. William was founded in his name fifty-four years later in 1211.
The monastery, also known as the Hermitage of Malavalle and home to his remains, was built on the hill between 1230 and 1249 by Pope Gregory IX. It became one of the main spiritual centres of Maremma and in just a few years, Malavalle communities had been established abroad and monasteries built in his name in four other countries.
Maremma may be Tuscany's backwater, but you only have to peel back a few layers of Italian history to find that it is where some of the most influential leaders were born, died, slain or changed the course of Italian history. Even in tiny hill top towns like Buriano.
The missing churches
This one is for the treasure hunters amongst you! (Not the gold kind, although that has been known in Maremma too: the discovery of a castle church by archaeologists and 100 hidden solid gold coins... )
Short of a thing or two to do, or not in a hurry to go anywhere fast, then ponder on this one when you are walking around Buriano and see if you can find the missing church of St. Andrew's.
In fact two churches went missing in Buriano! But the location of the second, that of the "Chiesa" (church) of Santa Margherita, which was abandoned from the fifteenth century in favour of the Pieve di Santa Maria Assunta and of which no trace is left, is commonly agreed as being in the locality which takes its name.
It's exact location is still debated today. Surviving documents first mention it in 1049, and lastly in the "Rationes Decimarum" dated between the 13th and 14th centuries.
Some scholars place it at the foot of the hill in the nearby locality called Sant'Andrea. Others claim that medieval documents tell of it being set inside the walls of the castle. But there isn't agreement and nothing has been found.
This is the Parish church - the Pieve - of Santa Maria Assunta, which you immediately see as you arrive in Buriano
You will tell me if you find it, won't you ;)