Cala Il Poggettone Punta Ala
Maremma Beaches
The tiny Tuscany beach of Cala Il Poggettone at Punta Ala might not be my favourite of all Maremma beaches, but it does offer peace and quiet and space of your own even on a hot summer weekend. But that's because not many people know it exists...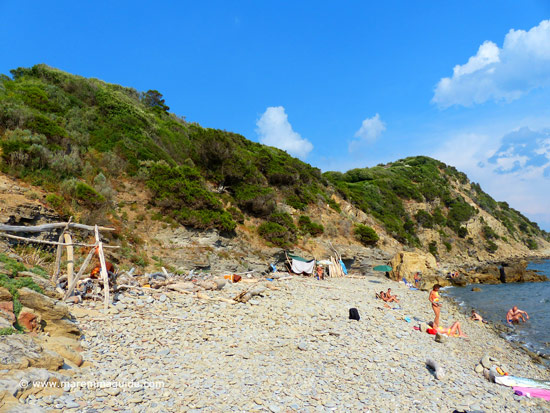 Parking and Access
Parking is easy, access is another matter.
There are shady places to park along the road named after the locality, Il Poggettone, between the private villas along this stretch of Punta Ala. See the Maremma beach map for the location of the beach.
Although the beginning of the path to the cove is flat and really easy going (fenced on both sides between two private properties) the last leg down is a cliff - albeit a low one - and the route is very difficult (even for this woman who is used to exploring everywhere). It is steep, and although partially stepped in places, the track has a covering of fine earth and stones that make it very slippery under foot. Someone has helpfully attached a rope to the rock outcrop for the every last drop, so you can "elegantly" cliff walk down rather than slide on your bottom!
This isn't a Maremma beach where getting your pushchair down onto the shore is a doddle: in fact I wouldn't recommend trying it. Nor is it suitable for elderly grandparents. So that rules out a large proportion of Punta Ala locals (and there aren't that many of those) who do know about this tiny Tuscany beach from visiting.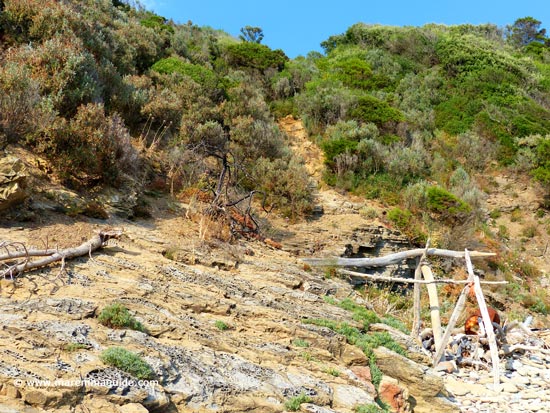 But the main reason that most won't are that there is no sand: it is a rocky cove. Which is why you will be able to find a space just to yourself and enjoy peace and quiet even on a hot summer weekend day. You may have to adjust a large pebble or two (but they are all nicely smooth and rounded) under your towel to get comfortable, but I'd much rather do that than look like a tinned sardine on a more popular sandy beach nearby.
This video was taken on a Sunday afternoon in July when the temperature was in the high 30's °C.
The video
From Il Poggettone it is possible to make your way in both directions for some distance along the rocky shoreline.
Please just be aware of the cliff conditions above and next to you if you do go exploring, as much of the cliff is unstable.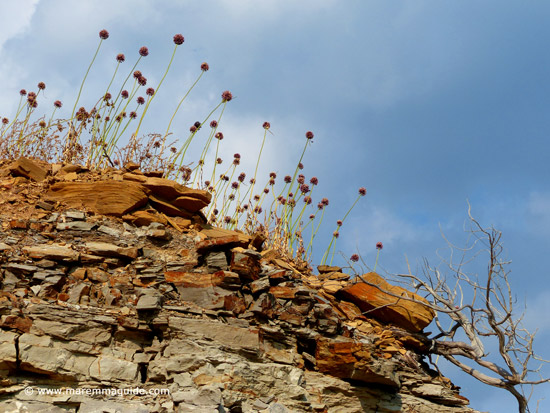 Refreshments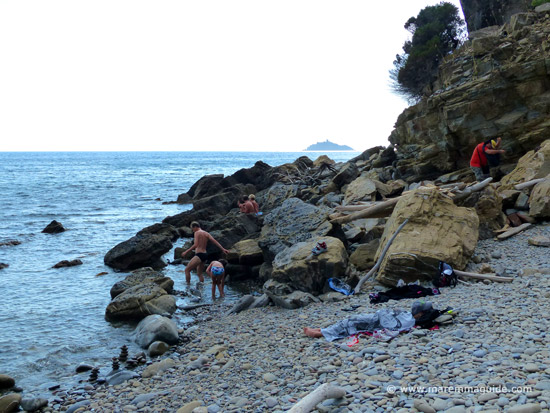 From the shore you can see the island of Isolotto dello Sparviero (or Troia as it is also known) and the line of Scogli Porchetti rocks at Punta Ala, one of which looks like a large fin surfacing...
There isn't a bar or restaurant in sight! so take a picnic and all you need with you.
TIP
A really great place for supplies for a picnic on the beach or for dinner after on the way home is the local produce and panini/light lunch establishment called Il Baracchino in Pian d'Alma. They grow and sell the best tasting vine tomatoes in the world and you have my young daughters word for that! She eats them like sweets and they make for a great summer pasta dish roughly chopped and mixed with torn basil, salt, pepper and extra virgin olive oil... just toss into hot pasta of your choice and very liberally grate parmigiano cheese on top. I drive some distance twice a week during the summer to stock-up! so when I say they are good, I mean it and there is no shortage of local home-grown fruit and vegetable outlets near me.
A beach negative
Although Il Poggettone isn't the only Maremma beach with a litter problem after the winter - even the most well groomed popular stretches of summer sand collect all kinds of debris, natural and human rubbish on during the winter swells - I guess if I am honest, the reason that Il Poggettone isn't one of my particular favourite beaches is the not very pretty sight view that immediately greets you as you descend of large debris objects at the very back of the beach.
There is even a hand-written sign on a length of driftwood lodged in the cliff that reads, "chi sporca e 1 stronzo". I'm not going to translate for risk of offending Google! Ask an Italian friend.
That, and the odd plastic water bottle or aluminum sandwich foil that is jammed into rock crevices where people visitors have sat but have not been bothered afterwards to carry their rubbish home or even to their car. There are rubbish bins in the car park.
And then the piece de resistance... a bag of poo or rotting whatever covered in flies left hung on a fence post along the path back to the car park. I just don't know who the perpetrators they think will clear up behind them, but then as my Italian husband said they just don't care.
But still a little haven...
But, as I said, this beach isn't unique in this respect and if you can let the debris problem ride, then it is a little summer haven.
And what it might lack for lovers of soft sand it makes up for with photographic opportunities.
And as a favourite sub aqua fisherman location. My Italian husband likes to arrive here during the day and sleeping out under the stars at night.
Makeshift camps for the day on the beach.
Beach flowers: striking Alliums'.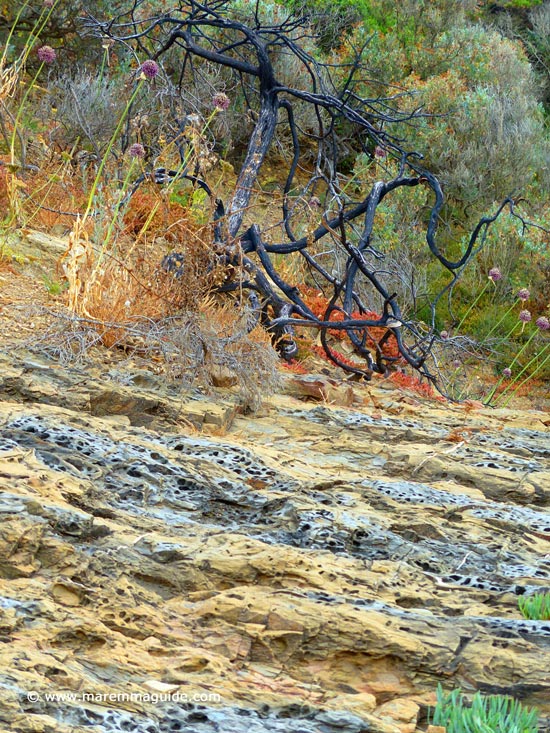 A beautiful wild Allium bouquet...
Places to stay in Punta Ala
More Maremma beaches nearby...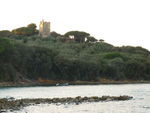 Cala Barbiere
Cala del Porto Punta Ala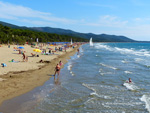 Capanna Civinini