Perelli Beach
Maremma Beaches
Perelli beach in Maremma Tuscany lies along the protected dune coastline of the Parco Naturale della Sterpaia in Piombino - Riotorto territory, and is a favourite not only of line fishermen, but also surfers.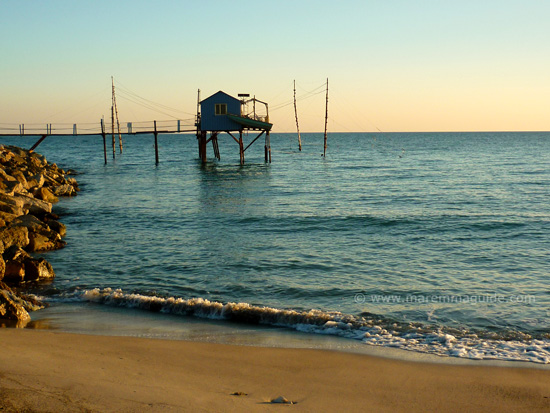 It is a Bandiera Blu beach great for long walks, shell collecting and line-fishing (either from the shore or the pier) and as such tends to be our compromise beach choice when dad and daughter want to go fishing and I don't want to sit still waiting for a fish! and will keep little one occupied when she gets bored of not catching anything.
You will find a couple of bars and restaurants (open in the summer) along its length as well as a sub-aqua shop/centre alongside the southern-side of the "Fosso Aquaviva" canal outlet into the sea, near the beginning of the short pier.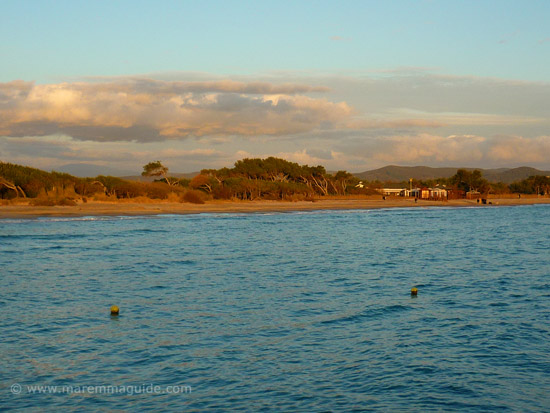 "Perelli spiaggia" sits between Dog Beach, with the ENEL power plant and its two cooling towers behind - unmistakable landmarks in the Gulf of Follonica - to the north, and Carbonifera and Torre Mozza beaches to the south. Now as you can imagine, its northern end doesn't have the most beautiful backdrop you could wish for for a Tuscany beach and for that reason I nearly always prefer to head for Torre Mozza.
And, although Dog Beach - as its name suggests - is a designated canine and in fact cat friendly beach - most visitors don't draw the distinction between the two beaches.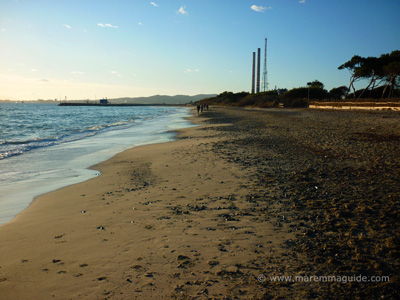 But, if you happen to be an amateur photographer then you might just want to make a visit: the fishing hut on stilts in the photograph at the top of the page is a great pull for local photographers at sunset and you will often find them competing for position as the sun goes down. Plus great night-time views to be had of the port of Piombino all lit-up and the Enel towers reflected in the canal.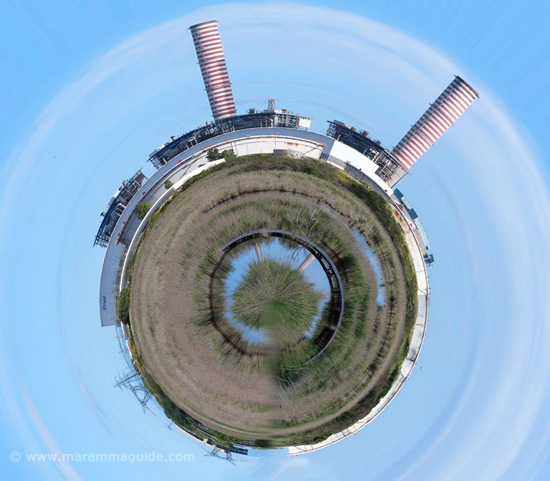 The video
The Parco Costiero della Sterpaia dunes and canal
The dunes (and the marshland) of the Parco Costiero della Sterpaia behind the beach are a protected environment. Visitors are asked to only use the designated pathways through them to reach the beach, not to remove any plants - in any event it is strictly forbidden under Italian law to do so - and not to place beach towels, deck chairs or sun parasols on top of the vegetation.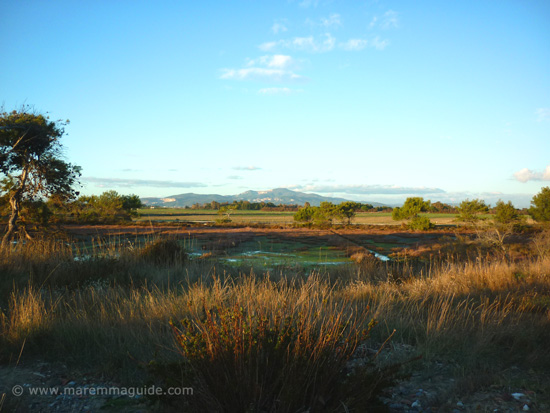 For any young budding botanists amongst you, if they get the chance to take a close look, the native plants they can find here include Ravastrello (Cakile maritima) the European sea rocket, Posidonia Oceanica or Neptune grass, Camomilla di Mare (Anthemis maritima) or Sea mayweed, Calcatreppola Marina or Sea Holly, Gramigna delle Spiaggie (Agropyran junceum) or Crested wheat grass, Papavero Cornuto (Gacium flavum) or Horned poppy, Giglio di Mare (Pancratium maritimum) or Sea daffodil, Sparto Pungente (Ammophila litoralis) or Beach grass, and Soldanella di Mare (Calystegia soldanella) or Beach soldanella.
Bet they can't find them all! (TIP: The information boards at the main pathways have drawings of the plants to help!)
If you take a walk along the canal behind the dunes you might just be lucky to see as well a shy Nutria (Coypu).
Parking
If you can't find a - free - spot alongside the road to the beach, there is a pay and display car park at its end. It is an hourly rate one, from 08:00 to 20:00 for "tutti giorni compresi i festivi", which means every day including weekends and public holidays. But true to Italian style, there is a separate sign by the canal bridge with the exceptions and days when reduced rates apply!
I have to warn you that even local Italian visitors get fed-up trying to work out all of the applicable and non-applicable days and end up either paying no matter or, more usually, not paying at all!
I was going to list all the dates for you here, but given that they change every year to tie-in with weekends etc I decided I wouldn't! Just be aware that there will be a limited number of days listed for April and May when you will need to pay.
You will have to pay every day throughout June, July, August and September, but a reduced tariff applies from Monday to Friday.
The bank holiday days in June of the 2nd and 3rd of June, and of the 15 to 19 August are always full rate days.
The last time I visited the full daily rate was Euro 1,30 per hour, with a Euro 6,30 five hour option and a Euro 10,70 12 hours option. The reduced rate was Euro 0,90 per hour. That about covers it!
Camping by the beach
Although you cannot camp on the beach, the public car parks behind this and the neighbouring beaches in the park - see the map below - all include designated camper parking areas. Just be aware that you won't be able to set-up home like you would in a campsite as you aren't permitted to open-up your side sun shades etc if you have one to form an outdoor area etc. Or light fires, but that applies on every Maremma beach.
Click on image for a larger view.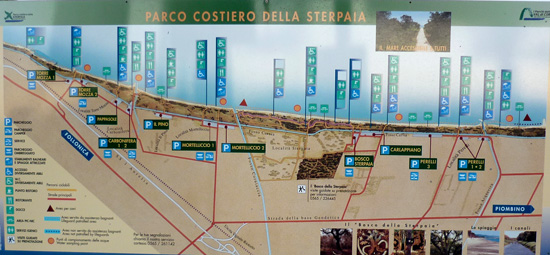 Self-catering apartments
Alternatively, the closest accommodation to Perelli beach is the well rated self-catering bungalow apartment complex of Villaggio Orizzonte - with private beach area, swimming pools, restaurant, a bar and shops - located along the quiet road that runs the length from Perelli to Torre Mozza.
Other nearby Maremma beaches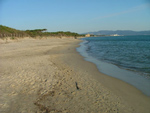 Carbonifera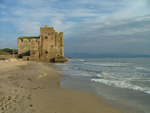 Torre Mozza
Dog Beach