Castello di Ravi
The living medieval castle in the heart of Ravi
A castle built in the Dark Ages, the Castello di Ravi is still intact and lived in today. Apart from the profusion of flower-pots and occasional clothes-lines, walking through the only entrance into the small "piazza" and then around the curved streets of this castle - for it is perfectly round - is an atmospheric experience. One thing is certain, neighbours here must know each other very well indeed, for it is tiny.
It won't take you long to explore, but I suspect the photographers and children in your party won't be able to resist going around again!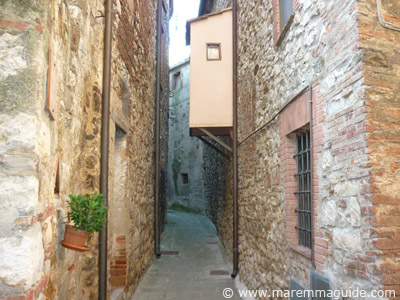 Each time I visit, it still seems strange to see kids coming home from school with their rucksacks on their backs or to hear the sound of a radio being turned on in such a so well preserved medieval environment. It's not that that in itself is unusual in Maremma, for as much can be said for nearly every one of Maremma's hill top hamlets, villages and towns.
It is just in this castle, hardly anything stirs, not even a cat, so that when a touch of the twentieth century enters into the frame, you find yourself instantly brought back from day dreams of times past into the present day when all around you tells you you are still in the eleventh century! (Apart from the smells, mud and other unmentionable early middle ages circumstances of course...)
And no Maremma castle comes without a legend, albeit a tiny one like Ravi.
The Legend
It is told (and recorded in a dairy of a member of the Sozzini family of Siena writing about the last of that city's wars) that on the 4 March 1553, three sets of Sienese troops from Scarlino and Sovana arrived at Ravi in Maremma where they found only ten men and twenty women inside.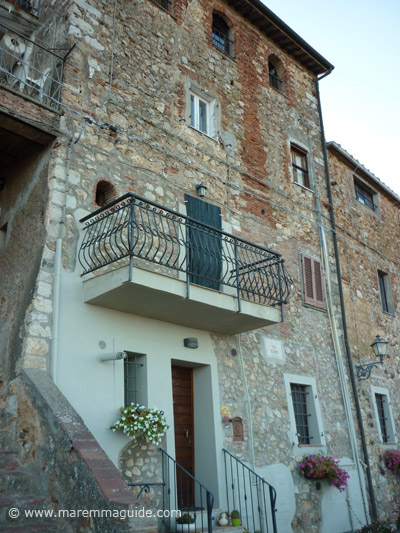 This part of the castle - viewed from outside - on its south-east side is probably the old "cassero": the fortified keep with windows on three sides.
Those thirty souls stood side-by-side in defense against the same troops assault on the castle walls, sounding as they did so the church bells to raise the alarm to be rescued by their neighbours. Alone, they killed seventeen of their attackers.
The alarm brought all of the people of the town of Gavorrano - two and a half kilometres distant through woodland - into the fold and forty more soldiers were killed and fifty taken prisoner. The remainder of the troops fled on foot.
Castello di Ravi: there is only one entrance in and out of this medieval castle!
The Video
Places to stay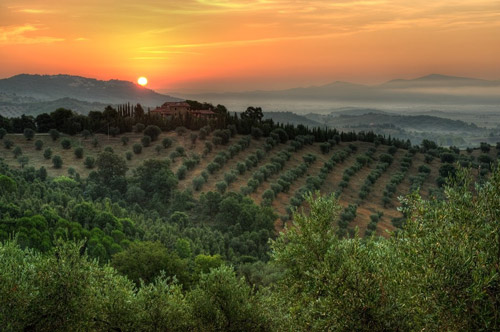 There are no shops or bars, hotels or bed and breakfast accommodation inside the castle, just every day Italian homes.
But if a quiet life surrounded by countryside and the choice of either an agriturismo - farmhouse - accommodation or a four star hotel within the same complex sound like your cup of tea as a base for exploring many of Maremma's beautiful Tuscan hill towns, the beaches and playing at being Indiana Jones in the nearby the Etruscan tombs at Vetulonia, then the Montebelli Country Hotel and Agriturismo might just fit the bill.
Explore some more...
Find out more about the town Ravi in Maremma, once the centre of pyrite mining in the area and witness to a miners protest in 1963 that led to men living in the pits for two months without light.