Farmhouse accommodation in Tuscany with swimming pool and horses
If you are looking for farmhouse accommodation in Tuscany, then this Tuscany farmhouse with swimming pool might be just for you.
Set on the edge of a protected nature park in Maremma in Tuscany with a fruit orchard, a great pool with a shallow sloping end perfect for dipping your toes or for small children to sit and enjoy a paddle... and with beautiful horses which you can ride into the surrounding counytryside, Borgognano Farm House is a treasure for those who love to relax enveloped in unspoilt nature.
The owners of Borgognano farmhouse are a very friendly and welcoming family who instantly make you feel at home. The following information about the accommodation has been provided by them, but I am very happy to add my own unreserved personal recommendation that this is a special place to stay in Maremma. Even though it isn't located far from me, I have stayed there on four occasions - once with my wedding guests who loved it too! - and always look forward to returning.
The farmhouse
Borgognano farmhouse accommodation in Tuscany
The agriturismo Borgognano Farm House is a farm of 25 hectares, consisting of olive groves, grapevines, fruit trees such as cherries, peaches, apricots, plums, pears, apples, figs and persimmons, and arable land cultivated with wheat, fodder for livestock and sunflowers.
Within the farm lies the Podere with two hectares of green park, situated on a hill and surrounded by green meadows, fields and woods. Every afternoon a slight breeze rises to cool even the hottest days.
Its location, far from roads, making it a unique and enchanting setting where you can relax together and enjoy the unspoiled beauty of the place. Borgognano Farm House, certainly, is a structure created for nature lovers.
Montioni Park
The Azienda Agrituristica Borgognano Holiday Farm House is located in Tuscany, bordering the Parco di Montioni - Montioni Park, one of the most pristine natural reserves of the Maremma. The park has over 7000 hectares of scrub and numerous historical sites including: the Tower of Pievaccia, mills, blast furnaces, and alum mines and spas of Elisa Baciocchi, sister of Napoleon Bonaparte.
The ancient paths of the park are signposted for hiking, mountain bike or horse-riding and take you through oak, cork-oak, holm-oak and arbatri woodland where you can discover the many species of animals that live there; such as wild boar, fallow and roe deer, porcupines, hedgehogs, foxes, hawks, owls and turtles.
The park is beautiful in all seasons, and acquires a particular charm in the spring and autumn. In spring, everything is green and wild fruit trees and hawthorns are filled with white flowers, the yellow gorse spread their fragrance everywhere, turtles and hedgehogs come out of hibernation, whilst wild boar and deer roam with their children and move towards greener pastures. In autumn, however, everything is colored by an intense and brilliant yellow rust and the collection of mushrooms becomes a fun pastime.
The accommodation
The agriturismo Borgognano Farm House is a comfortable and friendly family-run farm, where you will soon feel at ease.
The accommodation available to guests comprises of 2 double rooms, 2 studio apartments, and 2 apartments, which you can choose according to your needs.
The double rooms
The two double bedrooms are very comfortable with their classic décor and each is equipped with a private bathroom. In each room there is the possibility of adding a third bed or cot on request.
One room is called "Dawn" because its windows overlooking the forest and exposed to the east, you see the sun rise. The other room "Sunset", facing west, has windows overlooking the valley where you may see the sunset.
During your stay you are welcome to use the many common areas like the lounge and living room with sofas, television, and fireplace. Or, the outdoor spaces including the veranda with deck chairs, rockers, tables and chairs where you can relax in the shade and read, and where breakfast is served.
Borgognano farmhouse accommodation in Tuscany
The studio apartments
The two studios can each accommodate up to 4 adults. They are both situated on the ground floor and are equipped with a sofa bed for two people, television, bathroom, dressing room, kitchen, loft area with two beds and gazebo area outside an exclusive garden.
The kitchenettes are equipped with a small kitchen with sink, microwave and refrigerator.
The studio apartment "Mare".
The studio apartments are called "Mare" and "Maremma". The first has a white wooden loft and is decorated in a minimalist style country. The second has a loft with dark wood furnishings and evokes the style of Maremma.
The studio apartment "Maremma".
The apartments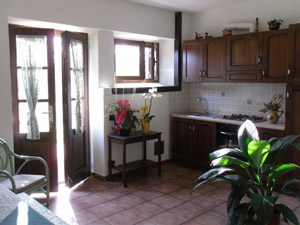 Borgognano farmhouse accommodation in Tuscany
The two apartments can each accommodate up to 5 adults and are on the ground floor.
They each consist of a large double bedroom where you can add a third bed, a bright kitchen/living room with sofa bed for 2 persons, television, bathroom, outside veranda and exclusive garden area.
Borgognano farmhouse accommodation in Tuscany
The kitchen is complete with stove, sink, refrigerator, oven and microwave oven.
The apartments are called "Abete" and "Quadrifoglio" and both are furnished in traditional Tuscan-style. In the one called "Abete" there is also a wood oven with baked brick frontage.
Breakfast
Breakfast will consist of tea, fruit juices, traditional Italian espresso or American coffee, our own fresh organic fruit and homemade peach, plum, cherry or fig jams, fresh Toscano bread (without salt) and warm fragrant croissants.
Lunch and Dinner
Also near the farmhouse is a barbecue at your disposal where you can grill locally caught fish or some meat.
If you prefer to dine out without travelling too far, approximately 2 km away from Borgognano Farm House there are several fairly cheap typical Tuscan restaurants where the food is very good which we always recommend to our clients.
The Garden
Borgognano Farm House is a place to relax, lulled by nature. During the day, the only sounds you will hear will be the chirping of birds and during the evening the song of cicadas. With a glass of wine or a barbecue, enjoy the fantastic night sky with the sound of silence.
There are gazebos and porches with each apartment. The studios and apartments are equipped with armchairs and chairs where you can live the day out, and the exclusive garden areas of each unit are connected to the pool and the rest of the park.
The Swimming Pool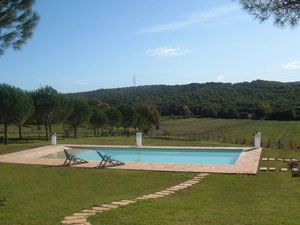 Borgognano farmhouse accommodation in Tuscany: the great swimmimg pool
To contribute to your pleasant stay there is a large swimming pool side of 15 metres by 6 metres, with an average depth of 1.4 metres. One end of the pool slopes gently towards the water, making it perfect for small children.
The swimming pool faces the valley and is completely exposed to the sun. Here you may enjoy fantastic sunsets not easily forgotten with the night lighting extending your stay into the calm summer evenings.
Horse-riding
During your stay you can also ride our four docile and well trained mares: two white, Gilda and Frida, and two bays, Kadidia and Margot.
We can organize rides in the nearby Parco di Montioni and photo opportunities for your children on a horse in a Tuscany farm. You are welcome to follow and help with the horses during your stay, as they are groomed, taken to the pasture, and returned to the farm.
Alternatively, if you already have your own horse, we can offer hospitality to your horses in a comfortable brick garage and large grass paddocks where even your horses can spend a nice holiday.
Places to visit
Borgognano Farm House is located in the province of Grosseto between the medieval town of Massa Marittima and the splendid Gulf of Follonica, along the Wine Route which leads to Suvereto.
With its close proximity to the sea, only 12 km, you can enjoy pleasant tourist resorts such as the Port of Punta Ala, the park and beaches of Calaviolina and Cala Martina, medieval Scarlino Castle, the beaches and pine forests of Follonica, the beach at Torre Mozza and Mortelliccio, the Bay of Buca delle Fate, the Gulf of Baratti with the famous archaeological sites of Populonia and thermal spring of Calidario Venturina.
The island of Elba and the Tuscan Archipelago are accessible from the nearby port of Castiglione della Pescaia, Puntone di Scarlino and Piombino.
In addition, the farmhouses central location is also a good starting point to visit the wonderful cities such as Volterra, Siena, Florence and Pisa, renowned for their great artistic and cultural heritage.
Pet Friendly
The farmhouse is PET FRIENDLY and is part of the facilities authorized by the Ministry of Tourism and adheres to the project www.turistia4zampe.it.
The cost for the stay of a dog is 10 Euros per night, and 5 Euros per night for a cat.