A Lavender and Olive Grove Apartment Farmhouse in Tuscany
A holiday retreat of pure tranquility with an unexpected splash of colour
If you are looking for an apartment farmhouse in Tuscany where you can retreat from the day to day stresses of life immersed in panoramic countryside where the tranquility is unsurpassed AND you can take yoga, meditation, massage, cooking, ceramic, painting, alabaster sculpture, English and German language courses... plus play ping-pong, billiards, go mountain biking, walking, trekking or fishing, then Marina's beautiful farm near Monterotondo Marittimo in Maremma is for you.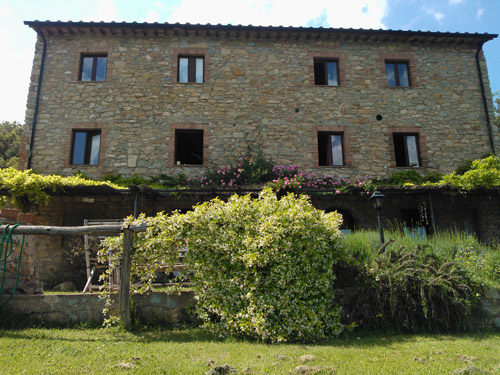 But that's not all: Maremma's gorgeous beaches and her many stunning medieval walled and castled hill top towns are within easy reach by car for the days when you want to venture out and explore.
A haven for walkers and cyclists alike, you will be hard pressed to come across anything but Maremma's wonderful wildlife even on a whole day out along the many trekking, cycling and horse riding routes through the wooded nature reserves and parks which surround the farm.
That Marina's lavender and olive farm is completely organic - "biological" in Italian - doesn't do her dedication and care for the environment in which she has built her home and guest accommodation sufficient justice. The swimming pool is just one example: set in the gardens at the front of the property with panoramic views, it is unique in this part of Tuscany. Without the use of chlorine or chemicals, the waters are kept clean by nature: take a dip and surface next to beautiful water lilies!
I was captured by the beauty and peace of Marina's farm on my very first visit. And that was before I saw inside her lovely apartments. Unlike traditional Tuscany apartments that tend to be plain and functional, Marina's are decorated with splashes of gentle colour and objects from her travels that reveal her love of Africa. Warm and inviting, with doors and terraces opening onto the gardens below, they are places in which to unwind and be at one with the world.
Take a tour...
Let Marina tell you more:
My office of 14 years is now in Tuscany on the first floor, a huge leap in quality of life from Milan to here .....! From my window I see guests relaxing in the swimming pool, or strolling with their children, or simply observing the beautiful landscape that opens up around them. The door of my house is always open and I willingly welcome guests for a coffee or a simple chat. Here we are all very easy.
From the window I can also see the garden and all of the woods surrounding the farm, no noise of cars, trains or otherwise, nor television because that's also been eliminated. Here we dive into nature and within ourselves.
The Tuscany farmhouse apartments
In the farmhouse house where I live on the first floor there are four apartments, two on the upstairs upstairs and two on the ground floor. Each apartment is for 2 to 3 people. The apartments on the ground floor have a veranda with garden table and chairs, whereas those on upstairs on the first floor enjoy a breathtaking panoramic view.
Each apartment has been furnished in a simple but functional way, painted in warm colors using lime.
The barn apartments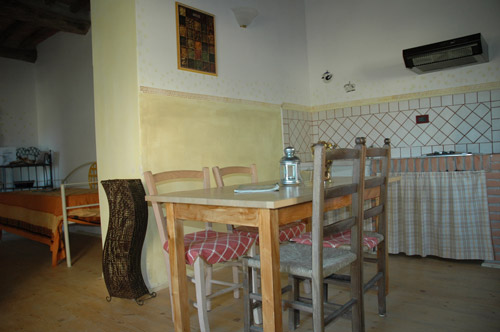 Beside the farmhouse is another house called the "fienile" - the hayloft of the barn, where there are 2 two-room apartments, one three-room apartment, and a one room apartment. Each has a living room with small kitchen area, a room in which to relax, a double bedroom and a bathroom. The double beds may be divided into single beds if needed.
The barn is also the laboratory where we transform the lavender we produce and honey that our bees produce.
When you enter the apartments the atmosphere is warm and cozy and will remind you a little Africa. The different objects and colors in fact refer to our land of origin, as well as the names of the apartments Moja, Bili, Tano... they are numbers in the Swahili language of Kenya.
In the barn all the apartments have a private veranda and sleep 2 to 3 people, apart from the three-room apartment which sleeps five people.
Our guests love to sit down here a lot and are often keen joggers and cyclists. Joggers have the good fortune to be able to walk along several footpaths where they won't meet another person or car! Wonderful also for guests who bring their four legged friends with them as they can run around to their hearts content safely.
Our farm
The perfect Tuscany holiday retreat
The farm is surrounded by the scent of the woods and lavender.
Nature here is really pristine and we continue to maintain the countryside clean by keeping pesticides or other chemicals.
The whole farm is indeed biological as well as the swimming pool which is a "biopiscina", ie. without chlorine as the water plants filter the water as nature does in rivers and lakes.
The farm is busy in the spring with the pruning of the lavender and the cutting and gathering that takes place until late July. The distillation is undertaken with calm in the fall when we have less work.
The olives on the other hand are harvested in late October and taken to the "frantoio biologico" organic olive mill for pressing and bottling. When we collect the olives we also trim every now and then the branches that need them.
Our olive plants number about 700, while we have nearly 8,000 lavender plants! The hives are instead checked in the spring each year and it is a wonderful surprise to see how the bees have work to fill the frames with honey. Our guests race to taste our extra virgin olive oil and honey and many appreciate also the many products derived from our lavender, such as the essential oil of lavender that is an excellent and important natural antibiotic, and our lavender water.
I cannot miss the opportunity to say that a cool spray of Marina's lavender water before going to bed guarantee's me and my young one a great nights sleep even in the high heat of the Maremma summer: she and I often argue whose spray it is! (It's mine!)

A vacation here does not mean staying alone on the farm. Only eight kilometres away you can visit the beautiful medieval village of Suvereto or just a few kilometres more Campiglia Marittima and the sea. The beautiful sea, the coastline of which lies within the National Parks of Rimigliano (towards San Vincenzo) and Sterpaia (towards Follonica). If you want to venture further then you can also visit Castagneto Carducci and Bolgheri, Massa Marittima, and Piombino. Every village has its own characteristic that makes it interesting and enjoyable.
But this area of Tuscany called the Val di Cornia is not only countryside, sea and culinary art, here there is also excellent wine, cheeses, vegetables and, if you are not vegetarian, also excellent traditional Tuscan sausages.
This is just a small taste of my farm. The best thing to is to come and see it in person and try it for yourselves. We await you!
Marina
For more information, availability and prices
2018 UPDATE
Marina has moved on to a new adventure in her life and the farmhouse accommodation is no longer available.
All my other Maremma accommodation recommendations are here.