Spa Hotel Tuscany
Maremma Hotels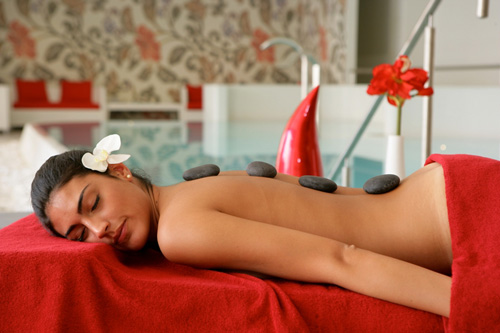 This is the page for you if you are looking for a Spa Hotel Tuscany. Here you will find two luxury spa resorts that are located near natural thermal springs and waterfalls in Maremma in Tuscany who use those same waters in their treatments and beauty programmes. As well as some prestigious Tuscany hotels in Maremma that offer wellness, beauty and spa facilities within their accommodation complexes.
I have listed them in alphabetical order by location, with the three five star luxury Tuscany hotels first and then the luxurious four star options.
Wishing you a fabulous spa vacation in Tuscany - in breathtakingly beautiful, unspoilt and undiscovered Maremma where the dolce vita is in everyday living and the pace of life is wonderfully slow...
The Five Star Tuscany Spa Hotels
There are three to choose from, each offering a completely different spa experience. What they have in common is the pure luxury and exclusivity of their settings.
Argentario Golf Resort and Spa
Monte Argentario
*****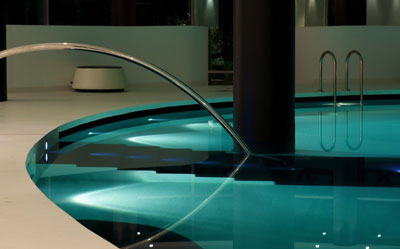 In the spectacular setting of Monte Argentario - literally described as one of Maremma's jewels and a much loved hide away for the rich and elite - the five star modern architectural complex of the Argentario Golf Resort and Spa you will find a 3000 square metre spa and wellness centre with the usual waterfalls, whirlpool, saunas and steam baths, but also Kneipp and Thalasso therapies, a fitness centre, and a personalised beauty service with a cosmetic and naturopathy centre.
The Petriolo Spa and Resort
Pari
*****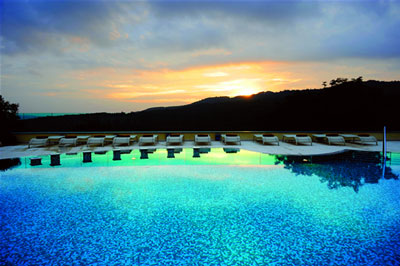 The Petriolo Spa and Resort is located in Pari, near Civitella Paganico: a short drive to either the wonderful Tuscan city of Siena, the wine lovers haven of Montalcino, the truely beautiful Pienza or the famous Montelpulciano. It is also Maremma's five star spa and comes with superb ratings by those who have stayed there. The Petriolo Resort and Spa in Tuscany.
Il Pellicano Hotel
Porto Ercole
****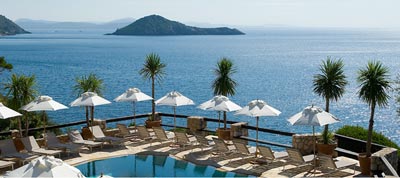 The Il Pellicano Hotel is probably Maremma's most famous hotel and is rated amongst the top hotels in the world. Perched on a cliff in Monte Argentario with individual bungalow accommodation that give you views like this one and a spa and health and beauty club, it's setting for a Tuscany spa vaction is hard to beat. The downside is that it is very expensive.
The spa treatment menu includes fruit and anti-oxidant facial masks and treatments, hydro-lifting face toning treatments, mens facials, total body peels, slim and tone anti-cellulite treatments, silk peels, pre and post sun treatments... Il Pellicano Hotel: read the reviews.
The Four Star Spa Hotels
There are four four star spa hotel Tuscany options to choose from: each offering a different ambience for your Tuscany spa vacation.
Golf Hotel Punta Ala
Punta Ala
****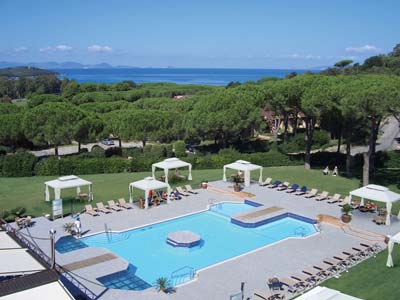 Along the Maremma coast, the Golf Hotel Punta Ala offers has a Spa and Beauty Wellness Centre, a fitness area and a relaxation "oasis". Here you will find an indoor hydro-massage swimming pool, a whirlpool, a salt waterfall, geyser massage jets, a Kneipp programme for your feet, scented steam baths, a Finnish sauna, a Turkish bath, and a Vitarium, plus coloured light and flavored showers!
The beauty centre offers essential oils, aromatic and hot stone scen tao massages, depilation treatments and a solarium, French manicures... and more. The photograph at the top of this page is also of the Golf Hotel Punta Ala.
The Terme di Saturnia Spa and Golf Resort
Saturnia
****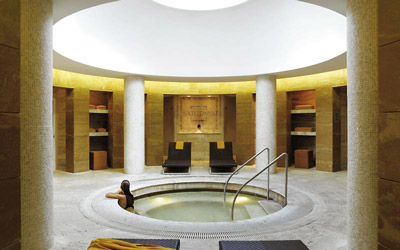 Amongst Maremma's inland hills, not only does the Terme di Saturnia Spa and Golf Resort have Turkish, Roman and steam baths, but it also offers an extensive range of every facial, leg and body massage you could think of, mud and hydro-jet therapies, treatments for anti-aging and cellulite, and fitness and weight-loss programmes with your own personal trainer. As well as treaments and programmes especially for men. You can even choose which colour room suits your mood in which to be pampered and made beautiful! The Saturnia Spa Resort Italy.
Saturnia Tuscany Hotel
Saturnia
****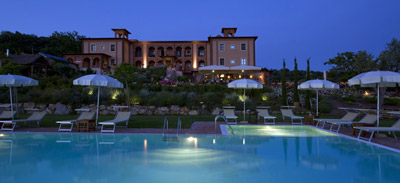 Located a few kilometres from the Saturnia thermal springs and falls, the four star Saturnia Tuscany Hotel is probably what you imagine when you think of a traditional Tuscany villa and is described by those who have stayed there as "fabulous". Offering both room and apartment suite accommodation, the hotels Wellness and Fitness Spa has jacuzzi pools, a sauna and Turkish bath as well as a herbal room and an outdoor swimming pool.
Choose from ultrasound facials and anti-aging treatments, firming, slimming and anti-cellulite body masks and wraps, hot mud and essential oil treatments, pedicures, manicures, reflexology, Ayurveda, Etrusco, Tantra, Reiki, aromatherapy, hot stone and even a pure cocoa chocolate massages!
Antico Casale di Scansano
Scansano
****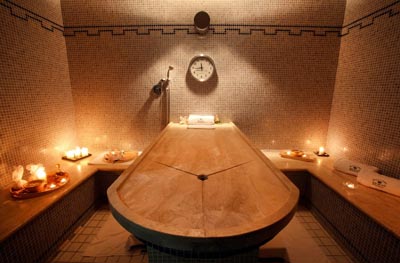 The Antico Casale Spa Hotel Tuscany
The Antico Casale di Scansano Hotel is situated a short drive from the town of Scansano (along the road to Manciano) and offers a number of weekend Wellness packages as well as a day spa option. (There are two outdoor swimming pools, but note that only one is available to children.)
The Three Star Spa Hotel Option with a difference
Hotel Relais Valle Orientina
***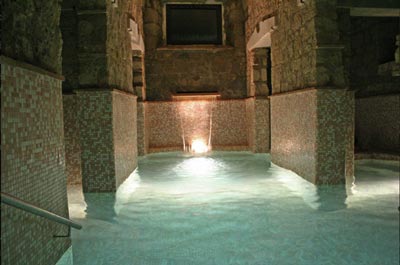 The Hotel Relais Valle Orientina Spa Hotel Tuscany
The Hotel Relais Valle Orientina doesn't have a vast luxury spa complex, but it does offer something completely unique in Tuscany spa experiences. Inside its buildings are the restored ancient and sunken travertine Jewish baths called the "Bagnetti degli Ebrei". Only available to the hotels guests, they offer a private and special cultural experience for lovers of history.
This small - fourteen room - hotel is located near the stunning tufa town of Pitigliano at the foot of the Valle Orientina valley, beside the hot ferrous waters of a natural subterranean spring. It has very good ratings, a 37°C swimming pool, sauna, spa, massage centre and gym.