Maremma is much more than beautiful beaches
by Kent Neveu
(Anywhere, USA)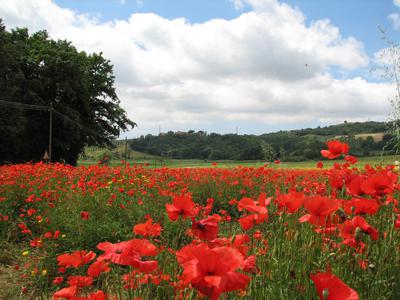 A wonderful poppy field just down from Massa Marittima. This is the Maremma region of Southern Tuscany at its best.
We are full time RVers traveling the US in our motorhome; it is our chosen lifestyle. We decided to travel to Tuscany to celebrate our 50th wedding anniversary but we wanted to travel in the region in a way similar to the way we travel in the US. When we travel, we make very few plans; we only plan for the basics. In the case of our Tuscany trip, all we planned for was getting there, having a car to travel in the area and a place to stay.

We flew to Pisa and rented a car there. For lodging, we chose the very lovely, intimate Casina di Rosa home for two in the small hilltop village of Civitella Marittima. Those were all of our plans which probably would have unnerved many people we know. We don't do tours as a rule. We don't usually travel to spots that are full of tourists.

Our choice naturally was the Maremma region of Italy where we could explore to our hearts' content. We discovered that every dot on our map was a place to be discovered. So we used our GPS to direct us to towns of interest and drove there. We had no particular time to arrive so we stopped along the way to experience any serendipitous moments as they might present themselves. The things unplanned are always the things memories are made of for us and that was definitely true during the two weeks we spent in the beautiful Maremma region of Tuscany.

We ate lunch in a restaurant just about every day and for our evening meal, we would snack on the wonderful cheeses, sliced meats and fruit we purchased at the local Coop grocery store along with the local Tuscan breads and local wines purchased in Civitella or other small towns we visited.

We loved the restaurants all over southern Tuscany but our huge favorite was right in our village of Civitella Marittima. It was Locanda nel Cassera which is a wonderful place to eat; we loved the place and the people who work there.

So, I have gone on and on but the take away message from me is that you should not over plan your travels because you will likely have disappointments if you do. Keep some openings in your plans to allow for serendipity to enter because those are where your fondest memories will come. Get to know the people in Maremma; they are wonderful. Maremma is beautiful beaches but much, much more.
Join in and write your own page! It's easy to do. How? Simply click here to return to Maremma Tips .