Discover Maremma:
the Tuscany you didn't expect
Discover Maremma and be prepared to change what you thought were your holiday plans!
For this is the Tuscany you didn't expect and the out reaches of Rome that you would never have contemplated visiting.
But once you have walked along the wild beaches, trekked through woodlands to reach stunning isolated coves, visited dark spider-filled Etruscan tombs, castled medieval villages and gone down silver mines with me here, you will start to do just that.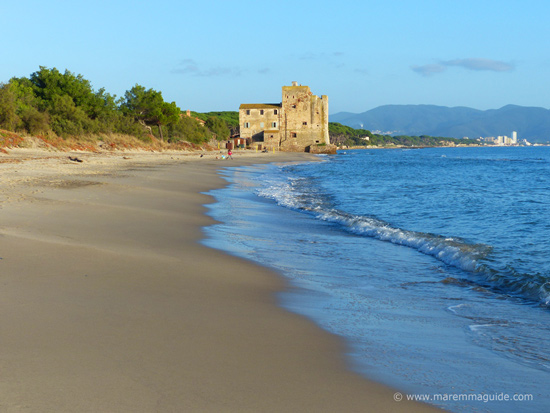 Maremma doesn't come with any flashing neon lights, bells or whistles. It's special places - and there are lots of them - need no embellishments. So it won't suit all. But if you love the outdoors, the natural world, walking, trekking, cycling, surfing, sailing, diving, fishing, archaeology, birdwatching, geology... great home-cooking, incredible wines and blazing sunsets, then be prepared to be overwhelmed with choices.
And to top it all, this is the Tuscany that children won't get bored of exploring.
Maremma in December is...
In warm December sunshine watching dragonflies, coypu, herons and falcons amongst sounders of wild boar in a marshland reserve just feet away from a beach.
And, when turning for home in the last rays of the afternoon sun, being blown away by the marvel of this... ten minutes of sheer natural wonder :))
Looking back to summer
Summer saw the dominating swathes of May's red poppies replaced by the many faces of the early planted June and July sunflowers.
There is nothing like the smiling faces of a field of sunflowers to stop traffic: these were planted early and are in their full glory in the village of Pian d'Alma
And whereas during the spring only foreign visitors would have been seen swimming or playing in the sea along Maremma's coast, the locals and Italian weekender's from Florence, Siena and Rome were on the beaches and in the water from early morning to late evening.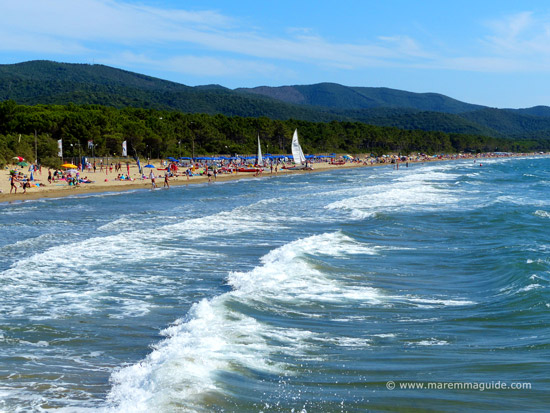 Gorgeous
Capanna Civinini
beach with lots of wide public sands and shallow waters
And the beaches are rather special... with the woodlands and Mediterranean macchia reaching right down to the shore.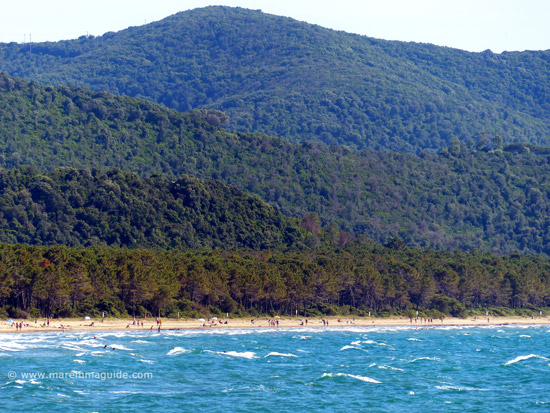 Punta Ala beach
A land of wonderful surprises
But be aware, it is not difficult to fall in love with this breathtakingly beautiful land and its special places. For Maremma has a way of capturing your heart before you know it and leave you dreaming of returning again and again... until one day you just stay forever. I did!
Simply stunning: the Parco Naturale della Maremma. By kind permission of Dario Morelli.
For some, the attraction is the natural beauty of the undiscovered wildernesses and national parks that touch and find a deep resonance in their souls. This is the wildest part of Tuscany. For others it is the spectacular 250km Mediterranean coastline with pristine blue flag beaches stretching for as long as the eye can see.
Secluded white sand coves that look as though they are the set of a James Bond film. And expansive warm shallow waters perfect for toddlers and children to splash and play on all day long. And the crystal clear blue, turquoise, and green waters of the Tyrrhenian Sea with it's fishing villages, ports, marinas and islands.
Or the medieval hill top villages and towns, unspoilt and steeped in history. Where the tranquility is profound and it is so very easy to imagine life centuries ago.
The wonderful home-cooked traditional food, with wild boar or hare from the densely wooded hills, fresh fish from the sea .... And the renowned DOC and Super Tuscan wines.
But it is more than that...
But it is more than that. It is the life that it offers that leaves you wanting nothing else. Those who were born and live here hold a deep resonating passion for this land, no more eloquently expressed than the fact that they have never desired to travel far away. Neighbouring cities of Pisa, Firenze, Siena and Roma, even though only a short drive away, remain unvisited. And when you talk to locals who have visited them, you quickly learn that it was by necessity for a hospital appointment and no more!
This Guide is packed with tips and suggestions from my own experiences to help you plan an unforgettable vacation. Read about:
Maremma's cities, villages and towns, with their rich Etruscan, Roman and medieval histories;


The Etruscan Coast - Costa degli Etruschi - with the stunning Golfo di Baratti and Populonia, the only Etruscan city built by the sea;


The Metalliferous Hills and the Golfo di Follonica, with the spectacular medieval Massa Marittima at its heart and the most beautiful beach in Italy;


The Inland Hills and Tufa Hill Towns including "Little Jerusalem";


Grossetto, Castiglione della Pescaia, Punta Ala and the Tuscan archipelago;


The Silver Coast - Costa d'Argento - with the Argentario peninsula and the very special natural environment of the Alberese marina;


Maremma in Lazio with black sand beaches and the Etruscan necropolises at Tarquinia - a UNESCO World Heritage Site - with over 6,000 tombs.


The vast array of medieval fairs and festivals and le sagre throughout the year, the summer concerts and shows.
Places to stay, whether your accommodation preference is bed and breakfast, camping, hotels, apartments, villas, farmhouses or an agriturismo.
Favourite places to eat and drink - restaurants, osterias, trattorias, pizzerias .... and great lunch and supper stops along the road. Where to taste and buy the local produce for your picnics or self-catering. Where to find the best coffee, "dolce" (cakes) and home made ice cream.
The myriad of things to do and see, from sailing & surfing, to fishing and scuba diving, trekking and cycling, horseback riding and the Maremman Cowboys, wine-tasting and cooking classes, medieval castles and towers, museums and mines...
La dolce vita in Maremma is simple and unpretentious; but life is rich. People smile a lot in Maremma. May you too start a love affair with this special tranquil part of Tuscany and, who knows, one day decide to stay.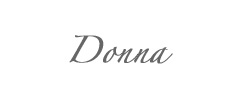 PHOTO CREDIT
This link will take you to the Flickr photostream of Dario Morelli where you can see more of his great images