Campiglia Marittima Mineral Museum
Maremma Museums
The Campiglia Marittima Mineral Museum is only a small, one room and shop, exhibition, but if you have a youngster who has developed a passion for minerals, particularly the large crystal clusters and luminescent ones, then a visit will make for an interesting twenty minutes or so diversion for them from wondering behind mum and dad up and down Campiglia Marittima's many wonderful and extremely photographic medieval streets and alleyways.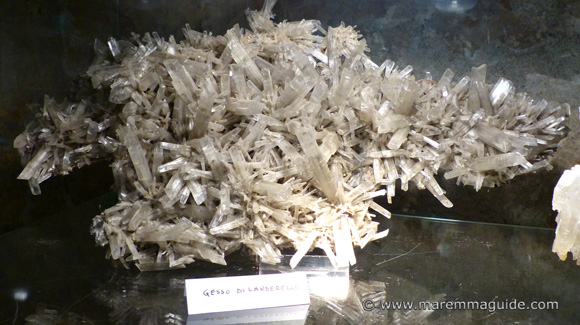 Gypsum from Larderello
The display cabinets and the larger stand alone minerals include specimens from Maremma's metalliferous hills, as well as a few exotics and a meteorite.
Unfortunately, the lighting in the room isn't set-up brilliantly for seeing the specimens and the top shelves in the glass cabinets are too high for little legs to see, so a lift up by mum or dad will be necessary for them to see or photograph the specimens.
The orthorhombic crystals of the hydrothermal Stibnite Sb2S3 mineral, sometimes called Antimonite
Pisolitic Bauxite - Bauxite aspetto Pisolitico
There are also a few geological and mineralogical maps of the Maremma area which are worth a stare at, especially for those of you with a love of geology.
A quick glance will give you an immediate understanding as to why the hills inland in Maremma are called the "colline metellifere" - metalliferous hills - and were mined from Etruscan time to the last decade.
You can't go far here without walking above a mineral seam or two!
Aragonite mineral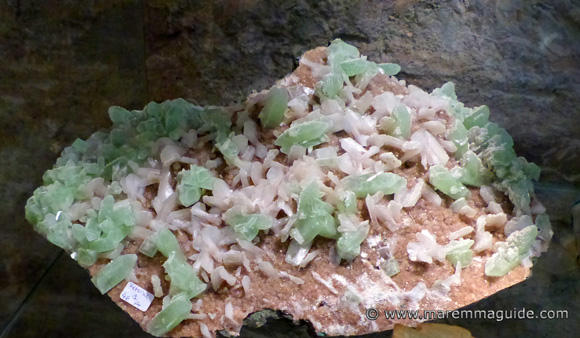 Green Apophyllite mineral - Apopfillite verde, base asfalto
Location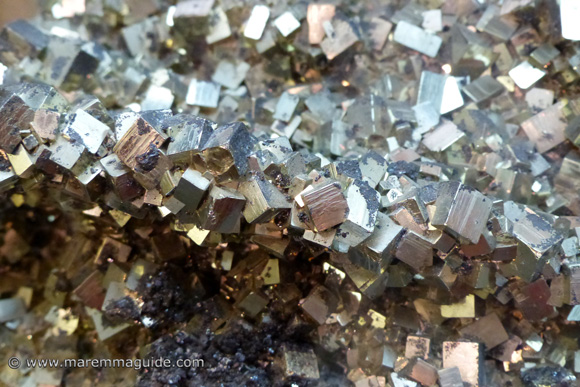 The Pyrite mineral: there is a lot in Maremma!
You'll find the museum now located (it used to be situated further down in town) in the lower part of one of Campiglia Marittima's most distinctive buildings, the medieval Palazzo Pretorio.
Mammillary calcite - Calcite Mammellonare
Opening times and entrance fee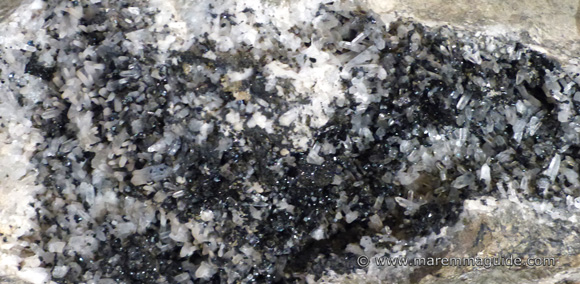 Hedembergite with Quartz and Ilvaite
The mineral museum is only open during the summer season, from mid-June to mid-September each year, and on the town's festival and sagra days.
The opening hours are from 10:30 to 12:30 and from 17:00 to 19:30, closed on Mondays.
Entrance is free.
More museums and don't miss the castle!
Just up one level around the acute corner of the building you will find the entrance in Palazzo Pretorio to the Museo Archeologico Museum.
Don't forget to walk to the top of the hill on which the town is built to visit the remains of Campiglia Marittima's castle - the Rocca - and for the fabulous view to the coast from the walkway.
The view to Maremma's coast on a stormy September day in Tuscany...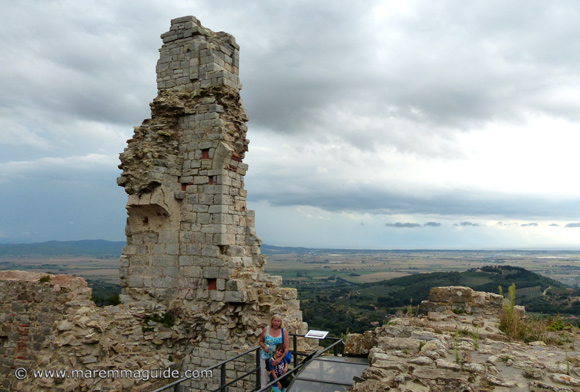 The Rocca di Campiglia Marittima museum is housed in the castle keep.