Cana, Roccalbegna Restaurant
"DA-NOI-A-CANA"
A Maremma Osteria and Pizzeria you won't want to miss
The pizzeria and osteria "DA-NOI-A-CANA" is a tucked away gem of a Maremma restaurant in a little-known hamlet called "Cana", near Roccalbegna. We found it by chance, hungry and on our way to explore the legends of the Templar Knights in another hamlet not too far away.
The sign outside said "open", but all appeared silent, so Fabio, my husband, went on down the wrought-iron staircase that seemed promising and led to an outdoor terrace to enquire and came back smiling. In short, I loved it: we had a wonderful lunch in a wonderful setting and will be going back soon :)
It is clear it is a very popular place amongst those who know about it, but therein lies the rub. Because, to know about it, first you must find it!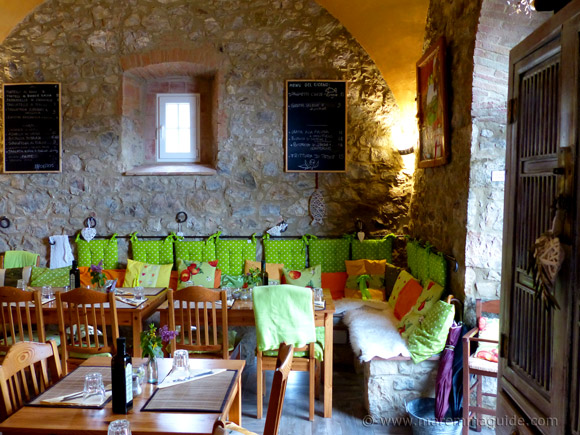 It isn't that the old but restored "palazzo" building which is it's home is difficult to see: it is painted a salmon-pink and readily visible from the road to Cana.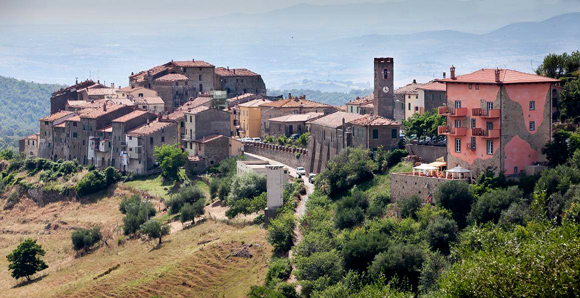 But it is that to arrive at Cana in the first place you need to be driving along the side of a very quiet valley in Maremma not on any major route anywhere, along a very quiet road with hardly another passing car on it and, although you will see the hamlet of Cana across the gorge, you need to exit that quiet road onto a dead-end one - one road in one road out to Cana - to reach it. When most people would probably just continue on to Roccalbegna. But you won't now, will you ;)
The osteria and pizzeria DA-NOI-A-CANA is immaculately presented with some wonderful touches of colour.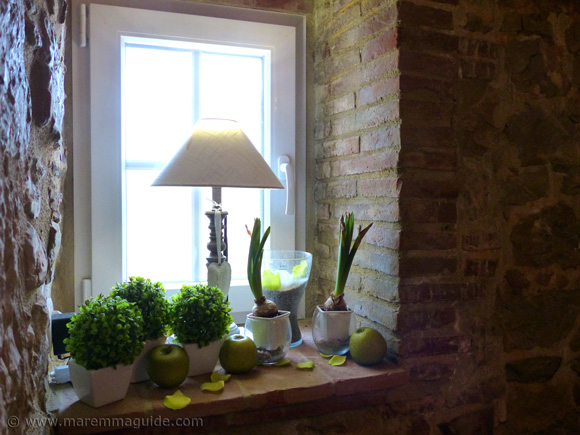 The food is freshly prepared and served as large, healthy appetite portions, at really reasonable prices. My serving of sautéed spinach with olive oil and chopped fresh garlic would easily have served two and I have seen the same sized portion served for four in other restaurants!
AND, located inland it may be, but they serve fresh fish as well as the more traditional "da terra" (of the land) dishes.
And, rather unusually for Maremma, and which I liked, it has an open kitchen so you can the chefs busy at work preparing your meal.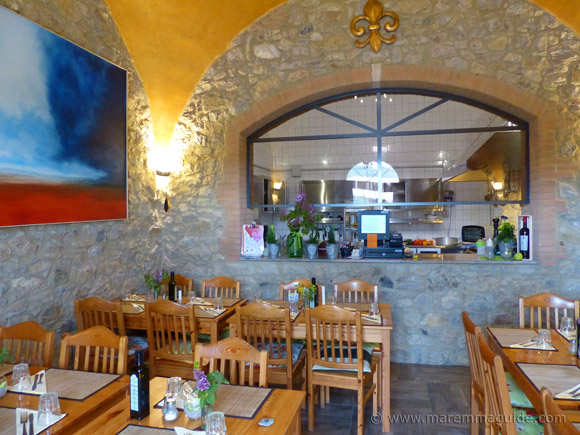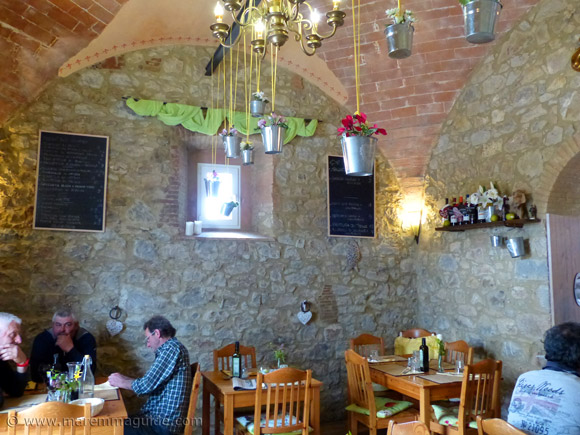 Indoors there are two dining rooms, one in front of the kitchen and the other the other side of the the two cloakrooms, which I have to say are immaculate too. Just watch-out for the water as it arrives from the tap above the stone wash-bowl as I wasn't prepared for it to land on my feet!
Outdoors there is a huge panoramic terrace with dining tables that also has an outdoor bar that serves Birra Bavarese (beer). Perfect for al fresco summer dining.
The menu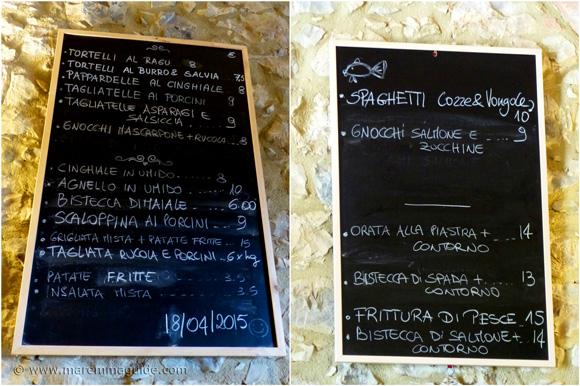 At lunch times, as well as the daily menu, there is also the choice of two fixed menus - "Menu fisso" - at either Euros 10,00 or Euros 15,00 per person. These are excellent value. The ten Euros one will give you a chef's choice "primo piatto", followed by a "contorno" (vegetable dish - you get to choose from two), a quarter carafe of house wine (red or white), water and a coffee. The fifteen euros choice includes as well a chef's choice "secondo" (meat dish), which on the Saturday we were there was either pork or local sausages. Bread and cover charge is included.
We only wanted a light lunch and so opted for the first of the fixed menus which was excellent: a plate of pasta all'arrabbiata and spinach to follow. The service was really efficient and came with a smile. Fellow guests were three workmen at lunch and a couple on holiday who had returned again this year to eat there and who evidently had gotten to know the staff over the years that they had been visiting.
Pasta all'arrabbiata.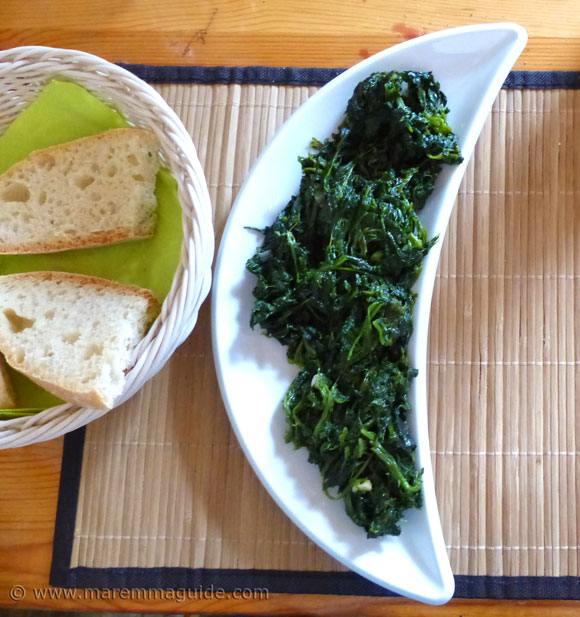 The other choices on the menu were:
Meat dishes
First courses
Tortelli al Ragu
Tortelli al Burro e Salvia
Pappardelle al Cinghiale
Tagliatelle ai Porcini
Tagliatelle Asparagi e Salsiccia
Gnocchi Marscapone e Rucola
Second courses
Cinghiale in umido
Agnello in umido
Bistecca di Maiale
Grigliata mista e patate fritte
Tagliata con Rucola e Porcini
Side dishes
Patate fritte
Insalata mista
Fish dishes
First courses
Spaghetti con Cozze e Vongole
Gnocchi con Salmone e Zucchine
Second courses
Orata alla piastra & contorno
Bistecca di Spada & contorno
Frittura di pesce
Bistecca di Salmone & contorno
The day we were there, the menu board outside was advertising for the Wednesday an "all you can eat" "grigliata mista" - mixed grill for Euros 15,00 a head.
Pizza's start at Euros 4,50 for a huge Margherita.
The restaurant happily provides vegetarian, vegan and gluten-free dishes, you just need to let them know in advance when you book.
And dinner on Friday nights comes with live music :)
Opening times of DA-NOI-A-CANA
The pizzeria/osteria is open every day from Easter to October. Closed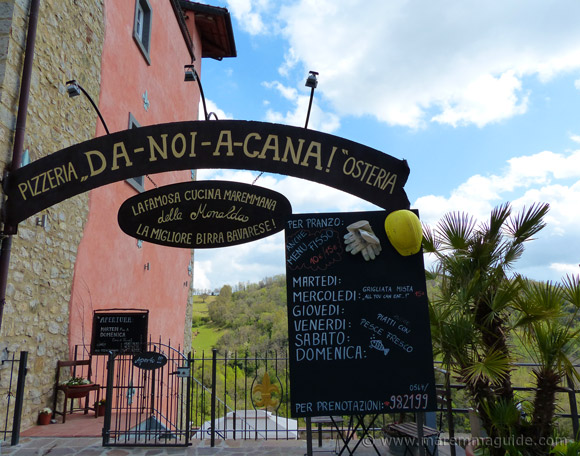 The entrance is at the back of the building, down the flight of stairs that you can see in this photo.
From Easter to October the restaurant is open from Tuesday to Sunday for lunch from 11:30 to 14:30 and for dinner from 18:30 to 22:00. Closed on Mondays.
During the winter months it is open from Thursday to Sunday. Closed during the whole month of February.
Telephone +39 0564 982199 or (mobile) 320 1776509 or 333 1183791 to book a table.
How to get there
Getting there is easy.
The address is Via Garibaldi 146, CANA (Grosseto).
From Grosseto take the Via Scansanese road to Scansano - the Grosseto EST exit from the Autostrada N.1 - for a total of about 7 kilometres, passing the town of Istia d'Ombrone. Turn left to take the road signposted for Arcille. When in Arcille, at the roundabout, take the right-hand exit signposted for Baccinello. Continue through Baccinello to Cana. You will see the village silhouetted on the escarpment on the other side of the valley as you get near.