Castiglione della Pescaia Surf
Maremma Tuscany Surf
Castiglione della Pescaia surf at "Il Faro", the lighthouse, in Maremma. A location for surfing, kitesurfing and windsurfing in Tuscany along a stretch of coastline with beaches loved by surfers.
Castiglione della Pescaia Surfing
at "Il Faro" - The Lighthouse
By Simone Fedeli.
Type of Surfing: Surfing, Kitesurfing and Windsurfing -
Surf da onda, Kite, Windsurf
The surfing location at "Il Faro" is suitable for surfing as well as kitesurfing and windsurfing during the out of high season months - "nei mesi fuori stagione".
Type of wind - Tipo di vento
The winds for kite and windsurfing are south-west, south, north-west and west. The best time for the wind is from April to the end of November.
Si esce con Kite e Windsurf con i venti di SW, S, NW, W. Il periodo migliore per il vento è da Aprile a fine Novembre.
Type of wave - Tipo di Onda
The best times to find good waves for surfing are in the spring and autumn.
The seabed is sandy, so the wave peak is never formed in the same spot. The waves unroll to the left and the right. The waves are good for surfing at a metres height, but are subject to collapsing and become irregular when they exceeds two meters.
The departure is steep, and you must think about taking the maximum speed because it flattens out immediately after the start, then returns to the vertical near the beach due to the presence of a shoal.
Il periodo migliore per incontrare onde buone per il surf è la primavera e l'autunno.

Il fondale è di sabbia, quindi il picco non si forma mai nello stesso punto. Srotolano onde destre e sinistre. E' buona per il surf già da un metro, ma diventa franosa e irregolare quando supera i due metri.

La Partenza è ripida, e dobbiamo preoccuparci di prendere il massimo della velocità perché si appiattisce subito dopo la partenza, poi ritorna verticale vicino alla spiaggia per la presenza di una secca.
How the wave is generated - Come si genera
Surfing is with expired south, south-west, west and north-west winds. The surf isn't held during an active sea, that is you cannot surf while the wind blows.
Lavora con scadute da S, SW, W, NW. Non regge il mare attivo, ovvero non si può fare surf mentre soffia il vento.
How to reach the spot - Come raggiungere lo spot
From the SP158, take the Via Vittorio Veneto in the town and park near the pizzeria "Il Faro" or in the vicinity of the "CRI" (Italian Red Cross) building.
The surf spot is in front of the mouth of the harbor.
Proseguire sulla SP158, Via Vittorio Veneto in paese, parcheggiare nei dintorni della pizzeria "IL FARO", oppure nei dintorni della "CRI" (Croce Rossa Italiana).

Il Surf Spot è davanti alla bocca del porto.
YOUR best surf in Maremma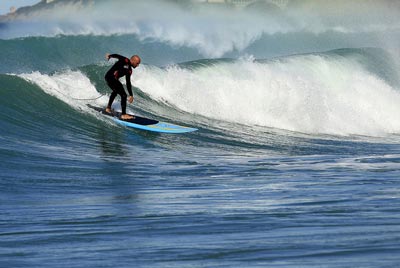 Where are your favourite surfing spots in Maremma? Share them here in a page of your own in this Guide.
Your Best Maremma Surf
Tell me about your favourite Maremma surf location or surf story here...