Contemporary Italian Sculptures
Italian Metal Art from Maremma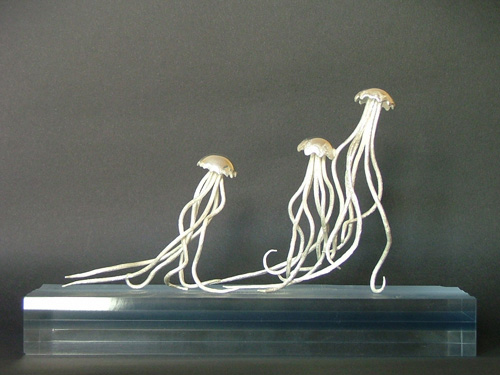 These contemporary Italian sculptures are the creation of Fabio Pallanti, a talented Italian jewelry designer and Florentine goldsmith who has turned his hand to sculpturing with the metals he knows so well.
Having spent over 38 years as first an apprentice an then as a goldsmith in Florence, Fabio now lives and works in Maremma, Italy close to the Mediterranean sea that he loves.
From his silver and goldsmith workshop of STILE DI PALLANTI where he designs and makes unique Italian jewelry, he now also creates incredibly tactile sculptures that are completely hand-made in solid sterling silver, copper and brass.
Italian metal art from Maremma. I have never seen anything like them before!
Fabio has a passion for sub-aqua fishing and whenever he has some free time he may be found near the islands of Isola d'Elba or Corsica and along the coastlines of Maremma Grossetana and Costa degli Estruchi. Indeed, even whilst at his jeweler's bench he is thinking of his next under-water trip in the local Ligurian and Tyrrhenian Seas, and his stunning and unique designs reflect this. None more so than his sculptures.
Fabio has only just ventured into the world of sculpture: the prompt to do so having come from his friends and family who saw the wonderful three dimentional figurines he created in Play Doh with his youngster. His very first creation was the silver jellyfish above. Simply magical.
As is this one - my personal favourite - of a seahorse. To say that it is stunning simply doesn't so it justice.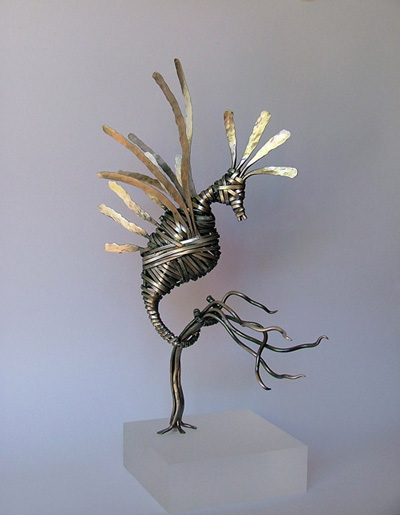 Tropical metal art: a silver seahorse centre-piece
And this fish in silver plated "ottone" brass, is his favourite. Made from many piece of sheet metal, this fish would make a perfect gift for a fisherman if Fabio doesn't decide to keep it for himself!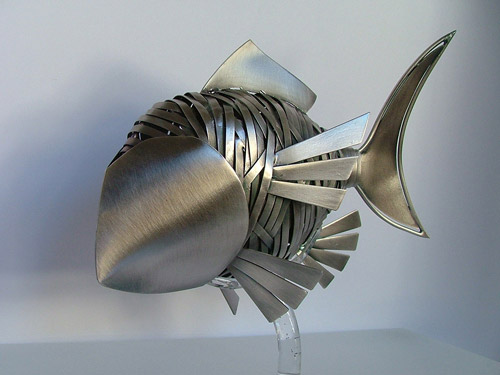 Handmade metal fish art: a three-dimensional sculpture that looks incredible from any angle.
These three seagulls in flight were made from solid sterling sheet silver mounted on frosted plexiglass. They sold before the art gallery where Fabio shows his work had even unwrapped them fully! A perfect gift for someone with a passion for everything nautical.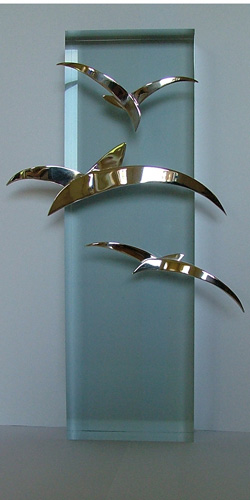 Bird metal art: seagulls in flight in solid sterling silver mounted on frosted plexiglass
And these two are of the wildlife on the sea-bed Fabio has observed during his dives: the barnacles of Lepas Anatifera and the tube anemone Cerianthus. Great desktop pieces for lovers of the oceans.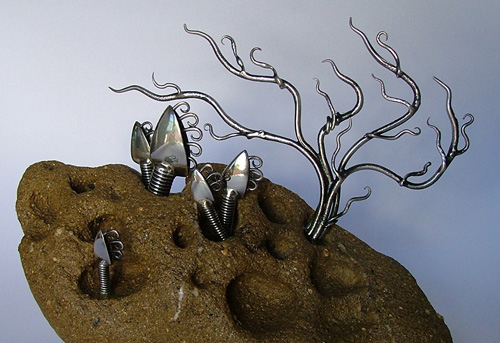 Contemporary Italian sculptures: Italian metal art - an unusual sculpture of Lepas Anatifera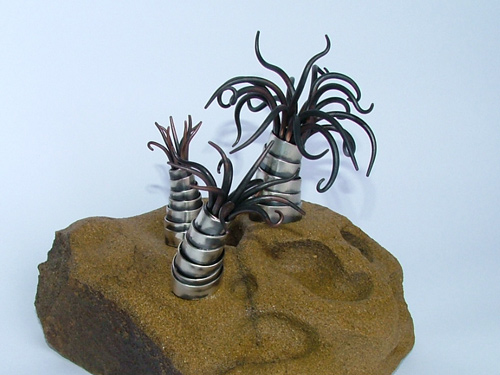 Handmade metal art: a Cerianthus sculpture in solid sterling silver and copper
But the creation he is currently working on takes him in a new direction altogether: the mythical and fantasy world of dragons! He is making a pair in brass and I for one cannot wait to see them finished. Each scale of the dragons skin has been hand sawn out, filed and soldered onto the body and talons. Hours and hours of painstaking work, each one a step closer to bringing the dragon to life.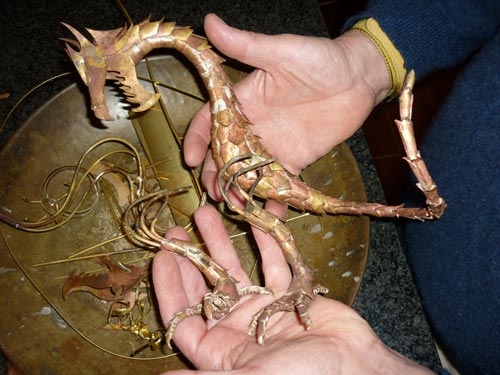 Contemporary Italian sculptures: dragon metal art - mythical creatures from Maremma!
This photograph shows the development of the body and tail with the two front feet and even at this stage the dragon has an incredible life-like quality. Its teeth are sharp!
The pair will undoubtedly find a home with a collector who has a passion for dragons: there is something about their worldwide mythology that fascinates many including me. I will update this page with some more photographs when the creatures are finished.

To enquire of Fabio's work
If you are interested in purchasing one of Fabio's sculptures or would like to commission him to make a custom piece for you, he may be contacted by email at fabio at pallanti.com